Once a time a year, the beautiful lanterns catch the eyes, the glutinous rice balls tempt the tongues. New Brunswick Confucius Institute at Saint John campus held attractive Lantern festival celebrations. The Lantern Festival celebrations lasted for half a month, and has successfully concluded on March 19th, 2018. Thanks for all the supports and helps of school leaders and CINB leaders and teachers.
This event includes four parts respectively, Lantern Festival custom experiencing, lantern producing, lantern riddles guessing, and online "CINB Lantern Star" voting. Students from the mandarin class researched the origin and customs of the Lantern Festival, and tasted the glutinous rice balls as well. Additionally, with the help of the art teachers and mandarin teacher, they designed and completed producing of lanterns. The Students combined Chinese pinyin, Chinese characters and the essence of Chinese traditional culture with the lanterns and turn them into vivid traditional Chinese lanterns. Combined with the old traditions and innovative ways, the ancient culture comes to life again.
This time, New Brunswick Confucius Institute at Saint John campus came up with an innovative idea, to display the lanterns both in the school and online. When in the school, the lanterns are displayed in the hall way and library of their schools, where all the students can appreciate lanterns and participate in the Lantern Riddle guessing easily, thus the three schools are all immersed in the Festival atmosphere. Besides that, online voting for CINB Lantern Star is also started.30 different lanterns are displayed online, and everyone can vote for the best one, with the voting results, the top three will be chosen.
Online "CINB Lantern Star" received a lot of attention. 30 students participated in the online voting program. In only 5 days, the Website has been visited for nearly 8000 times, the lanterns earned almost 1000 "likes". Myles St. Pierre and Brittney Gallant from St. Malachy's Memorial High school student won the first place and the third place, Mexican students Sergio Hernandez Ramos from Harbor View High School got a second with 228 "likes". Mandarin students passed along the festival spirit to their families, friends, classmates, teachers via the internet, the spirit has even been spread to every part of Saint John, Canada, China, the United States, even Mexico. The whole world are celebrating the Lantern festival together!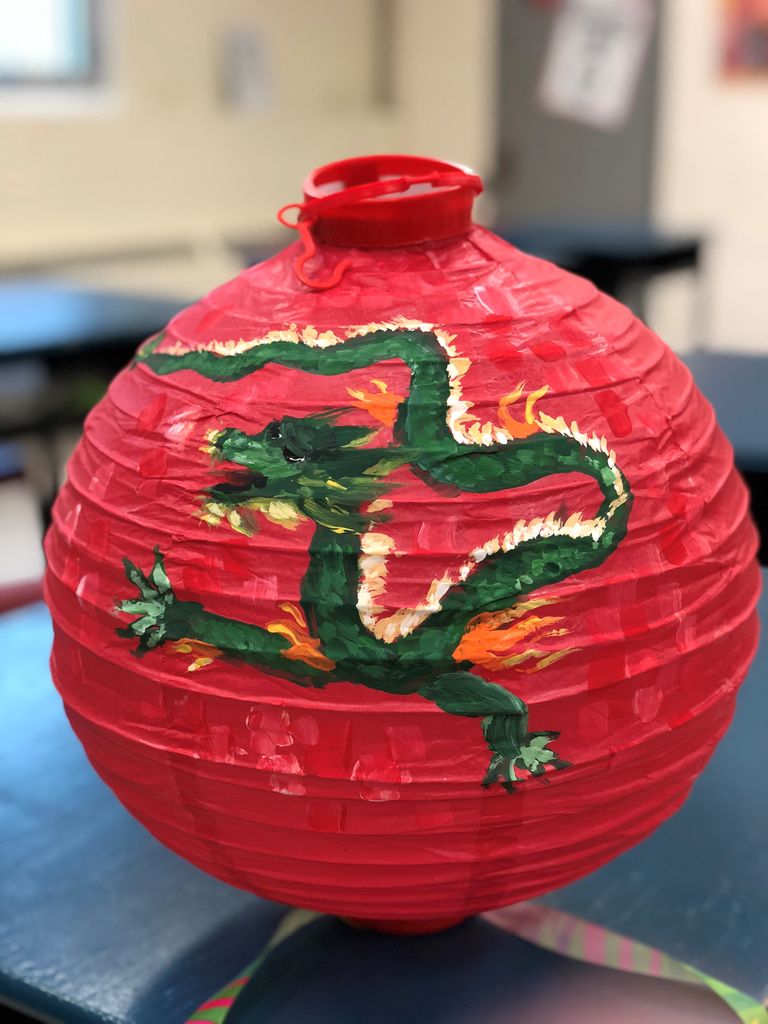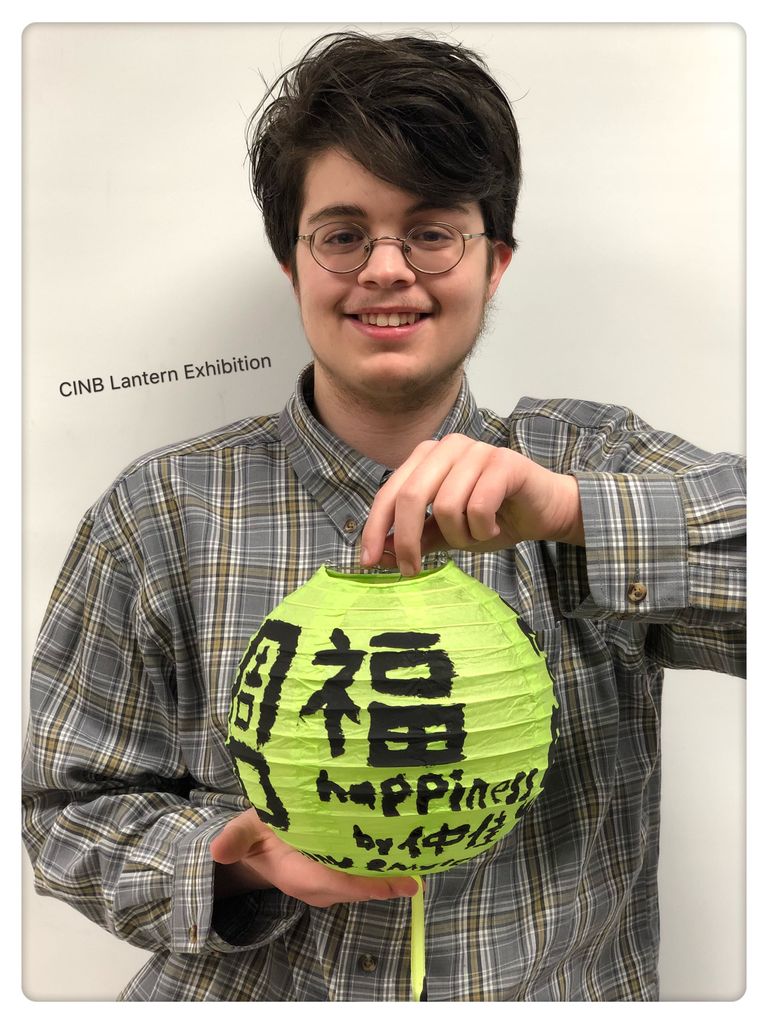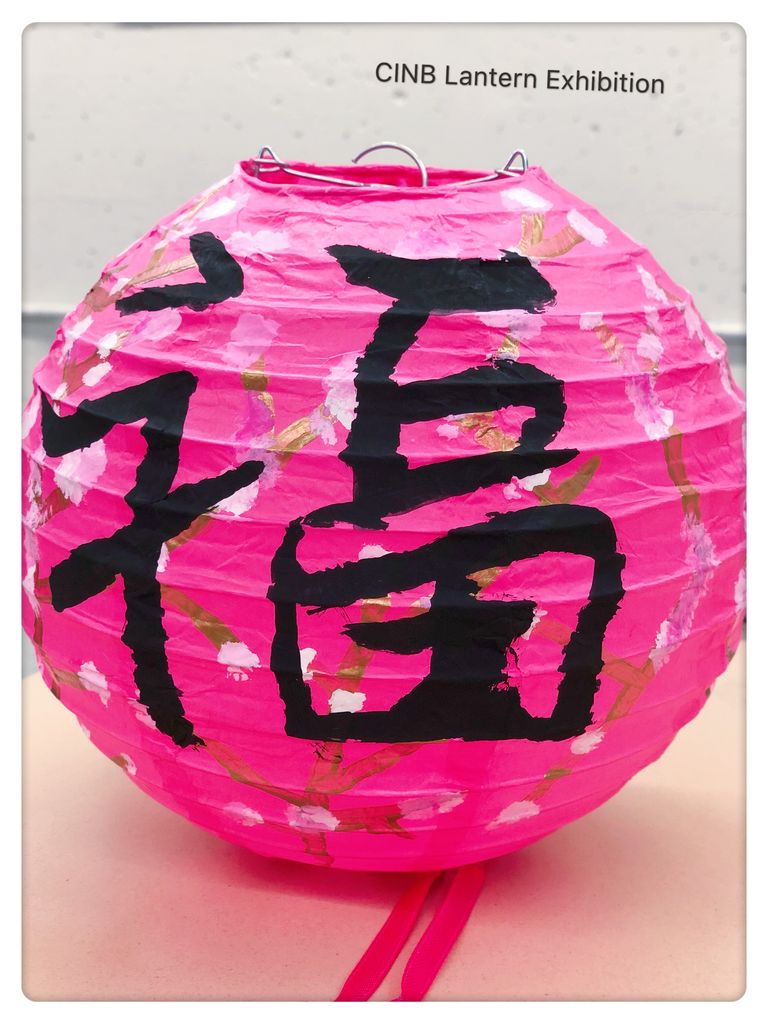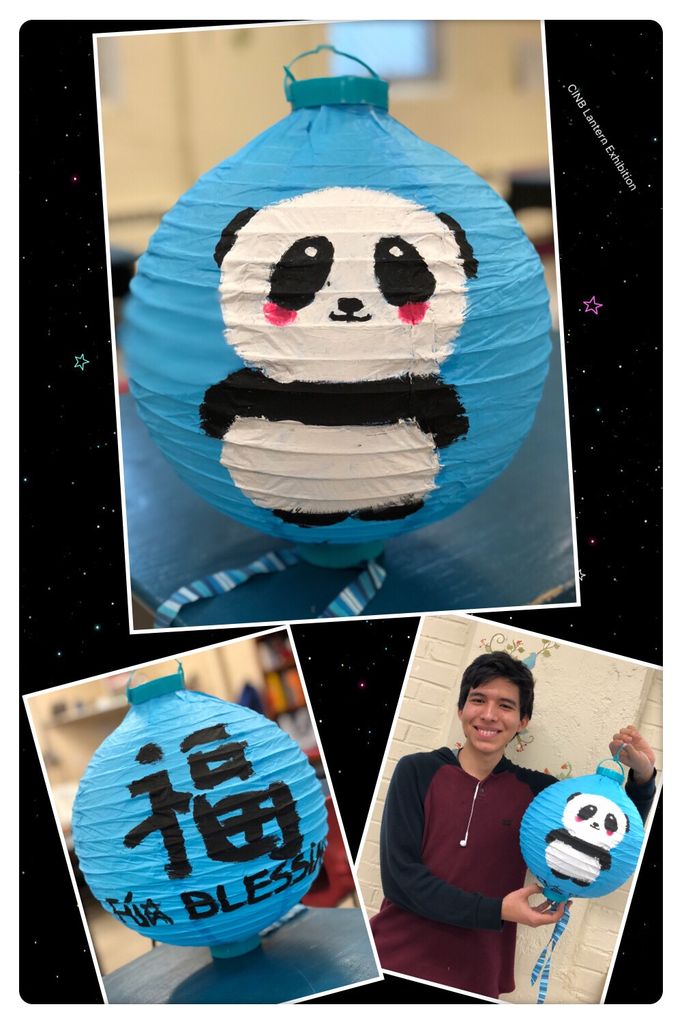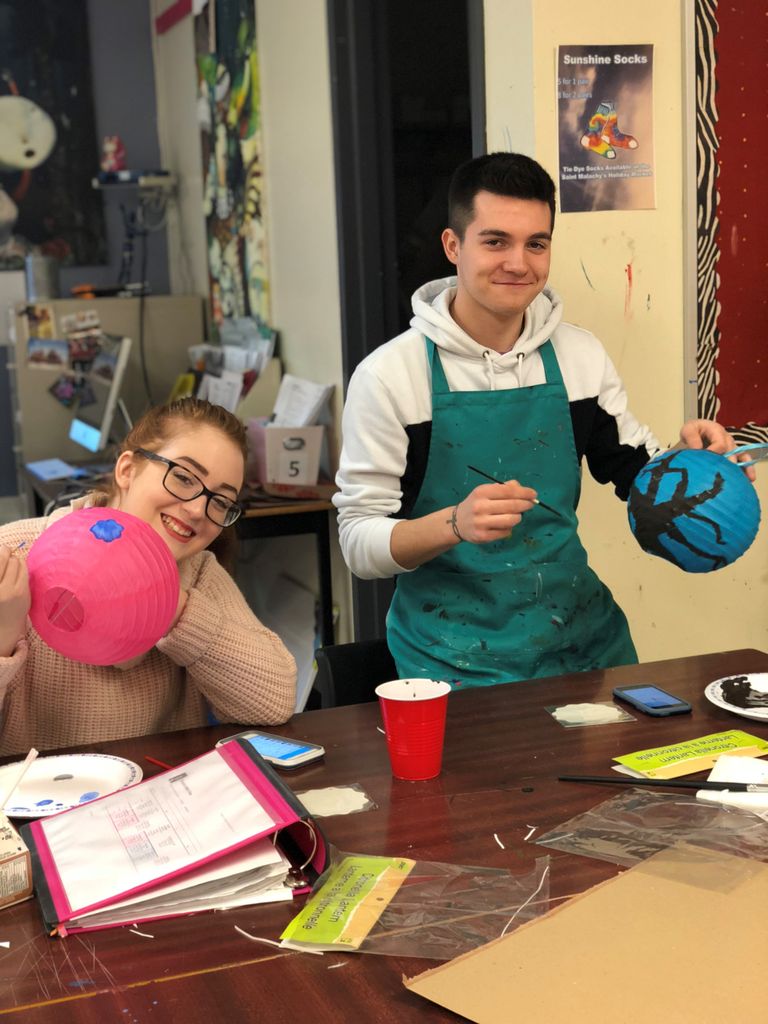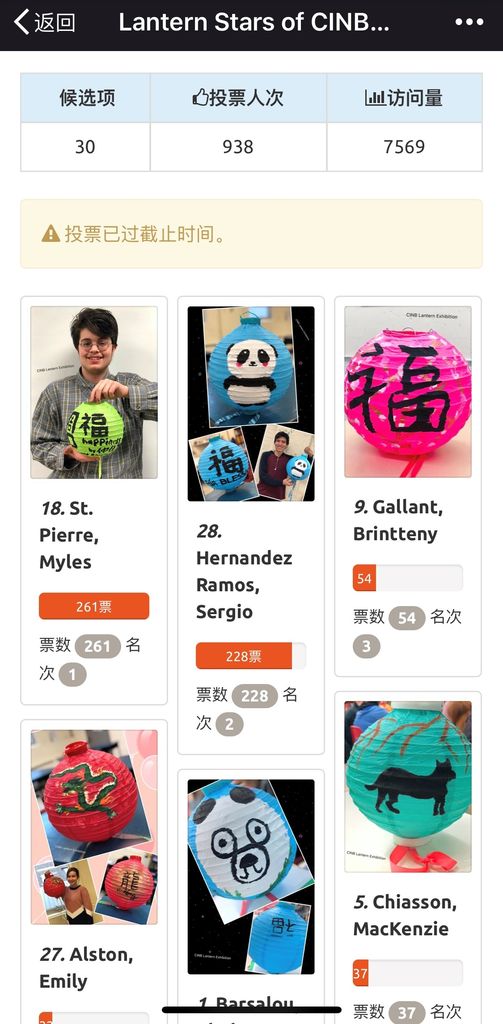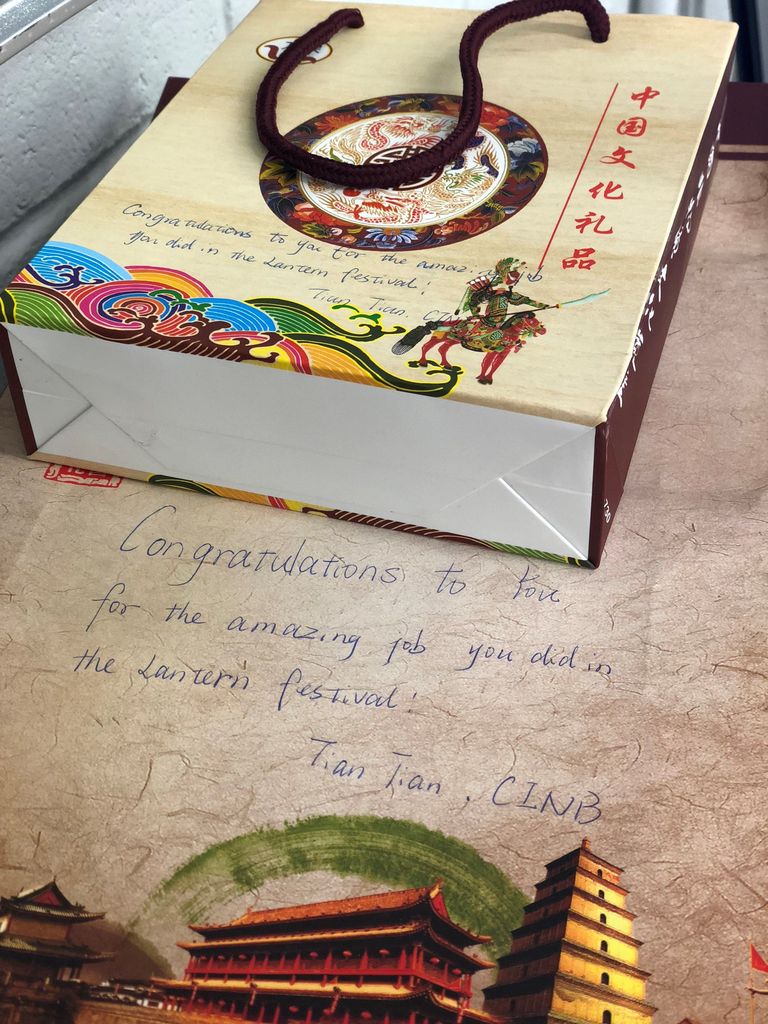 Every lantern represents the hope for spring and harmony. Within the Internet, these 30 lanterns has come to the world. Students in New Brunswick Confucius Institute at Saint John campus has shared their joviality with their families and friends. At the same time, the wish for reunion, the concept of harmony, and the "cultural first" principle were also spread to the world. With the Chinese culture being popular around the world, it's useful and neccessary to bring Chinese culture to people in an innovative way.
创意花灯网络世界"闹元宵"
      花灯俏俏惹人爱,汤圆香香诱人馋。为庆祝中国传统节日元宵佳节,新布伦瑞克省孔子学院汉语教师田恬在圣约翰高中举办了丰富多彩的元宵佳节庆祝活动。此次元宵节庆祝活动持续半个月,在学校领导们、孔院师生们的共同努力下于3月19日圆满落幕。
      此次活动共包括四个部分,分别为元宵习俗体验、花灯制作,猜灯谜和网络"花灯之星"评选。孔院汉语班的学生们不仅了解了元宵节的起源、历史和习俗,品尝了香甜软糯的汤圆,参与灯谜竞猜,还在学校艺术老师和孔院老师的帮助下,制作中国传统手工——花灯。中国绘画、书法、剪纸等传统元素融于其中,福字、大熊猫、中国龙、生肖等跃然灯上;灯上悬挂灯谜,观赏之余多一份猜谜趣味,古老的闹元宵习俗重奂生机,受到师生的广泛参与。
      本次,圣约翰高中推陈出新,进行线上线下双渠道花灯展示。学校里,花灯在学校大堂、图书馆等地展出,吸引师生流连围观。除此以外,开展网络"花灯之星"评选活动,将学生的花灯作品集结展出,邀请网友投票,根据最终票数结果,评选出前三名。
      谁家见月能闲坐,何处闻灯不看来?网络"花灯之星"人气评选活动吸引了大量关注,本次活动参选人数共计30余名,5天之内,网页浏览量就达到近8000人次,其中,有将近1000人为活动投票、点赞,投票用户遍布中国、加拿大、美国、墨西哥等国。来自St. Malachy's Memorial High school 的学生 Myles St. Pierre and Brittney Gallant 荣获第一名和第三名,来自 Harbor View High School 的墨西哥学生Sergio Hernandez Ramos以228票的好成绩荣获第二名。
      花灯传情报春晓,30个孩子做的花灯,通过网络传向大洋彼岸,走向广阔世界。圣约翰高中汉语班的学生们,通过手作花灯,与家人、朋友、同学、老师分享庆祝中国元宵节的快乐与喜悦;元宵节的团圆寓意,中国文化的和美观念,孔院的文化立根思想,也通过网络向世界传达。新布伦瑞克省孔子学院也因此"走红"网络,天涯共此时,千里共传情,花灯盏盏,映照华文璀璨;创意连连,助力文化发展!