It has been a year and a half since I became a member of the Confucius Institute in New Brunswick in 2016. Throughout the day, I, a little volunteer who knew nothing had been trained as a young and active teacher. When I look back, I would say I am so lucky. The Chinese teaching in our province has completely entered the local teaching system and realized the full coverage of the entire teaching chain from kindergarten to university. Multi-level Chinese teaching provides a broad space for teaching practice. This is an ideal "test field" for Chinese teaching. At the same time, however, pressure and opportunity are always coexisting. To hold on to this world and promote Chinese language teaching requires every volunteer to carry out efficient, innovative, and sustainable teaching practices.
In my initial teaching work, I kept using a consistent teaching method from former volunteers. For elementary and middle school students, the teaching content is mainly cultural experience, supplemented by Chinese language teaching. For high school students, mainly we focus on conversational Chinese teaching. This kind of targeted teaching plan has enabled me to begin teaching Chinese for the first time, and I have gradually entered my students' world. A variety of interesting cultural experience activities have improved students' interest in learning. Vivid and flexible oral teaching has provided possibilities for children to speak up. Over time, this way of teaching in different ways has made my classroom have more children.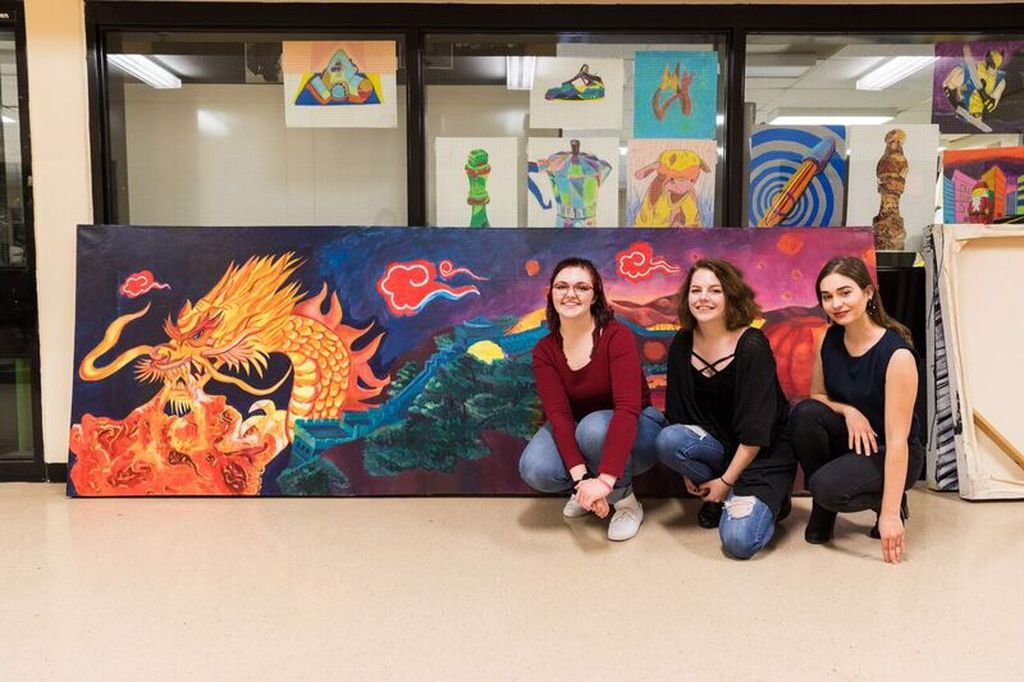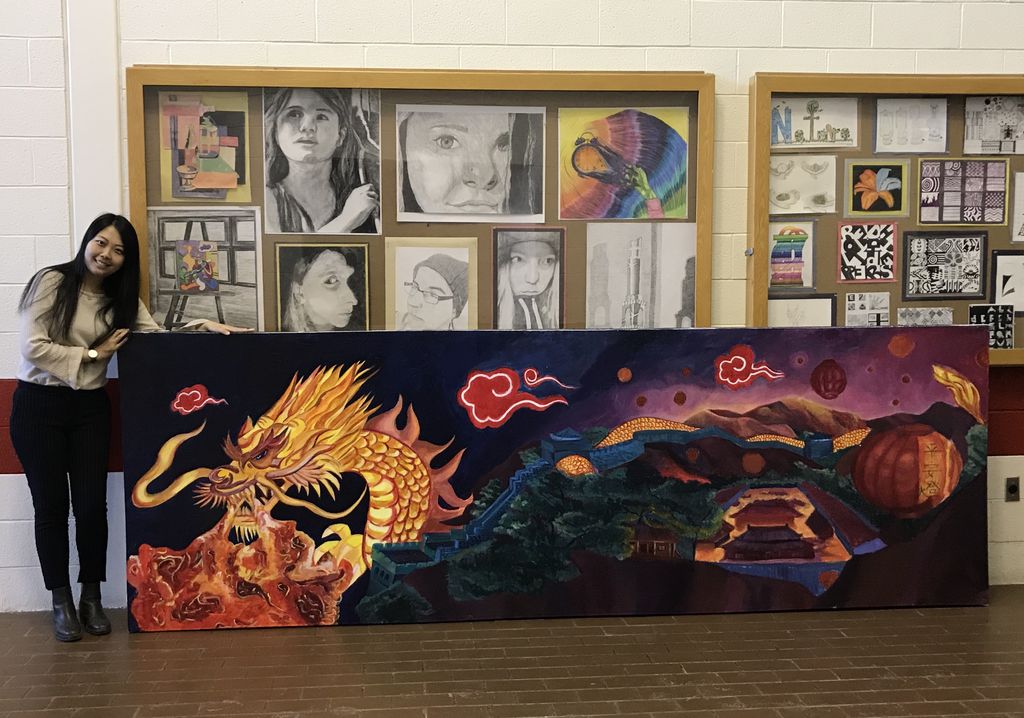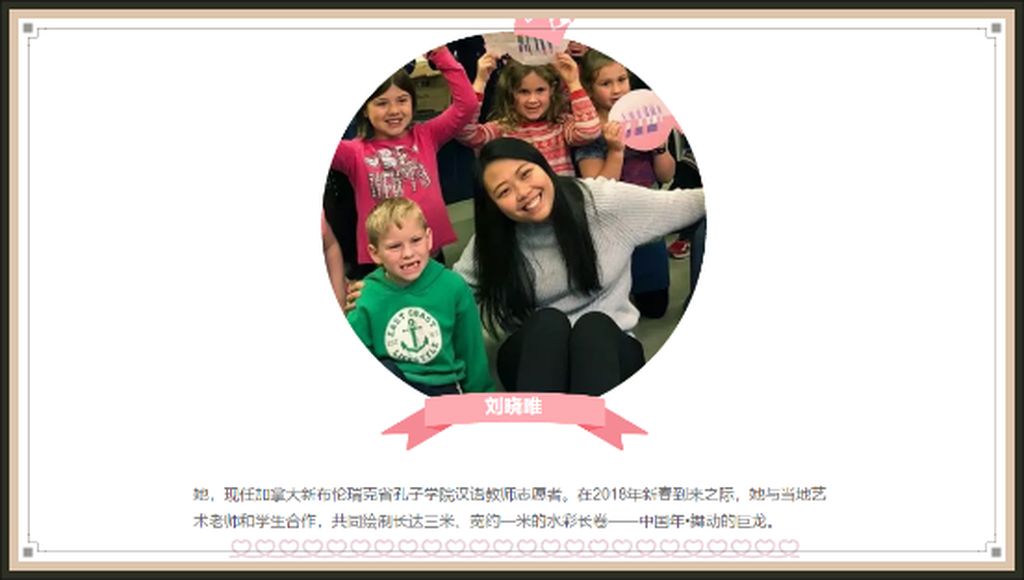 In addition to Chinese culture and language, CINB also actively explores and seeks cooperation with local teachers. As nations move toward the world, they need to be inclusive and flexible. To this end, we invite professional Kung Fu teachers to teach martial art classes for children. In music classes, I teach children to sing Chinese songs and enjoy Chinese music. Music and sports have no national borders. Traditional Chinese culture elements are deeply loved by students. Tai Chi is outside soft and inside rigidity. Its form and spirit are combined. Chinese music is melodious and ethereal, and it is truly awe-inspiring. Chinese culture rests on a long-standing tradition. Each lesson is exchanges of culture, no country differences, no cultural background differences, the joy of gathering and mingling at this moment is all because of China. For this reason, I am very proud.
In art class, I hope to work together with students and local teachers to create a work with Chinese characteristics. At the beginning of the semester, I found the art teacher to discuss whether or not students could be organized and work together to create a painting with Chinese elements. The art teacher readily agreed to my request. The idea is to organize students to work together to draw Chinese dragons. Combining this theme, I will give a "Chinese Dragon Culture " lesson to describe Chinese dragon culture and compare it with Western dragon culture. Through the refinement of the "Chinese Dragon" this cultural symbol, students are invited to imagine the image of the Chinese dragon. Afterwards, they are shown pictures of the Chinese dragon. By contrast, students' impression of the dragon is more three-dimensional. Later in the class, I showed the students the image of the Western Dragon. With the use of multimedia teaching tools, I projected the images of different dragons on the wall. Ask students to think about the difference between Chinese dragons and western dragons, and why they are different. Through in-depth systematic explanations, students' understanding of the dragon has become more and more diverse. Later, as soon as the Great Wall was displayed, the students excitedly said "Chinese Dragon". Therefore, the cultural significance of the Great Wall and Chinese Dragon was successfully introduced.
The significance of setting up an activity is to mobilize the students' enthusiasm for learning and improve their sense of participation. What's more important is to remember the knowledge learned in this lesson. Anyway, activity should serve the accumulation and mastery of knowledge. Therefore, after learning Chinese dragon culture, I took appropriate activities to build a foundation for further perception of dragon culture.
There are three girls in the class who love to draw and have artistic talents. So, I propose that they can form a drawing group, use a brush to express dragon culture, and show the dragon culture they understand. In the following time, they freely discussed, made plans, and executed plans. Each step was done in an orderly manner. Their art teacher, as art director, also participated in the drawing of Chinese dragons. I like painting so I add a few strokes to the dragon's creation.
The drawing process was long but not boring. The students were creative and exceeded my expectations. The final product appeared in front of people. The long golden dragon soared and hovered over the Great Wall, revealing majesty and silence, Protecting the Forbidden City and the tree-lined land with deep cultural heritage. The Chinese dragon, which symbolizes the auspiciousness of Jiqing, has settled in the distant Canadian land. The silent dragon on the drawing paper is breaking through the silence and brings the everlasting wishes of China to the world.
The beauty of Chinese culture is so strong and splendid that it firmly roots in foreign country and grows vigorously. People live in harmony and peace, and the Chinese dragon will also pray for the land with the wishes of the Chinese.
This picture will be permanently stored in the library of Riverview High School.
Women's Day special edition leads the trend and the Confucius Institute goddess expresses the feelings to world. Confucius Institute Headquarters (Hanban) launched a special edition on Women's Day "Approaching to the most beautiful of her! Come and praise the Confucius Institute goddess". Liu Xiaowei, a Chinese volunteer teacher in the Confucius Institute at New Brunswick, was selected among the masses of the Confucius Institutes around the world, and regarded as the Confucius Institute goddess based on her painting "Chinese Dragon" drawn by teachers and students together.
"孔院女神"之中国龙背后的故事

      从2016年成为加拿大新布伦瑞克省孔子学院的一员,到现在已经有一年半的时间了。白驹过隙,一年半以前初次出国手足无措的志愿者,历经重重磨练,出落成大方活跃的小老师。回首来时路,我感到何其幸运。我省孔院的汉语教学已经完全走进当地的教学系统,并且实现从幼儿到大学这一整条教学链的全覆盖。多层次的汉语教学,提供了广阔空间进行教学实践,这里是汉语教学理想的"试验田"。但与此同时,压力与机会总是并存,守住这方天地,推广汉语教学工作,就要求每位志愿者进行高效、创新、可持续的教学实践。
      在我最初的教学工作中,我从前任的志愿者那里继承了一贯的教学方式:针对小学初中的学生,教学内容以文化体验教学为主,汉语语言教学为辅;针对高中学分课,以口语汉语教学为主。这种目标明确、有的放矢的教学规划,让初次进行汉语教学的我,逐渐走进学生的世界。纷繁有趣的文化体验活动,提高了学生的学习兴趣;生动灵活的口语教学,为孩子们开口说提供了可能。日积月累,这样不同方式的教学模式,使我的课堂多了一大批孩子。
      除了中国文化和语言外,我省孔院还积极探索,寻求与当地老师的合作。民族走向世界,需要兼容并包与灵活变通。为此,我们邀请专业功夫老师,为孩子们教授体育课;在音乐课上,我带领孩子们唱中国歌曲,欣赏国乐。音乐、运动没有国界之分,传统国粹深受学生喜爱,太极的外柔内刚、形神兼备;国乐的悠扬空灵,真挚动听;中华文化寄托在深远悠久的传统中,每节课都是真诚的交流,没有国别之分,没有文化背景差异,这一刻相聚融成的欢乐,都是因为中国。为此,我深感骄傲。
      在教授绘画课程的过程中,我希望与学生、老师共同合作,创造一幅有中国特色的作品。于是,在学期开始,我找到学校艺术老师,商量着能否组织学生,一起做一幅具有中国元素的画作。艺术老师爽快地答应了我的请求。这次的创意,是组织学生合力画出中国龙。结合这个主题,我开设"中国龙文化专题"课堂,讲述中国的龙文化,并与西方龙文化作对比。通过将"中国龙"这一文化符号细化,邀请学生想象中国龙的形象,之后,向他们展示中国龙的照片,通过对比,学生对龙的印象更加立体。在之后的课堂,我又向学生展示了西方龙的形象,借助多媒体教学工具,将不同的龙的形象投影在墙上,请学生思考,中国龙与西方的龙有什么差别,以及产生这些差别的原因。通过深入系统的讲解,学生对龙的理解变得立体多元起来。随后,一展示长城图案,学生就兴奋地说"中国龙",于是,顺利引入长城和中国龙的文化意义。
      开设活动的意义,一方面是调动学生的学习积极性,提高参与感,更重要在于,记住课堂教学所学的知识,"在玩中学",归根到底,还是为知识的积累和掌握服务的。所以,学完中国龙文化后,我采取了适当的活动方式,为进一步感知龙文化打基础。
      班级有三个热爱画画、有艺术天赋的女孩子,于是,我提议,她们可以组建绘画小组,用画笔把龙文化表达出来,展示她们所理解的龙文化。接下来的时间里,孩子们自由讨论、制定计划、执行计划,每一步都做得有条不紊,艺术老师作为艺术指导,也参与进中国龙的绘制过程中。我平日里喜欢画画,也为龙的创作添了几笔。
      绘制过程漫长却不枯燥,孩子们创意无限,每一笔都超出我的期待,最终成品呈现在大家眼前,金色长龙跃空翱翔,盘踞在巍巍长城之上,沉默中透露出威严,神态凛凛,保护着具有深厚文化底蕴的的紫禁城和绿树成荫的大地。象征吉庆祥瑞的中国龙,在遥远的加拿大土地上安了家,画纸上沉默不语的龙,此刻正冲破沉默,把中国亘古不变的祝愿,带向世界;把历久弥新的祈福,传向四方。
      中华文化之美,这样强烈而绚烂地,在异国他乡牢牢扎根,蓬勃生长。人们在和谐与安宁中美好生活着,而中国龙,也将带着中华民族的祝愿,为这片土地祈福——。
这幅画将会永久保存在河景高中的图书馆里。
      "三八特辑"引潮流,"孔院女神"诉真情
      3月8日,国家汉办、孔子学院总部开展了"三八节特辑——走近最美的她!快来为你心目中的孔院'女神'点赞活动",新省孔院汉语教师志愿者刘晓唯在全球各孔子学院海量人选中脱颖而出,凭借其师生同绘"中国龙"的故事当选为"孔院女神"。