On May 6th, 2018, people gathered in Market Square in St. John, New Brunswick to celebrate opening ceremony of Canada's 16th "Asian Heritage Month". Opening Ceremonies have representatives from the various communities:Bhutanese, Nepalese Cultural Society, Chinese Community in Saint John, Japanese Community, Filipino Association of NB, SJ Chapter, Greater Saint John Korean Association, Indian Community, Iranian Community Pakistani Community and?Vietnamese Community. New Brunswick Confucius Institute as the representative of Chinese community participated in the opening ceremony.
During the opening ceremony, the congressman, accompanied by Ms. Song Li, head of the organizer of this event, came to expressed their gratitude to the amazing job CINB did initiatively, they showed great interests in Chinese culture and took photos with Confucius Institute teachers and students; the president of the Chinese Association held cordial talk with the directors from two sides of Confucius Institute on the long-term cooperation plan; Ms. Li Wenmei and her husband from New Brunswick University, as the experts of world heritage study and tourism discussed the future cooperation program of Ministry of Culture and Tourism of China with Teng Jing, the director of Confucius Institute; Pei Yan, the famous Yue opera performer, offered to serve as the planner of the large-scale activities of Confucius Institute in June. They all admired and appreciated that New Brunswick Confucius Institute won the support of the government, developed rapidly, and built strong credibility in New Brunswick.
New Brunswick Confucius Institute conventionally keeps being the only representive to hold the cultural booth in this event. The 5,000 years broad and profound culture attracted hundreds of people to stop and experience, which include an old couple who just travelled of China talked about their wonderful experience happily; a young people who had lived in China for two years played chess with CI teachers excitedly and said this brought his beautiful memories back; the Vietnamese student who participated in March Break China Trip came to show thanksfulness to CI teachers specially and expressed that he will go to China again at his own expense in Summer; the mandarin class students also actively participated in the culture exhibition and in the performance. A famous Chinese song "Beijing welcomes you" which performed by mandarin class students from Harbour View High School and their mandarin teacher amazed all the audience, CI Kongfu Teacher surprised with the audience with Taichi as well, Qipao-Chinese traditional costume show heightened the excitement.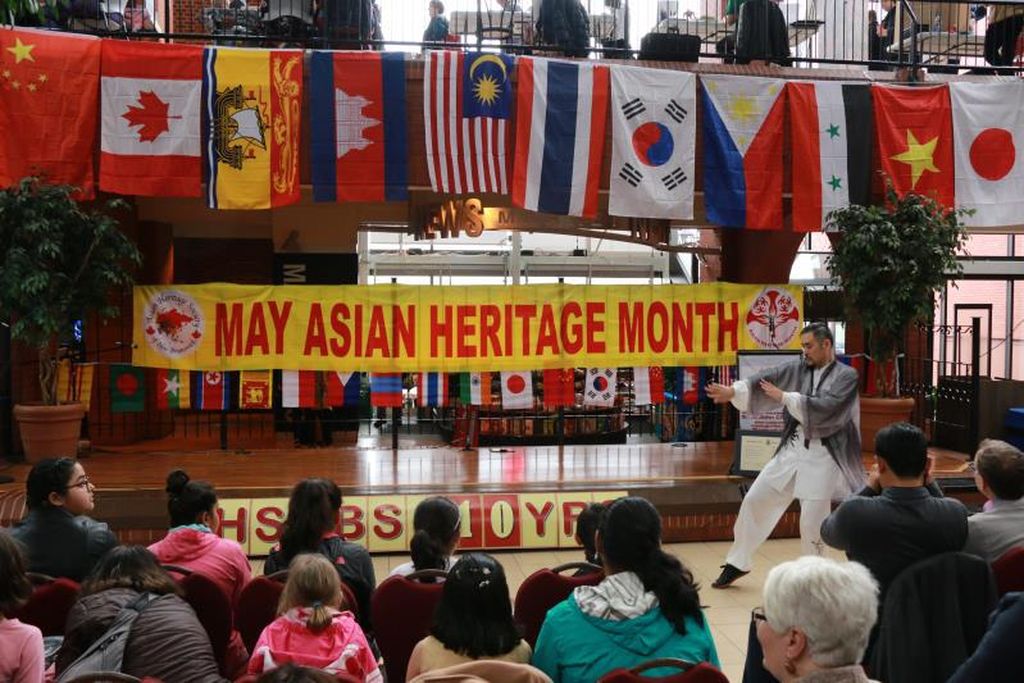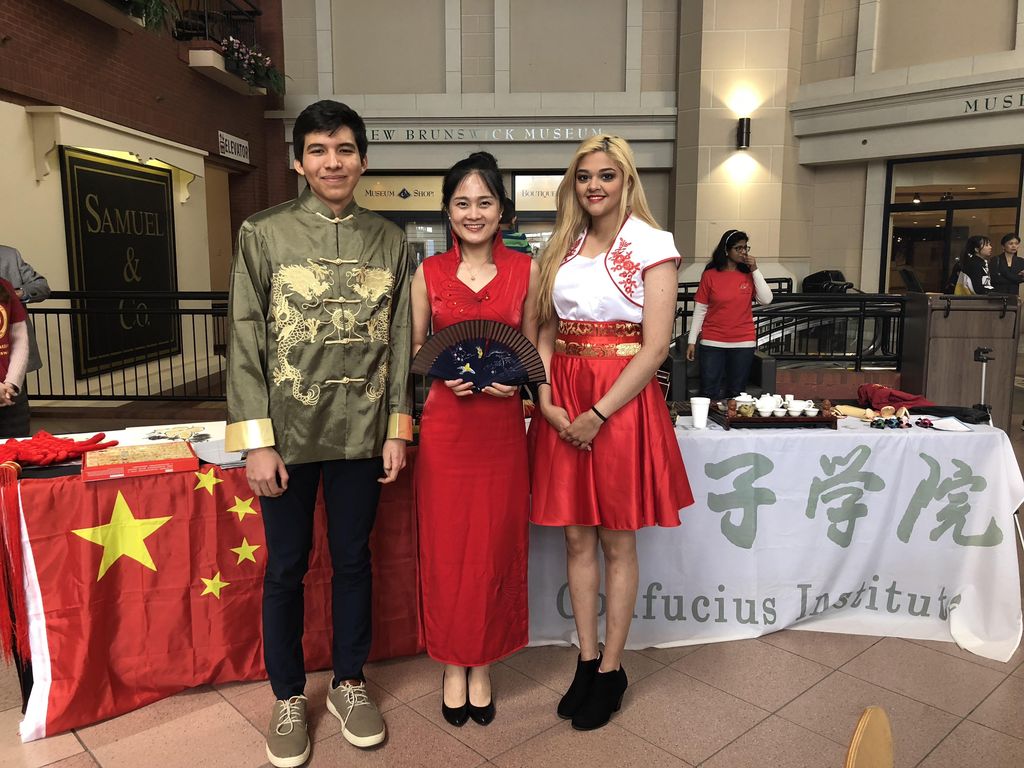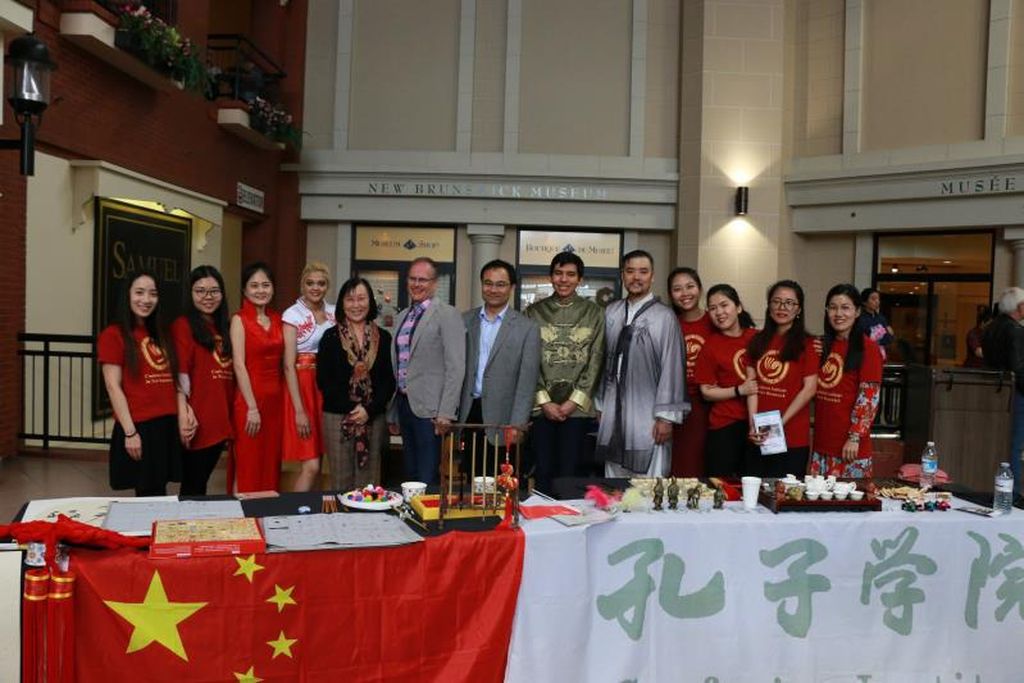 This event acknowledged the long history and rich culture of China and it also provided and opportunity for people from different communities to know China.
New Brunswick Confucius Institute took, take and will keep taking the great role to prosper Chinese culture and language!

新省孔院在圣约翰市亚洲文化遗产月出新彩

      2018年5月6日,新不伦瑞克省圣约翰市第16届"亚洲文化遗产月"开幕式在Market Square 盛大举行。参加此次文化遗产月的国家代表有中国、日本、不丹、尼泊尔、菲律宾、韩国、印度、伊朗、巴基斯坦和越南。新不伦瑞克省孔子学院作为中国代表参加了开幕式。
      在开幕式的活动举办期间,国会议员在主办方负责人宋丽女士的陪同下专程来到孔院文化展台表示感谢,体验中国文化并和孔院师生合影留念;华人协会会长亲切地前来与孔院中外方院长洽谈长久合作计划;新不伦瑞克大学李文美夫妇作为世界遗产研究和旅游专家与滕菁院长探讨未来将与中国文化旅游部的合作;著名越剧表演艺术家裴燕老师主动请缨担任孔院六月大型活动的策划人,他们都对新不伦瑞克省孔子学院以赢得政府各界支持和在新省的迅猛发展表示钦佩,并对孔院已建立的强大公信力大加赞赏。
      新不伦瑞克省孔院连续多年参加亚洲遗产月活动并成为举办方的唯一文化展台。展台上中国上下5000年的文化精髓吸引了观众驻足和体验,刚刚从中国旅游回来的老夫妻亲切地和孔院老师们畅谈观感;中国游学两年的年轻人和孔院老师以棋会友忆往昔;参加今年中国行的越南学生特地来此表示感谢,并表达暑假将自费继续中国之旅;孔院汉语班的其他学生们也都积极踊跃前来体验并参加演出。田恬老师和来自Harbor View High School汉语班的学生们演唱的《北京欢迎你》、官玉琦老师表演的中国功夫和孔院老师参加的快闪旗袍秀都赢得了观众们的阵阵掌声,将此次活动推向了高潮。
      此次活动圆满成功,新不伦瑞克省孔子学院不仅向加拿大人民以及来自不同国家的人民展示了中国悠久的历史和博大精深的文化,更显示了新不伦瑞克省孔子学院在语言和文化传播方面的风采与活力!