From July 3rd to 6th, the Principal Delegation of New Brunswick, Canada visited Qufu Normal University. This delegation consists of Teng Jing, the superintendent of Chinese teaching, foreign director of the Confucius Institute in New Brunswick (hereinafter referred as the "CINB"), and eight primary and secondary school principals and teachers from the various school districts of NB.
During the visit, the principal Zhang Honghai met with Teng Jing, Teng Jing introduced the development status and future planning of the CINB. Zhang Honghai fully recognized the achievements of CINB, and expressed his continued support for the development of CINB. The principal delegation also visited the affiliated middle school and the Hulu Museum. In the affiliated middle school, the principal delegation and the teachers had a cordial exchange with the teachers and had friendly interactions with the students. By visiting the Hulu Museum, the principals learned about the Chinese unique culture, art and its rich cultural connotations.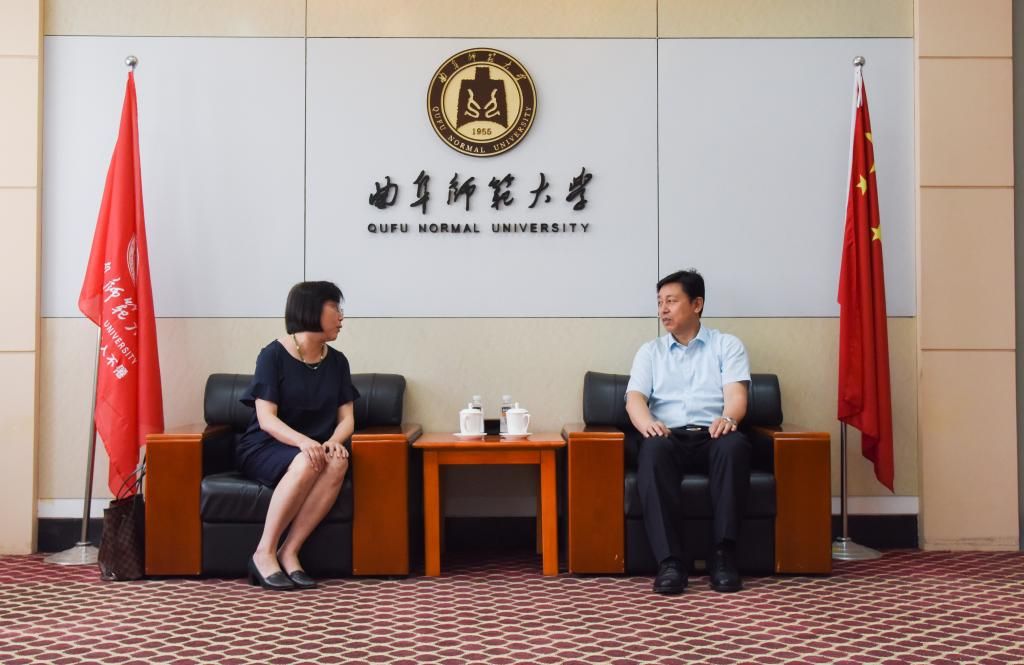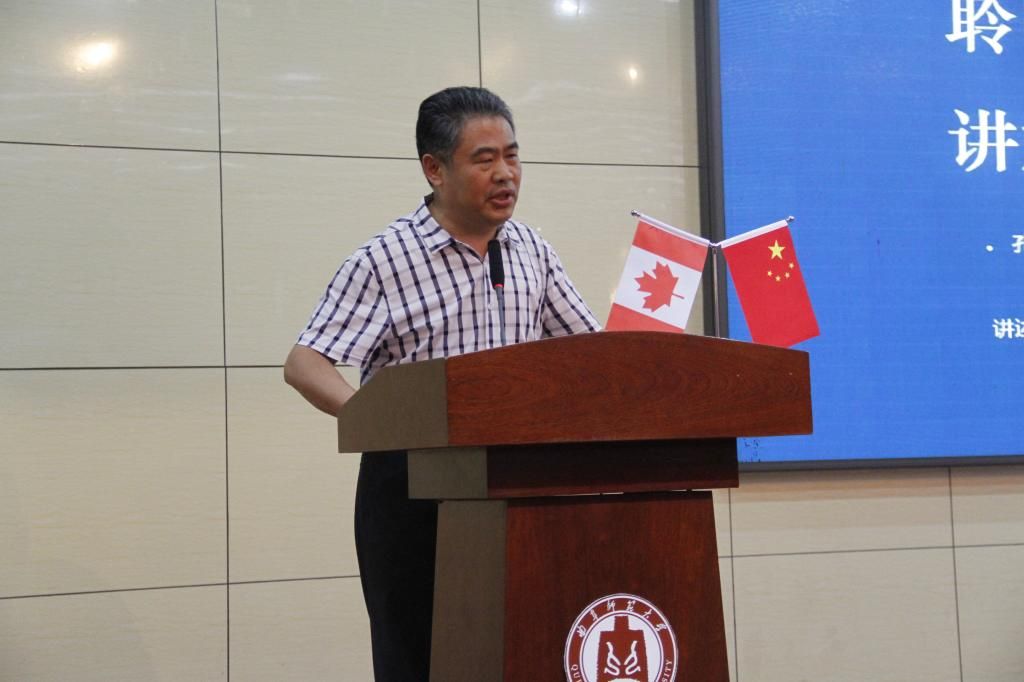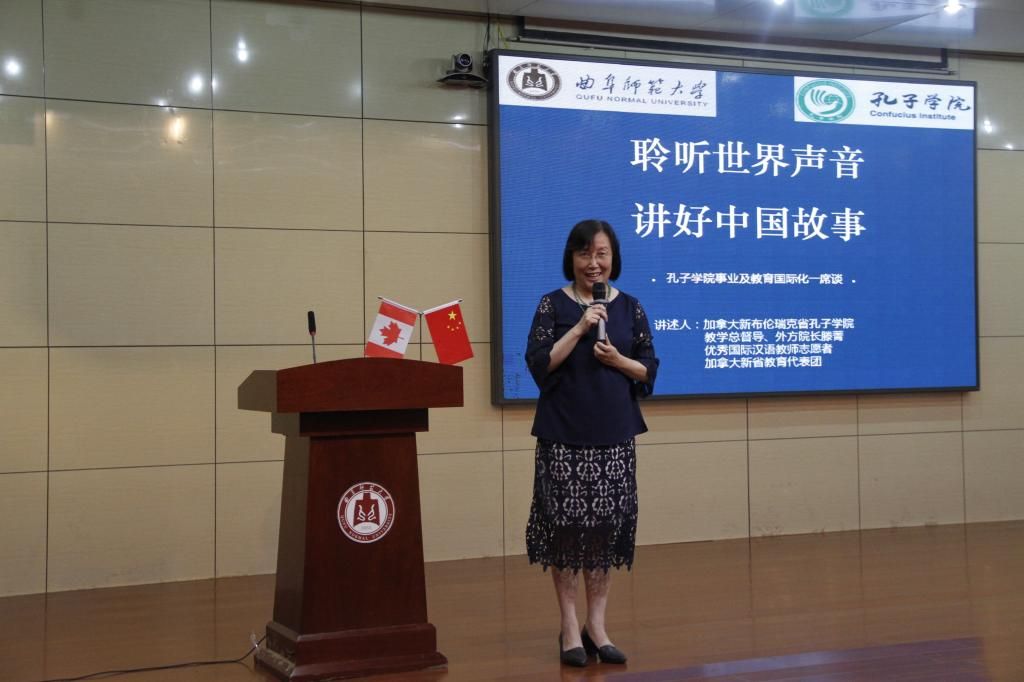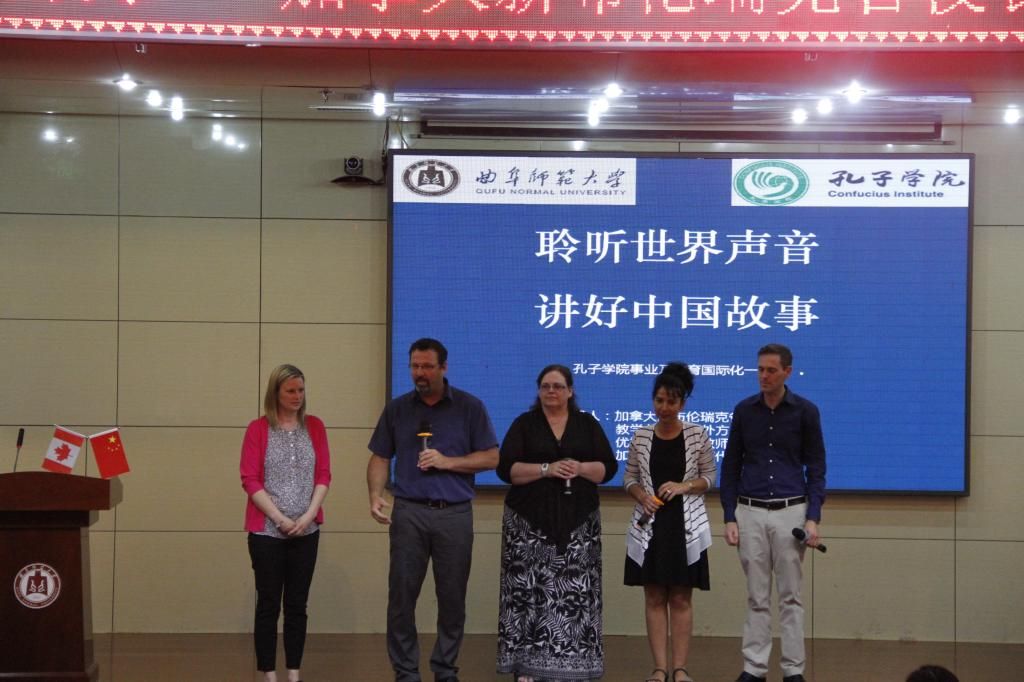 In the evening, all the members of the Principal delegation and nearly 500 teachers and students from Qufu Normal University gathered together to share the report "Listening to the Voice of the World and Telling the Chinese Story Well". Vice President Zhao Qingxue attended the report and delivered a speech. Zhou Zhichang, the project leader of the volunteer office of Hanban and Confucius Institute Headquarters, was invited to attend and gave a detailed introduction to the volunteer project of Hanban. At the report, Teng Jing shared with the Confucius Institute on how to develop an international vision, improve comprehensive ability, and become a qualified Chinese language teacher and Chinese cultural communicator. Finally, the returned Chinese excellent Chinese teacher volunteers told everyone about the work and life in Canada, and encouraged the students to actively apply for Chinese teacher volunteer positions and contribute their own strength to the development of overseas Chinese teaching.
Owning to the unremitting efforts of the CINB, the New Brunswick Principal delegation of Canada has become a brand project for Canadian primary and secondary school principals to learn more about China and experience Chinese culture at close range.

加拿大新布伦瑞克省校长团一行到访曲阜师范大学
      7月3日至6日,加拿大新布伦瑞克省校长团到访曲阜师范大学(以下简称"曲师大")。该校长团由新布伦瑞克省孔子学院(以下简称"新省孔院")外方院长滕菁以及来自新布伦瑞克省各学区的8名中小学校长以及教师代表组成。来访期间,通过曲师大举办的系列活动,代表团深入了解了我国的教育体系、切身体验了中华文化的魅力,并进一步强化了与曲师大的交流合作关系。
      访问期间,校长张洪海会见了新省孔院外方院长滕菁。滕菁介绍了新省孔院的发展状况和未来规划,张洪海充分肯定了孔子学院取得的成绩,并表示继续支持新省孔院的发展,特别在汉语教师志愿者和国家公派教师的选拔方面,学校将完善相关政策,鼓励广大师生积极参与,为新省孔院输送更多高素质人才。
      校长团一行还先后参观访问了曲师大附属中学、葫芦博物馆。在附属中学,校长团一行与教师们进行了亲切交流,与同学们进行了友好互动,双方在促进青年教师之间的交流、推动教育国际合作方面达成了共识;通过参观葫芦博物馆,各位校长们了解了极具特色的文化艺术和其丰富的文化内涵。
      7月5日上午,加拿大新布伦瑞克省首个(英语、法语、汉语)三语示范学校——新省弗莱市公园街小学与曲师大附属实验学校签署了合作协议,双方在建立汉英双语通信的笔友关系、课程视频共享、师生交流等方面达成了共识,双方表示将为培养具有国际视野和跨文化背景的优秀学子而共同努力。此次合作协议的签署,有助于拓宽两校的交流渠道,促进双方国际化办学水平更上一层楼。
      7月5日晚,校长团全体成员与曲师大近500名师生共聚一堂,共同分享了"聆听世界声音,讲好中国故事"的报告会,畅谈教育国际化理念,分享国际化办学经验。副校长扈庆学出席报告会并致辞。国家汉办、孔子学院总部志愿者工作处项目负责人周之畅应邀出席,并为同学们详细介绍了国家汉办的志愿者项目。报告会上,滕菁从孔子学院的建设发展角度,与大家分享了如何开拓国际视野、提升综合能力、成为一名合格的汉语语言教授者和中华文化传播者的经验。最后,归国优秀汉语教师志愿者为大家讲述了在加拿大工作生活的所学所得,鼓励广大同学积极申报汉语教师志愿者岗位,为海外汉语教学事业的发展贡献自己的一份力量。报告会让同学备受鼓舞,纷纷表示将积极申请汉语教师志愿者项目,为国外青少年讲述中国故事。
      在孔子学院打造下,加拿大新布伦瑞克省校长团已经成为加拿大中小学校长们深入了解中国、近距离体验中华文化的品牌项目。