On November 24th, the Confucius Institute of New Brunswick participated in the annual "Santa Claus Parade" in Moncton. More than 100,000 people watched this event. 7 CINB teachers, some students in Chinese classes and Riverview High School cooperated jointly formed a team. Chinese lions, with their golden coats, graceful and awesome appearance, led the way ahead of the team, echoing the mascot lion of Riverview High School on the float. Seven pandas and twelve zodiac animals followed. The zodiac pig and dog symbolized the change between the New Year the past year.
During the whole course of the parade, the CINB team fully interacted with the audience. Along the three kilometers' journey they received warm response. Many audience cheered "Lion!" "Panda!" "China!" The children jumped or clapped hands with pandas and zodiacs, danced with lions, or carefully put their hands into the lion's mouth, and then exclaimed "ah" pretending to be bitten. Eason, a student from Riverview High School and the brother of a student in the Chinese class of CINB, took part in the parade for the first time. He said excitedly, "It's so interesting! It's beyond my imagination. Next year I'll definitely join in! I want to learn Chinese, too!"
The success of this parade lay in both the cultural and educational materials donated by Qufu Normal University and the careful planning and full cooperation of teachers and students of CINB. Teng Jing, dressed up in the Zodiac rabbit and acted as a "Field Reporter" in charge of the overall camera shooting of the whole process; Dai Zunfeng and Chen Zhisheng shouldered the responsibility of holding the two lions' heavy heads. They sweated all over even in the cold winter night. Liu Xiaowei and Li Shanshan cooperated with them to do the lion dance by playing the role of the lions' tails. Although they were novices they displayed the power of the Chinese lions. Xu Mengke and Sun Xiaohao dressed up as pandas. They held the banners of CINB and organized students to interact with the audience. The students tried their best to run around and encouraged the enthusiasm of the audience. The weather was cold, but everyone found pleasure in it.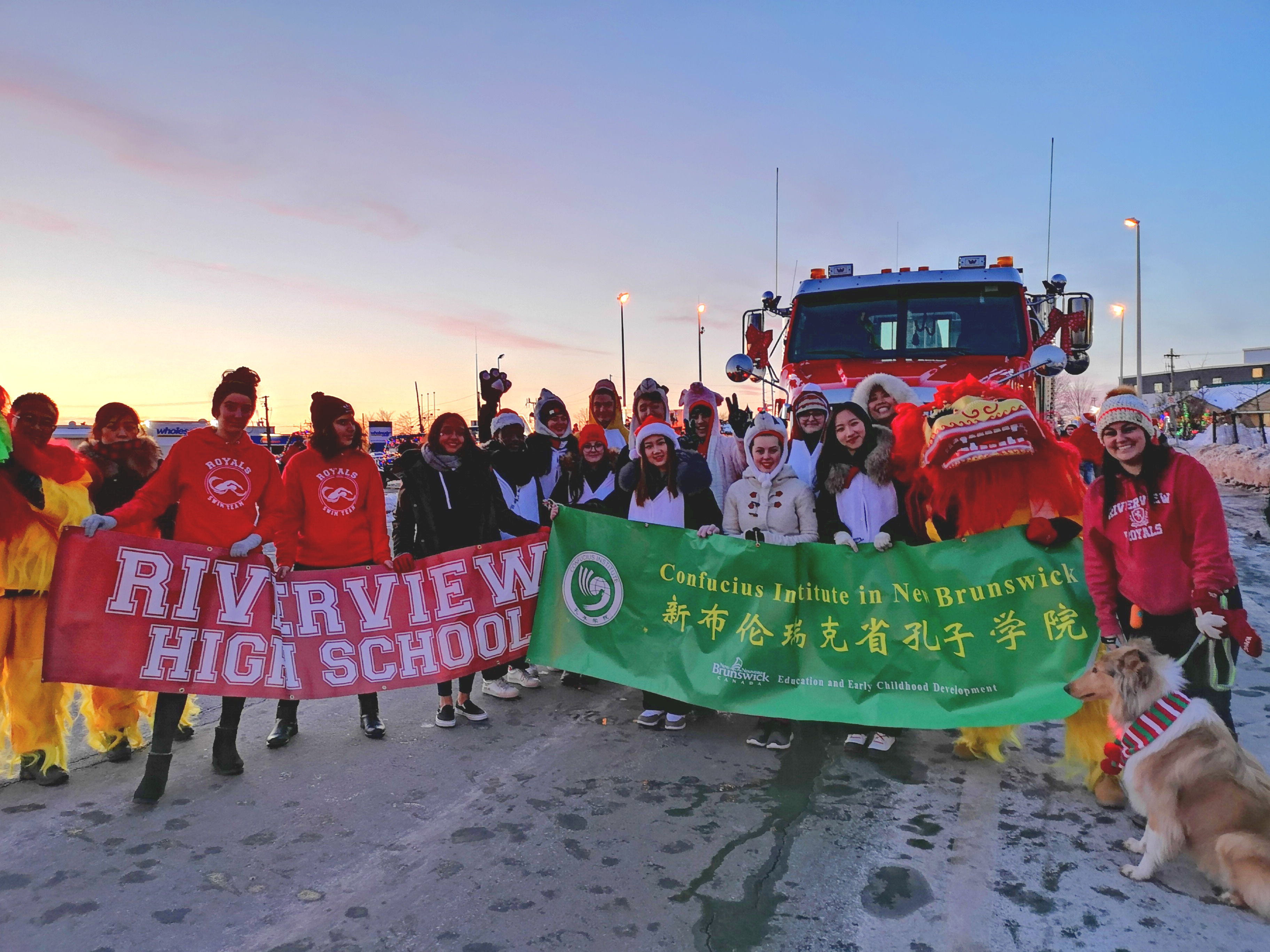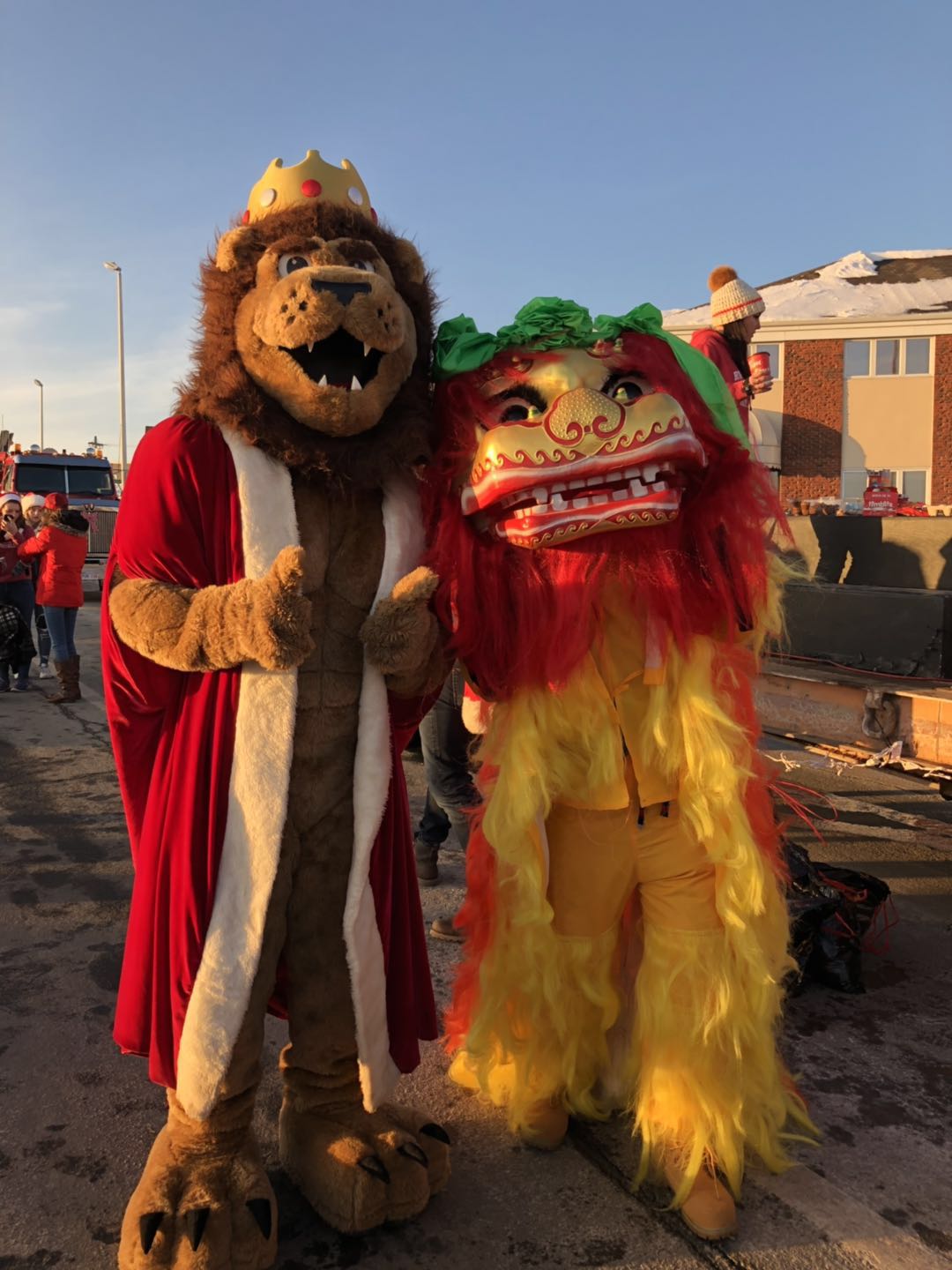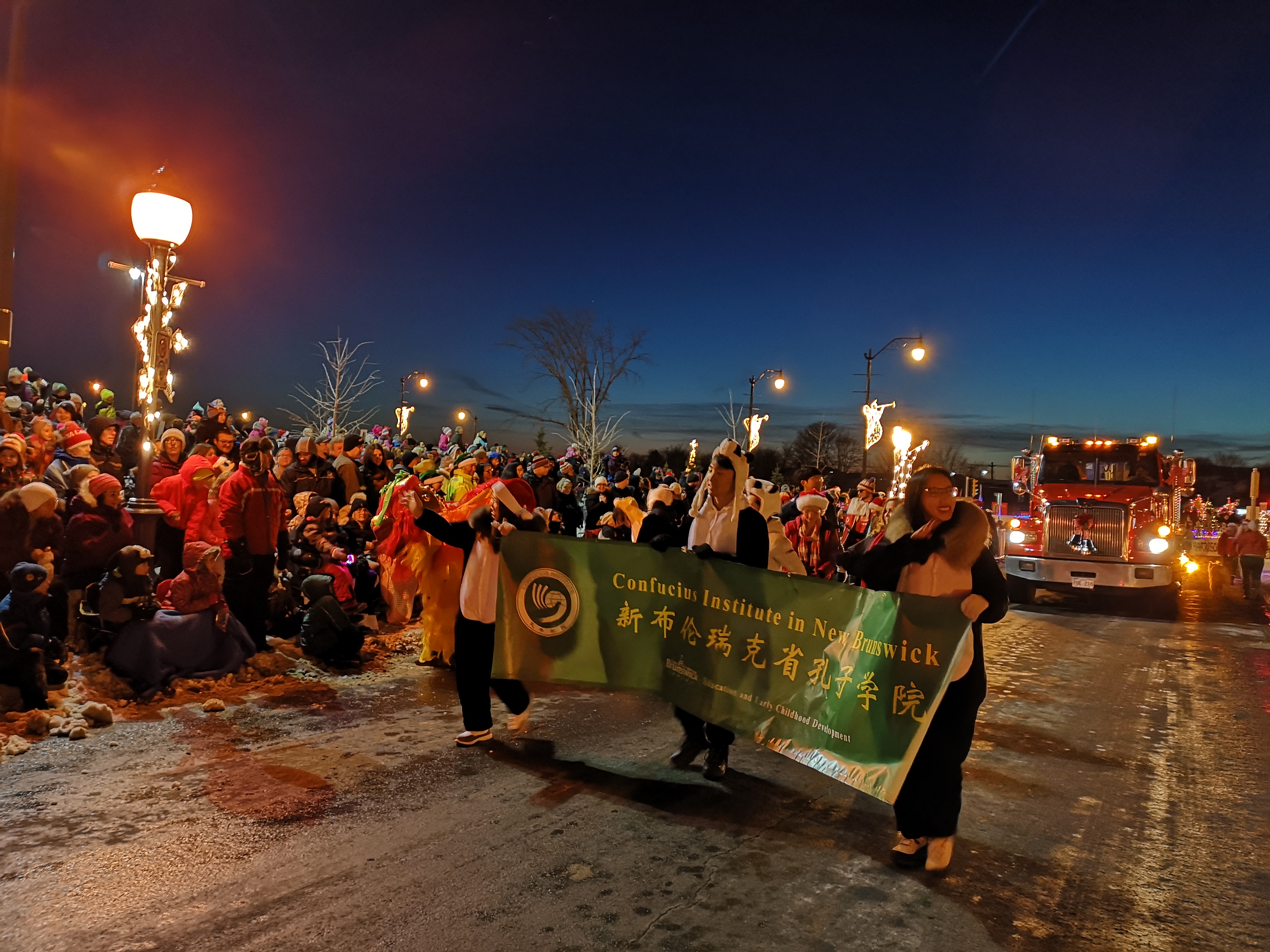 It is an annual essential program of CINB to participate in the Christmas parade. It is a good opportunity to show the local people the spirit of the Confucius Institute and Chinese culture. Meanwhile, it is also an opportunity to merge into the multi-culture.

      11月24日,新省孔院参加了一年一度十万余人观看的蒙克顿市大型"圣诞花车游行"活动。本次活动孔院教师及中文课堂的部分学生与河景高中(Riverview High School)合作组成方阵,以狮子为特色。中国舞狮身披金色氄毛,神采奕奕,威风凛凛,在方阵前负责开路,与花车上河景高中的吉祥物雄狮遥相呼应。七只熊猫与十二生肖紧随其后,猪狗生肖寓意新年和旧年交替。
      路演全程大家与观众充分互动,三公里的路途所经之处反响热烈,大家纷纷欢呼"狮子!"、"熊猫!"、"中国!"小朋友们则雀跃着或与熊猫和生肖击掌,或与狮子共舞,亦或小心翼翼地把手放进狮子口中,然后"啊"的一声假装被咬。第一次随孔院参加游行的河景高中学生伊森(Eason)是孔院汉语班学员的弟弟,他兴奋地说:"太有趣了!超出了我的想象,明年我一定还要参加!我也要学习中文!"
      此次游行的大获成功既有曲阜师范大学所赠文教物品的"添翼",更是孔院师生精心策划通力合作的结果。"战地记者"外方院长滕菁着生肖兔装扮,并全程统筹摄像,中方院长代尊峰和特地从弗莱赶来的志愿者陈至圣扛起狮头重任,道具闷热体会到了零下七度的室外汗蒸。汉语教师刘晓唯和李珊珊一直躬身在狮尾配合,虽是新手,四人组或昂首或俯身或转头或摆尾,表现出了中国狮的凛凛姿态;志愿者许梦可和孙小皎扮成熊猫,手持孔院横幅,同时组织学生与观众互动。高中生则使出浑身解数,满场跑动,调动观众热情,天气寒冷大家却乐在其中。
      参与圣诞游行是新省孔院每年的必备项目,是向当地人展现孔院风采和中国文化的一次良好机会,也是与他们同期圣诞、融入多元文化的契机。