1. "Dance the Oriental Charm, Show the Chinese Brilliance."
On December 1st, Liang Jiayi, a volunteer teacher of CINB, and Wang Jingli, a Chinese teacher, were invited to attend the annual large-scale handicraft exposition of Lester Primary School, bringing a wonderful show of Chinese culture. In addition to exhibiting students' works of Chinese art on the theme of Christmas in school, Wang Jingli and four Chinese class students set up a Chinese cultural exhibition stand and played the music "Fern Leaf Bamboo in the Moonlight". Four treasures of study, chopsticks, paper-cut, pandas, and "Big Head Pictures of Peking Opera" attracted people to come to "figure everything out". The students of the Chinese dance class performed the mix dance the Chinese and Western combination. The opening of the Oriental "Star and Moon Myth" and the ending of the Western "Panama" won a lot of applause. Liang Jiayi's final performance combining folk dance and Chinese Tai Chi elements produced an "Oriental Charm" with the combination of strength and softness.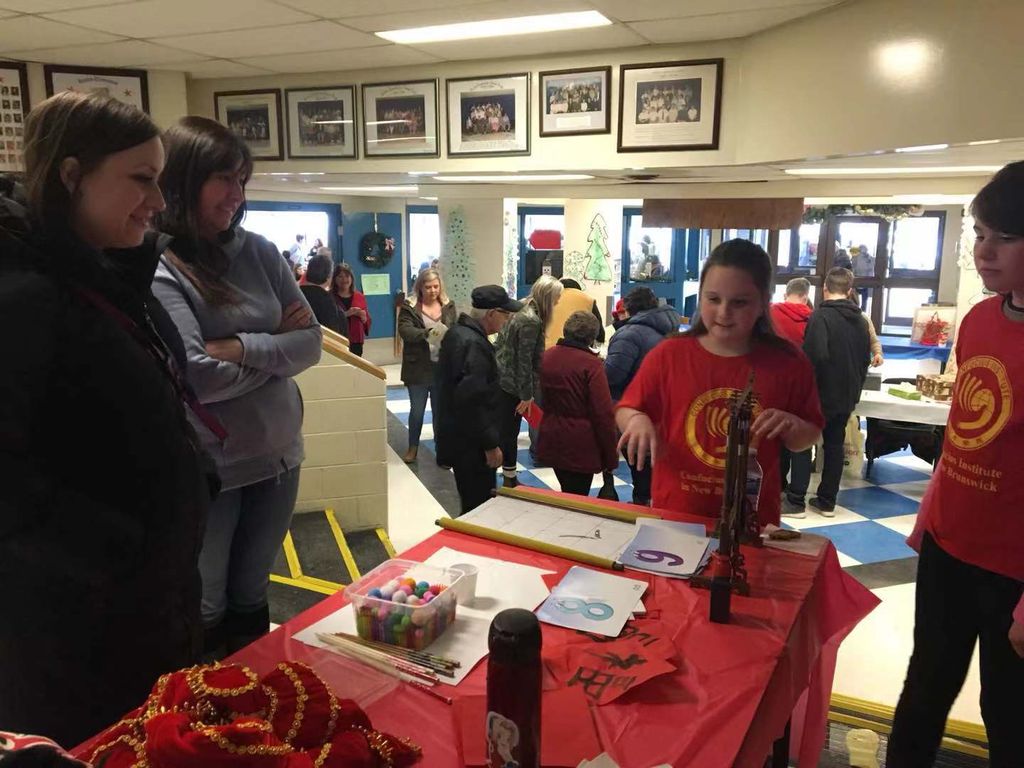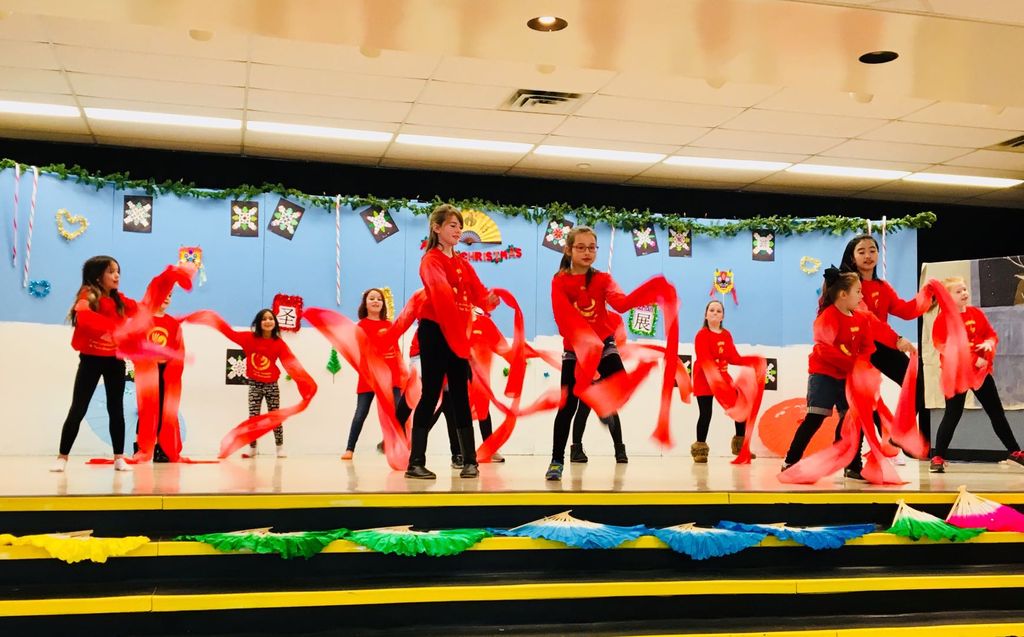 2. "Ten years of hard work has yielded fruits, and the education will move forward tirelessly and diligently."
From December 3rd to 5th, the 13th Confucius Institute Congress was held in Chengdu. Zhang Zhixiong, representative of the council of CINB, Xin Jie, vice president of Qufu Normal University, and Niu Xiangzhen, vice director of International Exchange and Cooperation Department, participated in it.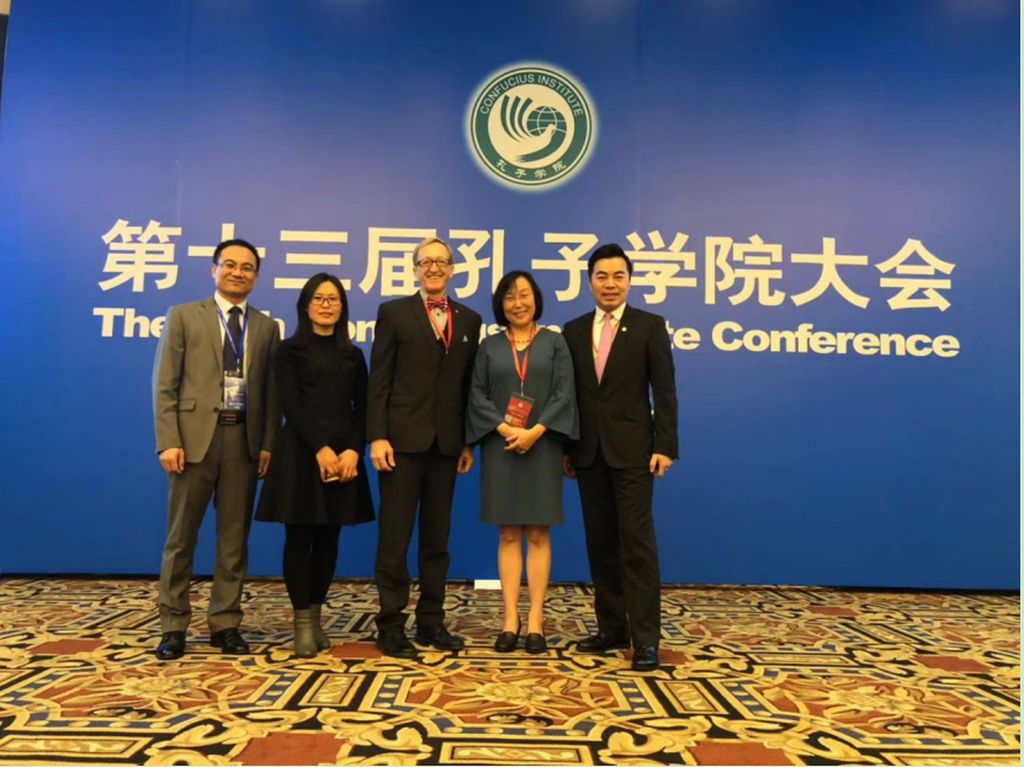 The theme of this conference was "Reform and innovation promote development, hand in hand we create the future" with 2 thematic forums, 8 principal forums and 20 workshops. Teng Jing shared her experience in the workshop "How to Develop Regional Cooperation of Confucius Institutes" with CINB as an example.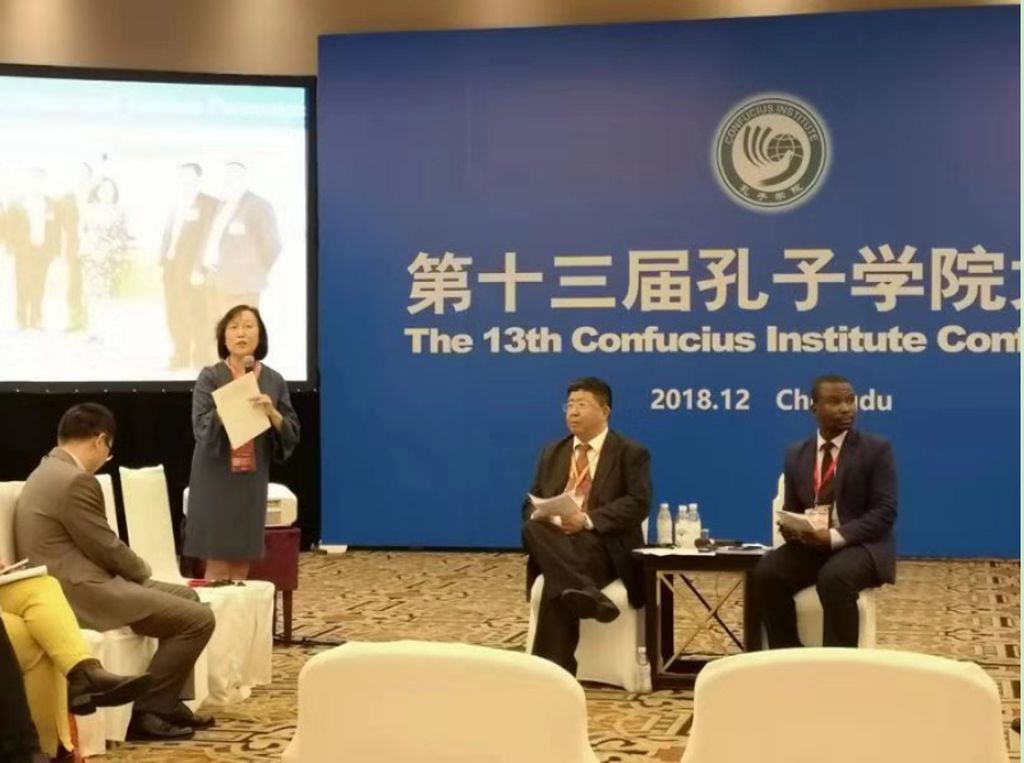 At the closing ceremony, Tian Xuejun, Vice Minister of Education presented awards to 30 Confucius Institutes (Classrooms) of the Year, 41 Confucius Institute (Classroom) Individuals and 10 Outstanding Confucius Institute (Classroom) Chinese Partners. John McLaughlin, president of CINB and Deputy Minister of Education of New Brunswick, was awarded the title of " Confucius Institute Individual Performance Excellence Award". CINB was accredited again at the Global Confucius Institute Conference since it was awarded the honorary title of "Confucius Institute of the Year" in 2016.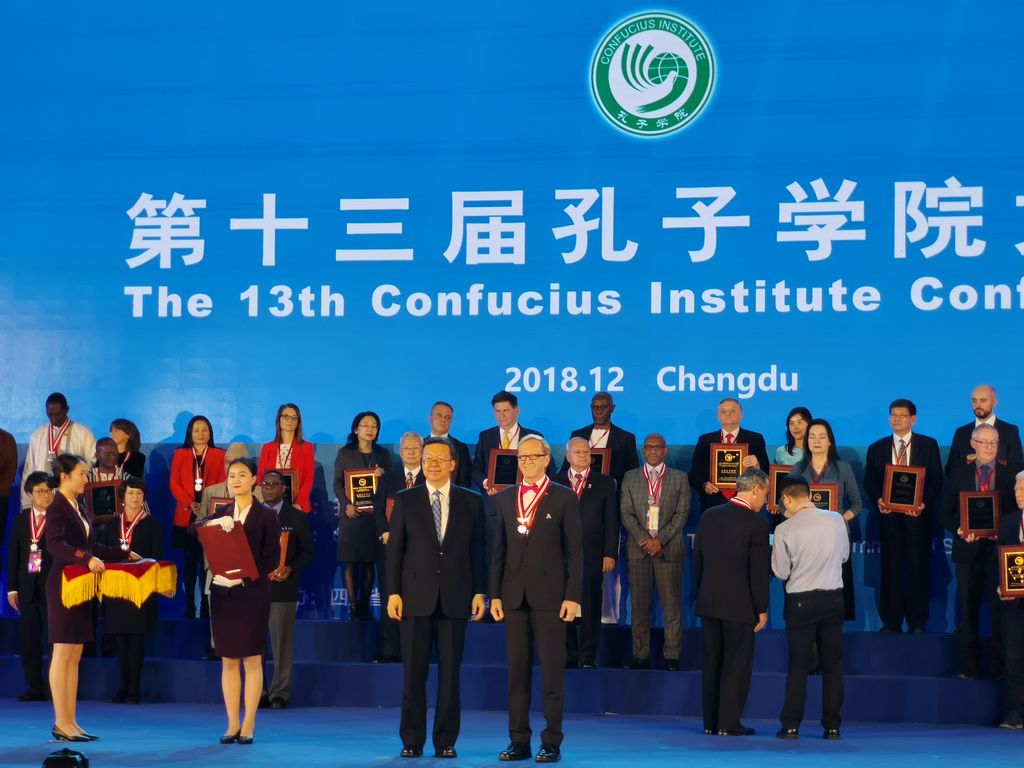 3. "Sino-Western Harmony Sings Merry Christmas. "
On December 5th, volunteer teacher Chen Zhisheng was invited to attend the Christmas concert held by Connaught Street School and Grace Memorial Baptist Church. As the guest in the opening of the concert, he played the Christmas music Jingle Bell, We Wish You A Merry Christmas together with a music teacher Mr. Rogers, and the tacit cooperation of Erhu and bagpipes won warm applause from the audience. The official website of Connaught Street School reported on this.
Report link:https://secure1.nbed.nb.ca/sites/ASD-W/ConnaughtStreet/Pages/default.aspx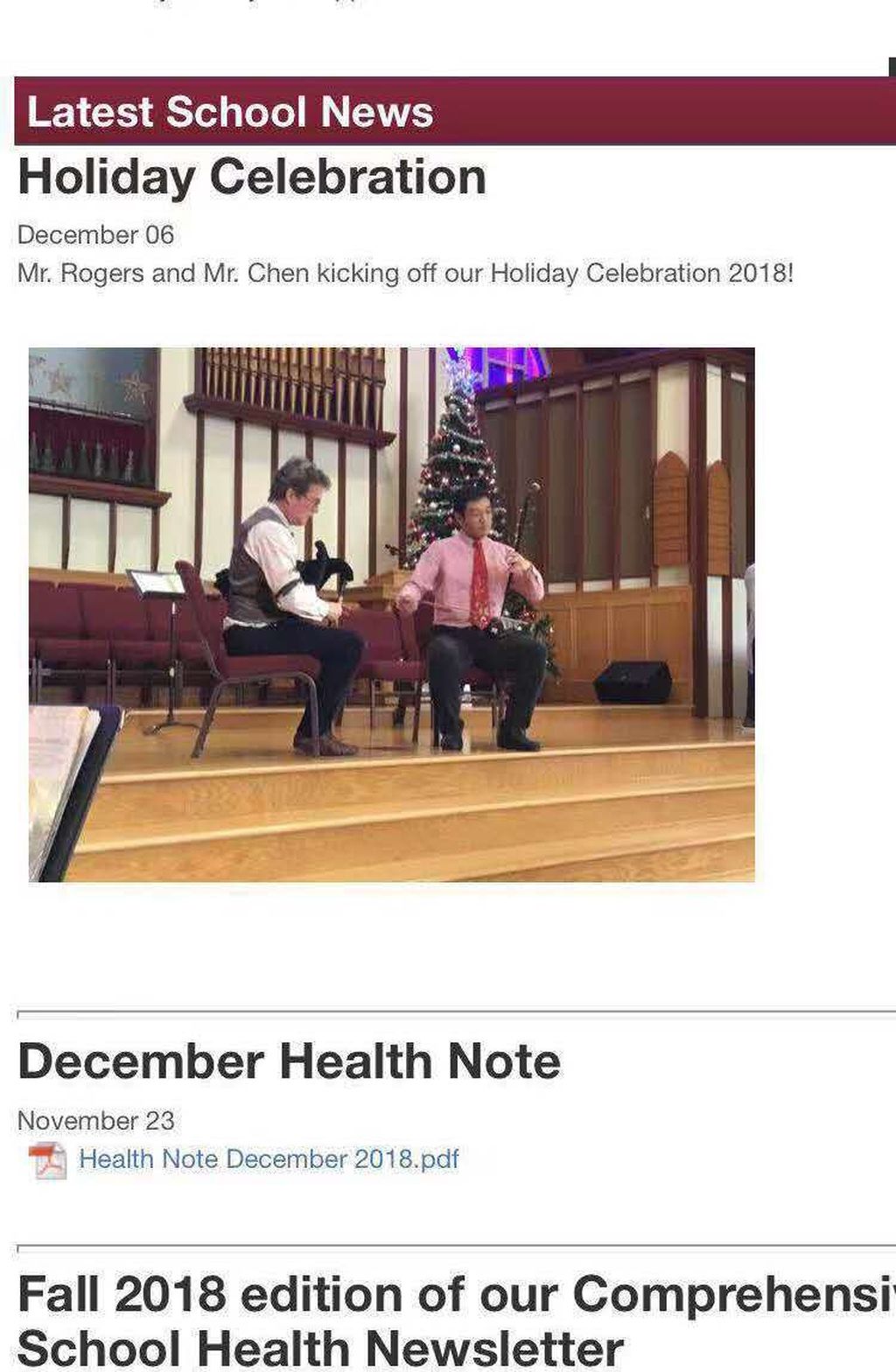 On the same day, at another Christmas concert held by Park Street School, a Confucius classroom and trilingual school, Chen Zhisheng was invited to present Canadian music "Red River Valley" and Chinese music "Farewell" with a teacher named Mme Aube. The fusion of Erhu and piano, two traditional Chinese and Western instruments, brought about a new collision of familiar melodies. Mr. Rogers and Ms. Aube expressed their appreciation for the support of the Confucius Institute and hoped to have long-term cooperation.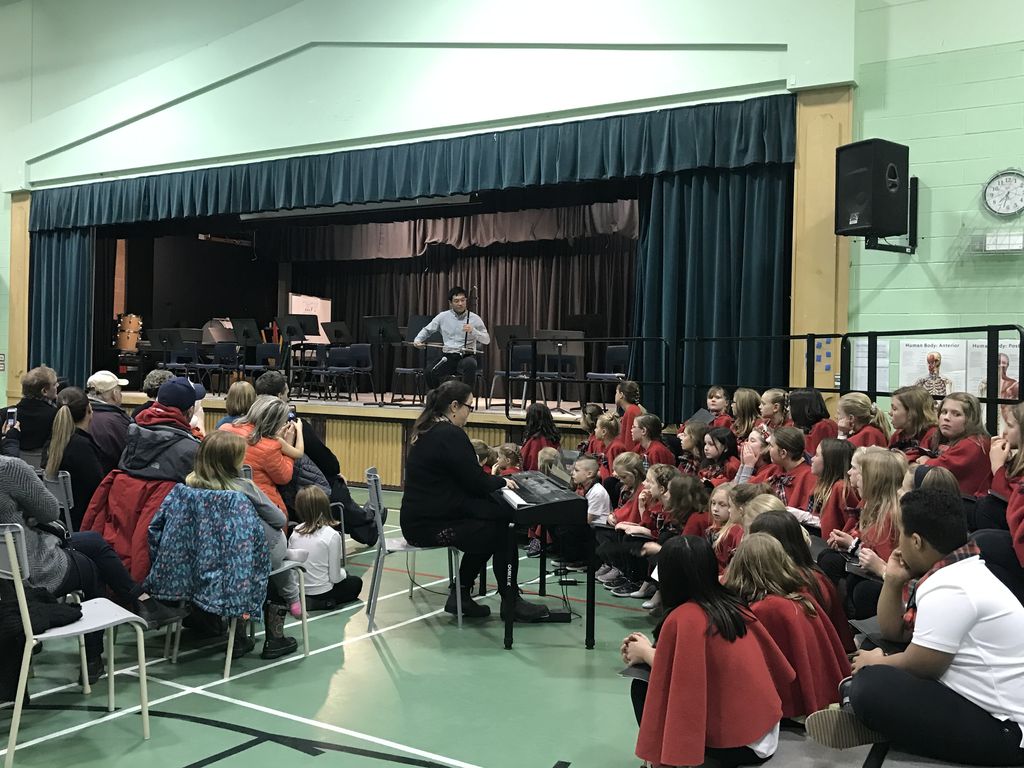 4. "The 11th Council of CINB was held smoothly."
At 8:30 p.m. on December 6th, the 11th Council of CINB was successfully convened. Xin Jie, vice president of Qufu Normal University, attended the meeting and delivered a speech. Zhang Zhixiong, executive board director of of Beijing Concord College of Sino-Canada, entrusted by Peng Jianhua, chairman of the Council of CINB, presided over the meeting. Canadian director Teng Jing, Chinese director Dai Zunfeng and Niu Xiangzhen from International Exchange and Cooperation Department of Qufu Normal University attended the meeting.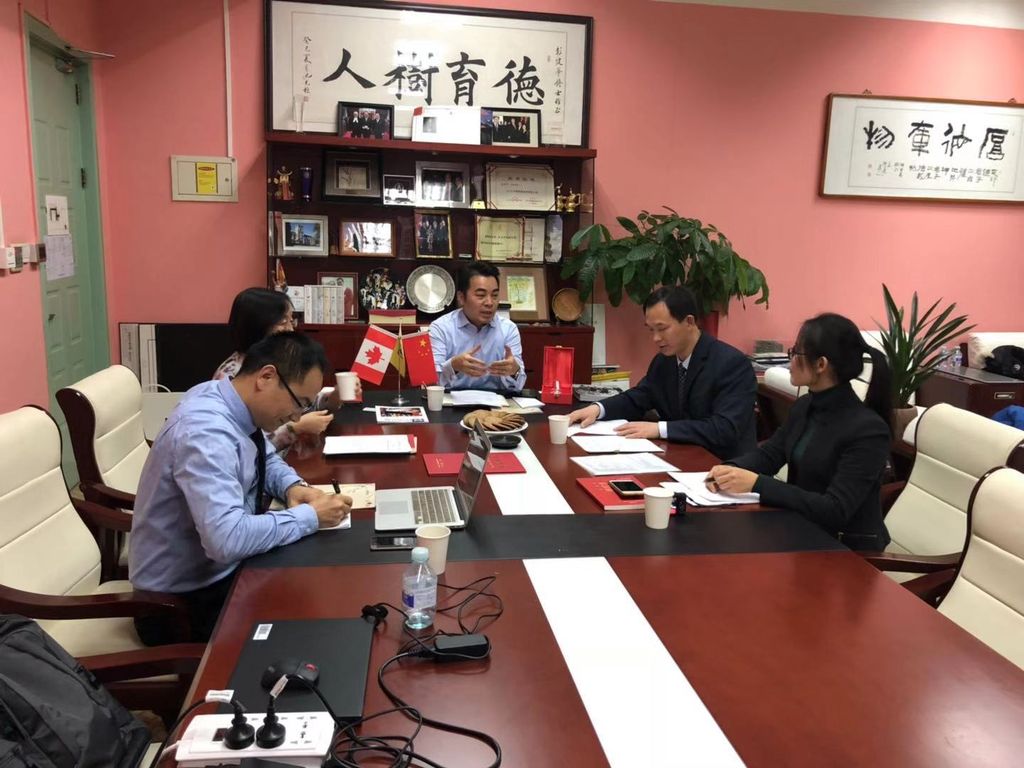 In his speech, Chris Treadwell, assistant of Deputy Minister of Education of New Brunswick, spoke highly of the fruitful achievements of CINB and the sincere cooperation of all partners. He thanked Qufu Normal University for its manpower and material support for the development of the Confucius Institute.
Xin Jie congratulated the teaching scale of 6,245 students of CINB in 2018, and said that QFNU would continue to support the development of CINB and help it to create more brilliance.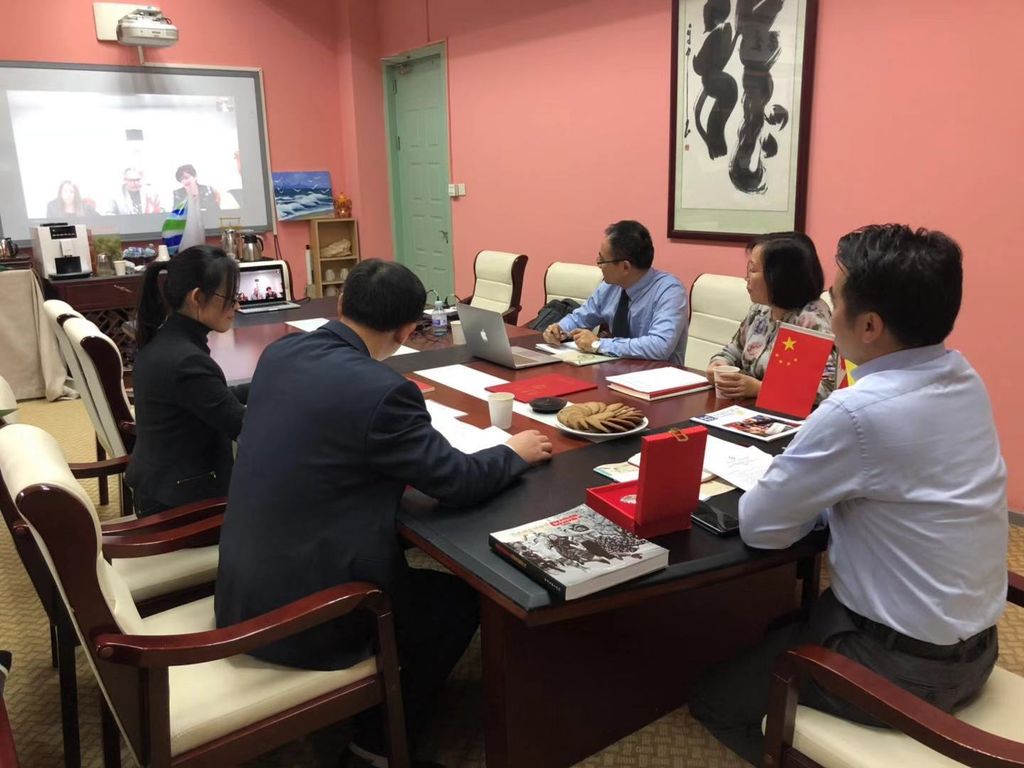 The meeting deliberated and adopted the resolution of the 2017 Council meeting, listened to the work report 2018 from director Teng Jing, discussed and adopted the financial report 2018 from Dawn Weatherbie. The work plan and future development direction of Confucius Institute next year are also discussed.
5. "Teng Jing reported to Hanban on CINB work."
On Dec. 10th, Teng Jing went to Hanban to report on CINB work and met with members of Hanban supervisory team who had been to CINB.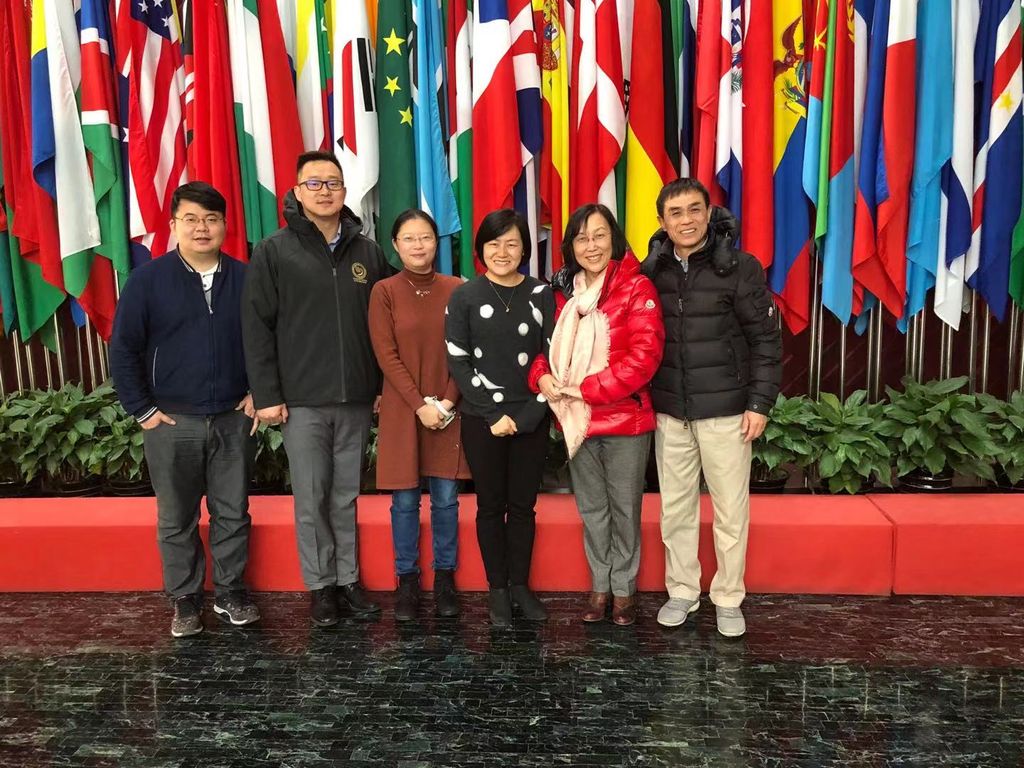 On the 21st, she went to Hanban again to exchange information with director Guo Jiaoyang on the work of the Confucius Institute in North America.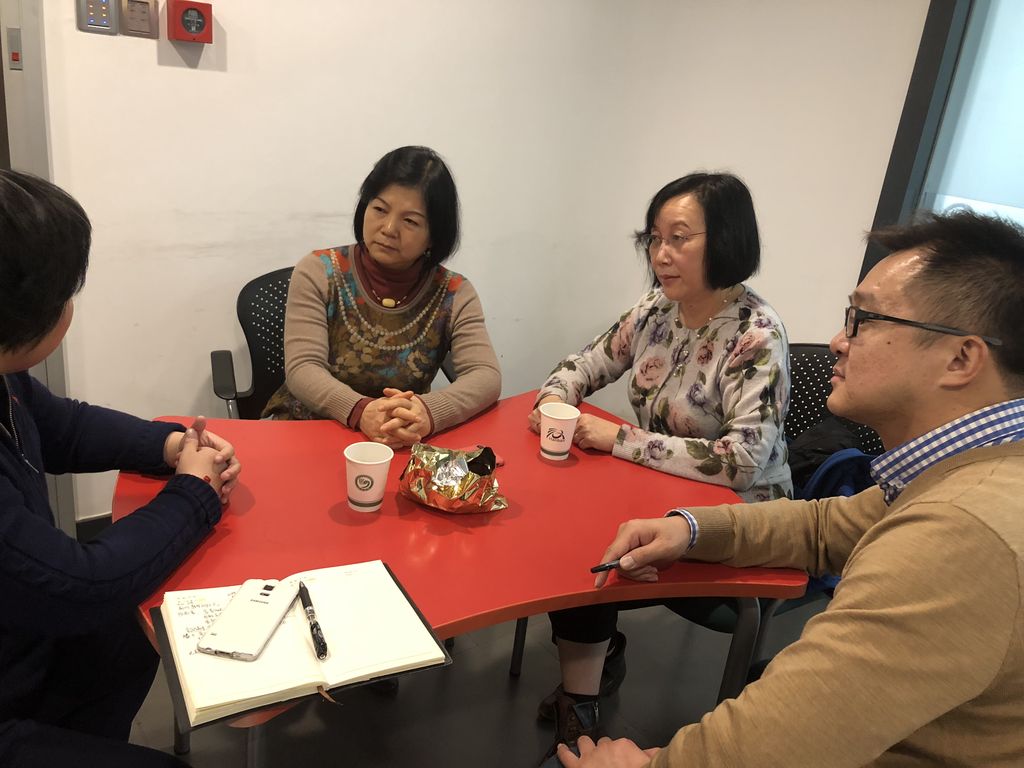 6. "Teng Jing's Article Is published in the Journal of Confucius Institute"
Teng Jing's article "A Letter from the Principal" was published in the 59th issue of Confucius Institute's journal in 2018 in the column of "Stories of Directors". This article introduced the situation of CINB by citing a letter from the principal of Park Street Primary School, a Confucius Classroom and trilingual school in New Brunswick, after his trip to China in July.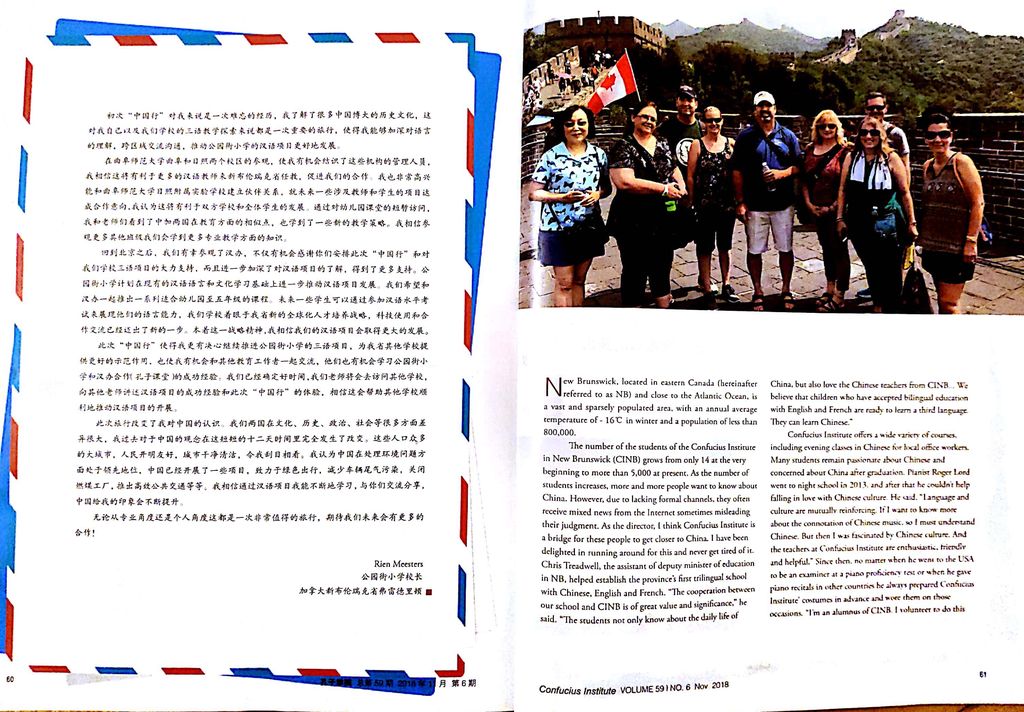 7. "CINB Visited Qufu Normal University. "
From December 12th to 13th, CINB visited Qufu Normal University.
On the 12th, Teng Jing gave a lecture entitled "CINB Needs You." More than 200 teachers and students from College of Physical Education and College of Education came to listen to her. Teng Jing introduced the development of Chinese Teacher Volunteer Program in CINB from the following aspects: local customs and practices in Canada, the development process of CINB, the demand for Chinese Teacher Volunteers by CINB, working experience and its impact on career planning. Teng Jing encouraged students to learn professional skills conscientiously, go abroad actively, broaden their international horizons, improve their comprehensive ability, repay their alma mater and the motherland. She hoped that students would join the family of CINB to jointly promote the development of overseas Chinese teaching and the dissemination of excellent Chinese culture.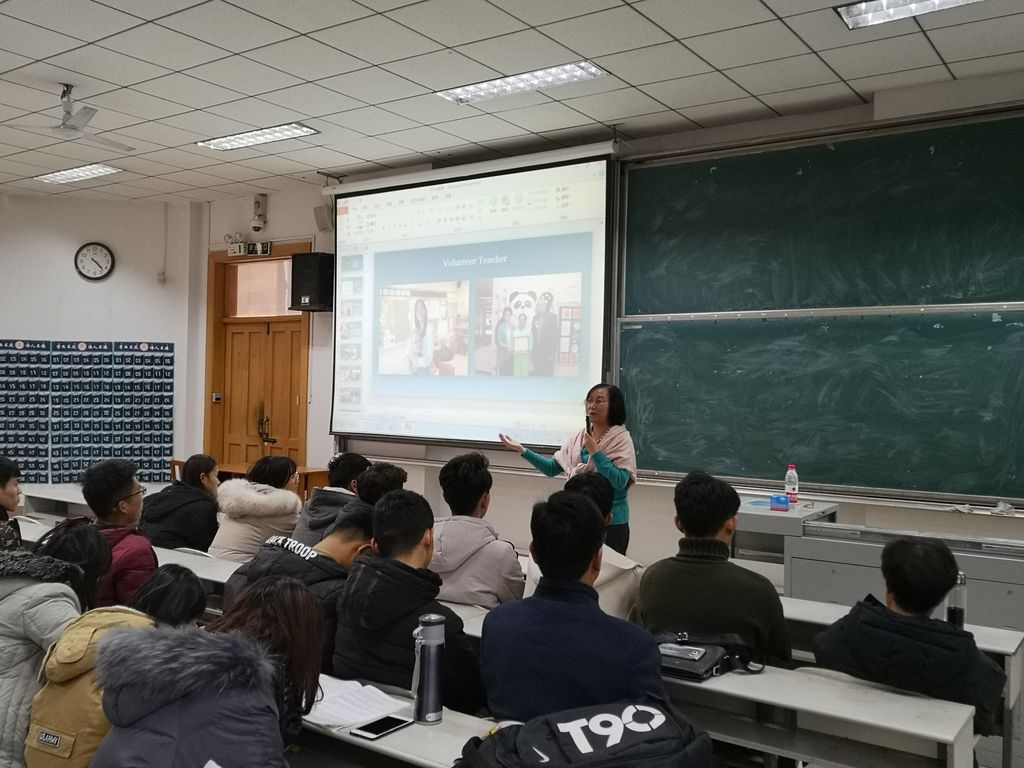 On the 13th, Teng Jing met with Zhang Honghai, president of QFNU. The two sides held exchanges and discussions on how to promote the internationalization of school-running and the development of Confucius Institute. The leaders of College of Chinese Language and Literature, College of Physical Education, College of Education, Department of College English and the International Exchange and Cooperation Department participated in the talks.
During the discussion and exchange with College of Chinese Language and Literature, Xia Jing, the dean, introduced the characteristics of the college-running and the specialties set-up and training of masters in International Chinese Education. Teng Jing expressed her gratitude to the excellent Chinese volunteer teachers selected by the College for CINB, affirmed the volunteers' down-to-earth working style and rigorous working attitude, and expressed her willingness to further cooperate with the College. The two sides discussed this issue in depth.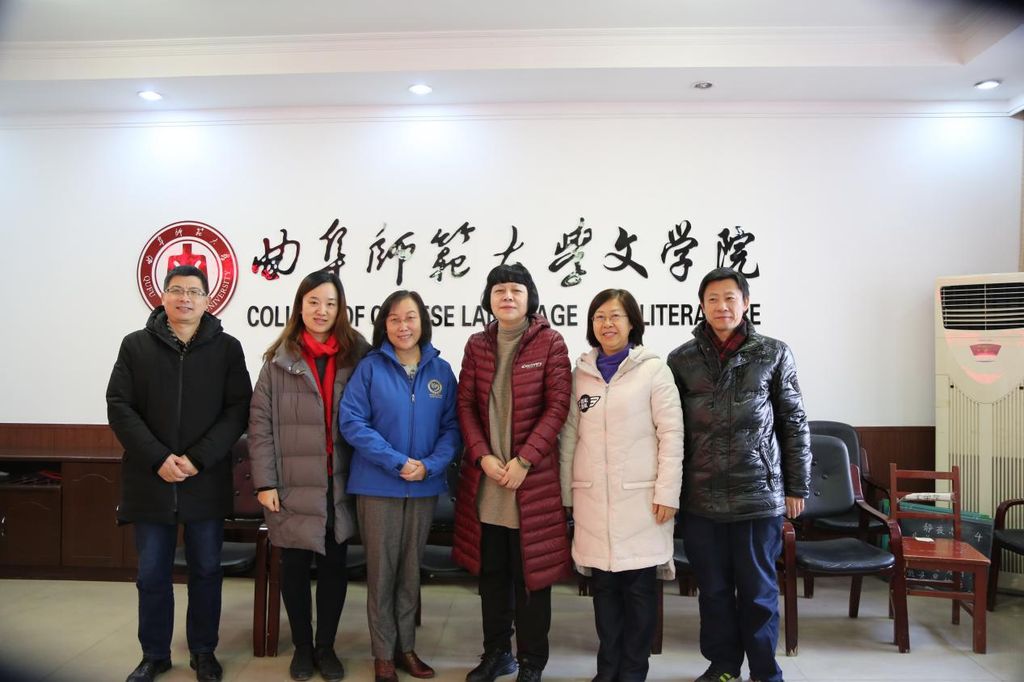 8. "CINB Went to the Education Department of Shandong Province."
On December 14th, Teng Jing talked with Jiang Yu, director of the International Exchange and Cooperation of the Education Department of Shandong Province concerning the future cooperating plan of the Confucius Institute.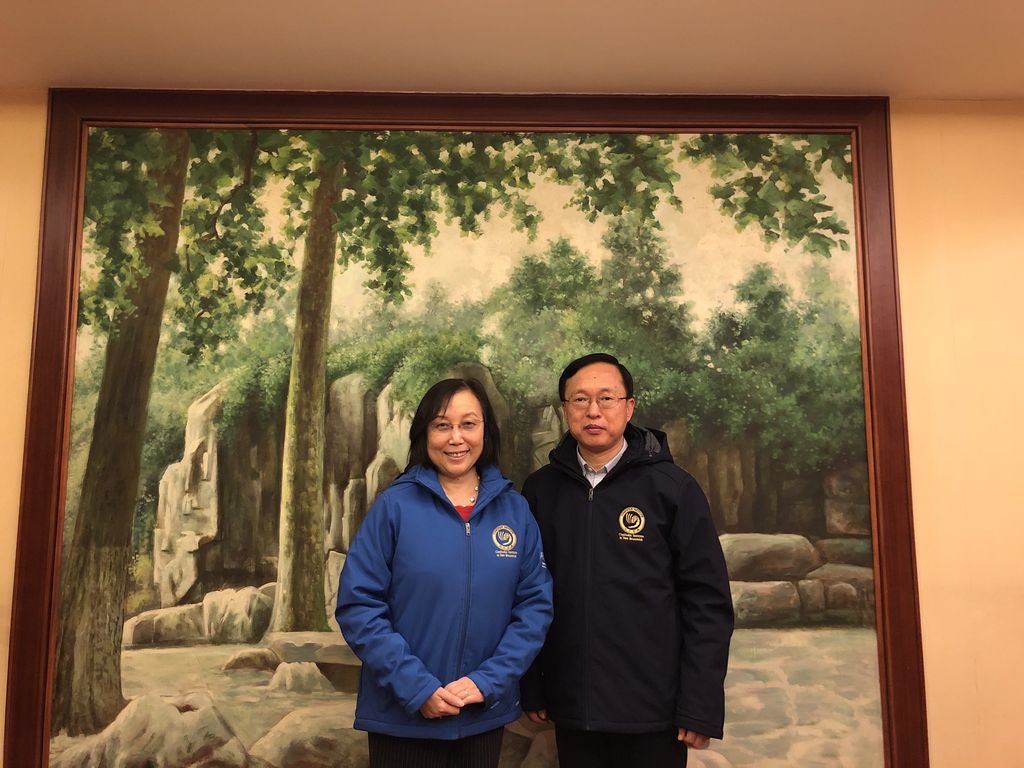 9. "CINB Participates in International Symposium."
On December 15th, CINB was invited to attend the 2018 International Symposium on "International Chinese Language Teaching and Resource Construction" sponsored by Beijing Language and Culture University. The participants discussed the following topics: the construction of international Chinese language teaching resources, Chinese language teaching model, international Chinese language teaching standards and curriculum, and the application of new media, new technologies and new ideas.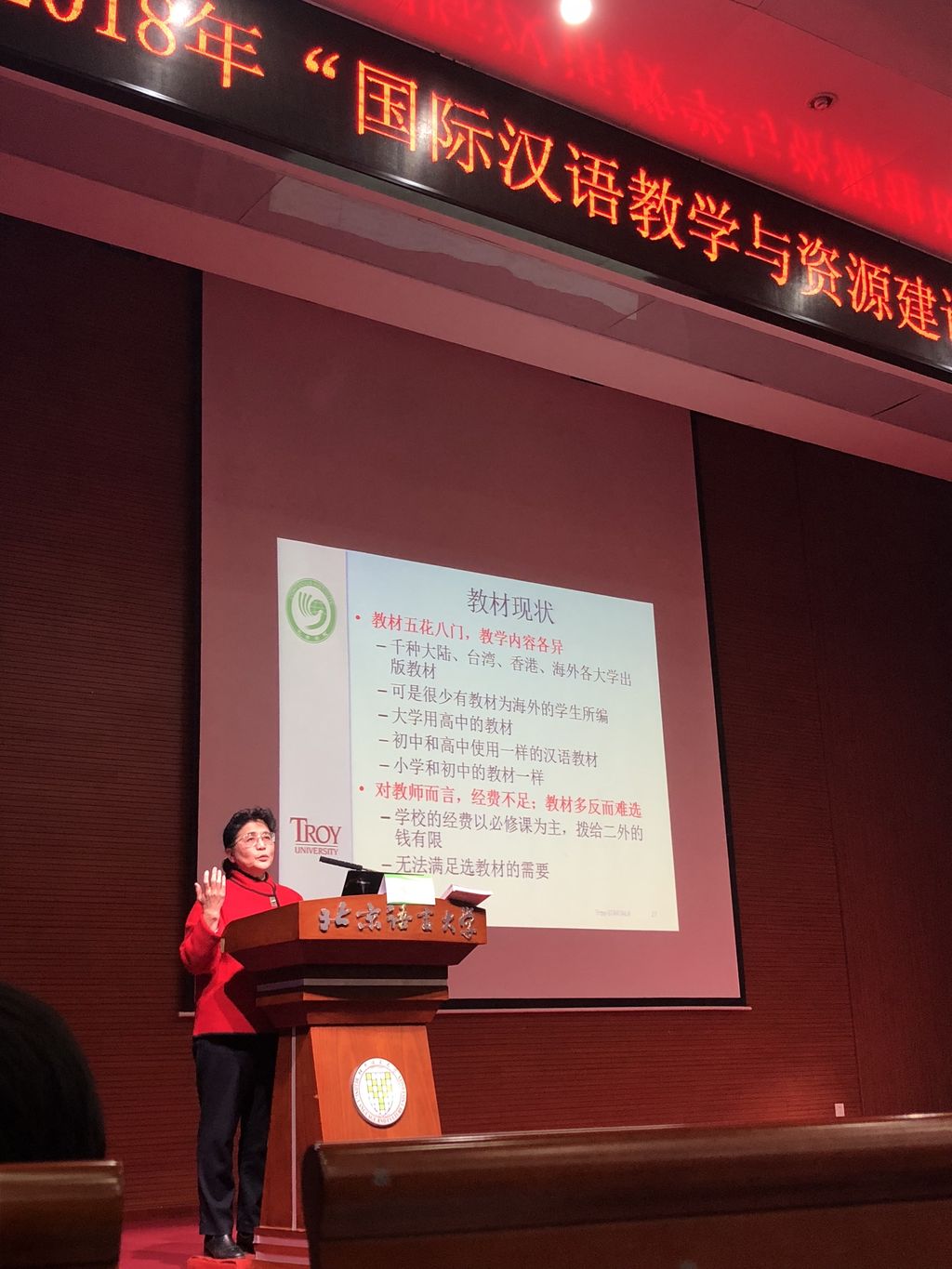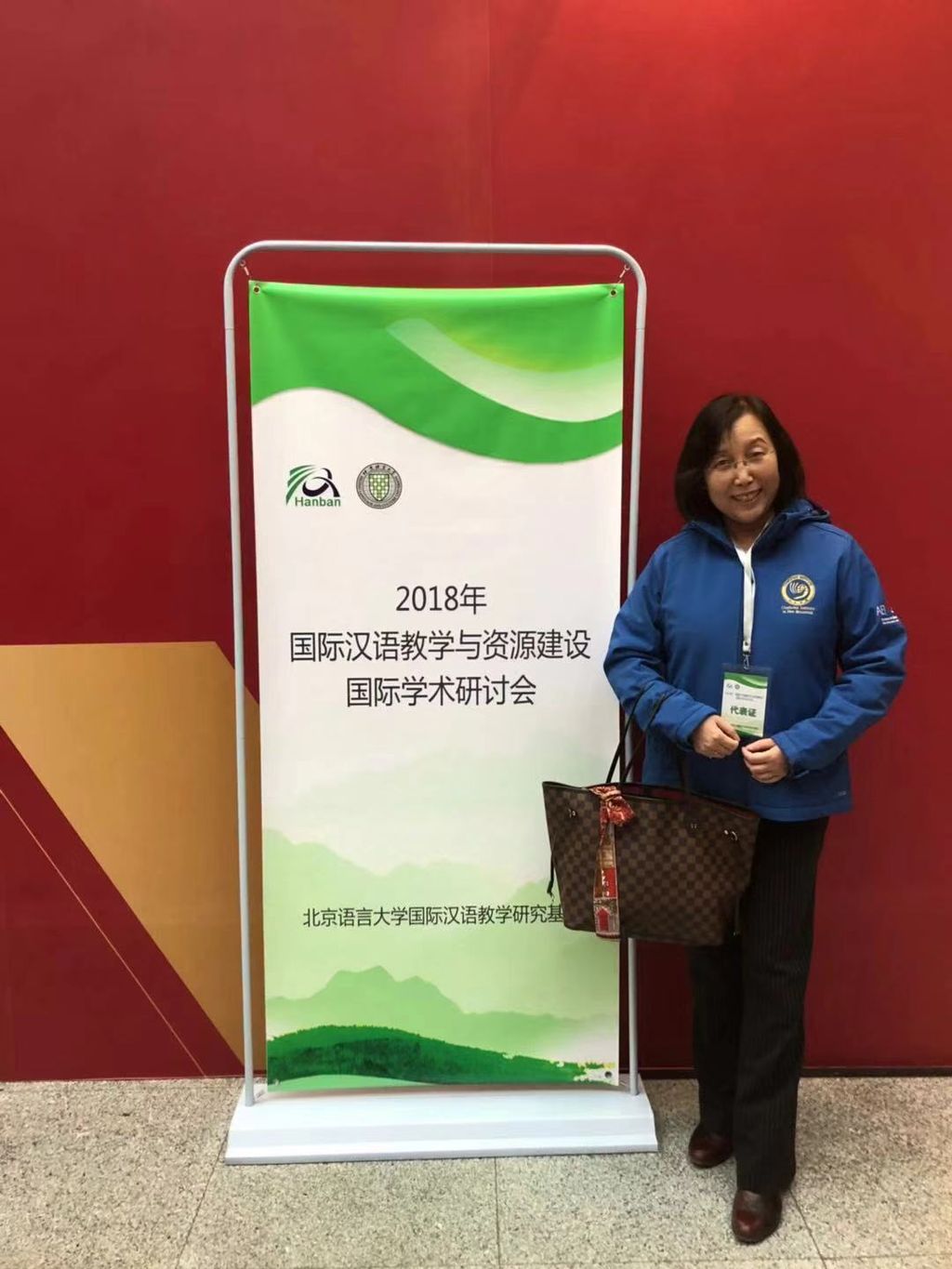 10. "CINB Is Invited to Roger Rod's Christmas Concert."
On the evening of December 16th, CINB was invited to participate in NO?L à LA CASERNE Christmas concert of pianist Roger Lord. Mr. Lord, together with his students and performers Lsabelle Cyr and Yves Marchand, performed pieces of piano music, which were like floating clouds and flowing water, plus a lively and interesting performance style, made the whole performance full of Christmas atmosphere and Canadian tradition. Roger Lord is a famous Canadian pianist. He has been to China for more than 30 times and has performed more than 60 performances. He composed his music by combining Chinese traditional music with western famous music. He is now an alumnus of CINB.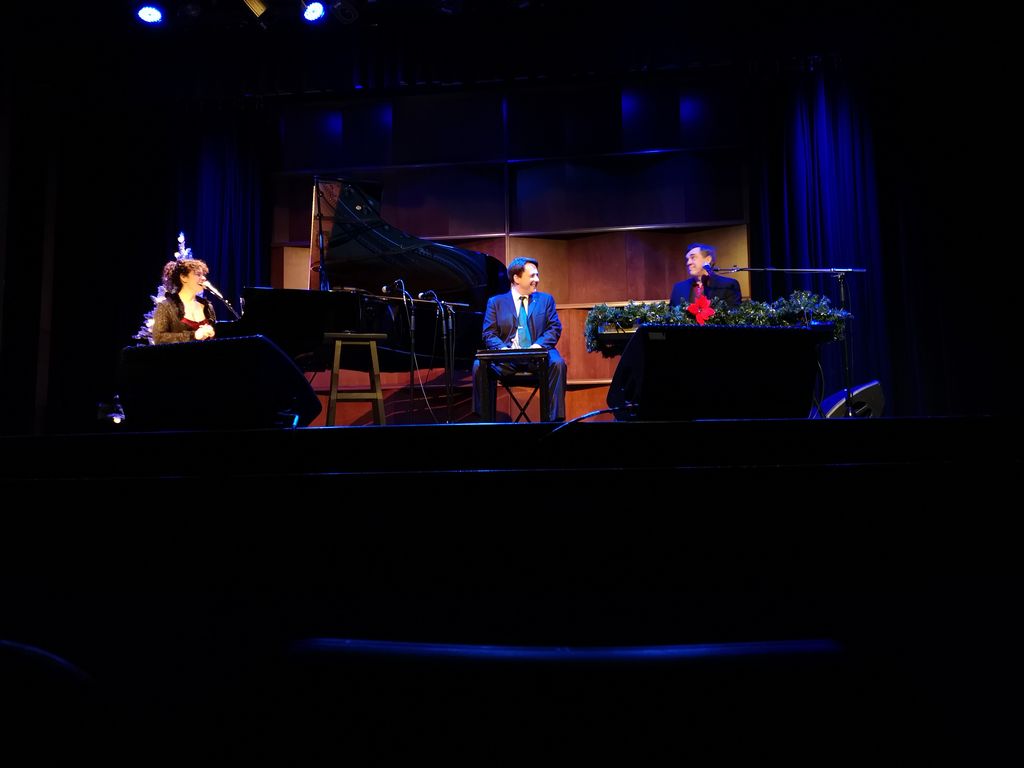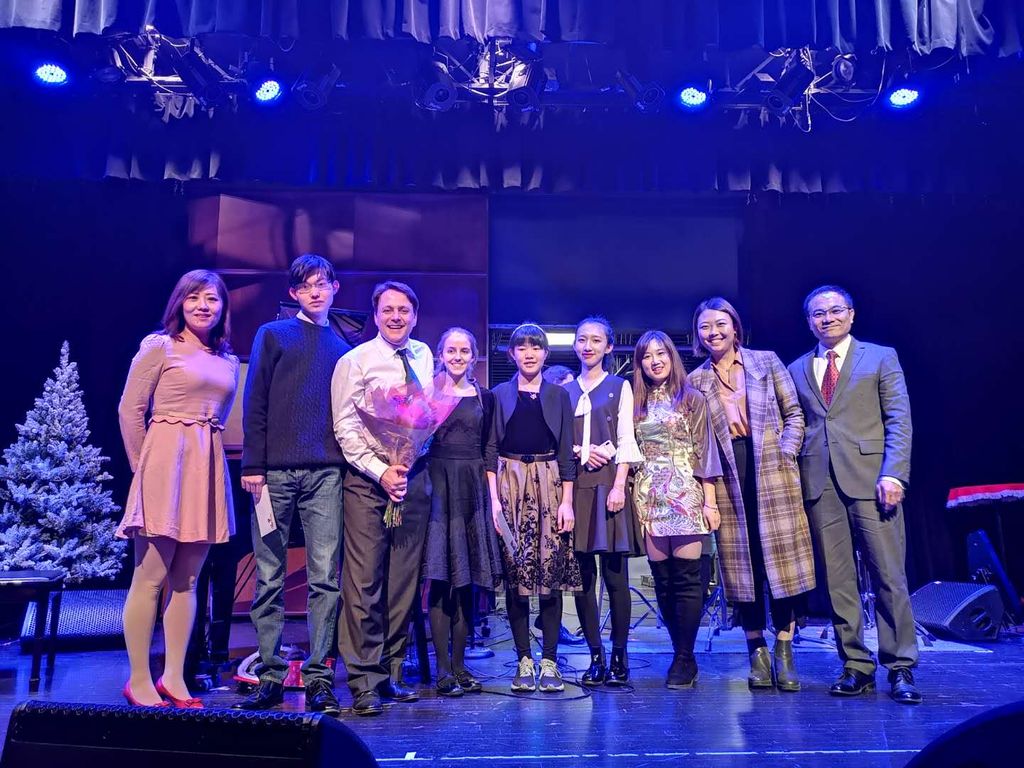 11. "Dancing by Imitating Traditional Chinese Dance and Celebrating Christmas by Singing"
On December 19th, students from Chinese teacher Li Yanmei's Chinese class performed two traditional Chinese dances at Christmas party in Hubbard Elementary School. The children either held feather fans, acting like white cranes flying to show the combination of strength and softness of Chinese traditional culture, or were dressed in traditional Chinese costumes, holding up their umbrellas calmly and generously, with Chinese red to highlight the splendor of Chinese culture, which won a lot of applause.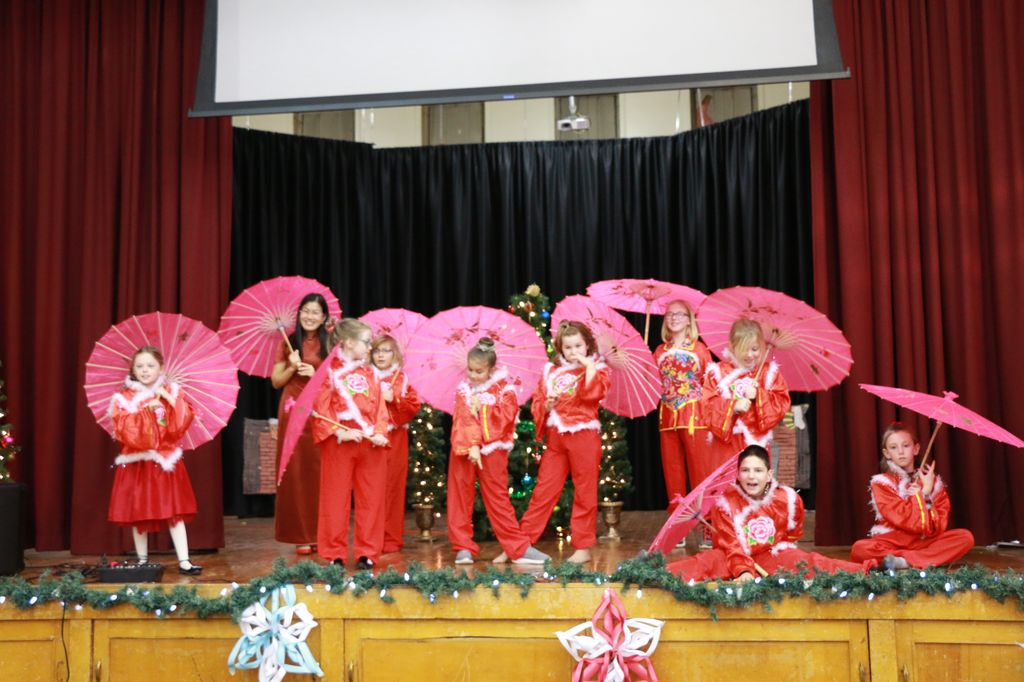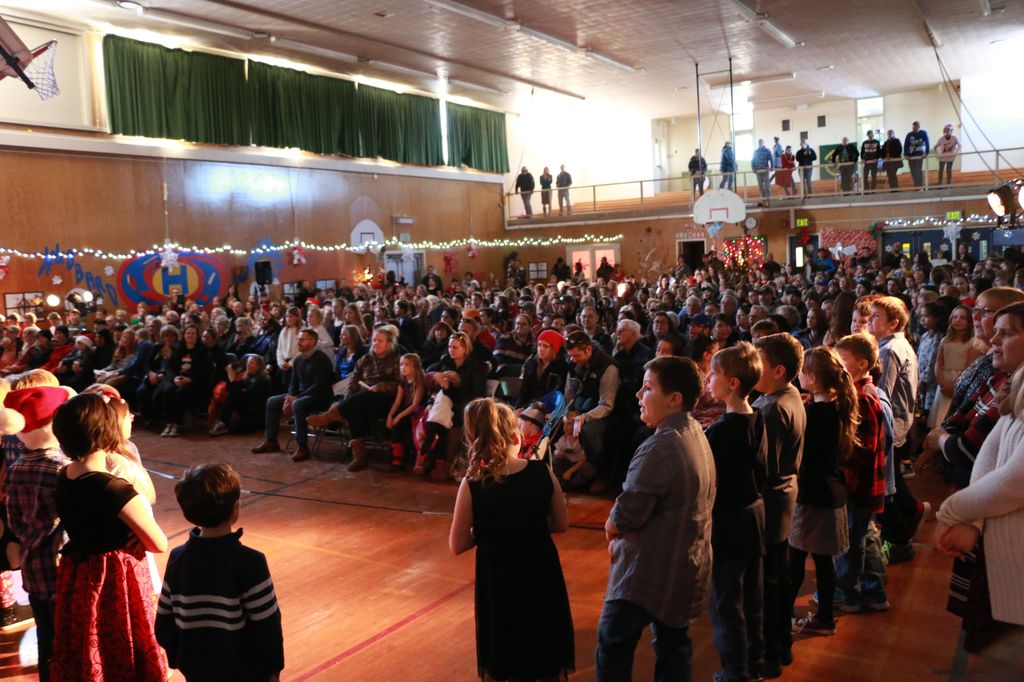 12. "Wushu Drama Performance in EWG Middle School"
At noon on the 19th, on the turkey lunch day of Eleanor W. Graham Middle School, Tyler, Xander and Carolina, students of Liang Jiayi Wushu Club, brought their self-directed Kungfu drama to the whole school. The drama was based on the film segment of Jackie Chan, a Kungfu superstar. Asked about the source of inspiration, Tyler said, "I have never been in touch with Kungfu before, and I don't know what Wushu is. Miss Liang suggests me to watch more Chinese Kungfu movies. I think of Jackie Chan, my favorite Kung Fu star. His movies are very interesting. I would like him to be my model.
After the event, the principal Gregory Theriault specifically found the two Chinese teachers, Liang Jiayi and Wang Jingli, to have lunch. He affirmed the excellent performance of the students, and discussed with Liang Jiayi about Wushu teaching ideas. Jiayi said: "It is a new teaching method to combine Kungfu with movies and integrate traditional Chinese culture and martial arts in drama. Students can create their own favorite drama and micro-film. I want to make students really love Chinese Kungfu in this way."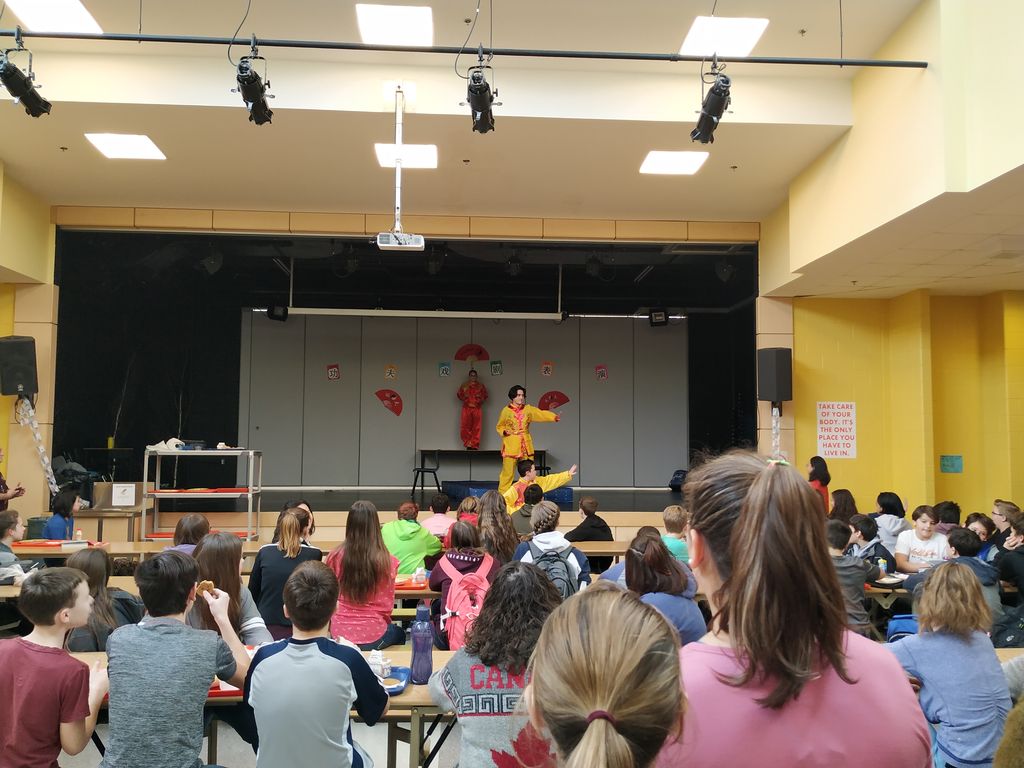 13. "Chinese Songs and Dances Appeared at Christmas."
From December 19th to the morning of 20th, Rexton Primdary School held two Christmas school meeting performances. Volunteer teacher Liang Jiayi, and Chinese teacher Wang Jingli took part in the celebration with the students of the dance club from Grade 1 to Grade 5. At the beginning of the program, the principal introduced the two teachers to the parents and expressed his appreciation and gratitude for their work. The students performed brilliant dances as Panama, Jingle Bells and cheerleading Hello Kitty, etc. Avergy, a fifth-grade student, led the first-grade students to perform Five-Step Boxing, a cute and interesting martial arts action, which made the scene laugh and applaud. Finally, the students jointly sang the Chinese and English version of the Christmas song "Jingle Bells", which pushed the atmosphere to a climax. After the event, the two Chinese teachers received Christmas gifts and wishes from the parents and felt the warmth of friendship in the cold winter.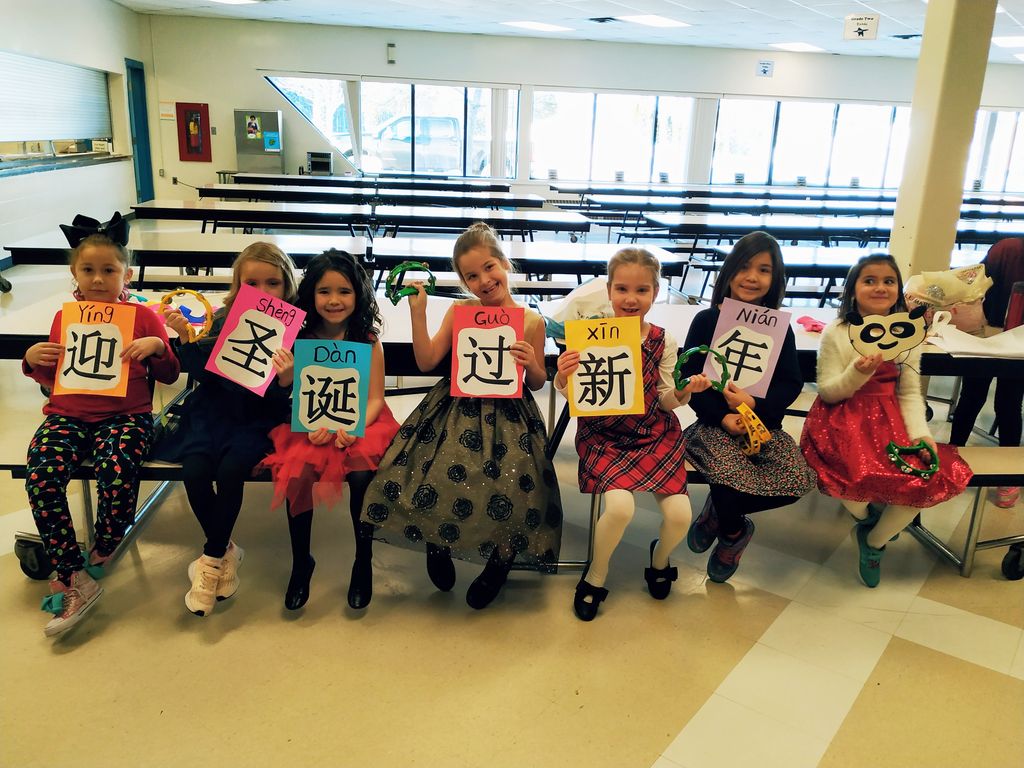 14. "Multicultural Food Festival Held at RHS"
On December 21st, Chinese teacher Liu Xiaowei and volunteer teacher Xu Mengke attended Riverview High School Multicultural Food Festival and set up a Chinese exhibition stand. The stand was divided into four parts: tea art, fried rice, chopsticks game and Chinese doll photo. Xu Mengke could make Laoshan black tea by dry soaking. Elegant tea sets, professional techniques, mellow taste were very popular. In contrast to the elegant scene, there was an enthusiastic Chinese fried rice. Liu Xiaowei made it on the spot. The long waiting line in front of the stand was as lively as a bazaar. Teachers and students were full of prais after tasting it.
After eating and drinking, some of them were eager to try at the game table with chopsticks and small balls. Others went to the big-headed dolls and called for friends to take photos. "Almost everyone has eaten your food. It's the best experience of the day!" A high school teacher said so. This Multicultural Food Festival was part of the Riverview High School Christmas theme event and one of the traditional high school projects.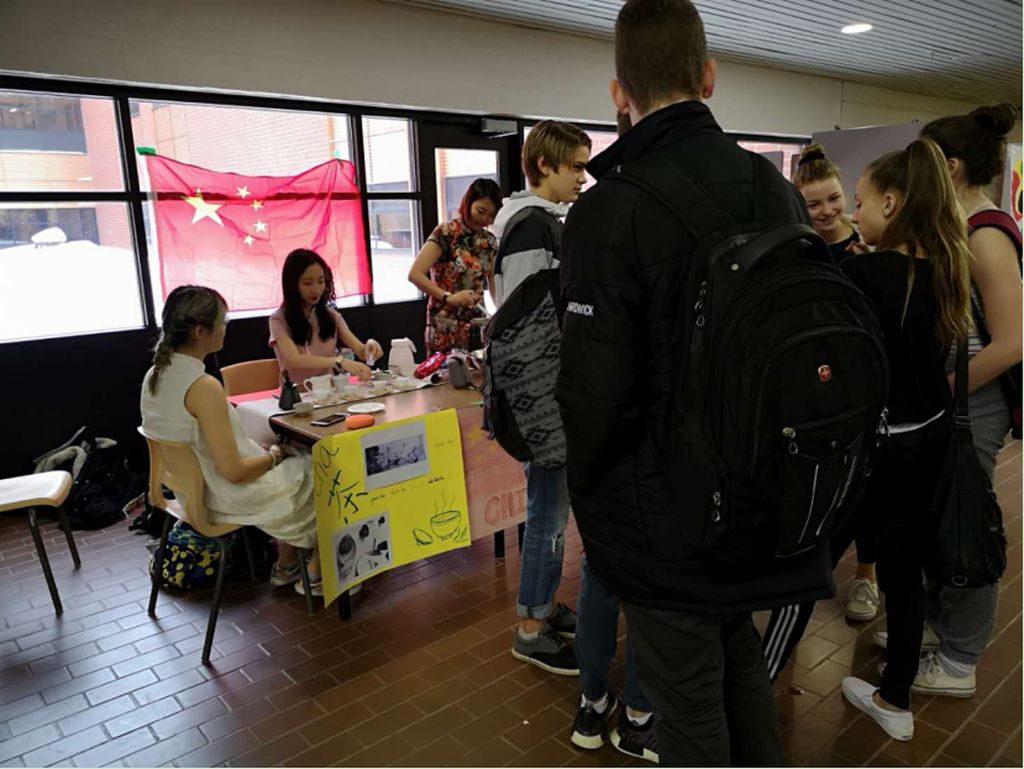 15. "Savor music, experience Christmas."
On the evening of December 22nd 2018, Liu Shujie and Li Nannan, who are two teachers in charge of Chinese teaching in Saint John, were invited by Rene, an assistant teacher of Saint John High School, to attend the Christmas concert held at Imperial Theater in the uptown.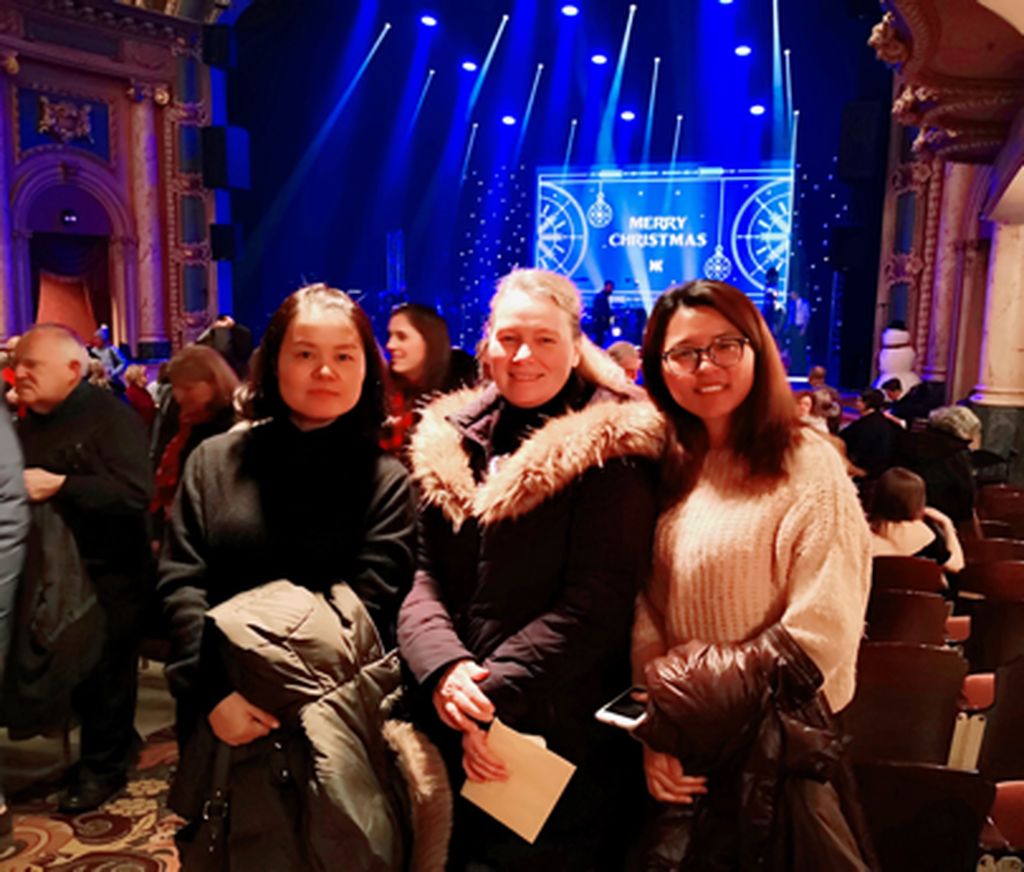 16. On December 31st, CINB was invited to a Chinese-Canadian family.
The local Chinese praised the professional qualities of CINB teachers and invited them to teach at the Chinese School on the weekends in the new school year. They gathered together happily to celebrate the coming of the New Year.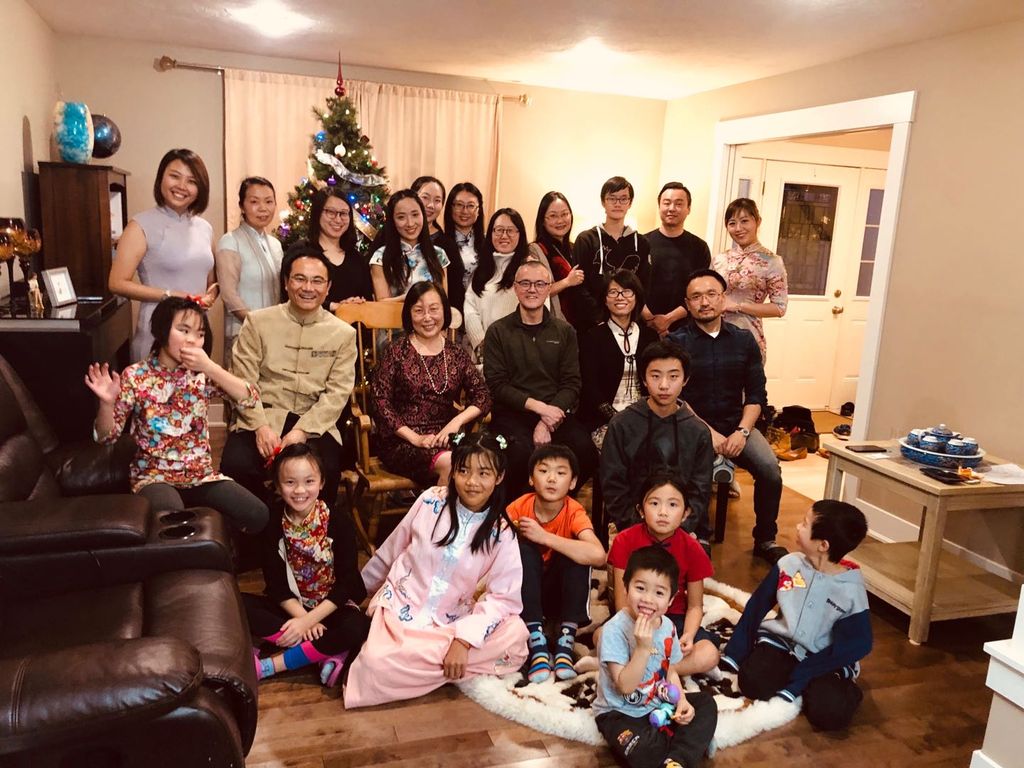 17. "Enjoy life, love in Canada" - family special in December
Spending Thanksgiving with a couple of teachers who have been to China many times to teach English, and renewing the friendship between China and Canada. (Canadian director Teng Jing and Chinese director Dai Zunfeng)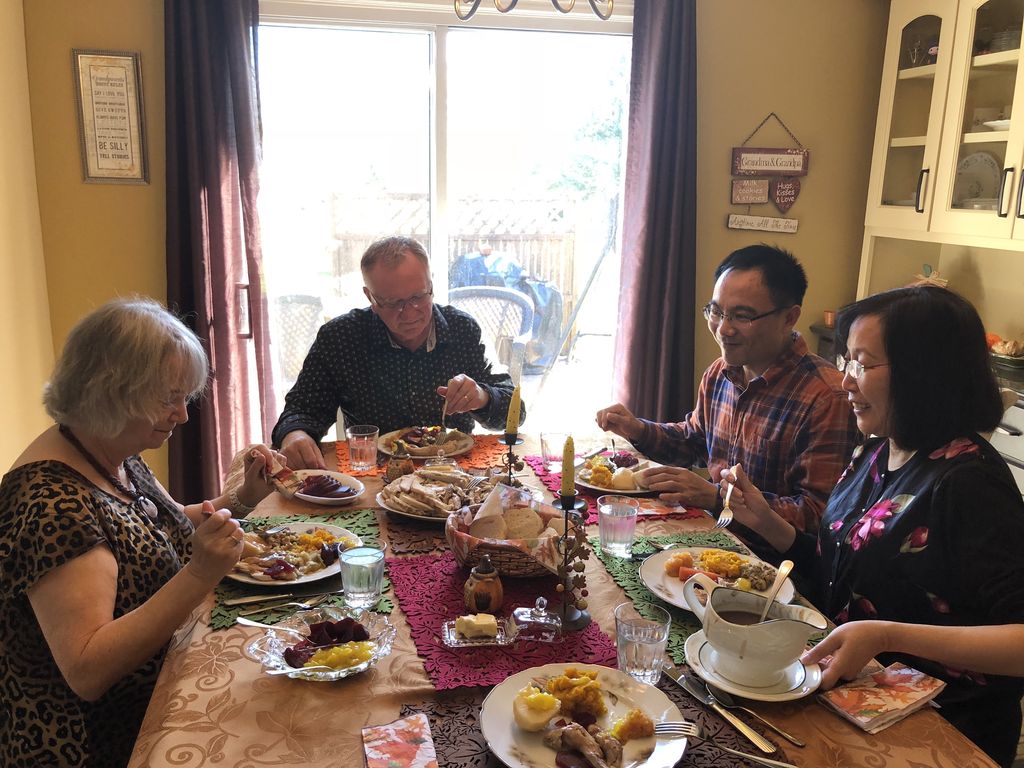 Whether it's dining together, hiking or snow removing, every family activity makes me feel at home in a foreign country. (volunteer teacher Chen Zhisheng)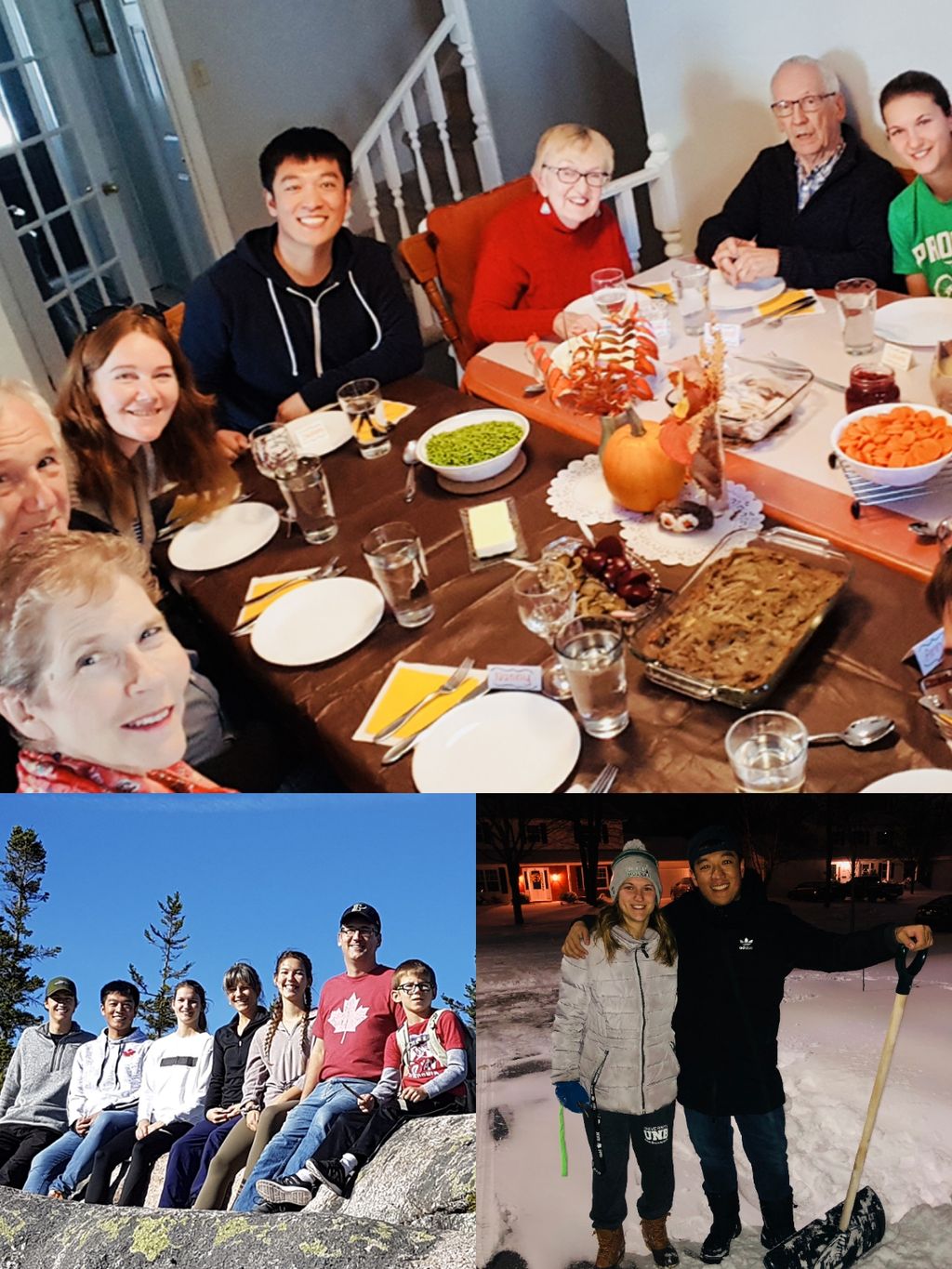 Your mother say you are a shy boy. We have nice conversations at several parties. She is surprised at your change. I thank you for your trust. (Chinese teacher Liu Shujie)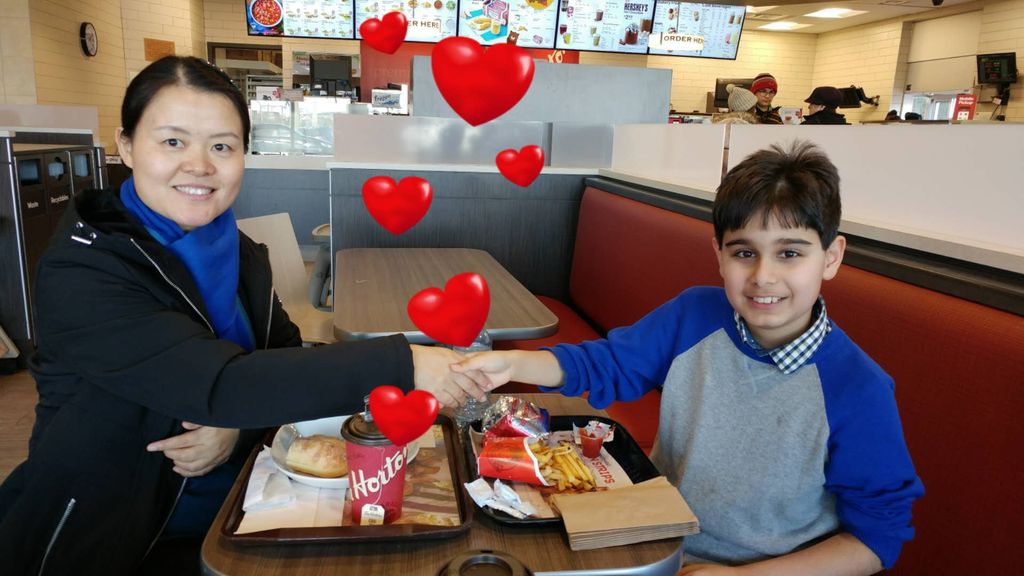 Trick or treat? When we are together, we naturally have a variety of life styles, but more of them are candy-like warmth. (Chinese teacher Wang Jingli and volunteer teacher Liang Jiayi)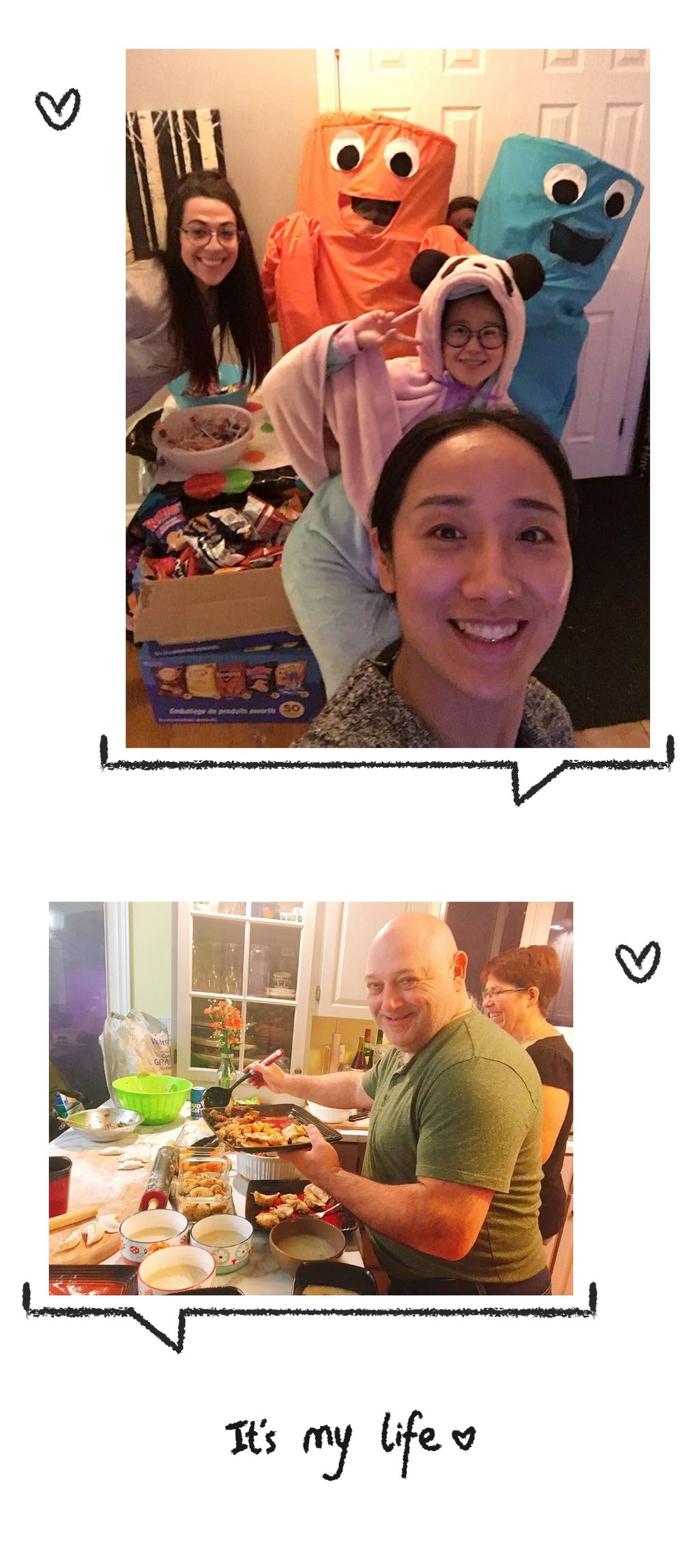 The significance of special days lie in that I have the opportunity to express my love and gratitude for you. (volunteer teacher Sun Xiaojiao)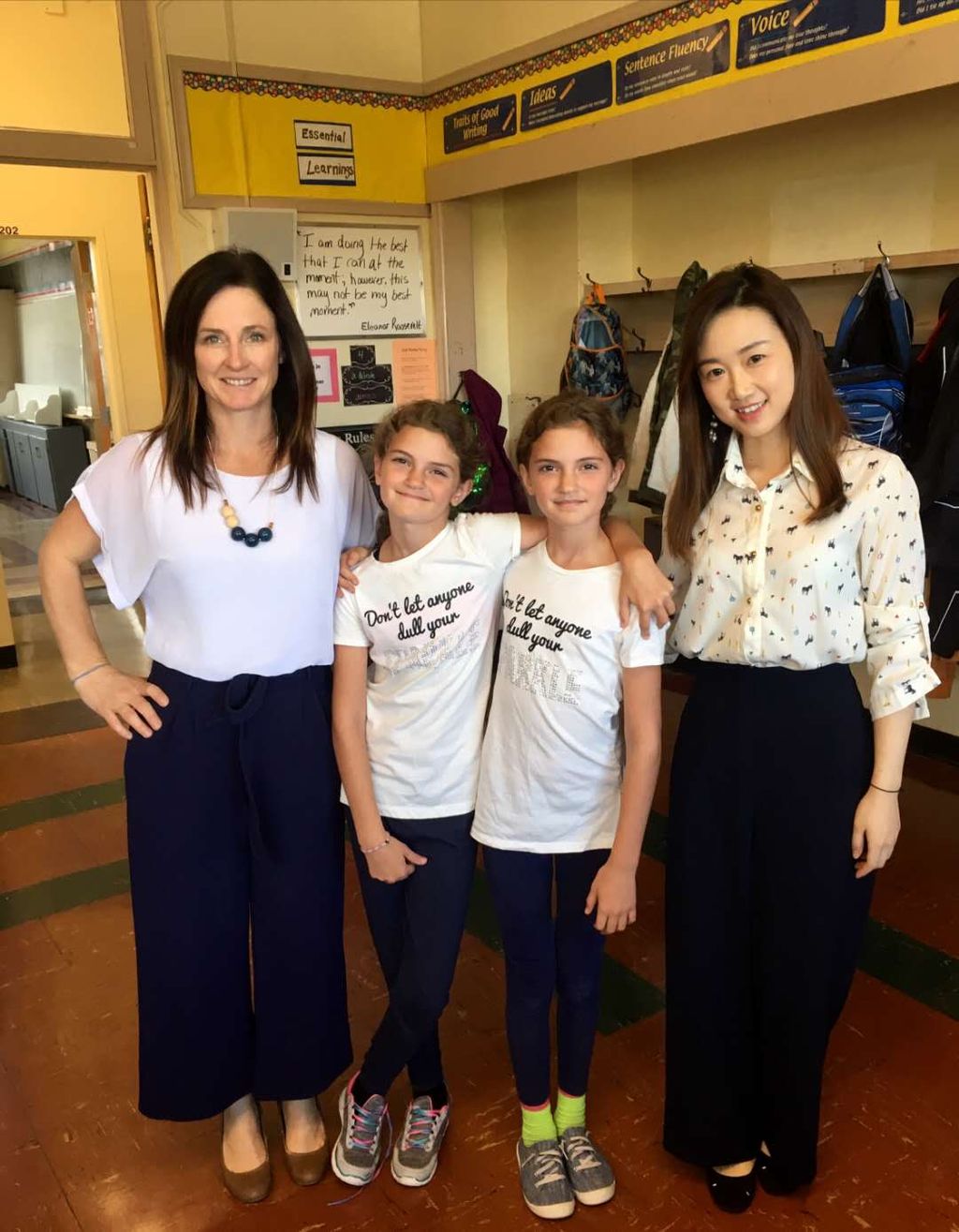 I have family, friends and love here. When countless people ask me why I am attached, that's the answer. (Chinese teacher Chen Junfeng)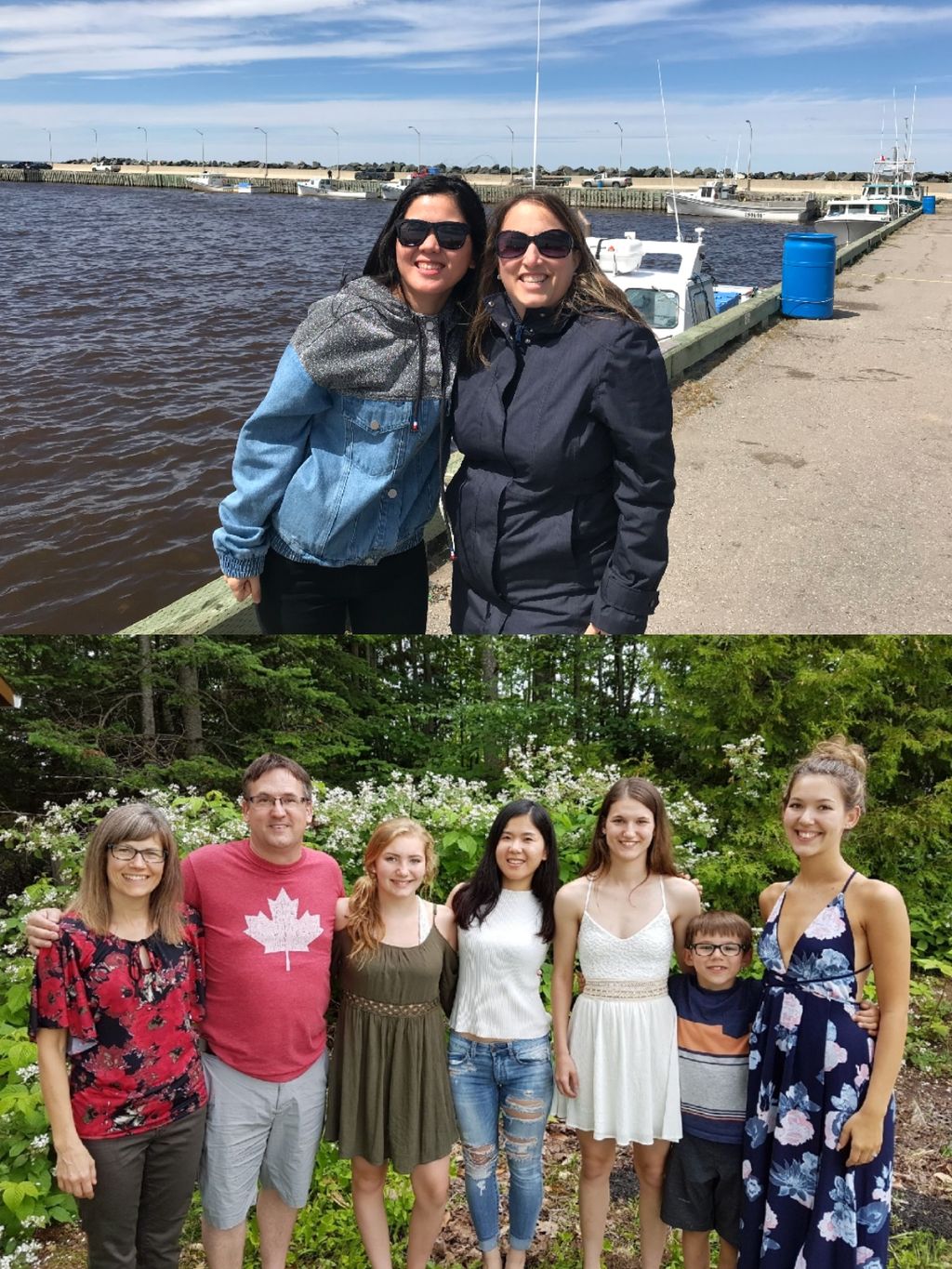 When I am helpless, you care about me, so that my new journey is no longer a mess. We are a family. Christmas hot pot party is the best illustration! (Chinese teacher Liu Xiaowei and volunteer teacher Xu Mengke)


You are our teachers and friends as well as relatives. The most sincere feelings often quietly melt the ice and snow of the whole winter. (Chinese teacher Li Yanmei)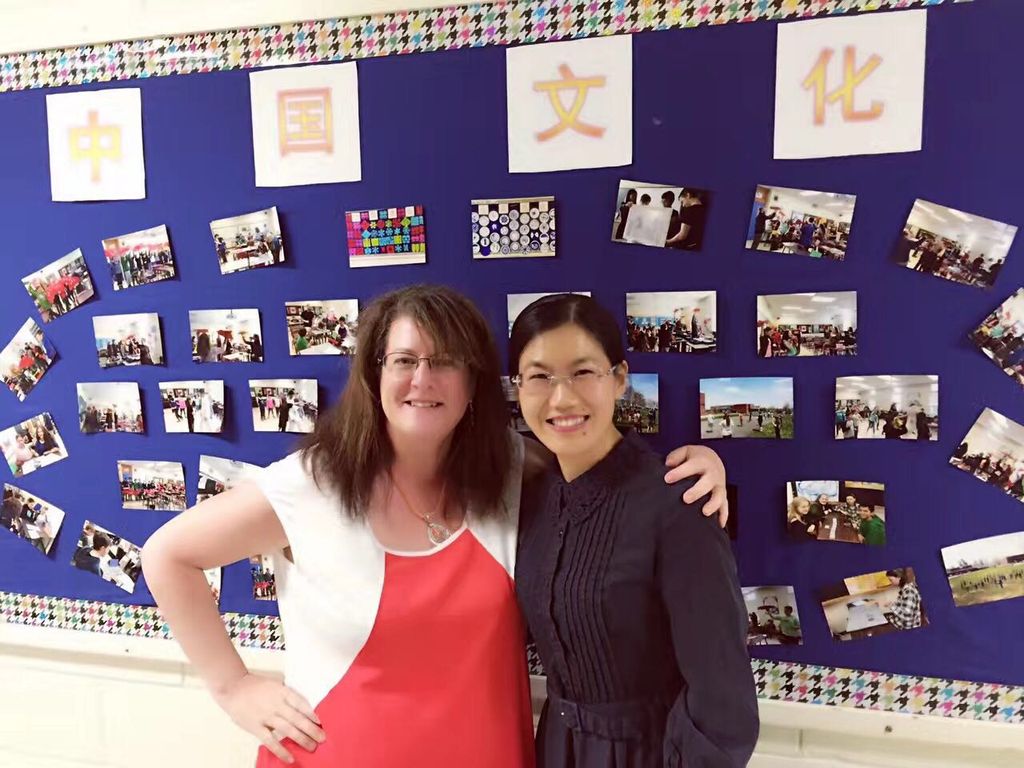 We get to know each other at school. We get acquainted through music. We show our affection at Christmas. (Chinese teacher Li Nannan)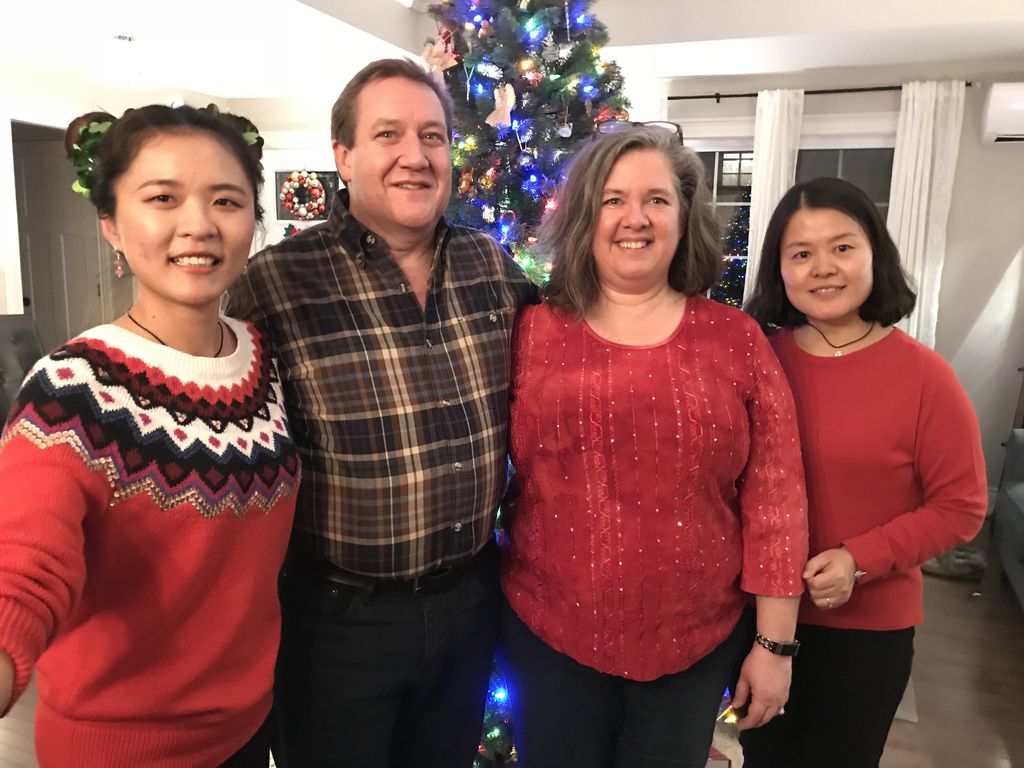 I harvest, I grow and I am grateful. That's enough. (Chinese teacher Li Shanshan)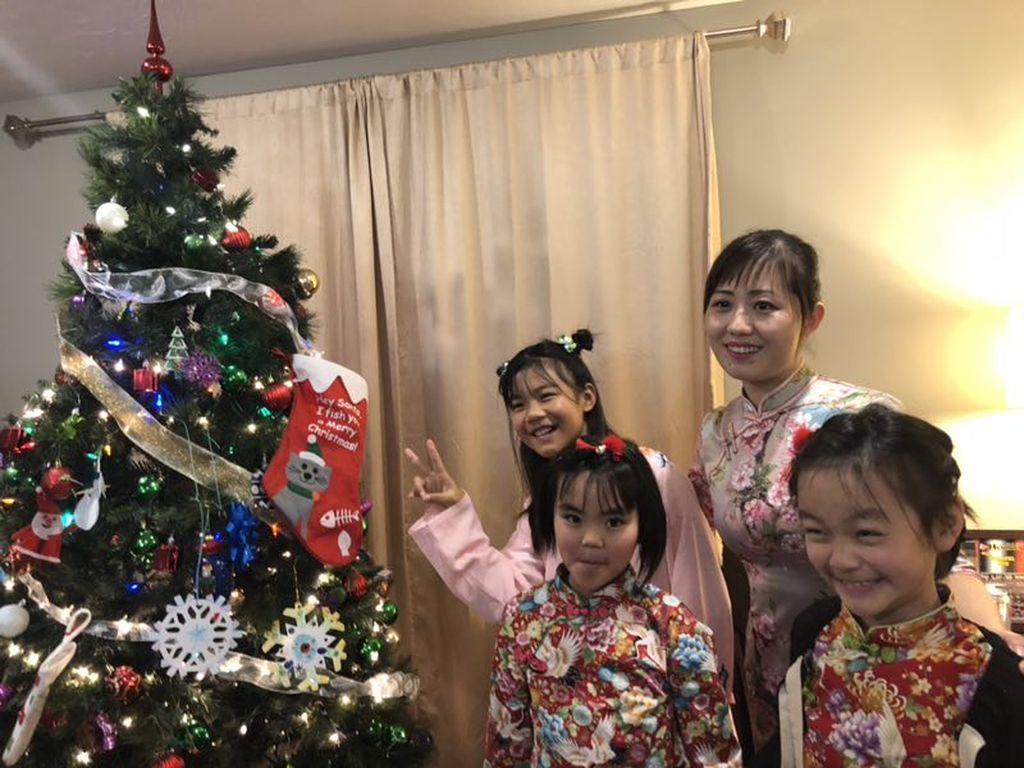 1、"舞出东方神韵,秀出中国精彩"
      12月1日,新省孔院志愿者梁嘉怡,汉语教师王静丽受邀参加了雷斯特小学一年一度的大型手工艺博览会,为大家带来了一场精彩的中国文化首秀。除在校内展览学生们冬日圣诞主题的中国艺术课作品外,王静丽与4名汉语班学生设立了中国文化展台并演奏《月光下的凤尾竹》。文房四宝、筷子、剪纸、熊猫、"京剧大头照"等吸引人们纷纷前来"一探究竟"。中国舞蹈班的学生们表演了中西结合的串烧舞蹈,东方《星月神话》开场,西方《Panama》结尾,赢得阵阵喝彩。最后的压轴表演梁嘉怡将民族舞与中国太极元素结合,刚柔并济的舞出了一曲《东方神韵》。
2、"十载耕耘结硕果,诲人不倦奋前行"
      12月3日至5日,第十三届孔子学院大会在成都召开。新省孔院理事会代表张志雄、曲阜师范大学副校长辛杰、国际交流处副处长牛香臻参加。
本届大会以"改革创新促发展,携手同心创未来"为主题,设有2个专题论坛、8个校长论坛和20个工作坊。外方院长滕菁在"如何开展孔子学院区域合作"的工作坊以新省孔院为例做了经验分享。
      闭幕式上,教育部副部长田学军为30个先进孔子学院(课堂)、41位先进个人和10个先进中方合作机构颁奖。新省孔院理事长、新省教育部副部长约翰·麦克劳克林(John McLaughlin)荣获"孔子学院先进个人"称号。这是新省孔院继2016年获得"先进孔子学院"荣誉称号以来,再次在全球孔子学院大会上获得表彰。
3、"中西和鸣欢奏圣诞乐章"
      12月5日,新省孔院志愿者陈志圣受邀参加了由Connaught Street School和Grace Memorial Baptist Church 举办的圣诞音乐会,并作为开场嘉宾与音乐教师Mr.Rogers合奏圣诞乐曲 《Jingle Bell》《We Wish You A Merry Christmas》,二胡和风笛的默契配合赢得了在场观众的热情掌声,Connaught Street School官网对此进行了报道。
报道链接:https://secure1.nbed.nb.ca/sites/ASD-W/ConnaughtStreet/Pages/default.aspx
      当日,在三语学校孔子课堂Park Street School举办的另一场圣诞音乐会中,陈志圣受邀与教师Mme.Aube同献中国曲目《红河谷》与《送别》,二胡与钢琴两种中西传统乐器的融合使得熟悉的旋律有了新的碰撞。Roger先生与Aube女士皆对孔院的支持表示感谢,希望能够长期合作。
4、"新省孔院第十一届理事会顺利召开"
      12月6日晚8点半,新省孔院第十一届理事会以远程视频方式顺利召开。曲阜师范大学副校长辛杰出席会议并致辞。受新省孔院理事会主席彭建华委托,北京中加学校董事会董事张志雄主持此次会议。外方院长滕菁,中方院长代尊峰及曲阜师范大学国际交流合作处等出席。
新省教育部副部长助理克里斯·特雷德韦尔在致辞中高度评价了新省孔院取得的丰硕成果以及新省孔院各合作方的精诚合作,感谢曲阜师大为孔院的发展提供的人力、物力支持。
      副校长辛杰在致辞中对新省孔院18年6245人的教学规模表示祝贺,并表示大学将一如既往地支持孔院的发展,助力新省孔院再创辉煌。
会议审议通过了2017年理事会会议决议,听取了滕菁院长的2018年工作汇报,讨论通过了达恩·韦瑟比的2018年财务报告,并就孔子学院明年的工作计划和未来发展方向进行了讨论。
5、"滕菁赴汉办汇报CINB工作"
      12月10日,滕菁赴汉办汇报工作,并与曾到新省孔院的汉办督导团成员会面。
      21日,再赴汉办与美大处郭娇阳处长交流北美地区孔院工作情况。
6、"孔子学院院刊刊载滕菁文章"
      2018年《孔子学院》总第59期"院长故事"一栏刊载滕菁文章《一封校长来信》。该文章以新省弗莱公园街小学校长7月中国行后的来信为引,介绍了新省孔院的相关情况。
7、"CINB赴曲阜师范大学交流访问"
12月12日-13日,CINB赴曲阜师范大学交流访问。
      12日,滕菁作了题为"新省孔院需要你"的讲座,体育学院、教育学院等二百余名师生前来聆听。滕菁从加拿大风土人情、新省孔院发展历程、新省孔院汉语教师志愿者需求、工作经历及对职业规划影响等方面介绍了汉语教师志愿者项目在新省孔院的发展情况。滕菁鼓励同学们认真学好专业技能,积极走出国门,开拓国际视野,提高综合能力,回报母校,回报祖国,希望同学们加入新省孔院大家庭,共同推动海外汉语教学事业的发展和中华优秀文化的传播。
13日,外方院长滕菁与校长张洪海会面,双方就如何促进国际化办学,促进孔院发展等问题开展了交流探讨。文学院、体育科学学院、教育学院、公共外语部和国际交流合作处负责人参加了会谈。
      在与文学院座谈交流中,文学院院长夏静介绍了文学院的办学特色及国际汉语教育硕士专业设置及培养情况。滕菁对文学院为新省孔院选派的优秀汉语教师志愿者表示感谢,肯定了志愿者们踏实工作作风和严谨工作态度,表达了与文学院开展进一步合作的意愿,双方就此进行了深入探讨。
8、"CINB赴山东省教育厅"12月14日,滕菁赴山东省教育厅国际交流与合作处江雨处长畅谈孔院未来合作规划。
9、"CINB参与国际学术研讨会"
      12月15日,CINB受邀参加北京语言大学主办的2018年"国际汉语教学与资源建设"国际学术研讨会,与会学者围绕国际汉语教学资源建设研究、汉语教学模式、国际汉语教学标准及大纲研究和新媒体、新技术、新思维的应用研究等议题展开讨论。
10、"CINB受邀参加罗德罗杰圣诞音乐会"
      12月16日晚,CINB受邀参加钢琴家罗德罗杰(Roger Lord)NO?L à LA CASERNE圣诞音乐会,Lord先生携学生与表演者 Lsabelle Cyr, Yves Marchand共同出演,行云流水的钢琴曲加之生动风趣的表演,整场演出圣诞气氛浓厚,加拿大传统风情洋溢。罗德罗杰为加拿大著名钢琴演奏家,曾赴中国30余次并进行了60多场演出,融汇中国传统乐曲与西方名曲进行创作,现为新省孔子学院校友。
11、"起舞效霓裳,踏歌贺圣诞"
      12月19日,汉语教师李艳梅的汉语班学生在Hubbard Elementary School圣诞晚会中表演了两场中国传统舞蹈。孩子们或手持羽扇,动作似白鹤飞翔来表现中国传统文化中的刚柔并济。或身着传统服饰,齐举花伞从容大方,用中国红来彰显中国文化的绚丽多姿,获得了阵阵喝彩。
12、"EWG中学武术戏剧表演"
      19日中午,正值Eleanor W. Graham中学的火鸡午餐日,梁嘉怡武术俱乐部学生Tyler,Xander和Carolina为全校学生带来了由三人自编自导的功夫戏剧表演。该戏剧是源于功夫巨星成龙的电影片段,问到学生们的灵感来源,Tyler说:"我以前从未接触过功夫,也不知道武术是什么。嘉怡老师让我多看一些中国的功夫电影,我就想到了我最喜欢的功夫巨星 Jackie Chan,他的电影很有意思,我想他是我的榜样"。戏剧表演结束后,三位学生带来了中国功夫表演,赢得了在场观众热烈的掌声。
校长Gregory Theriault在活动结束后专程来到餐桌前与两位汉语教师共进火鸡午餐,肯定了学生们精彩的表现。在校长问到梁嘉怡的武术教学思路时,嘉怡说:"把功夫与电影相结合,在戏剧中融合中国传统文化和武术动作,是一种新的教学方式,学社可以创作自己喜欢的戏剧和微电影。我想通过这种方式,让我的学生们真正爱上中国功夫。"
13. "中国歌舞亮相圣诞"
      12月19日至20日上午,Rexton小学举办了两场圣诞校会表演活动。CINB志愿者教师梁嘉怡,汉语教师王静丽带领1至5年级舞蹈俱乐部学生们参加了此次全校校庆活动。节目开场,校长向诸位家长们介绍了来自CINB汉语教师王静丽和汉语教师志愿者梁嘉怡,对汉语教师们这学期的工作表示肯定和赞赏,感谢两位对此次圣诞校会活动组织、筹备的努力,在场家长们向两位汉语教师送去了热烈的掌声。
      活动中,梁嘉怡舞蹈和武术俱乐部1至5年级学生分别带来的舞蹈表演《星月神话》,《Panama》,《Jingle Bells》和啦啦操表演《Hello Kitty》,其中由五年级学生Avery领队与一年级学生们表演的《五步拳》把整场活动气氛推向高潮,学生们可爱、有趣的武术动作,翻跟头,踢腿,劈叉等,使得现场笑料不断,掌声连连。节目最后,学生们齐唱中英版圣诞歌曲《Jingle Bells》和《铃儿响叮当》。活动后,汉语教师们收到了学生家长们送来的圣诞礼物和祝福,为汉语教师在寒冷的冬日送来了阳光般的温暖。
14."动静相宜,飘香四溢"
      12月21日,汉语教师刘晓唯、志愿者许梦可参加Riverview High School 的多元文化美食节并设中国展台。展台共分茶艺、炒饭、筷子游戏、中国娃娃大头照四部分。许梦可用干泡法沏制了崂山红茶,雅致的茶具、专业的手法、醇和的口感大受欢迎。与这边兰亭雅叙相衬的是热情似火的中式炒饭,刘晓唯现场制作,热烈的翻炒与展台前排起的长龙如同集市般热闹,师生品尝后赞不绝口。
      "吃饱喝足"后有的在筷子夹小球的游戏桌前跃跃欲试,也有的跑到大头娃娃旁呼朋唤友争相合照。"几乎所有人都吃了你们的事物,这是今天最棒的体验!"一名高中教师如是说。本次多元文化美食节是Riverview High School圣诞主题活动的一部分,也是高中的传统项目之一。
15、"品味音乐,感受圣诞" 2018年12月22日晚,负责圣约翰汉语教学工作的刘淑杰和李楠楠两位老师受任教学校Saint John High School助教老师Rene的邀请,参加在市中心大剧院Imperial Theater举办的圣诞音乐会。
16、12月31日,CINB应邀到蒙克顿中文学校教师家做客,当地华人盛赞孔院教师的专业素养并邀请新学年赴周末中文学校授课,大家欢聚一堂同庆新年到来。
17、"享受生活,关爱在加"12月家庭特辑:
与曾多次到中国教授英文的教师夫妻共度感恩节,共叙中加友谊情。
(外方院长滕菁、中方院长代尊峰)
无论聚餐、远足还是除雪,每一项家庭活动都让我在异国他乡体会到家的感觉
(志愿者教师陈志圣)
你妈妈说你是个腼腆的孩子,几次聚会我们相谈甚欢,她惊讶你的变化,我感谢你的信任~
(汉语教师刘淑杰)
Trick or treat?我们在一起的日子,自然有生活的百态,但更多的是糖果般的温馨。
特殊日子的意义在于,我们有机会去表达我对你的喜爱与感谢。
(志愿者教师孙小皎)
有家庭,有朋友,有热爱,当无数人问我为何眷恋,这就是答案。
(汉语教师陈俊锋)
懵懂无助时有你关心,让我的全新旅程不再兵荒马乱,我们是一家人了呀~圣诞火锅party就是最佳例证!
(汉语教师刘晓唯 志愿者教师许梦可)
亦师亦友,亦朋亦亲,最真挚的情感往往细无声的融化掉整个寒冬的冰雪。
(汉语教师李艳梅)
相识于音乐,相知于学校,相爱于圣诞。
(汉语教师李楠楠)
收获、成长、感恩,足以
(汉语教师李珊珊)