On February 11th, Chinese teacher Liu Xiaowei and volunteer teacher Xu Mengke held a Chinese New Year celebration event at Riverview East School. Hundreds of "Fu"(good luck) hang in the cafeteria, Golden Pig welcomed everyone. Calligraphy Zone, Dumpling Zone and Game Zone were arranged in sequence. Nearly 800 people from 34 classes in eight grades of the school participated in the activities in batches in one day, and experienced a Chinese New Year in a lively and busy way. Chinese teacher Li Shanshan and volunteer teacher Sun Xiaojiao came to assist and organize the activities.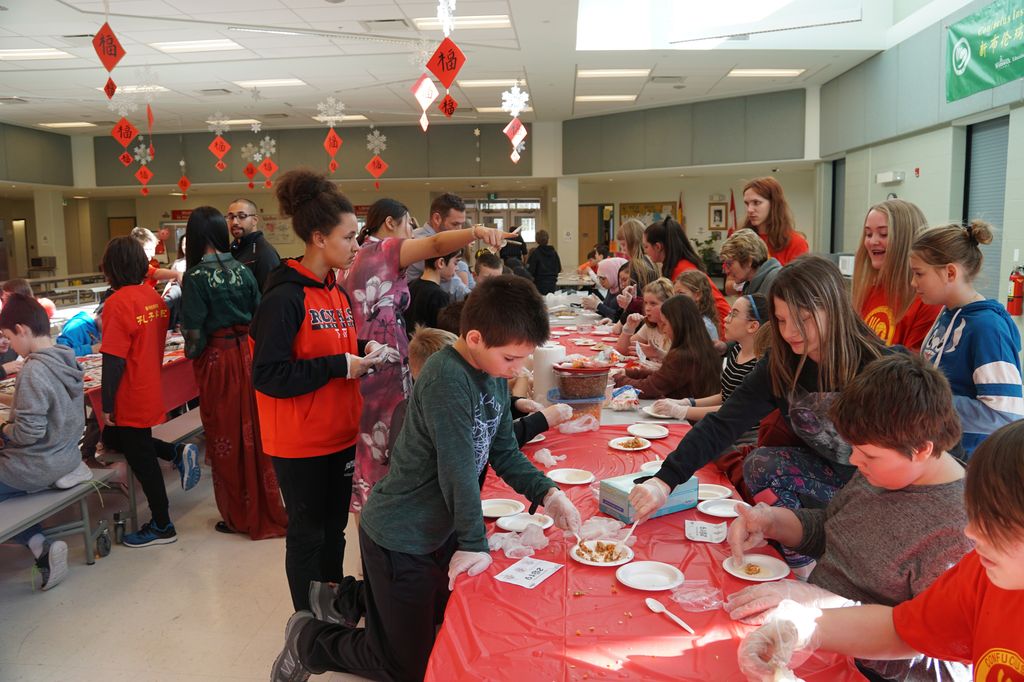 This celebration set different projects for different grades. Student of higher grades wrote Character "Fu" in the calligraphy experience zone; students of lower grades painted pandas; in the game area, the higher grades guessed riddles, and the lower grades did chopsticks games. However, the dumplings area did not have this kind of special care, no matter whether they were the children in the kindergarten or the big sisters in the eighth grade, they all made dumplings with their own hands and tasted their works in front of the steaming pot.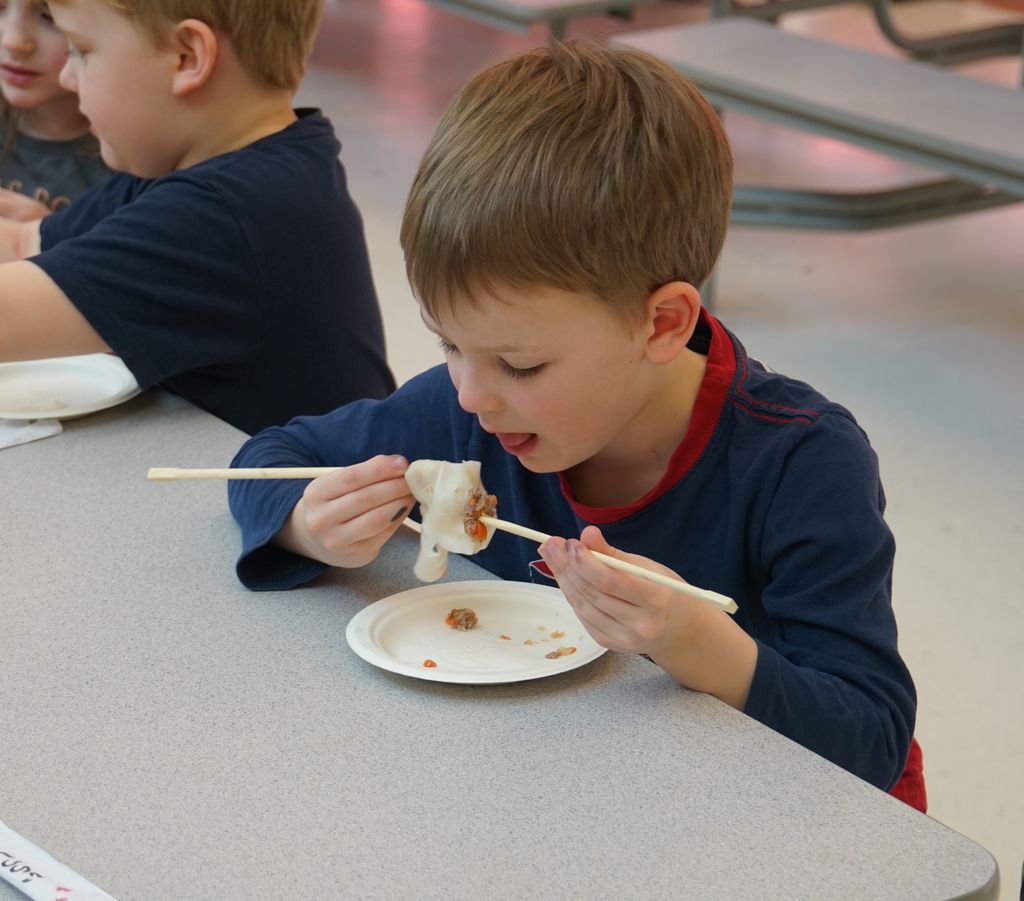 In the calligraphy area, after listening to the basic knowledge of pen and ink, the students followed the teacher to draw one panda after another which were charmingly cute. The character "Fu" written by the senior grades are good as well. When they finished writing the character, they compared with the ones hung over their heads. The game of chopsticks with sugar couldn't frustrate students who used chopsticks for the first time. After 30 seconds, they happily took away the candy they had clamped. The riddle game really made the "big" guys scratch their heads and think hard. The ones who correctly answered the riddles were happy with the red bags of pig they won. Each time a student completed a project, he would put a seal on his ticket. After finishing the three activities, they'd vote for their favorite activities.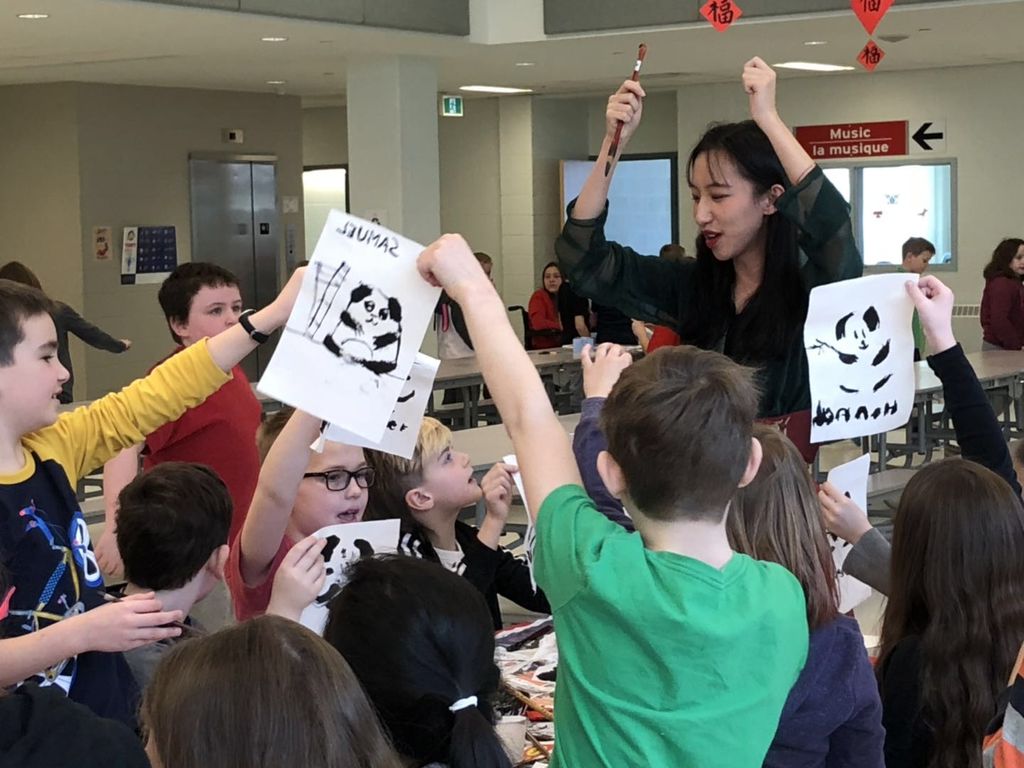 The event received strong support from the school. The principal, teachers and parents fully affirmed the significance of this activity which broadened students' horizons and offered a chance for students to experience rich and colorful culture. Students of eighth grade served as small assistants in front of each booth. Parents were invited to volunteer actively on the spot. After the event, they also praised the wonderful Chinese experience and hoped that there would be more opportunities to experience Chinese culture in the future.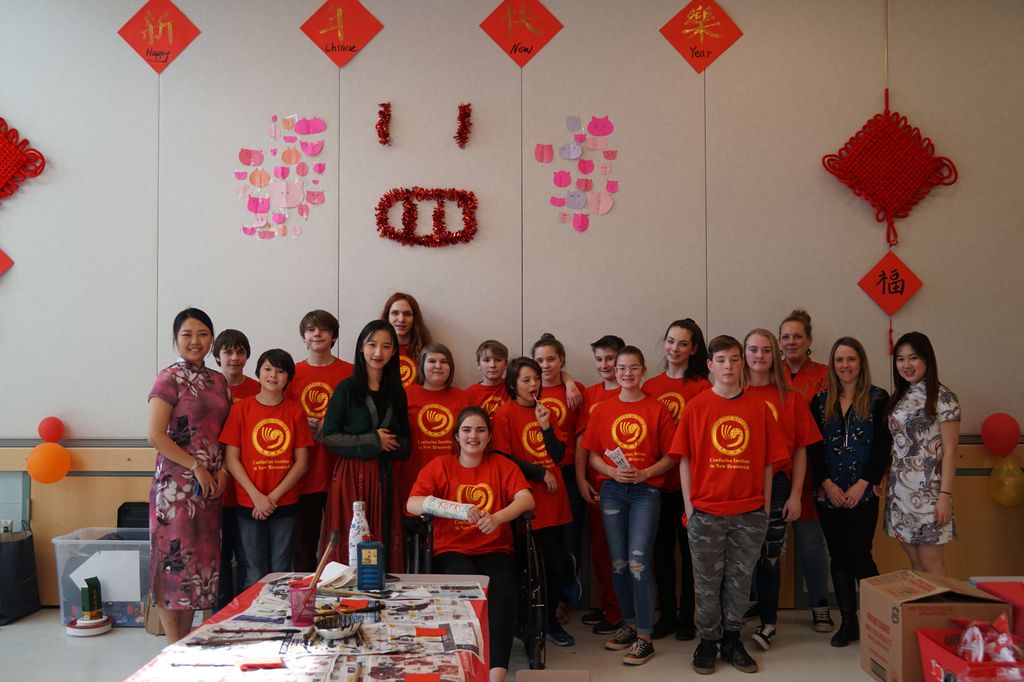 灯谜福字齐上阵,饺子压轴闹新春

      2月11日,汉语教师刘晓唯与志愿者教师许梦可在Riverview east school举办了新春游园体验活动,礼堂内百福齐挂,金猪迎宾,书法区、饺子区、游戏区三个展台依次而列,全校八个年级34个班级近800人在一天时间内分批有序地参加游园活动,热热闹闹地体验了一把中国新年。汉语教师李珊珊、志愿者教师孙小皎前来协助组织。
      本次游园针对不同年级设置了不同的项目,书法体验区高年级写福字,低年级画熊猫,游戏区高年级猜灯谜,低年级进行筷子游戏,不过,饺子区则没有了这种"特殊关怀",无论幼儿园的小朋友还是八年级的大姐姐都"真刀真枪"的亲手包了饺子,围在热气腾腾的锅前品尝自己的作品。
      在书法区,学生们听取了笔墨纸砚的基本知识后,跟着老师用毛笔画出了一只只憨态可掬的熊猫。高年级的福字也不甘示弱,写完了还要和头顶悬挂的福字比一比高低。筷子夹糖的游戏难不倒很多第一次用筷子的学生,三十秒计时后高兴的拿走了自己夹到的糖果,而灯谜游戏则着实让"大高个"们急的抓耳挠腮冥思苦想,答对者拿着小猪红包兴高采烈。学生们每体验完成一个项目,就会在自己的票上盖上一枚印章,三项完成之后对自己对喜欢的活动投票。
      本次活动得到了校方的大力支持,校长、老师、家长都充分肯定了这一活动对拓宽学生视野,体验丰富多彩的文化的意义。八年级的学生在各个展台前做起了小助手,家长们更是积极应邀来到现场志愿帮助,会后对于精彩的中国年体验也是不惜赞扬,希望今后能有更多的机会,感受中国文化的魅力。