31st, January 2014, a Chinese New Year Gala has been held in Birchmount School for the year of horse.
At 10:00, on the first day of Chinese New Year, all the students and staffs got together and celebrated the Chinese New Year. The principle Mrs. Gerhardt wore Chinese traditional dress Cheong-sam went on the stage. She made a speech to welcome all the people and announced the celebration begins. On the Gala, students performed variety of Chinese traditional programs. The drama group adapted and performed the popular Chinese story<Monkey King>; the students in Chinese Club performed the song<Happy New Year>and< Crescent moon>.the Chinese dance Club performed a wonderful Taichi Fan dance, and also performed Chinese traditional dance<Happy Chinese New Year>; the art teacher lead the students made a beautiful dragon, and did a Chinese Dragon dance on the stage, as soon as the big dragon appeared on the stage, all the students gave a big cheer for it. The Chinese traditional performances surprised all the teachers and guests that attended in this Gala. The whole school filled with the atmosphere of Chinese New Year, people seems like they were in China. 
In the end of the Gala, The director of Confucius institute Ms. Teng Jing made a speech and give the Best wishes to all in the new year, she was on behalf of the Confucius Institute gave the present to School.
After the Gala, all the students and teachers tasted the Chinese traditional food Fried rice and Fortune cookie to celebrate the Chinese New Year.
The Local medium also came to attend this celebration and reported on the Newspaper.
蒙克顿市Birchmount学校举办春节联欢会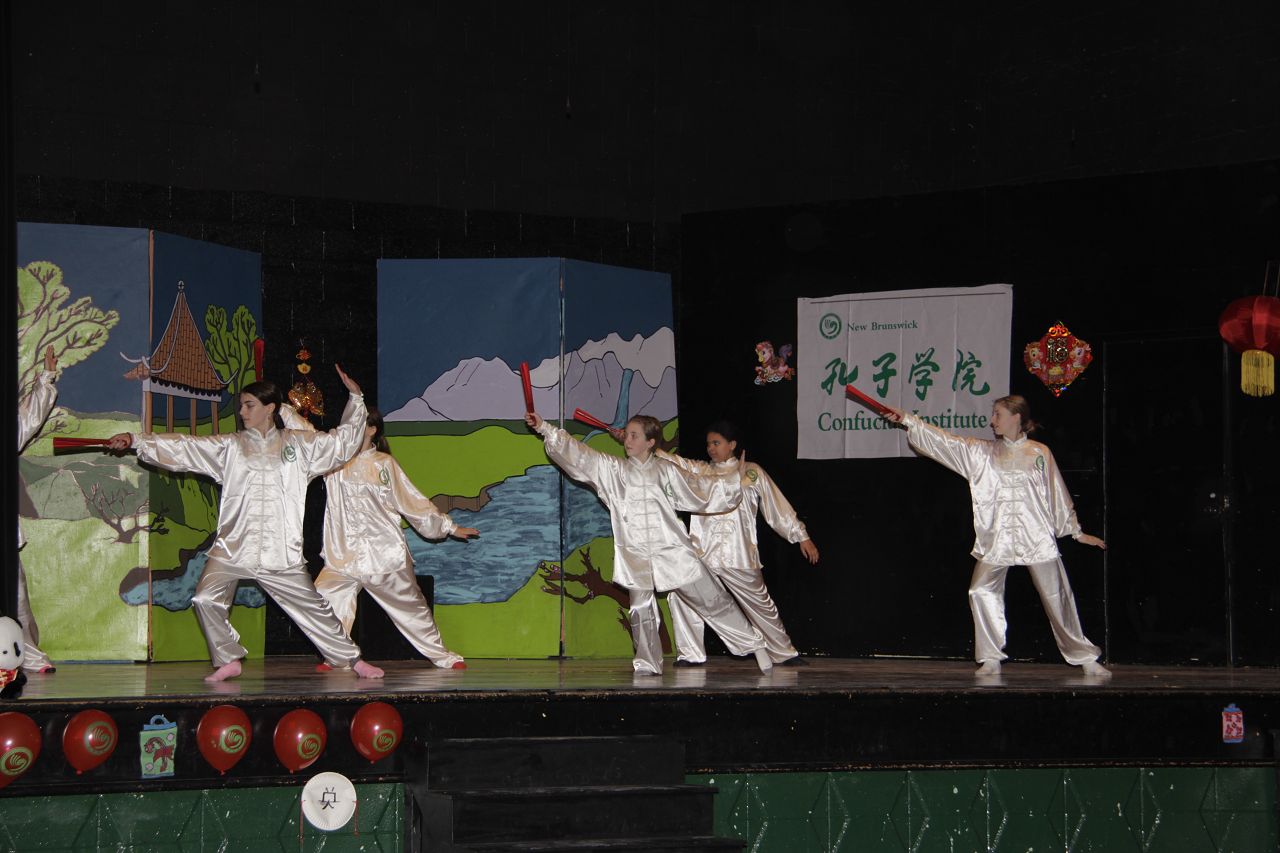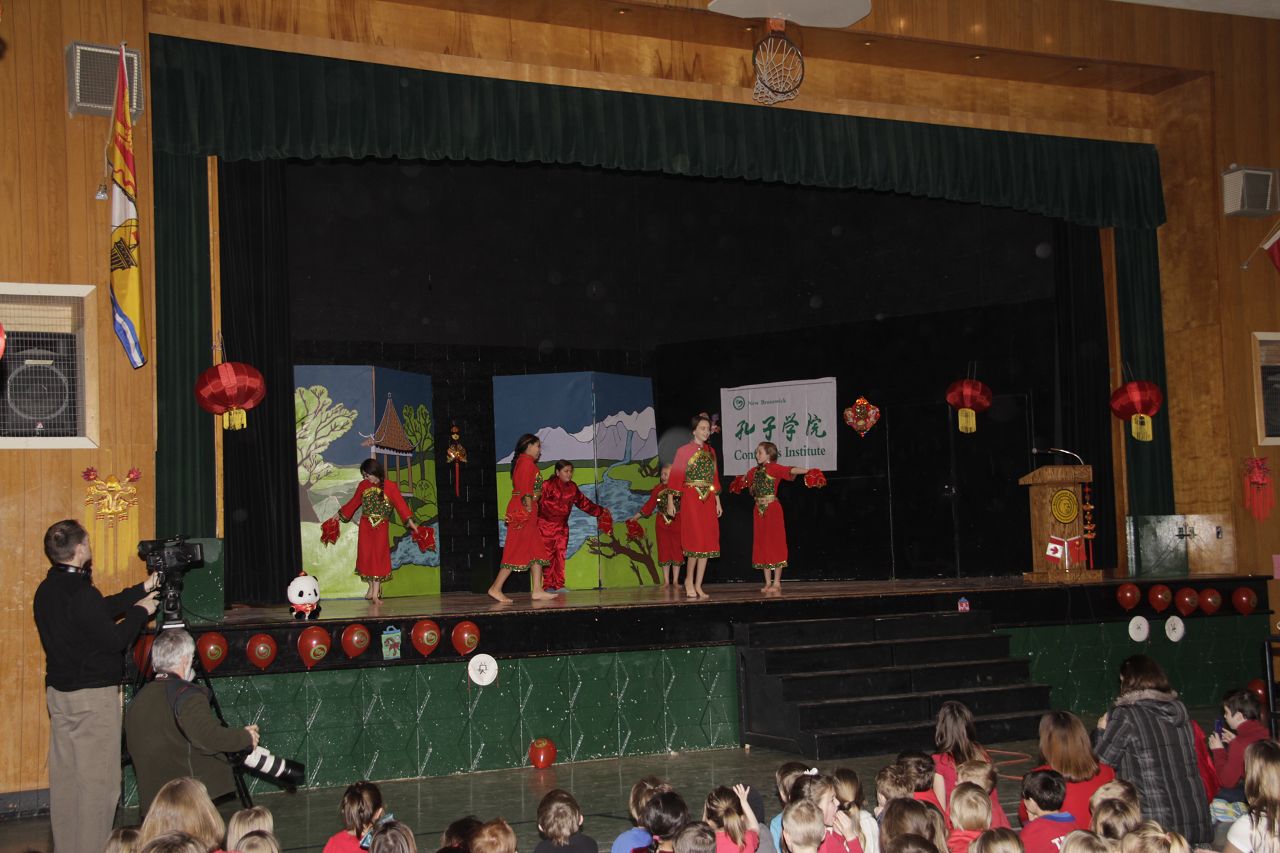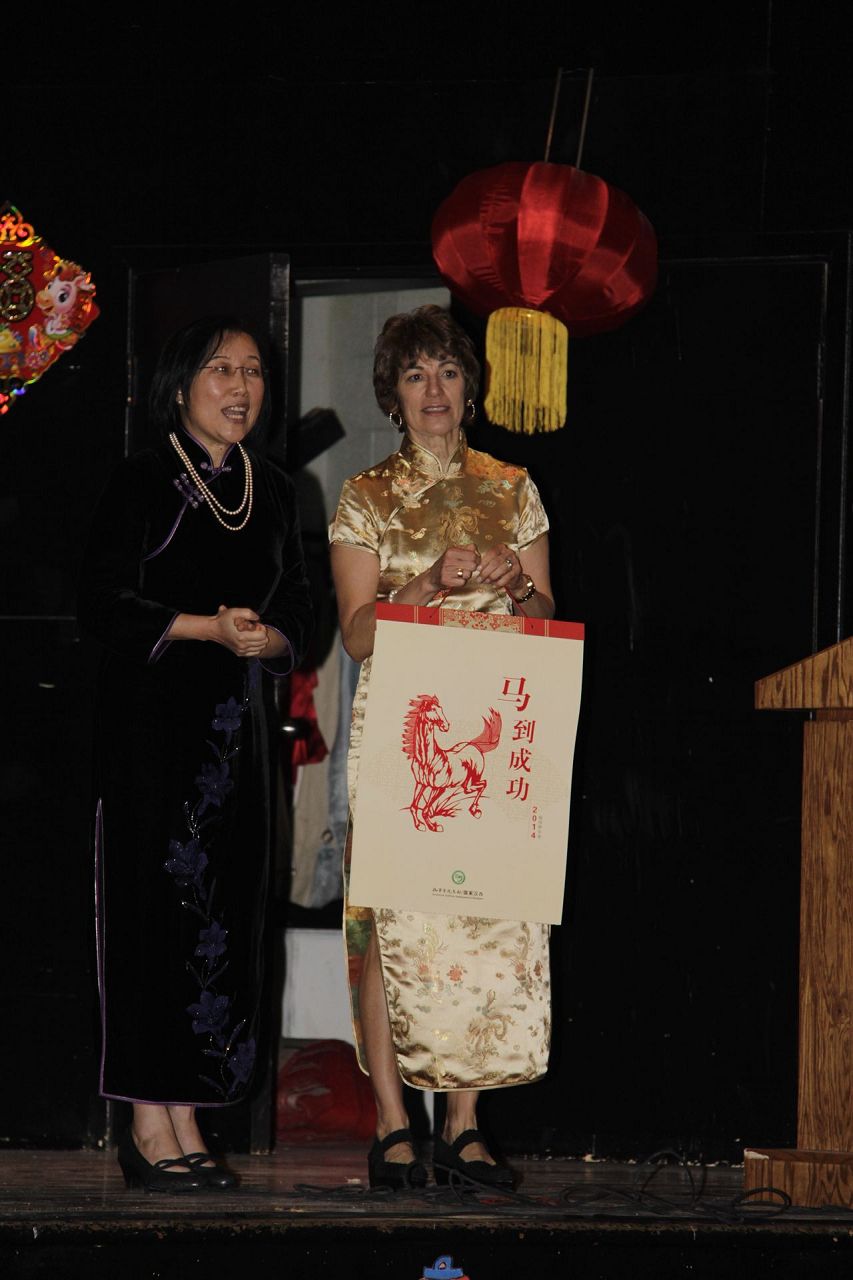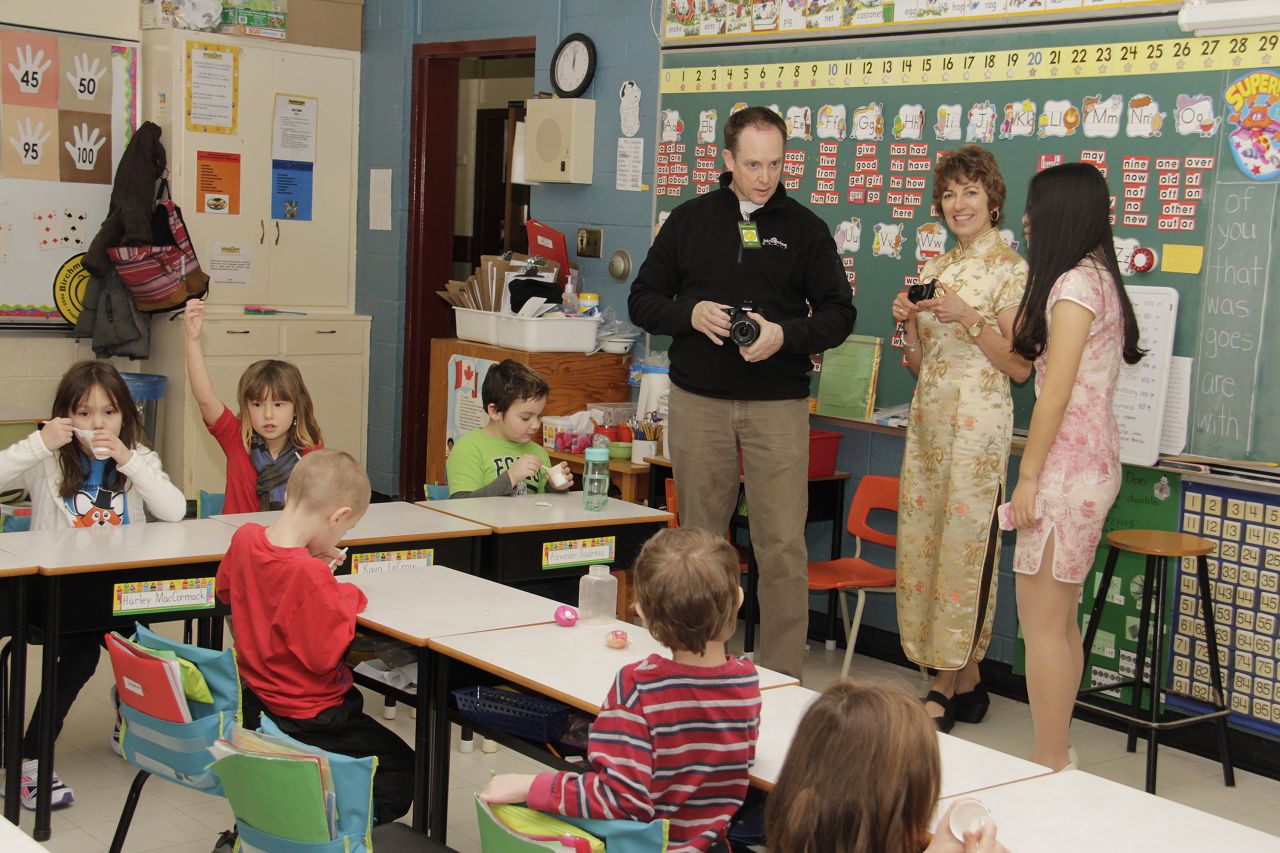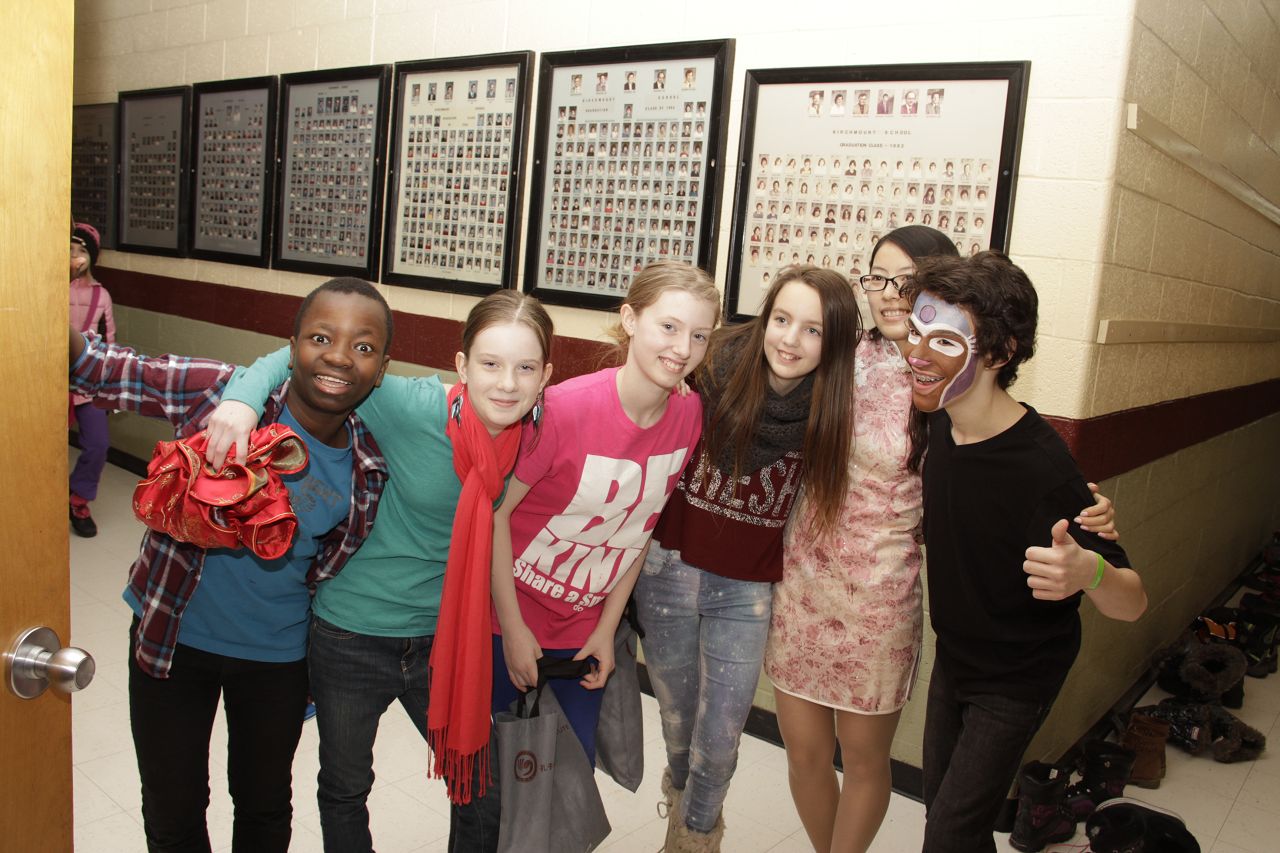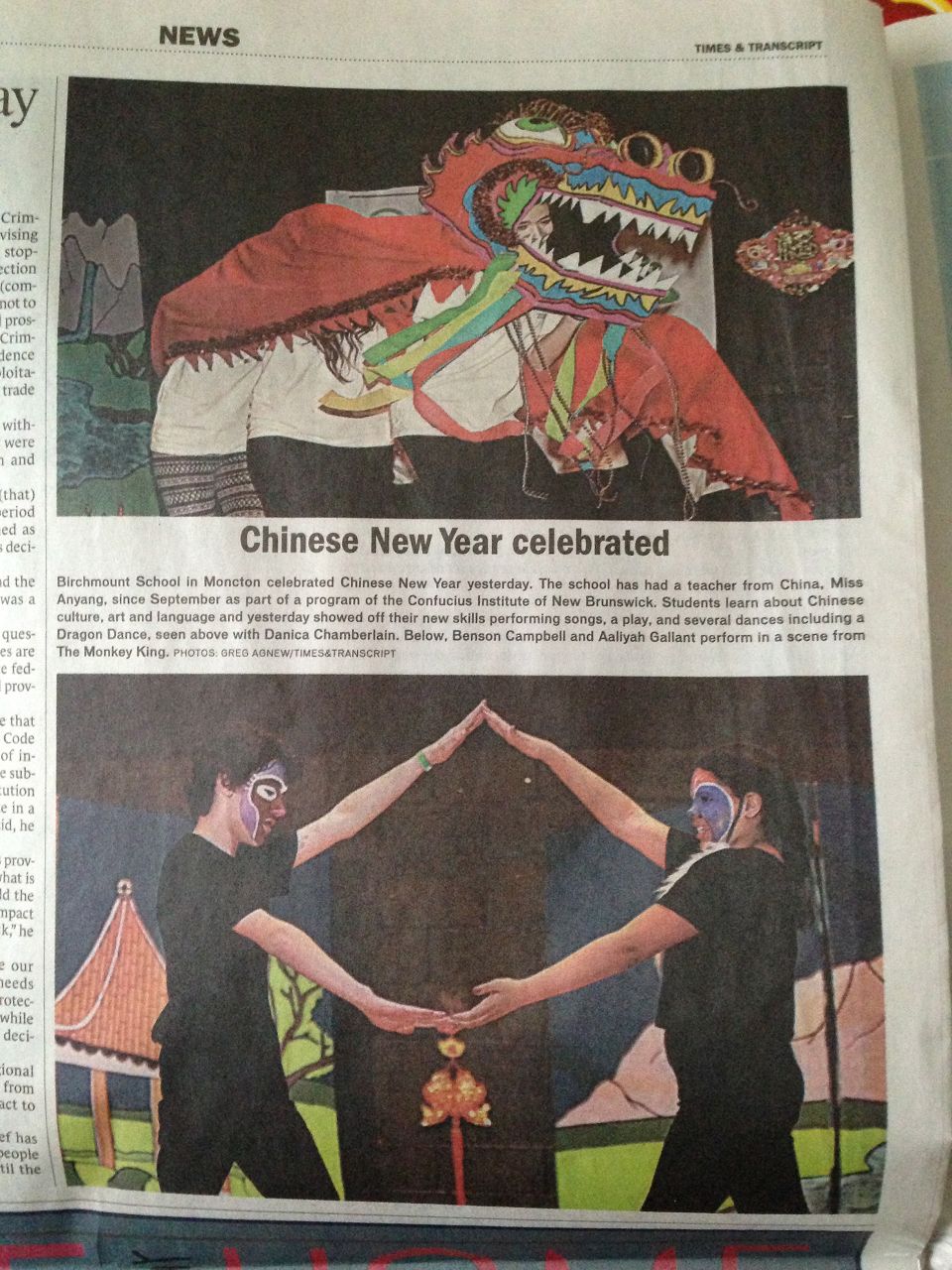 2014年1月31日,蒙克顿市Birchmount学校举办了马年春节联欢会。
大年初一上午10时,全校师生欢聚一堂共同庆祝2014马年地来临。联欢会上,校长身穿中国传统服饰旗袍上台致欢迎词。接着联欢会正式开始,孩子们介绍了中国春节并表演了丰富多彩的节目,他们改编并表演了舞台剧《美猴王》,精彩的演出博得了阵阵喝彩;汉语俱乐部的孩子们演唱了中国歌曲《新年好》《弯弯的月亮》;舞蹈俱乐部的女孩们带来了精彩的太极扇表演和汉族舞蹈《欢乐中国年》;艺术课老师带领高年级的同学制作并表演中国舞龙,漂亮的中国龙一出现在舞台上就引来了阵阵欢呼。接连而来的中国传统艺术表演,让全校师生目不暇接。浓郁的春节气氛充斥着整个Birchmount学校,让人们仿佛身在中国。
联欢会尾声,新布伦瑞克省孔子学院外方院长滕菁女士上台致辞,她对春节联欢会地成功举办表示了高度地赞扬和祝贺,对汉语教师志愿者安阳的工作给予了肯定。并代表孔子学院送上了新年的礼物。
欢乐的联欢会后,全校师生共同品尝了中国传统食物蛋炒饭和幸运签饼,大家一起分享美食,分享幸运,共同迎接美好而充满期待的新年。
另外,当地报纸媒体也参加了这次春节联欢会,并对这次春节活动进行了报道。