To celebrate the 10th anniversary of the Confucius Institute worldwide, CINB held an unique celebration on Sept.27th, 2014 at Officers' Square in Fredericton. Miss Sandra Mackinnon, the representative of Education Department of NB, Miss Yan Suli, the Consul of the Chinese Consulate-General in Montreal and Miss Heather Wallace, the representative of CINB addressed remarks. They congratulated the first Global Confucius Institute Day, and thanked to the efforts made by CINB in spreading Chinese Language and culture in NB.
In the event, Dragon Dance, Lion Dance and other colorful performances attracted more than 200 people to watch. The Volunteer Chinese Teacher Xi Cao with her Chinese Dance Group in Park Street Elementary School gave a wonderful performance called "I Learn Dizigui" which combined Chinese dance and Kung fu. 
CINB also exhibited many Chinese stuff through 4 booths which included the Chinese books, Chinese calligraphy and painting, Chinese paper-cutting, Beijing Opera mask and Chinese musical instruments. The audience understood the charm of Chinese culture very well by their first-hand experience on Chinese paper-cutting, writing and painting.
During the event, Roger Lord, a famous pianist in Canada, also a student of CINB played some pieces of Chinese traditional classic music. His wonderful performances aroused lasting applauses from the audience. This October, Roger Lord will go to China for exchange programs in Qufu Normal University and Xiamen University, and will participate in the Shanghai International Music Festival on Oct.23th. This is also one of the series of activities for celebrating Confucius Institute Day. 
This celebration was a great success, the reporter of local newspaper Daily Gleaner also came to have a interview about it. The event not only helped the local people understand more about Chinese culture, but also promoted cultural exchange and friendship between Chinese and Canadian people.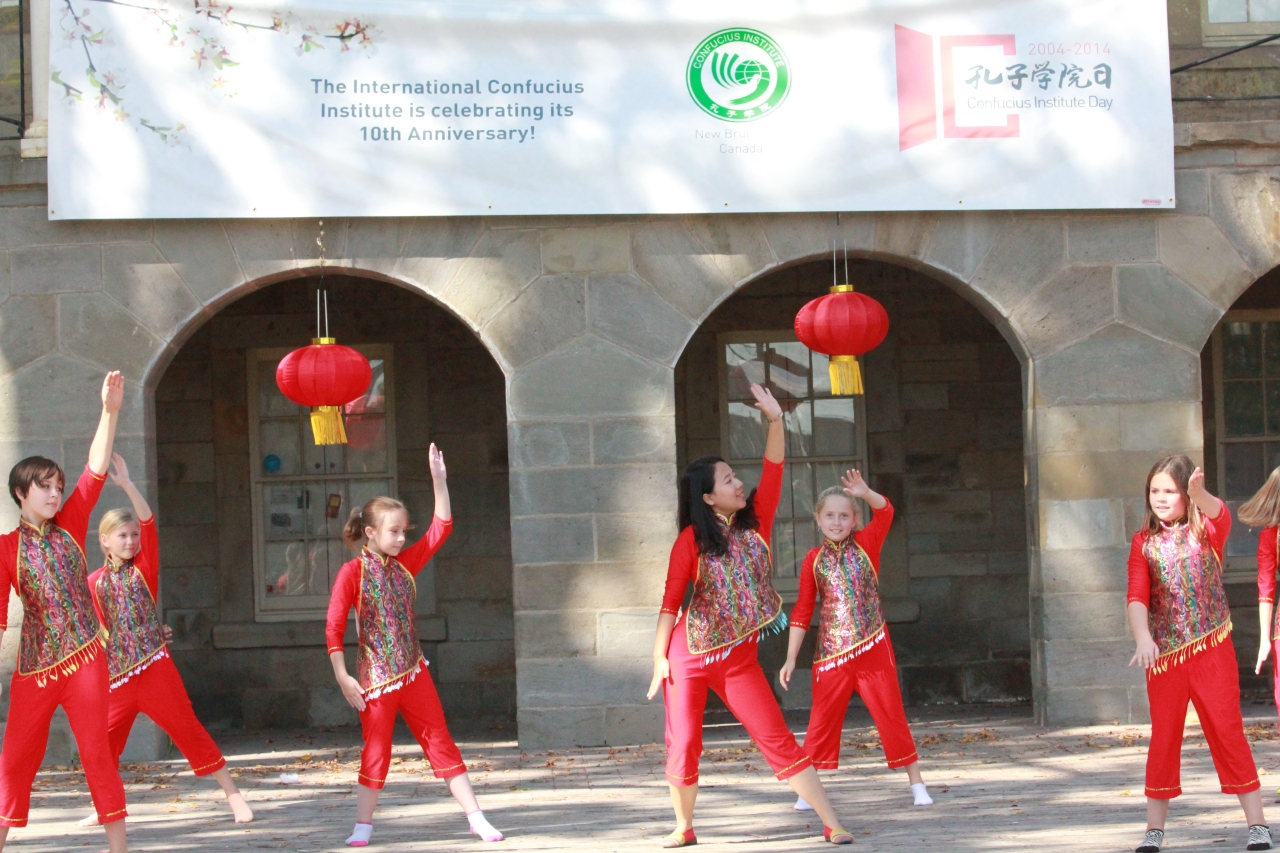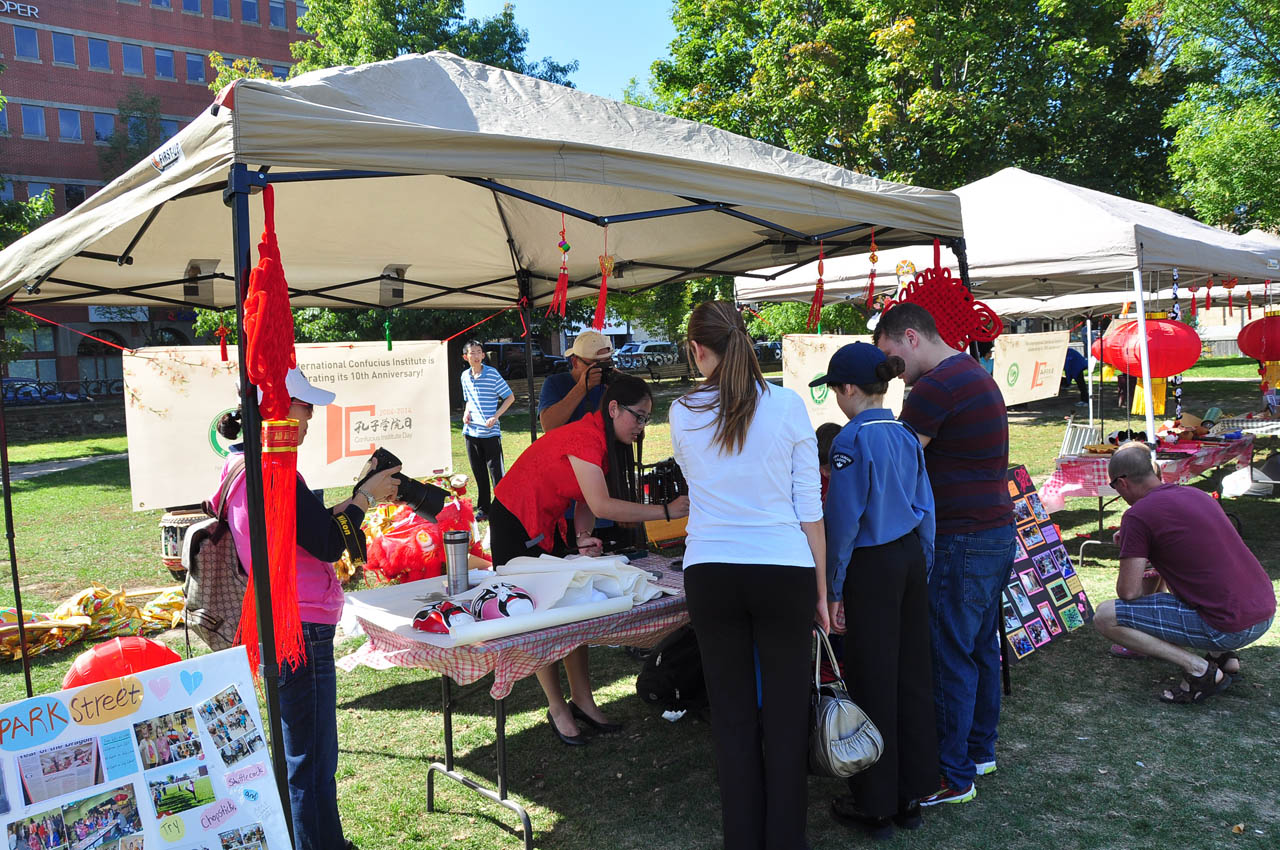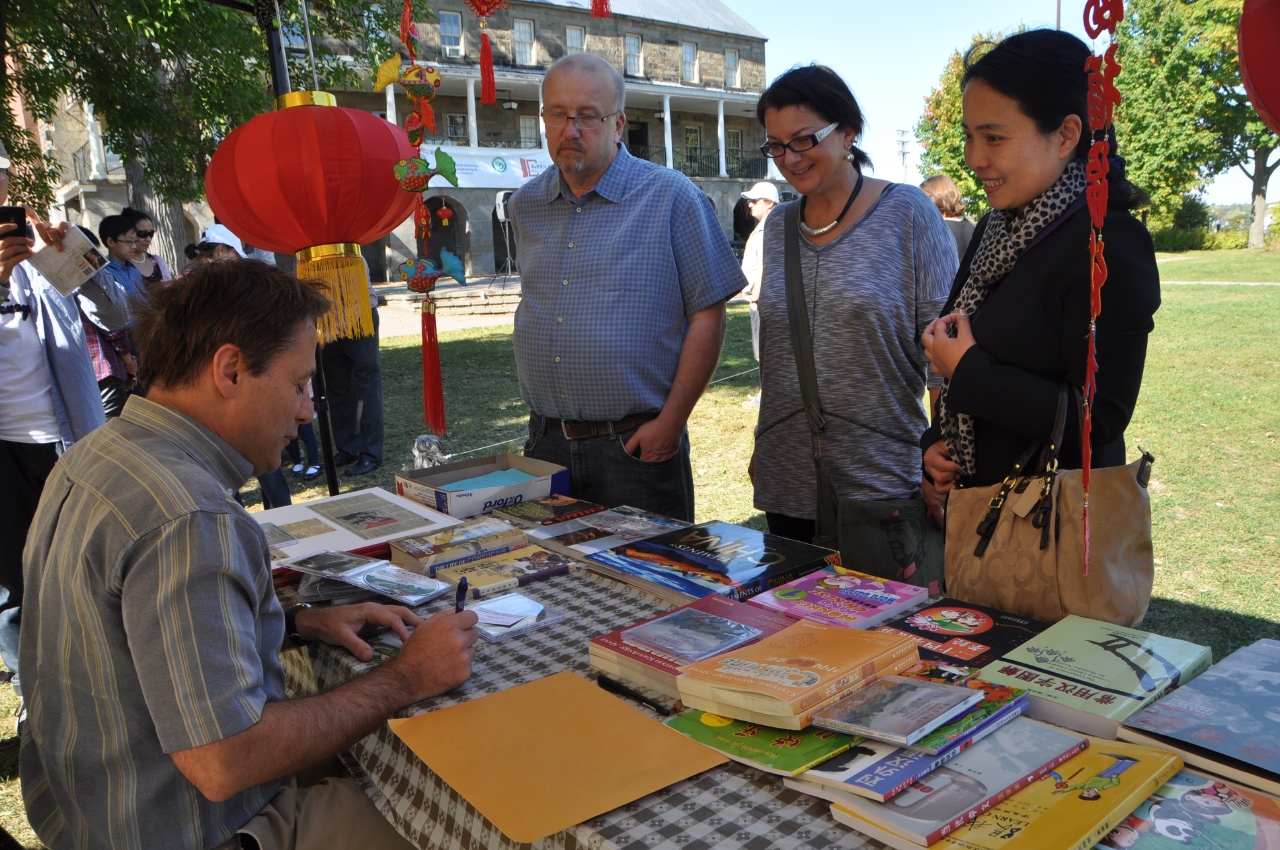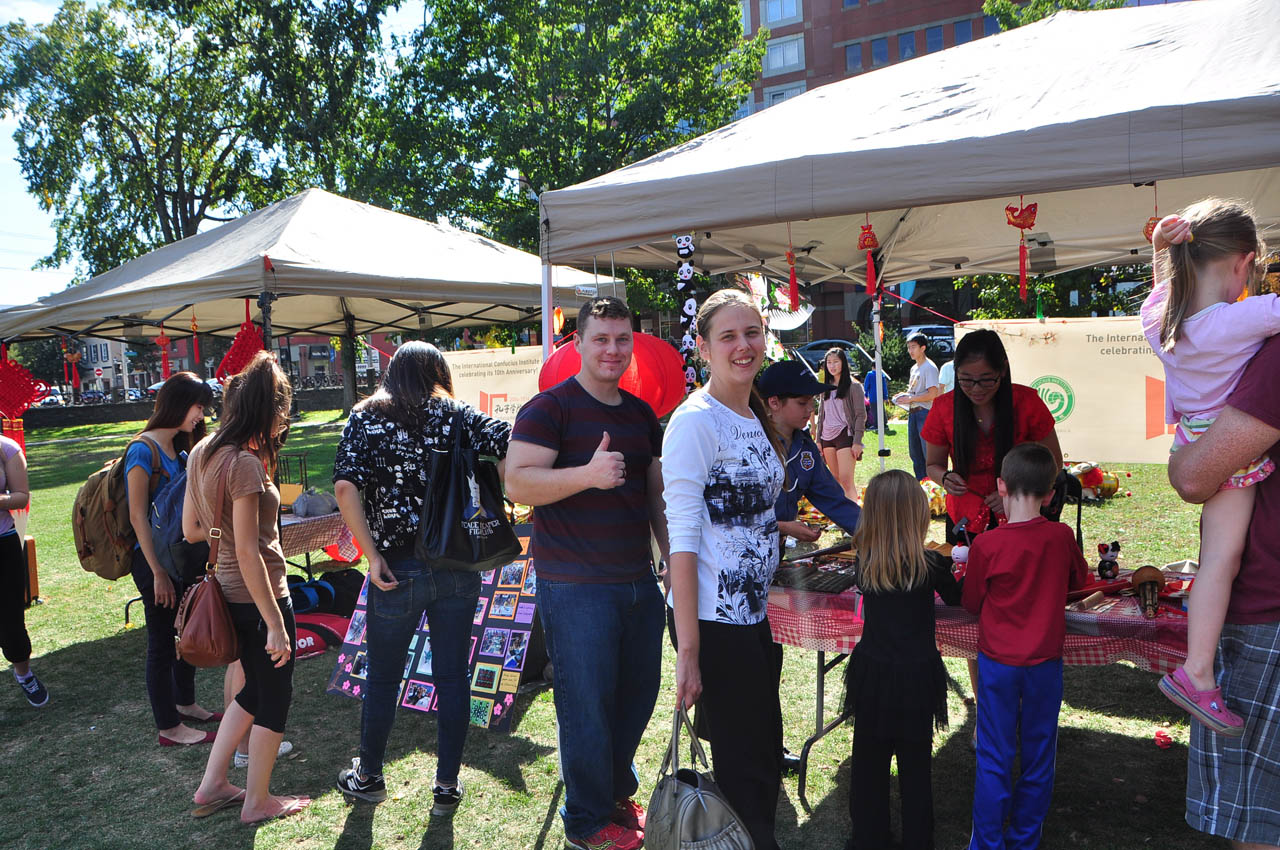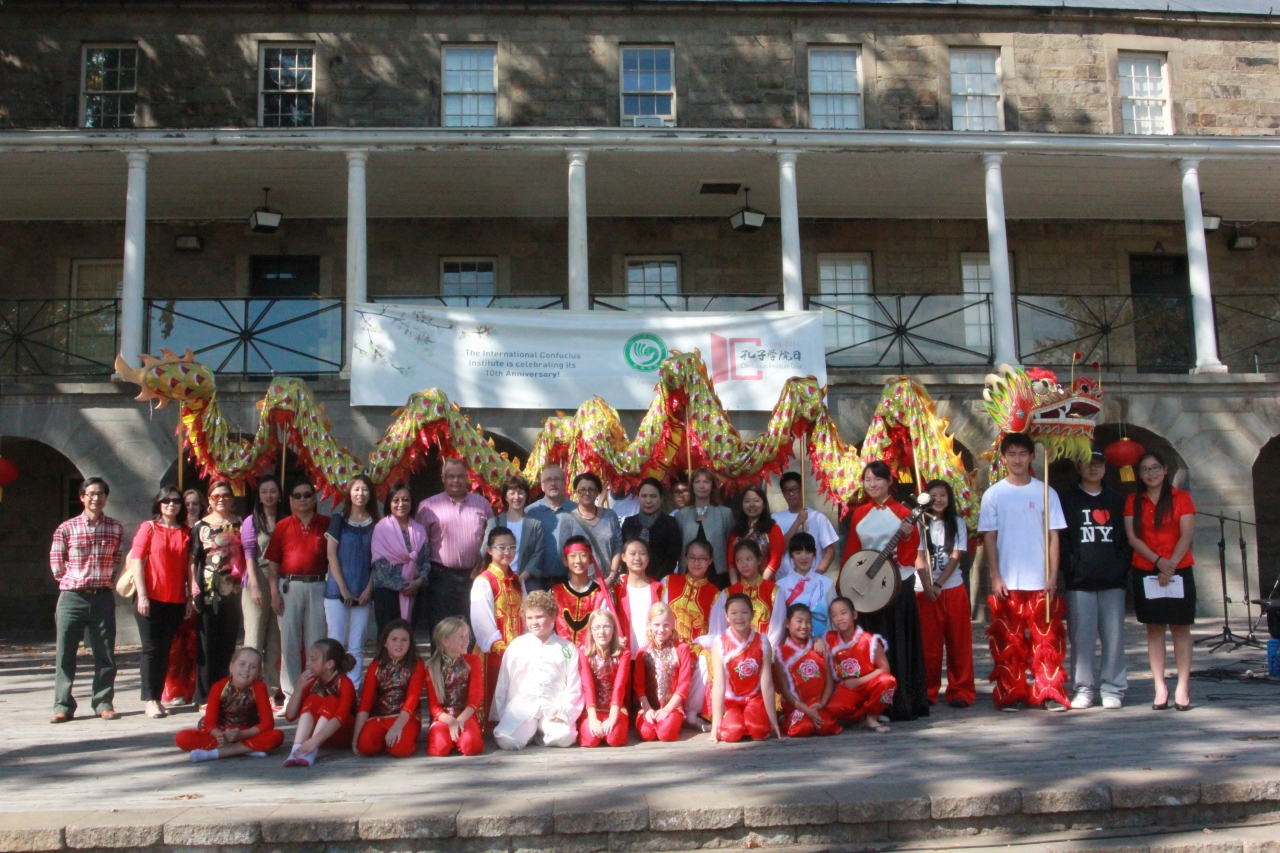 加拿大新布伦瑞克省孔院庆祝首届全球"孔子学院日"
为庆祝孔子学院10周年诞辰,9月27日,加拿大新布伦瑞克省孔子学院在本省省会弗莱市举办了大型的广场庆典活动。中国驻蒙特利尔总领馆领事闫苏莉女士和新布伦瑞克省教育部代表Sandra Mackinnon及孔子学院代表Heather Wallace分别为本次活动致辞,祝贺首届全球"孔子学院日"成功举办,并对新省孔院为促进中加两国文化交流、满足新省人民学习汉语的需求所作出的努力给予肯定。
庆典中,舞龙、舞狮以及丰富多彩的民族舞蹈吸引了当地近二百多名群众前来观看。已开设了三年汉语课程的帕克街小学学生在汉语志愿者教师曹曦的带领下表演了结合中国民族舞蹈与武术的精彩节目《我学弟子规》。
同时,新省孔院为本次活动也设置了中国书画展台、民族工艺品展台以及剪纸、书法体验展台,让观众在欣赏以及切身体验中深刻了解到了中国文化的魅力。
在活动中,新省孔子学院学生,加拿大著名钢琴家Roger Lord 不仅为大家带来了精彩的演奏,同时也进行了自己的CD——《中国音乐瑰宝》的签售仪式,并向当地群众分享了自己学习汉语、体验中国文化的经历。今年十月份,Roger Lord也即将前往加拿大孔院的合作方曲阜师范大学、厦门大学进行交流,并于10月23日参加上海国际音乐节,这亦是新省孔院庆祝"孔子学院日"系列活动之一。
本次活动从中午12点持续到下午4点,当地群众或坐在草地上观看精彩的节目,或在中国展台前欣赏、体验着中国工艺美术作品。9月27日的弗莱阳光尤其明媚,大家就在这浓厚的中国文化氛围下享受了一下午的惬意时光。庆典活动吸引了当地报社Daily Gleaner的记者前来采访、报道,这为"孔子学院日"的宣传锦上添花。此次庆祝活动,不仅加深了加拿大当地人们对于孔子学院及中国文化的认识和了解,而且更加促进了两国的文化交流。
加拿大新布伦瑞克省孔子学院供稿
2014年9月27日