Time flies quickly, following the footsteps of dream, I have been teaching Chinese in New Brunswick of Confucius Institute as Chinese teachers volunteer more than seven months. My inaugural city, the capital of New Brunswick - Fredericton City, has changed from the lush and colorful maple trees paradise into a snow and ice world. And we finally spent the long winter, the Canadian spring is just around the corner. I look forward to enjoying its beautiful very much.              
Seizing the opportunity to go out and see the world, and to experience the real overseas classroom. My working places are three local schools from kindergarten to Middle school, I am mainly responsible for the Chinese teaching work in these schools. Actually, I always taught foreign students Chinese in College and University before I came here , it's easy for me to control the classroom discipline. However, after I came here, my teaching object is kindergarten, primary school and middle school students, for me, this is really no small challenge. I still remember how nervous I was when I attended the first Chinese class. But I quickly adapted to the life and work environment here, to understand the local teaching model and student characteristics. I began to design and enrich my Chinese teaching content, classroom activities and cultural experiences, figure out effective classroom management techniques, how to improve students' learning interests, make them like learning Chinese and understand Chinese culture well. To meet difficulties and overcome challenges make me understand well adjust measures to local conditions and the profound meaning of teaching students in accordance with their aptitude.
Every Chinese teacher as a "live card" of China, on behalf of the image of China, is supposed to be strict to self-discipline and to be patient to others. Meanwhile, how to strengthen communication with the school principals, teachers and students has become an important part of my work, I learned to integrate into the school's work and life, to enhance the school and the feelings between teachers and students, soon we have become friends. Under their encouragement, support and help, I successfully held in the school a few "Chinese Culture Day" activities, "The Chinese New Year Celebration" activities, all the teachers and students enjoyed very much, we had a great teamwork. After the event, the principal and all the teachers and students expressed their gratitude and praise to me that made me very excited, all the efforts and pay were worthwhile, and I also got a happy time and learned a lot. The most happy things are that every time I come into the classroom, all the children expose their naive and beautiful smile, open their arms to give me a sincere and warm embrace, and they even don't let me go when the class is over. Every day is full of love and meaning.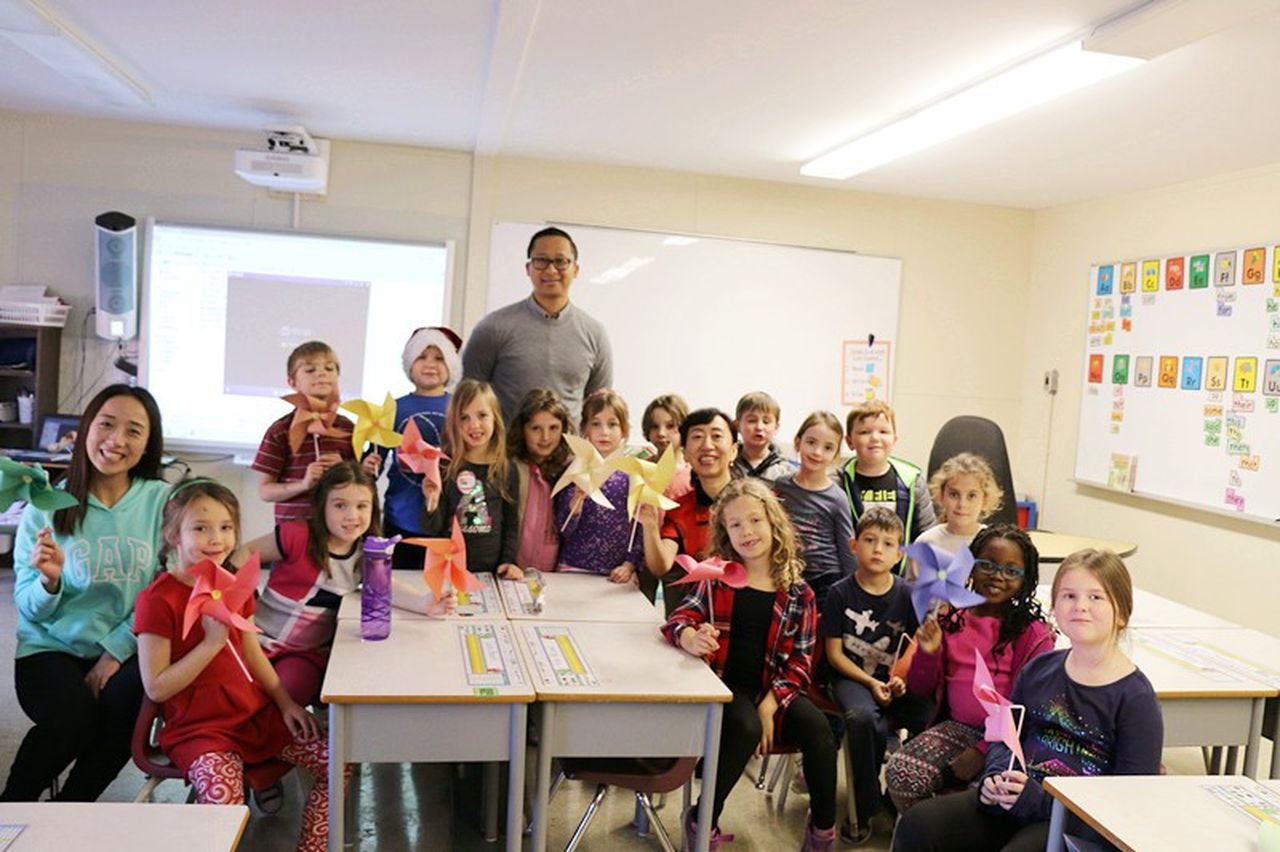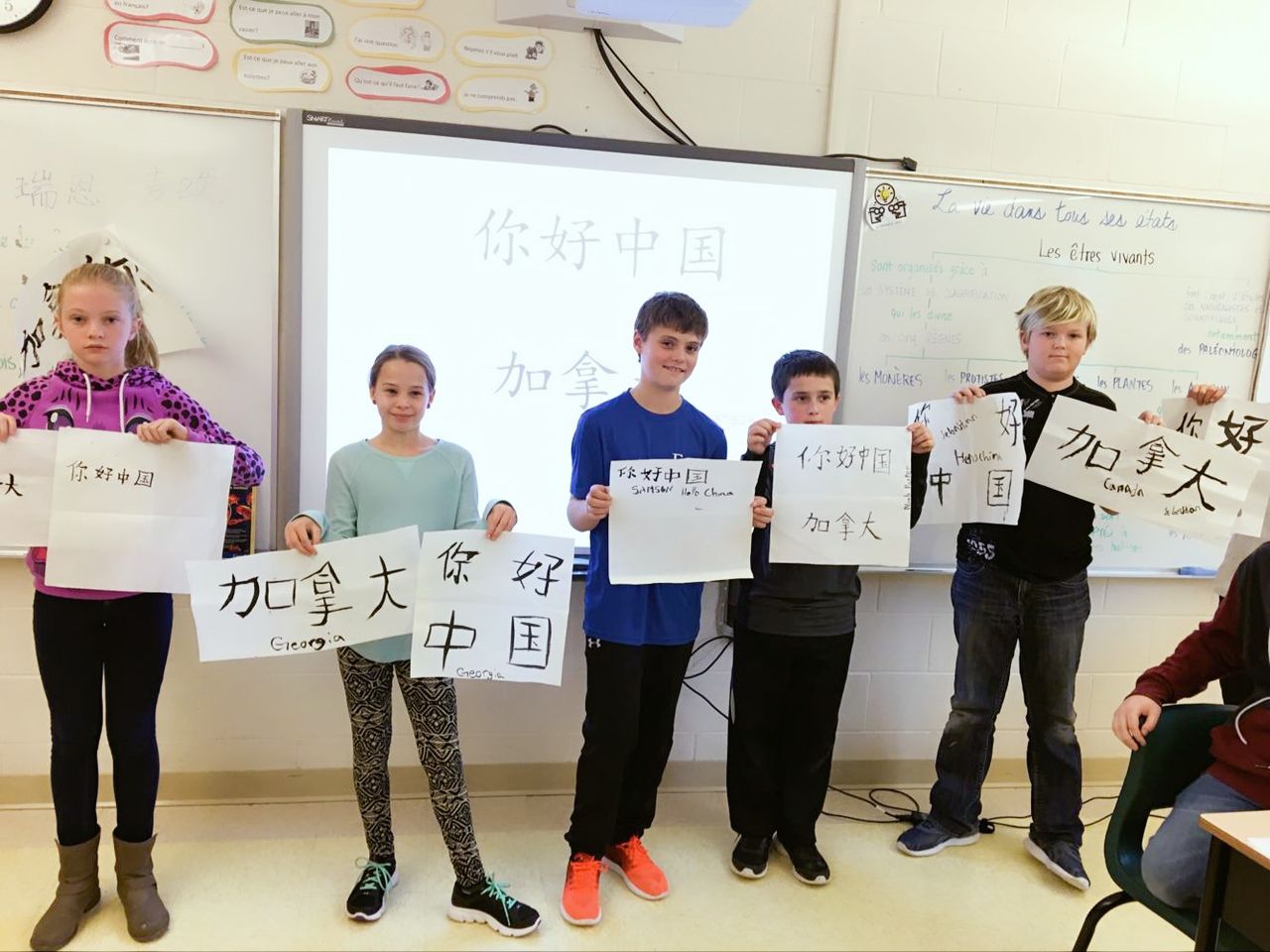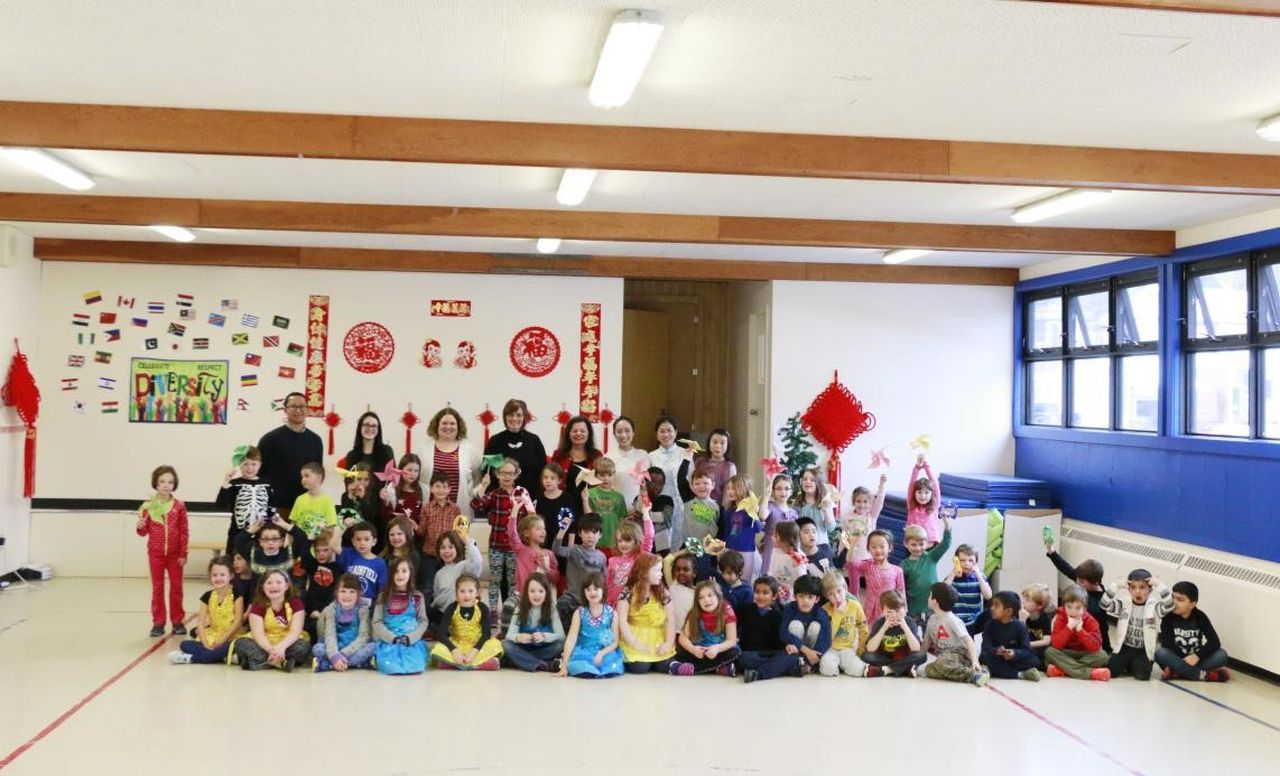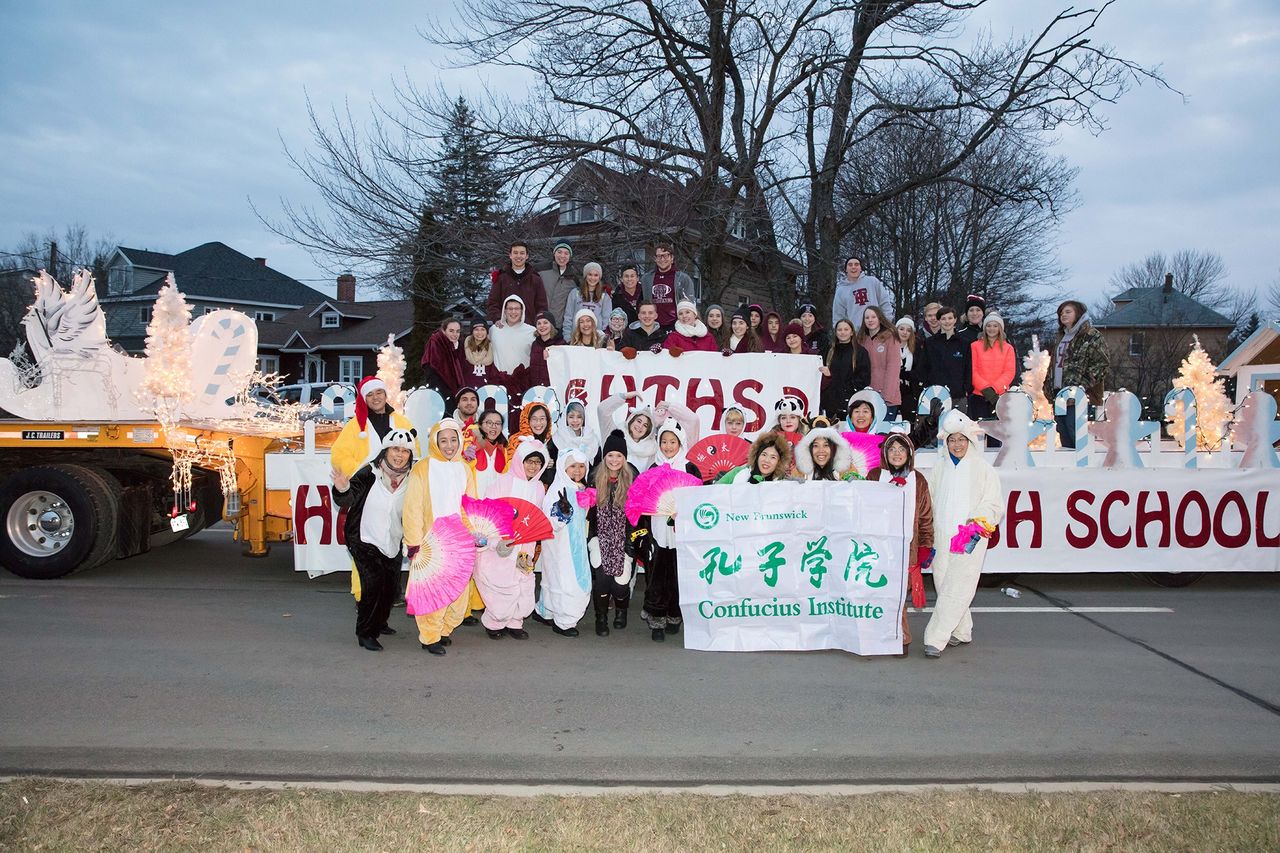 "Canadian family" took me to experience the culture and customs of Canada. Homestay life makes me forget the loneliness of my homesick, and make me feel at home. My new family brought me to their hometown in Nova Scotia, where has the historic buildings, the beautiful natural scenery of the farm, the tranquil lifestyle. They make me experience, feel the local lifestyle and characteristics culture, which is indescribable precious mark in my life. 
This time of my volunteer life make me learn about the independent, self-reflection, thinking and thanksgiving. It not only tempers my will, but improves my ability to cultivate me gradually to be courage to accept all kinds of challenges to be a qualified Chinese teacher.
It was encouraging that the Confucius Institute in New Brunswick was awarded the honorary title of "Advanced Confucius Institute" at the Confucius Institute Conference in 2016, where the Director of Mrs. Teng Jing shared the grand occasion to us and we were extremely excited for that. This is the great support and encouragement for our Chinese teaching work. And I am very proud of becoming one member of CINB. There are so many excellent Chinese teachers and talents who worked here before, they have set great examples for me.
Our CINB is a big family. From the beginning to the present, Mrs. Teng Jing always tirelessly encourage us, give us a lot of Chinese teaching advice, cheer and train us into good talents. As long as we are willing to work hard, willing to pay and willing to endure hardship, I believe that the final harvest will be more fruit. We have taken the baton of Chinese teacher predecessors, to continue our Chinese teaching work here so that more and more children can feel the charm of Chinese language and Chinese culture.
Confucius said: "Never be content with your learning and never be impatient with your teaching." This famous words have spread through the ages, also be my school motto of Qufu Normal University, have been engraved in my heart to inspire my morale to make my Chinese teaching tour meaningful, leading me to go further, fly higher on the dream road.
(CINB——Written by Jingli Wang)
梦想之旅,汉语搭桥,我在加国不断成长
      时光荏苒,追寻着梦想的足迹,我在新省孔院从事汉语教师志愿者工作已经有七个多月了。我所就职的城市,新布伦瑞克省首府——弗雷德里克顿市,早已从茂盛绚丽的枫叶天堂蜕变成了白雪皑皑的冰雪世界。而如今终于度过了那漫长的寒冬,即将迎来万物复苏、春暖花开,加拿大的春天将会是怎样的一派生机勃勃的盛况呢。
      有机会就要出去走走看看,体验真实的海外课堂。在这里,我所任职的学校是弗雷德里克顿当地的三所中小学,我主要负责这三所学校汉语教学点的课堂教学工作。来加国之前,我一直都是针对大学留学生的汉语教学,教学内容单一,课堂纪律易管控。来到这里后,我的教学对象是幼儿园、小学和中学的学生,对我而言,这确实是个不小的挑战。犹记得第一次试讲时的紧张和老师朋友们对我的鼓励和悉心指导。很快地我适应了这里的生活和工作环境、了解了当地的教学模式和学生特点,我开始设计并丰富自己的汉语教学内容、课堂活动和文化体验环节,着手如何让学生们对汉语课感兴趣,喜欢学习汉语,了解中国的文化。针对幼儿班的课堂秩序管理,这一直是我需要突破的难点。于是,我通过给学生布置一定的课堂学习任务,转移学生注意力,控制课堂节奏,增加问答环节让学生更好的参与到课堂中来,和班主任老师多交流、学习,逐步地克服教学中所存在的问题。这也让我真正了解到了因地制宜、因材施教的深刻含义。我仍需迎难而上、不断地突破自己。
      工作中,每一位汉语教师作为透视中国的"活名片",代表了中国的形象,要严以律己、宽以待人。如何加强与学校校长和师生的交流沟通成了我工作的重要组成部分,我学着融入学校的工作生活中去,增进与学校师生们之间的情感,很快我们都成为了朋友。在他们的鼓励、支持和帮助下,我顺利地在学校举办了几场"中国文化日"活动,"庆祝中国新年"活动,老师、学生们都非常认真配合,乐在其中。活动后,校长和所有师生们的向我表达了赞许和感谢,那时我的心情是激动的,一切的努力和付出都是值得的,同时我从中也获得了快乐,学到了很多。最更令我觉得幸福的是,每次一进教室孩子们露出的天真烂漫的笑脸,喊着我的名字,展开双臂迎面向我扑来的一个个真挚温暖的拥抱,上课时对中国文化好奇、认真与敬畏,下课后见我离去不舍的神情。每一天都是充实有爱、意义非凡的。
      "加拿大家人"带我感受加拿大的风土人情。寄宿家庭生活使我忘却了远在他国倍思亲的寂寞,感受到了一丝丝家庭的温暖。家人们曾带我来到他们的家乡新斯科舍省的一个乡下小镇,那里历史悠久的建筑,美丽的农场自然风光,宁静惬意的生活方式,让我切身体验并感受到了当地人的生活方式和特色文化,是我人生中挥之不去的、难以磨灭的珍贵印记。
      这段时间的志愿者生活,让我学会了独立、自省、思考和感恩,磨炼了意志,提高了我的各方面能力,培养了我逐渐成为了一名勇于接受各种挑战,踏踏实实努力,认认真真工作的合格的汉语教师。
      鼓舞人心的是,2016年新布伦瑞克省在全球孔院大会上被授予了"先进孔子学院"的荣誉称号,滕菁院长和我们分享了当时的盛况,我和所有老师们都激动极了。这是对我们汉语教学工作的支持与鼓励,我为能够来到这里,成为其中的一员,而感到无比的骄傲和自豪,有那么多优秀的汉语教师和人才从这里走出去,都是值得我学习的榜样。
      我们新省孔院是一个大家庭。这一路走来,感谢院领导不厌其烦地鼓励我们,为我们汉语教学工作出谋划策、加油打气,为把我们培养成优秀的人才。我相信只要肯努力、肯付出、肯吃苦,相信最终会收获更多的硕果。我和其他两位2016年到这里的志愿者都申请了再续一年 ,大家齐心协力,一起接过汉语教师前辈们的接力棒,愿把这里的汉语教学工作做的更好,让越来越多的孩子们感受到汉语语言和中国文化的魅力。
      孔子曰:"学而不厌,诲人不倦。" 这流传千古的警世名言,镌刻在母校石碑上的八字校训,早已在我心底留下了重重一笔。鼓舞了我的斗志,使我的汉语教学之旅意味深长,引领我在梦想的道路上走得更远,飞得更高。
(新布伦瑞克省孔子学院 王静丽供稿)