Hundreds of Cultural Flowers Contend in Beauty with Chinese One Outshining
Every year, May is the Asian Heritage Month in Saint John, when all the major Asian cultural associations will organize a series of activities to display exotic culture, and promote multi-cultural exchanges. Grasping the mainstream opportunities and carrying forward the Chinese culture are the persistent development policy of Confucius Institute of New Brunswick (CINB). This year is no exception. At the opening ceremony of the "Asian Heritage Month" held in May 7th, CINB prepared the Chinese cultural exhibition tables to explain and demonstrate various cultural objects to the audience who came here to experience it. Under the guidance of language teacher Zhang Xiaoyu and Volunteer teacher Li Nannan, the whole team of CINB presented a visual feast--- world-renowned Chinese folk music "Two Springs Reflect the Moon" and beautiful fan dance "Chun Xiao" to Saint John.
This year is the fifth year of CINB to offer Chinese courses in three high schools in Saint John city, and the first year to open Chinese courses in elementary and middle schools. With the full support of the Education Bureau and the principals, Chinese curriculums have formally entered the school teaching system of Millidgeville North School and Barnhill Memorial School since February and received a warm welcome from both teachers and students. For this big celebration, CINB volunteer teacher Li Nannan, together with 11 students from local schools, read an ancient poem Chun Xiao to the audience and presented a wonderful fan dance, accompanied by cheerful music, dressed in the colorful costumes, which got warm applauses and cheers again and again.  The chairman of Asian Cultural Association gave a high praise to children's dance.
CINB language teacher Zhang Xiaoyu's father came to New Brunswick for a visit and participated  in the "Asian Cultural Heritage Month" activities to support the patriotic promotion of Chinese culture. He and a local musician presented an Erhu and dulcimer ensemble--- "Two Springs Reflect the Moon". Everybody has been touched by its exquisite and soft melody, and lingering sadness. Languages are different, but music is beyond boundaries. The traditional Chinese melody played on the other side of the ocean is not only an enjoyment of music, but also draws closer the friendship between China and Canada. It accords with the spirit of " shared harmony and beauty" advocated by Confucianism.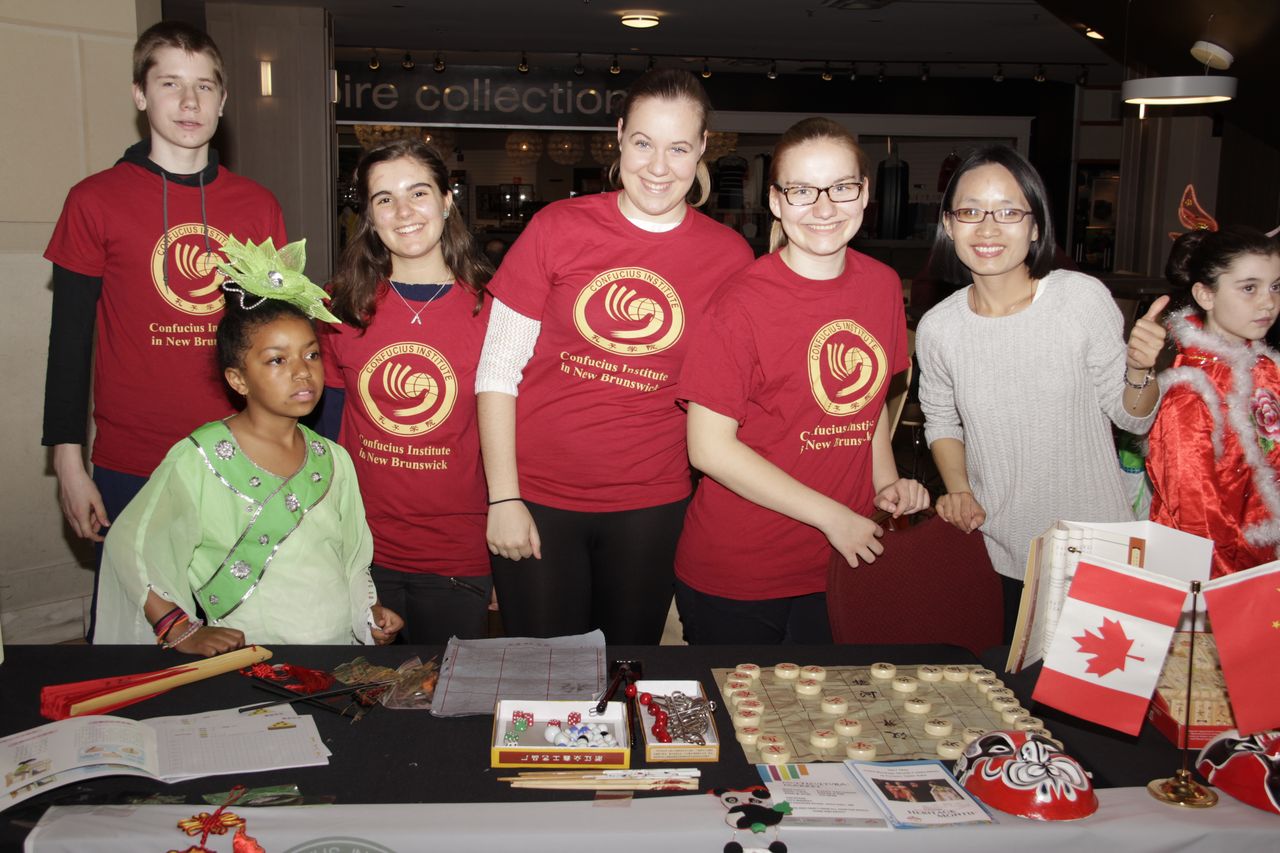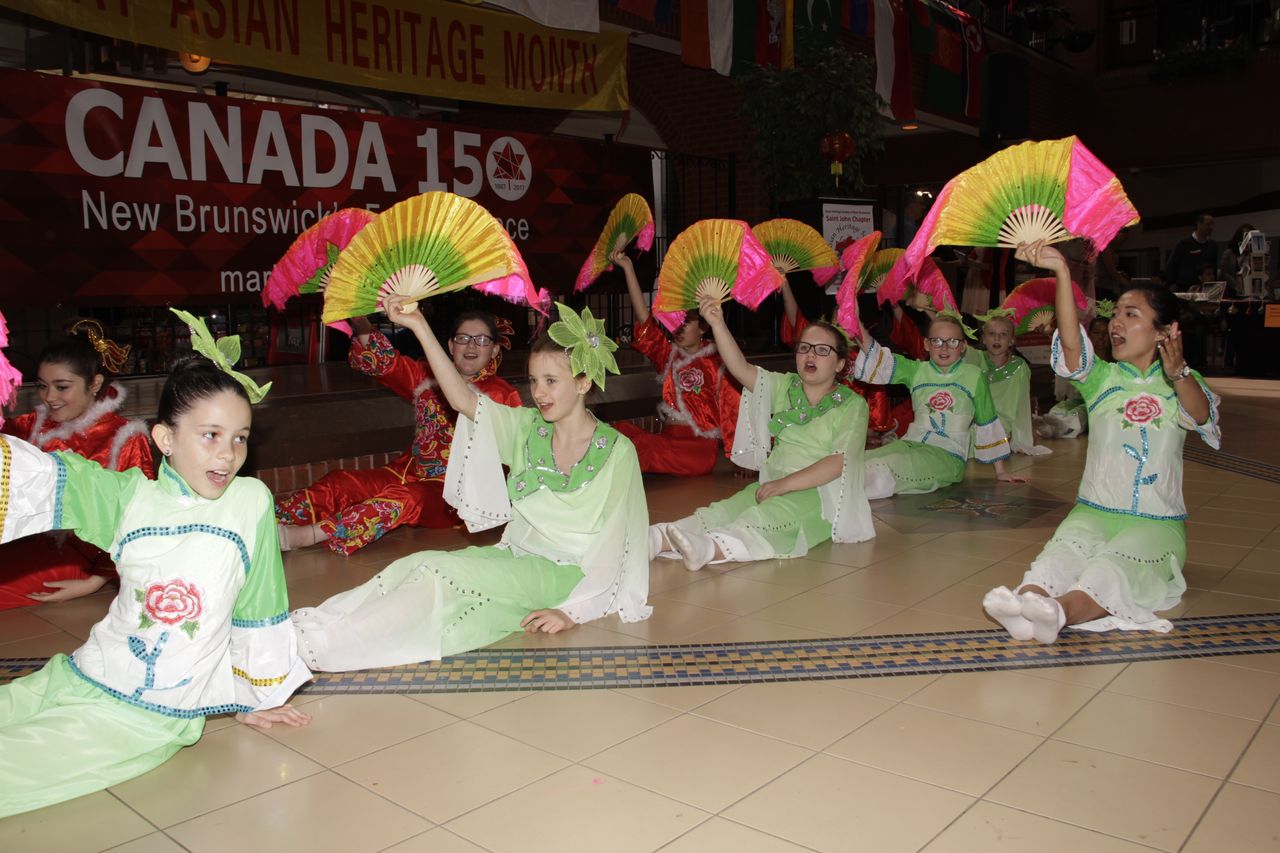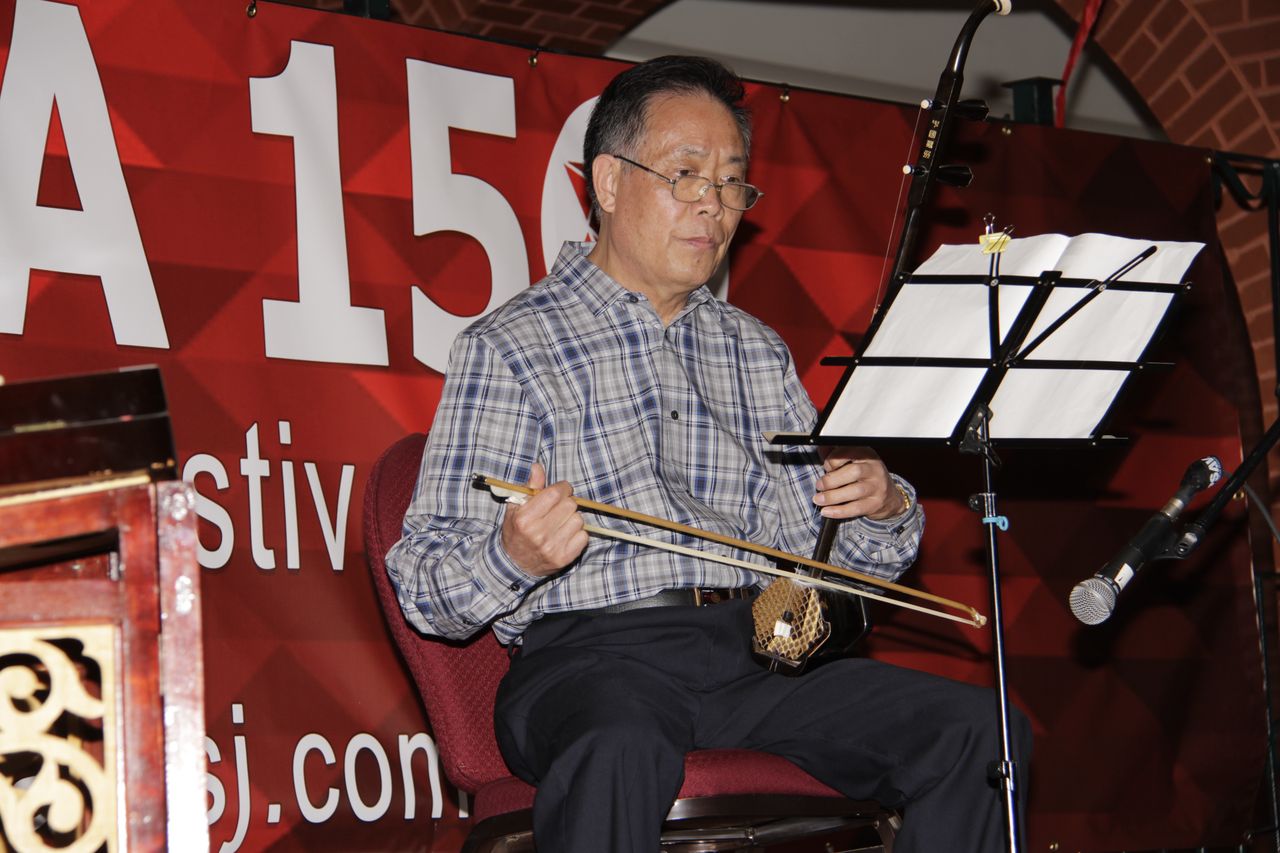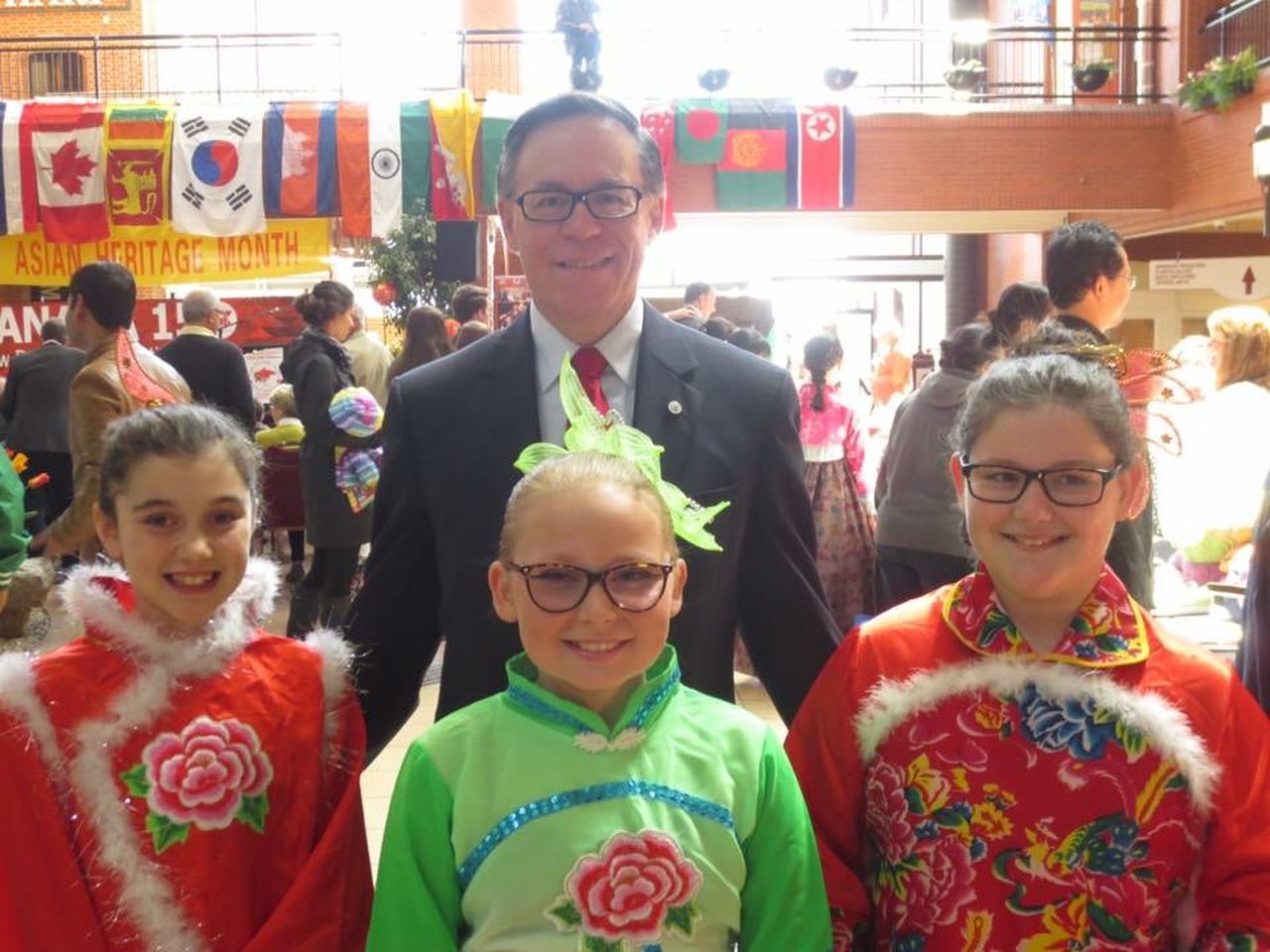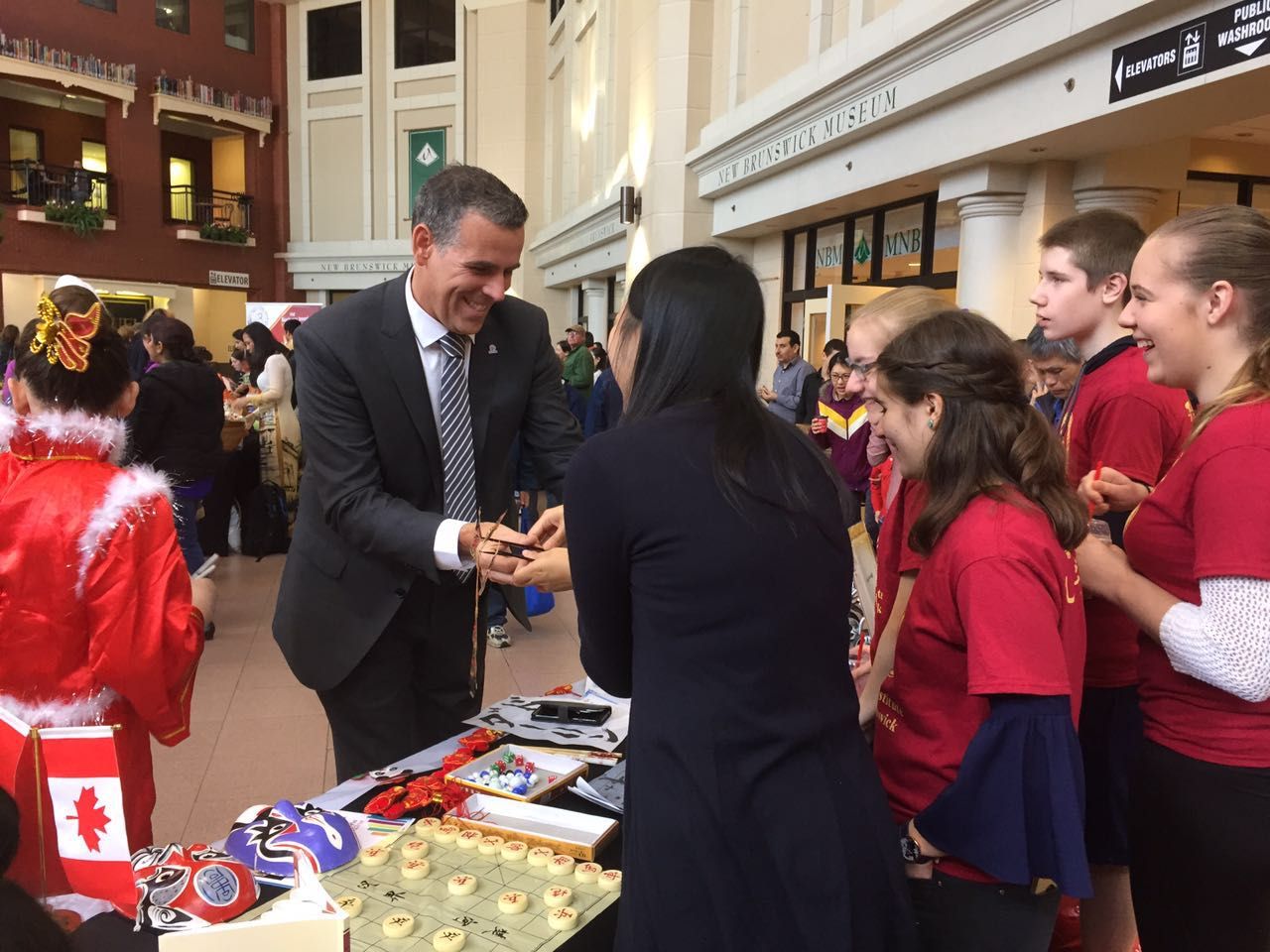 According to CINB director Ms Teng Jing, Saint John's "Asian Heritage Month" is one of the boutique activities of CINB. It covers a wide range and has a great influence in the whole city and surrounding areas. As an important partner, CINB's Chinese culture booth is always attracting large numbers of visitors, including the mayor, Mr. Don Darling who played the Shadow Play with volunteers and students. Culture Bureau Secretary Mr. Bernard Cormier even post his photo with Confucius Institute students on his Facebook. We believe "Chinese craze" will be transmitted to every corner of New Brunswick with the rapid development of china.
"遗产月"各国文化百花争艳,新省孔院中文独领一枝奇秀
      五月,是加拿大"亚洲文化遗产月",新布伦瑞克省孔子学院紧抓主流机遇,分享中国文化。在5月7日圣约翰市举行的"亚洲文化遗产月"开幕式上,孔子学院精心布置了中国文化展台,给每一个前来体验的观众讲解并示范,还在汉语教师张晓宇和志愿者李楠楠的组织安排下,给大家献上了一曲蜚声国内外的民乐演奏"二泉映月"和灵动美丽的扇子之舞"春晓"。
      孔院"开疆拓土",扇舞闪亮全场。今年是新布伦瑞克省孔子学院在圣约翰市教学授课的第五个年头,以往均是在本市三大高中开设汉语学分课程,而今年是第一年开始在小学和初中试点汉语课堂。有为之事必广而助之!在教育局、校长们的全力支持下,Millidgeville North School和Barnhill Memorial School的汉语课程今年二月份正式进入学校教学体系,受到师生们的热烈欢迎。乘着遗产月的春风,汉语教师志愿者李楠楠带领11名小学生为全场观众朗诵了唐诗《春晓》,接着伴随欢快悦耳的音乐,身着春之色彩的小小舞者倚扇之姿翩翩起舞,时而踏歌而起,时而和乐而沉,精彩美丽的表演得到大家的热烈掌声和欢呼声,负责本次活动的亚洲文化协会主席也对孩子们的舞蹈表示了高度赞扬。
      聚亲朋之力,奏中加之情。汉语教师张晓宇的父亲来加拿大探望女儿之际,得知新省孔院将参加"亚洲文化遗产月"活动,随即全力支持,以爱国之精神扬华夏之乐章。用一把借来的二胡与当地华人的杨琴共同演奏了一曲"二泉映月"。其旋律的细腻、缠绵、哀戚、柔美,无不令在场观众动容。语言有别,音乐无界。在大洋彼岸奏响的中国乐曲,不仅是一种难得的音乐享受,更借此拉近了中加友谊,展现了儒学倡导的"美美与共"的大同精神。
      外方院长滕菁表示:每年五月的圣约翰市"亚洲文化遗产月"是新省孔院参与组织的精品活动之一,其涵盖面之广,影响力之大在当地备受瞩目。中国文化展台也都会吸引大批观众驻足,像今年市长Don Darling先生也童趣盎然地玩儿起了皮影,文化局局长Bernard Cormier更是"中国化"了一把,他把与孔院三位跳舞小学生的合影发到了自己的朋友圈。"汉语热"必将随着中国发展的快速升温传递到新省的每个角落。
( 张晓宇,李楠楠供稿)