(Teachers and students' team of the CINB won first prize in the Santa Claus Parade)
At 5:00 p.m, on Nov.25th in 2017, the annual Santa Claus Parade was held in Moncton of New Brunswick. About 80,000 citizens from different districts gathered together to watch this grand activity. After nightfall, all kinds of beautiful floats came into view in order, conveying best Christmas wishes to people. In general, this activity is wonderful and attractive. The faculty and students from Confucius Institute in New Brunswick wore animal costumes of panda and typical Chinese zodiac signs and held colorful Chinese dancing fans and Tai Chi fans. With cute image and unique design, they danced and performed while walking, which gained warm applause and high appreciation of the audience. In these floats, many students are students of the Chinese credit course of the Confucius Institute, the students greeted each other in Chinese and sent festive greetings to the audience with full enthusiasm as well.
Santa Claus Parade of Moncton started from 1967. It is held on last week's Saturday of November each year and there are always more than one hundred floats every year. After 49 years' development, it has become the grandest activity for festival celebration, which often attracts 100,000 audience. This year marks the seventh time for Confucius Institute in New Brunswick to participate in this activity. The faculty and excellent high school students in mandarin class extended their best wishes to audience. The enthusiastic audience waved and said hello to the team of Confucius Institute in New Brunswick and even some kids clapped hands and hugged with Chinese teachers. Many of them are the members of Confucius Institute in New Brunswick and they said hello in Chinese loudly, which made Chinese teachers very surprised and proud. 
In this activity, the Confucius Institute and high school cooperative float parade was rated as the first prize among high school groups in Moncton. 
The amazing performance of Confucius Institute in New Brunswick impressed the audience and enabled them to experience Chinese culture. Moncton television station covered a full live broadcast and conveyed the best wishes of Confucius Institute in New Brunswick to thousands of households and brought happiness to everyone.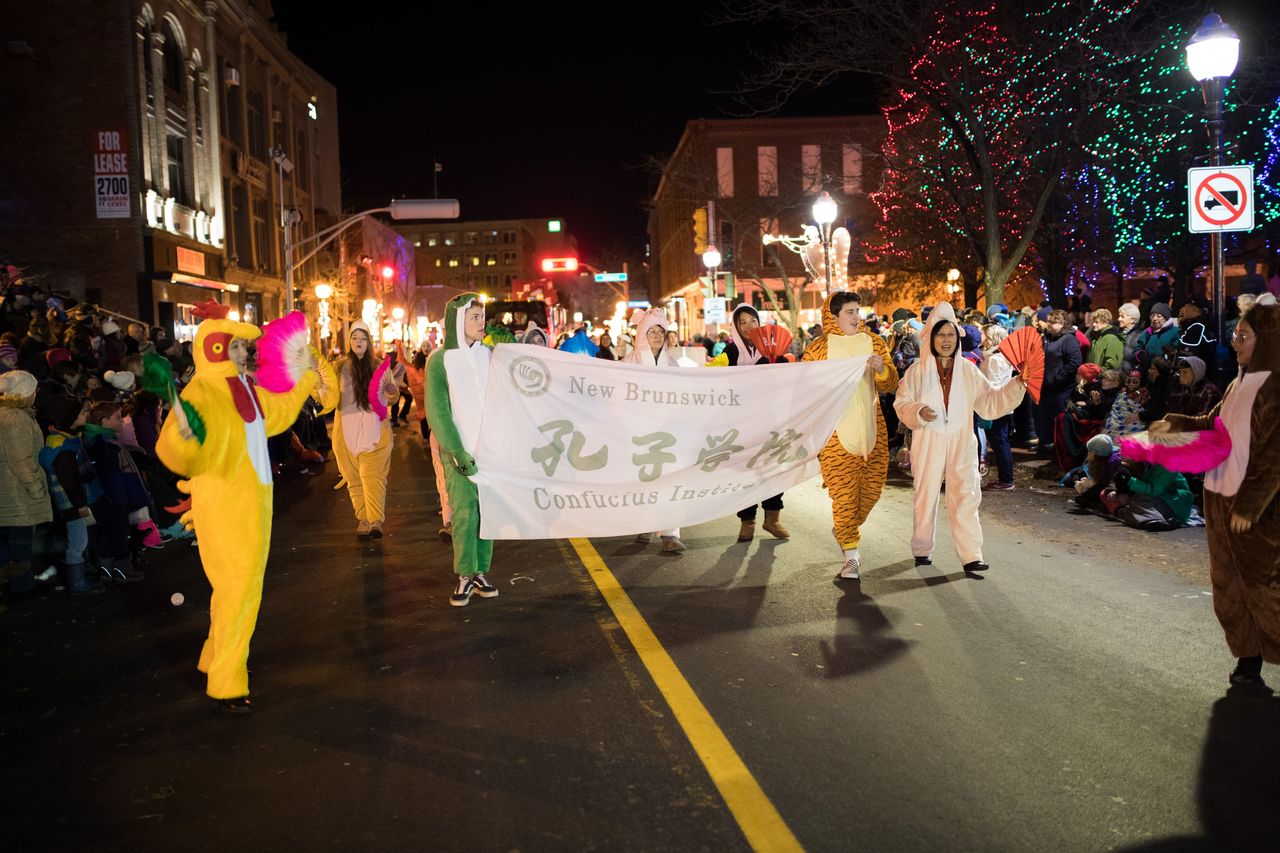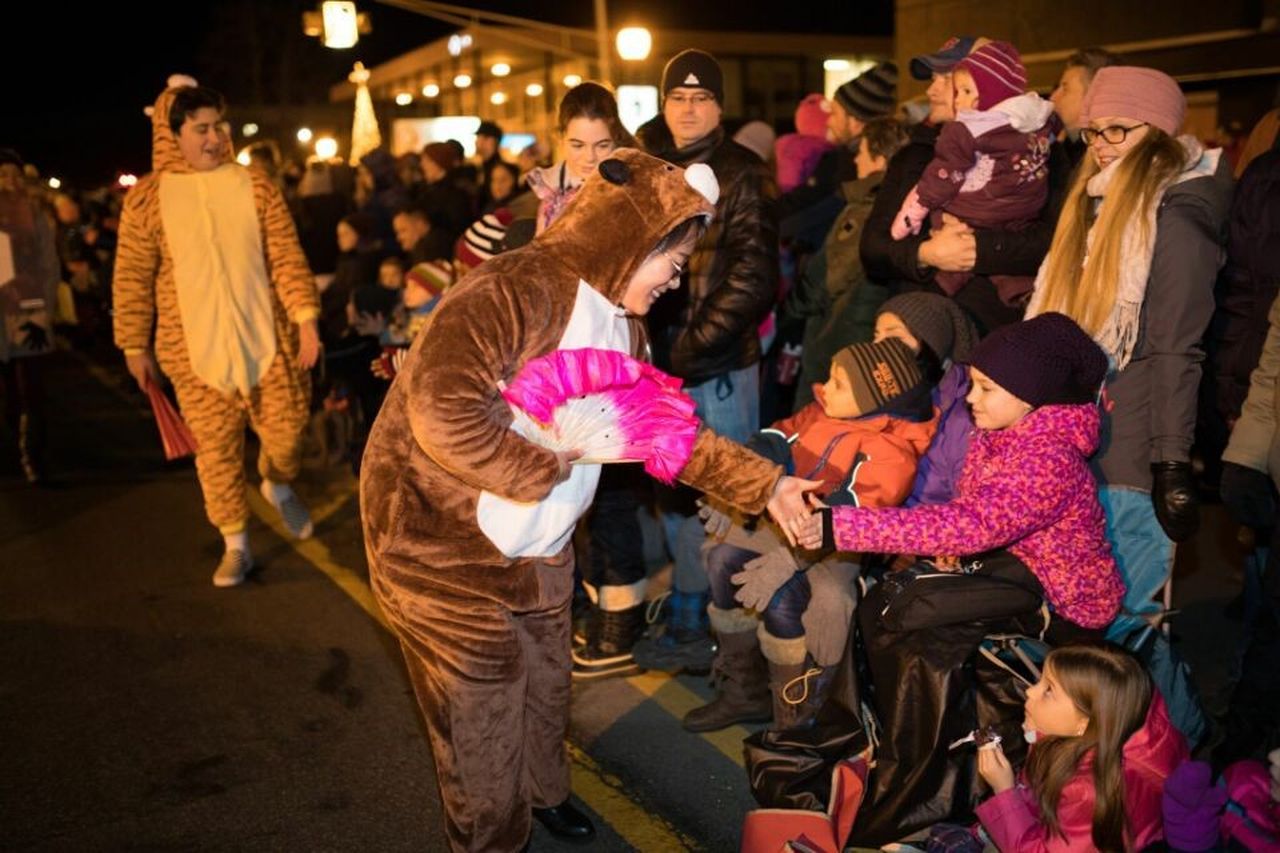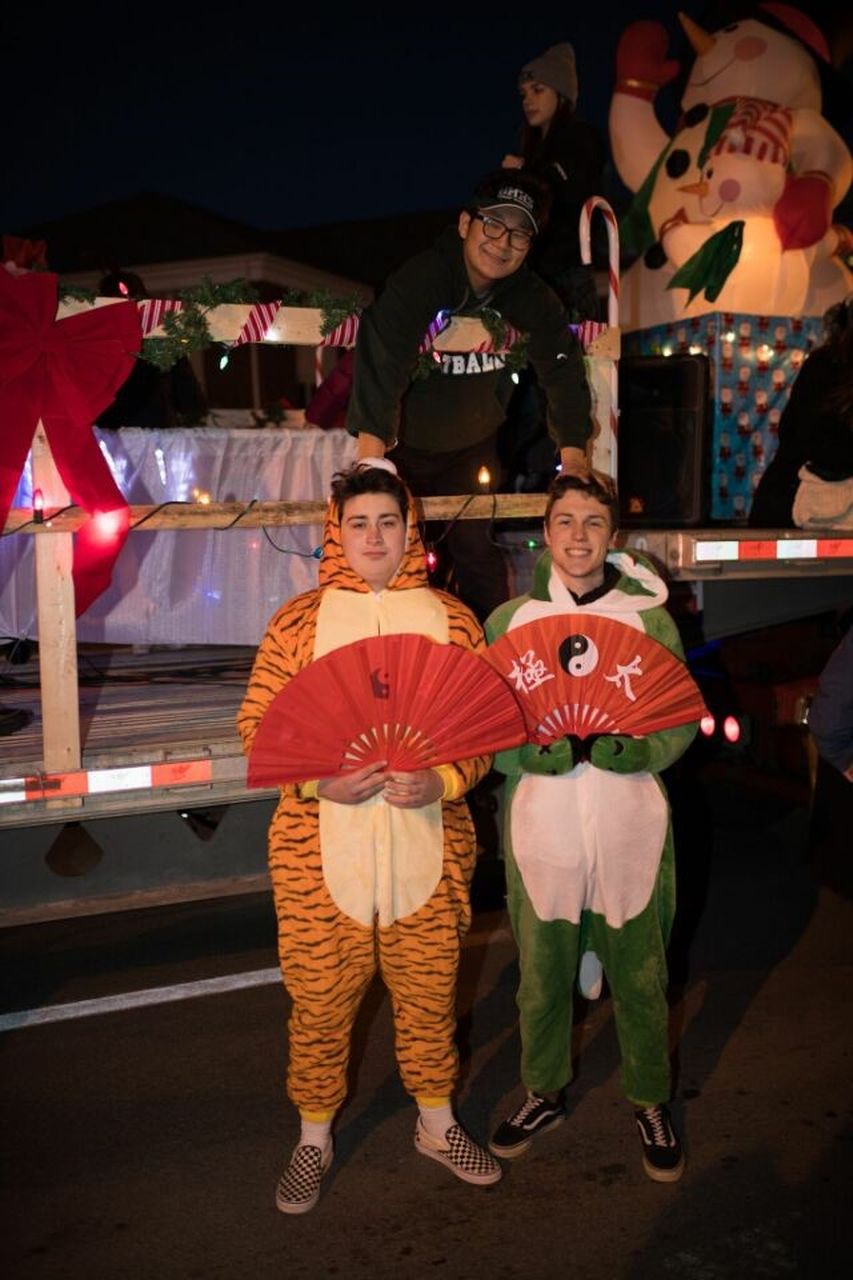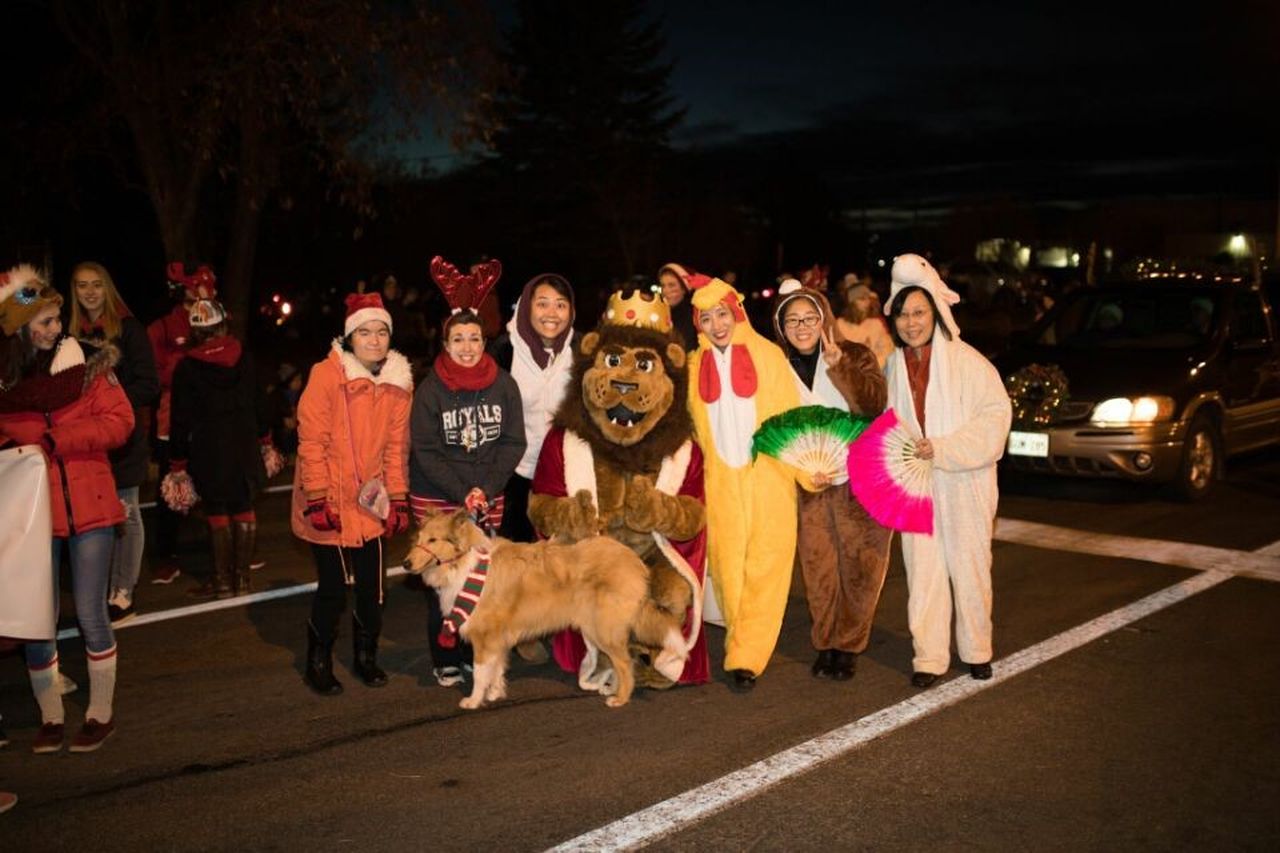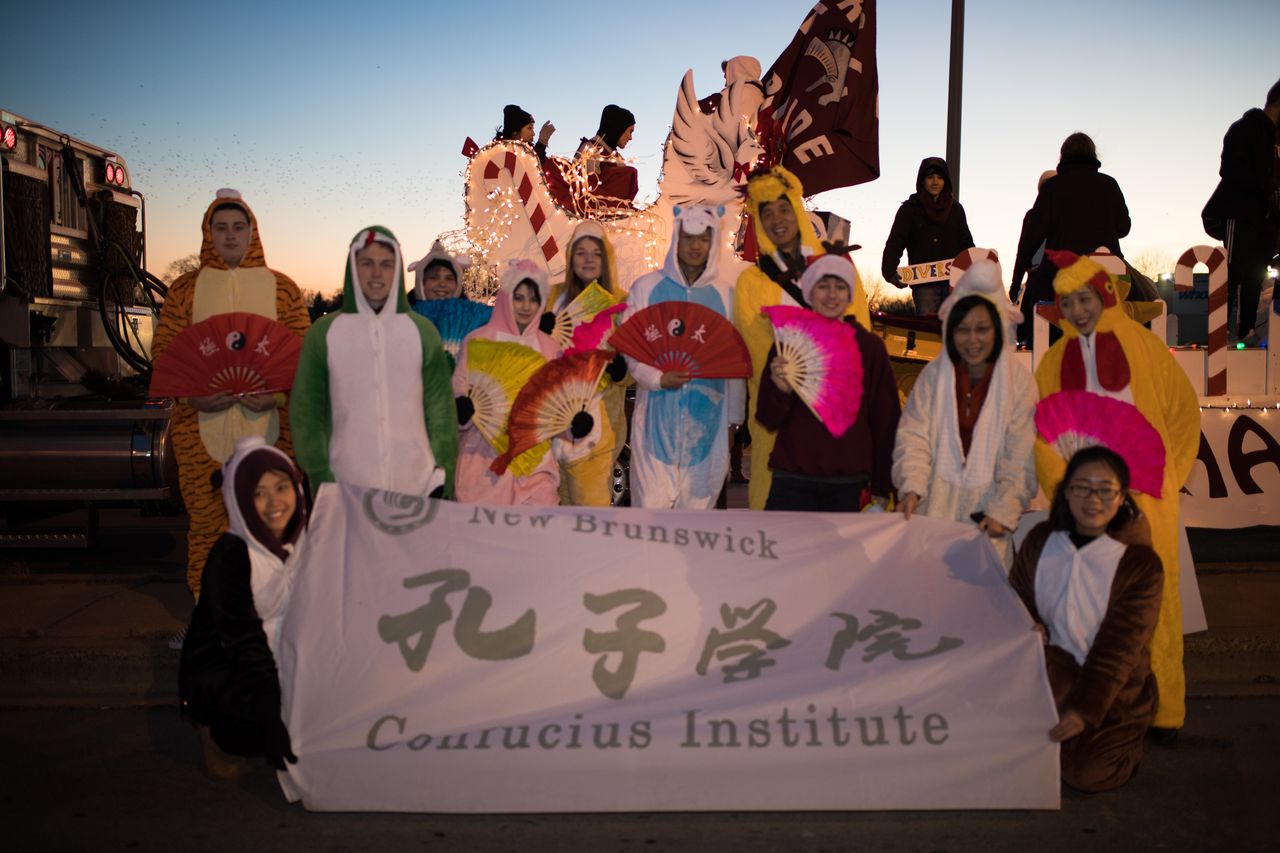 舞出精彩,秀出特色
——新省孔院师生参加圣诞花车游行 花车荣获一等奖
2017年11月25日下午5点,一年一度、声势浩大的新布伦瑞克省蒙克顿市圣诞花车游行隆重举行。各地区民众纷纷赶来,共聚8万余人,筑起了街道观景长龙。夜幕降临,各式各样、美仑美奂的花车游行队伍整齐有序地驶入眼帘,向民众致以圣诞问候,活动现场精彩纷呈、热闹非凡。新布伦瑞克省孔子学院的师生们身着中国特色的十二生肖和大熊猫服装,手持色彩鲜艳的中国舞扇,太极功夫扇,造型可爱、颇具特色,边走边舞、边走边秀,赢得了在场观众的阵阵掌声与喝彩。同样游行的队伍中,很多都是新省孔院汉语学分课的学生,大家用汉语互相示意,以饱满的热情为观众们送去圣诞祝福。
蒙克顿圣诞花车游行始于1967年,在每年11月份的最后一个星期六晚上举行,历届都能吸引百余辆花车参加。经过49年的发展,现已成为本地区规模最盛大的节庆游行活动,每次都吸引数万人前来观看。今年是新省孔院第七次参加圣诞花车游行,孔院教师和高中学分课汉语班的优秀学生们一起为在场观众送去圣诞的祝福。道路两旁的观众纷纷向孔院队伍挥手问好, 观赏游行的孩子们都主动与汉语教师们握手击掌,上前拥抱。其中很多孩子是新布伦瑞克省孔子学院的汉语学员,看到孔子学院的队伍时大声说"你好",孩子们的父母也都挥手示意,汉语教师们感到分外惊喜与自豪。
本次新省孔院与高中合作的花车游行队伍被当地主流媒体评为高中组第一名。
新布伦瑞克省孔子学院的精彩表现感染了在场所有观众,让其零距离感受中国文化的魅力与汉语教师们的风采。蒙克顿电视台对此次活动进行了全程直播,将新省孔院的祝福传达给千家万户,把快乐带给电视机前的每一位观众。
(来源:新布伦瑞克省孔子学院)