Spring Chinese Culture Gala Held in Edith Cavell 
On June 12, 2015, Spring Chinese Culture Gala was held in  Edith Cavell School ,Moncton.The volunteer Chinese teacher Mou Chunxiao  organized  the students to perform Chinese traditional performances in the gala .
The Gala started with the Chinese Square Dance Little Apple played by 20 students of grade 3 and went to the closing by the beautiful melody of the Butterfly Lovers. The whole stage was totally decorated by the art works made by students who attended Chinese art classes. Colourful butterfly lanterns and gorgeous Chinese traditional painting fans highlighted a kind of native Chinese flavor.
Grade 6 and Grade 7 students played the piano Liu Yang River and the Butterfly Lovers respectively. A group of Grade 7 students sang the Jasmine Flower song together .And the most eye-catching program is the grade 5 students and their teacher reading the Chinese poem. 
This is the first time that Edith Cavell carry out Chinese program and the principal said it was so meaningful that she would like to continue this project next semester.
At the meanwhile ,Teng Jing ,the director of Confucius Institute of New Brunswick took part in the gala to present the school a Chinese gift offered by Hanban .She said she was deeply impressed by the performance and spoke highly of the volunteer teacher's work.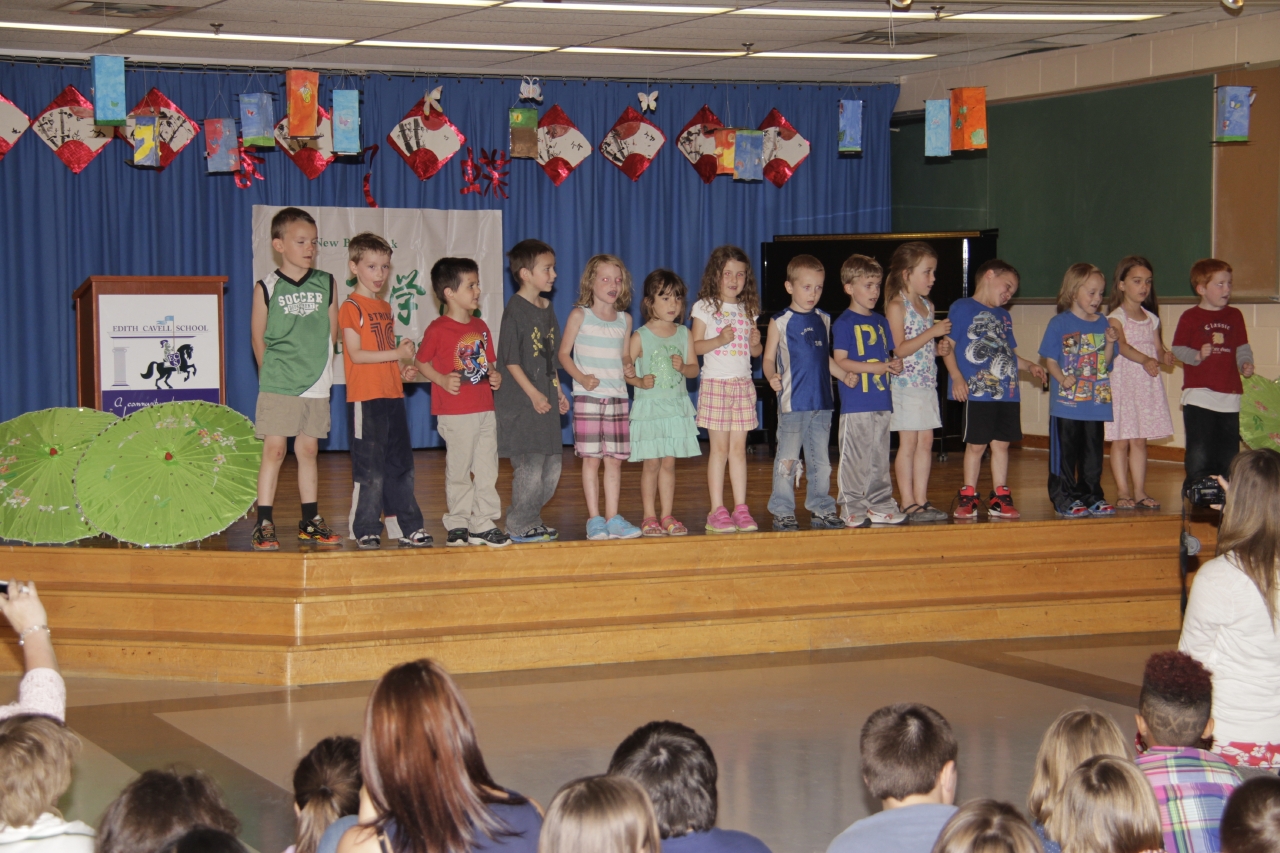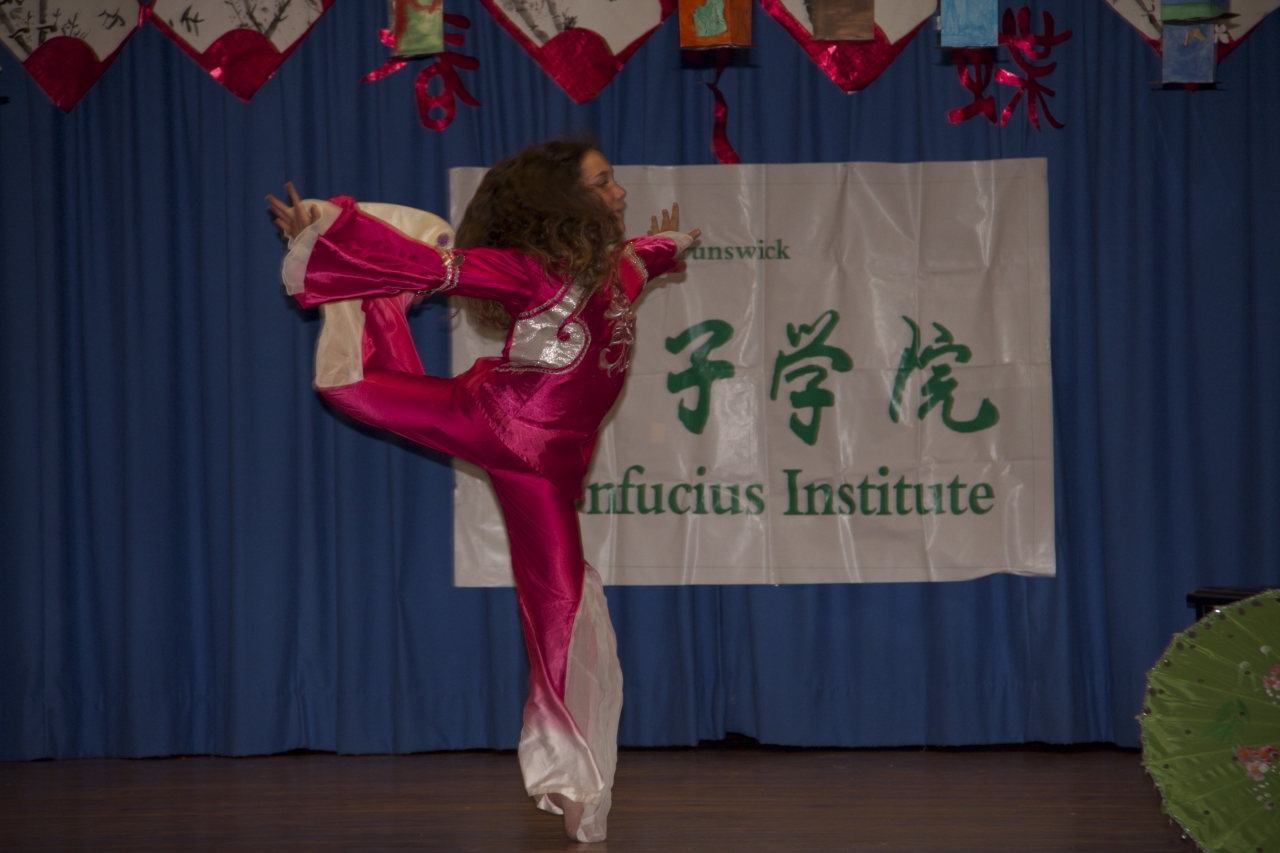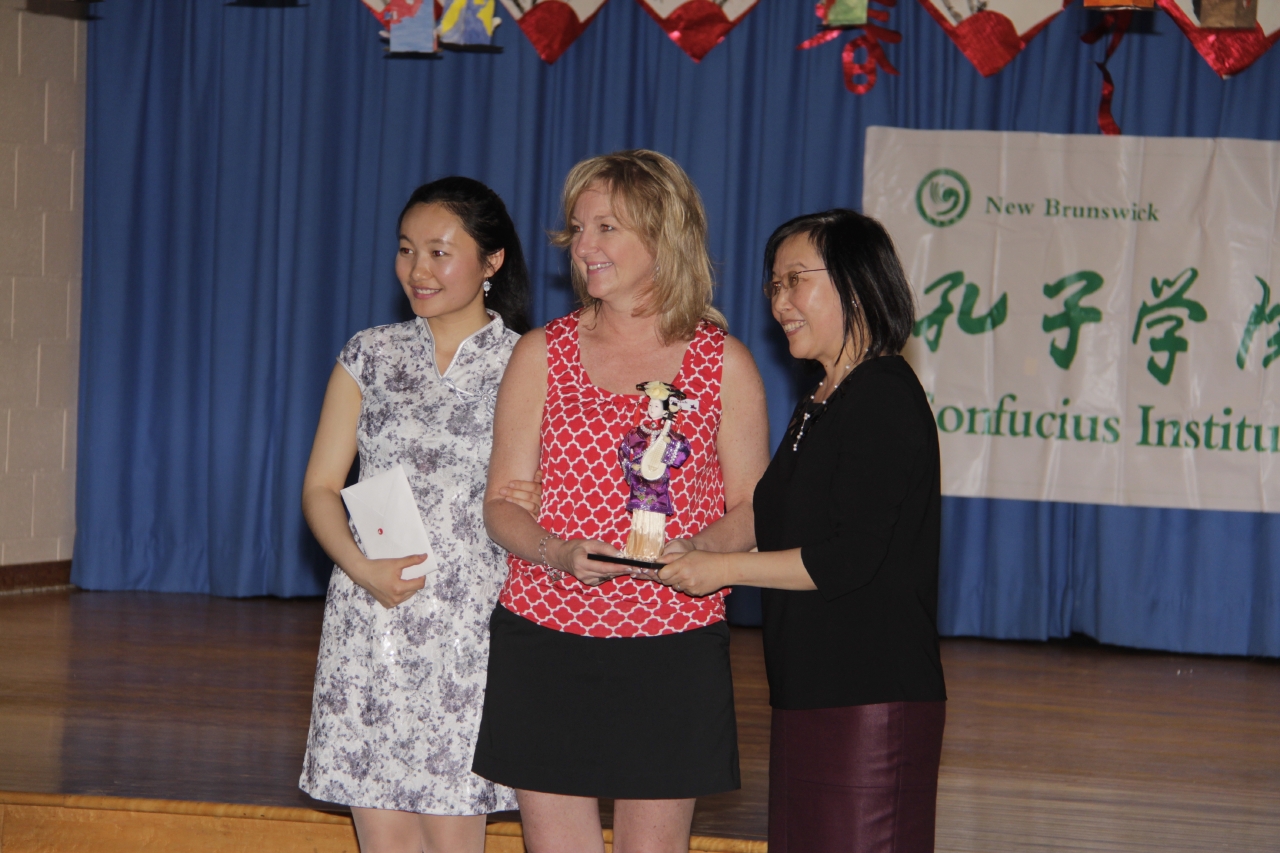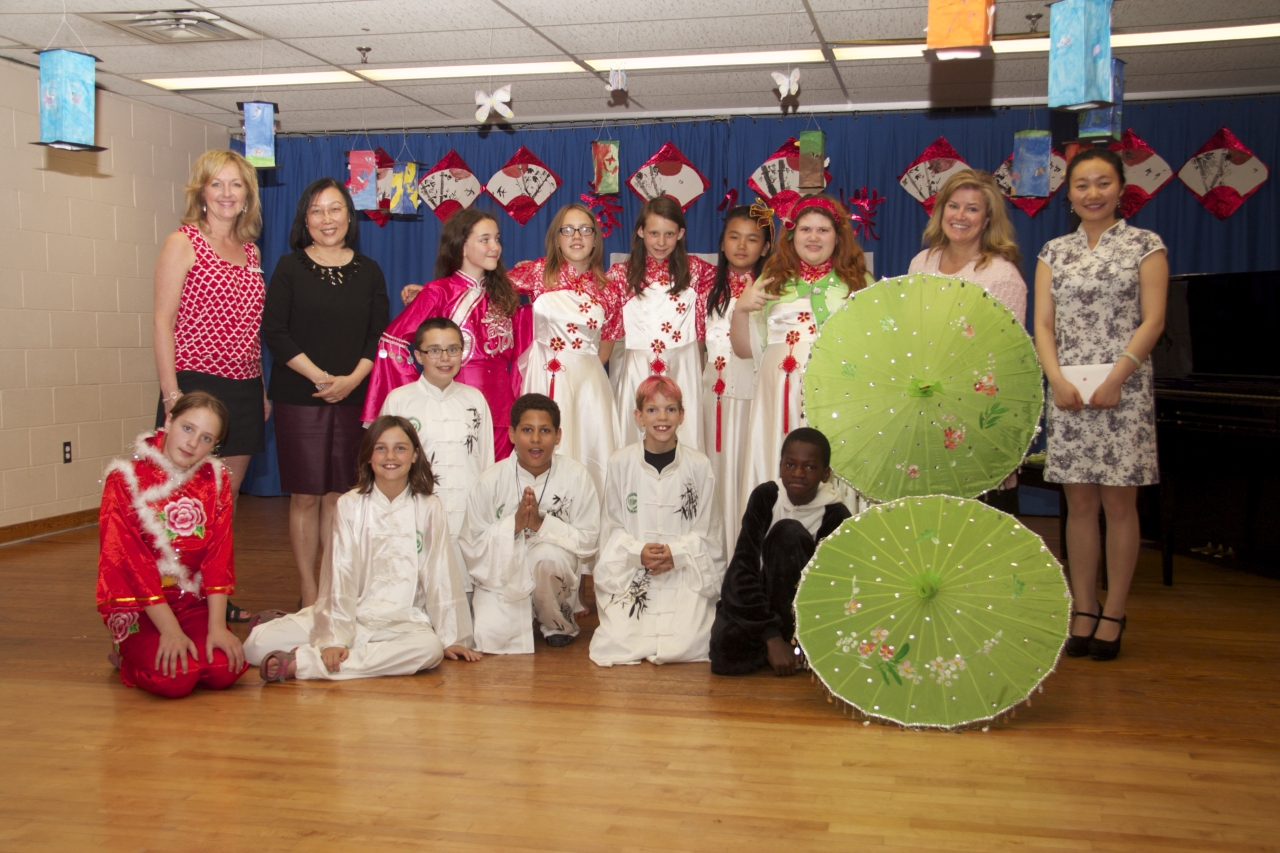 新布伦瑞克省蒙克顿市Edith Cavell 学校成功举办中国主题校会
The First Chinese Culture Exposition Held in Miramichi
Written by Zhang Xiaoyu
On June 8, 2015, the Chinese language teacher Zhang Xiaoyu of CINB organized a Chinese Culture Exposition at Harkins Middle School in Miramichi, which is the first time for both HMS and Miramichi and also is the first exposition for Ms. Zhang.
 There were about 20 student projects involving different aspects of Chinese culture, made by students from Grade 6 and Grade 8. And they were divided into different stations: Paper-cutting station, Blue-and-White Porcelain station, Blowing-painting station, Beijing Opera Masks fabrication station, Chinese Cuisine station, Calligraphy station, Folk handicraft station, station of introduction of the major cities in China, chopstick practice station, station of the history of traditional Chinese garments, station of Chinese Zodiacs and Chinese Lunar New Year, Tea ceremony station, Chinese Kung Fu station, Pinyin cards station. Each station took their assignment seriously, and they dressed up in costumes, wore masks to teach and demonstrate what they have learned from the Chinese class to students from other grades who took turns to participating in activities and finding whatever station they had interest to learn and practice. And also they had a chance to try some Chinese food made by Grade 8 students. Each group was scheduled to stay for about 20 minutes. And 5 minutes before they left, as the music was on, Grade 6 students danced the bamboo dancing, inviting all the others to get involved. All of the students and teachers were joyful and cheerful. During this event, there were also some visitors from other schools, and news reporter Julia Lovett from Miramichi Leader. All of them were engaged by miscellaneous Chinese handicrafts and impressed by students' projects and performance.
 This Chinese Culture Exposition was an effort to put students' knowledge to practice, and the principal of HMS, Jennifer Sullivan said it had been a very successful Chinese culture exposition for being the first at HMS. 
 Ms. Teng Jing, the Director of CINB, and Ms. Heather Wallace from AEI took part in the Culture Exposition too and they were impressed by it and gave it a high evaluation.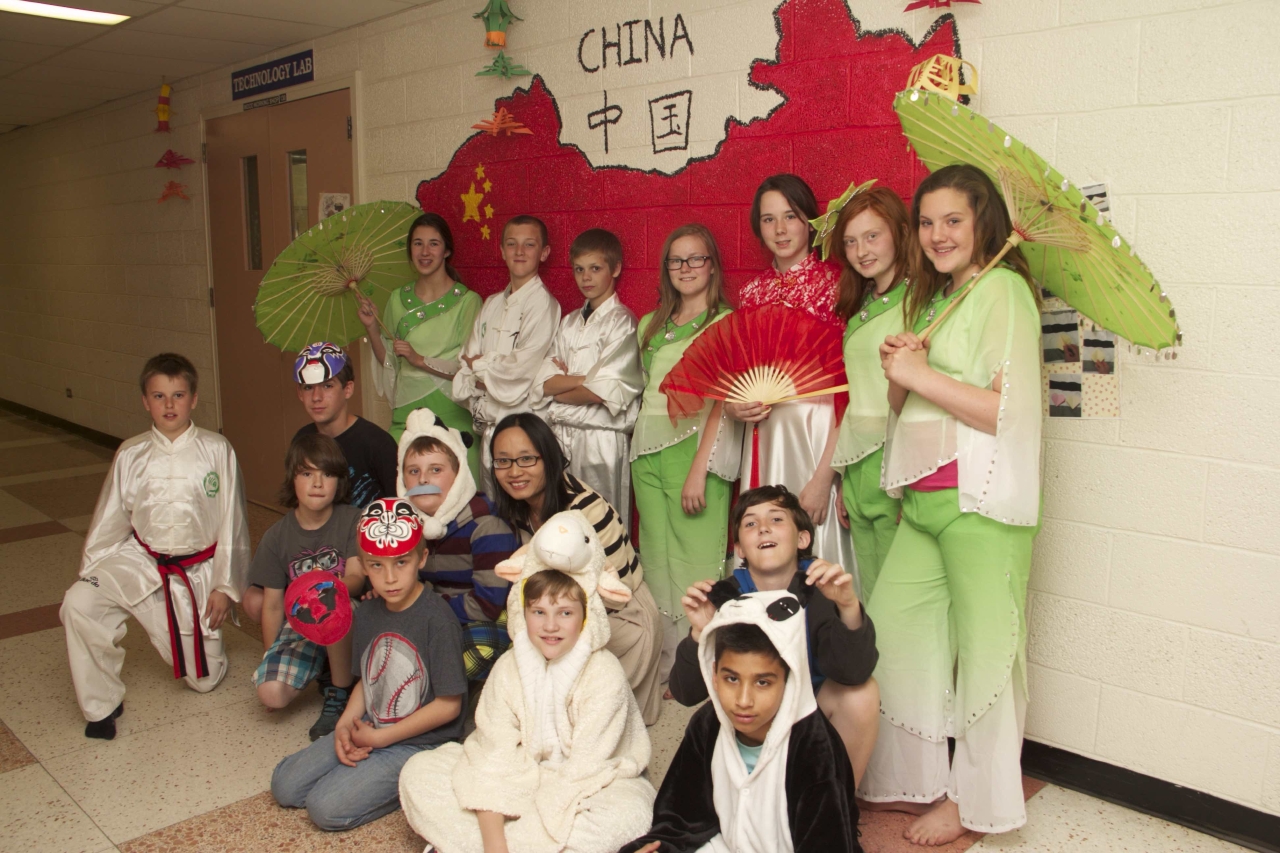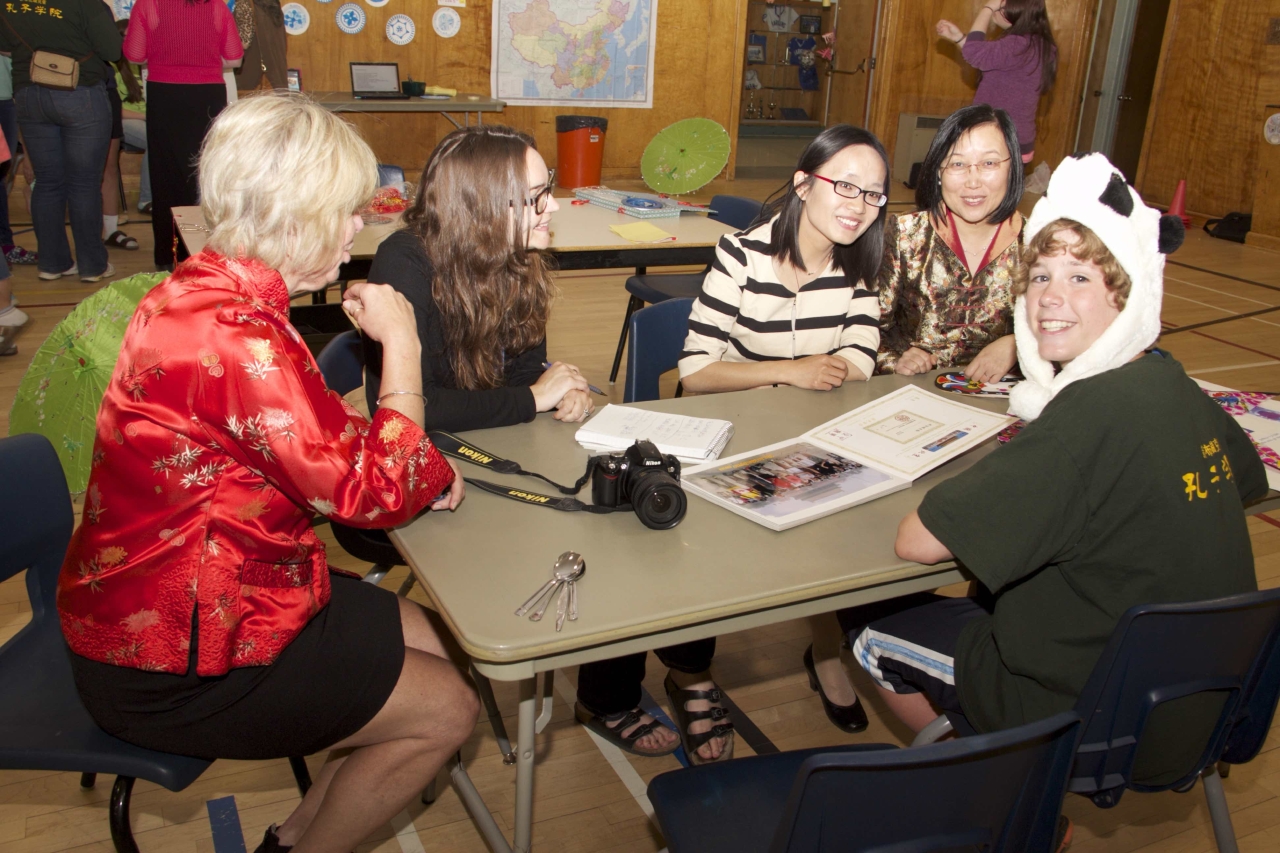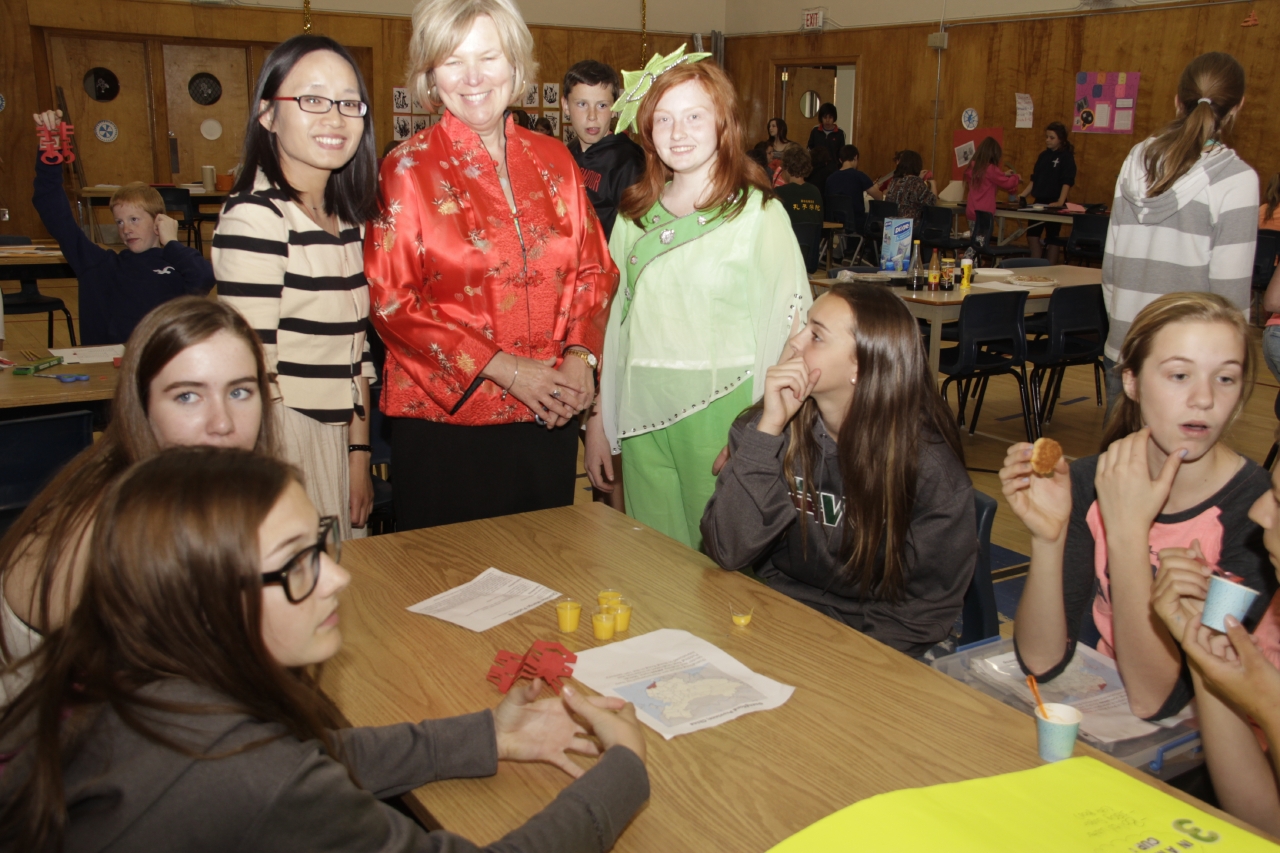 CINB joins Asian Heritage Month activity
2015 May Asian Heritage Month Opening Ceremony of Saint John,New Brunswick was held at Market Square on May 3rd . Ms Jing Teng, the Director of CINB leading all teachers and students attended this activity .
 Martial art teacher,Mr. Fei Fazhou and CINB students performed "Taichi" show. As the beautiful music on, students started to sing the Chinese folk song <Jasmine Flower>, at the same time, Mr. Fei was playing Tai Ji in the center of the stage. Cooperating part , Shandong educational department and Qufu Normal University offered pretty Chinese traditional costume to  teachers and students.The perform got a very great success .
The Chinese culture exhibition of CINB filled with students' cultural projects ,Chinese knitting,writing brush papers,Taichi Fan ,facial mask and so on,which attracted people coming to see. Many people tried to write Chinese calligraphy, put on facial mask, and read the books .  Mr. Bernard J. Cormier , the cultural Affairs officer of Saint John and the City Counselor also came to the exhibition to acknowledge  and talked about Confucius  and  Chinese culture with Chinese teachers.
May was declared Asian Heritage Month by the government of Canada in December 2001,acknowledging the long and rich history of Asian Canadians and their contributions to Canada. Attending this activity not only enhanced the visibility of the Confucius Institute publicity,  but also offered local Canadians more opportunity to touch and learn traditional Chinese culture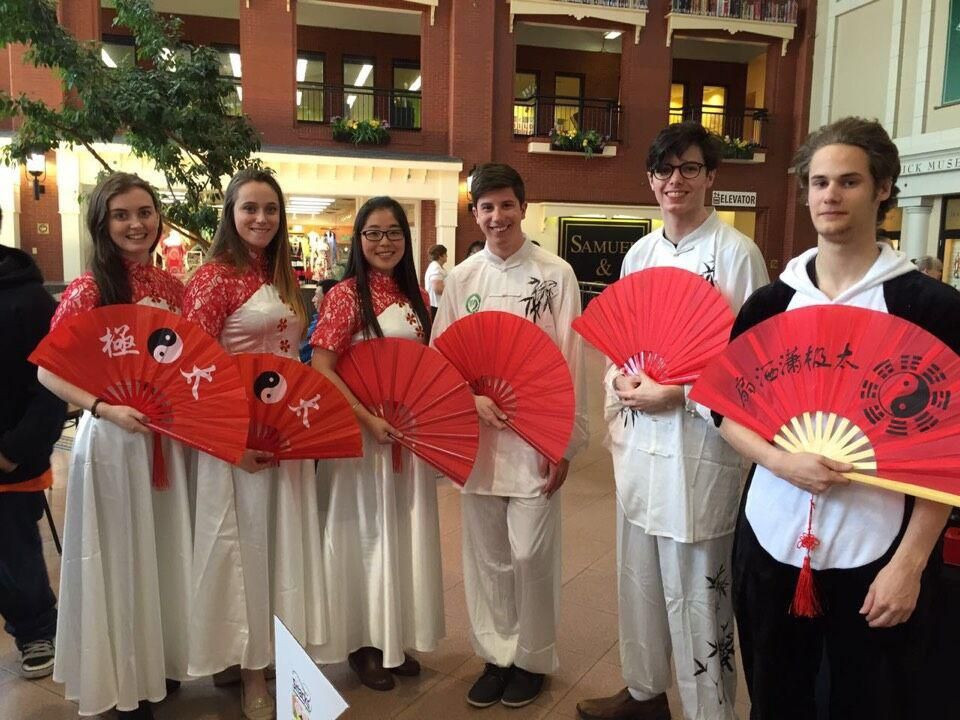 新布伦瑞克省孔子学院参加圣约翰市亚洲遗产文化节
    2015年5月3日, 加拿大新布伦瑞克省圣约翰市在市中心的Market square 举行一年一度的五月亚洲文化节。新布伦瑞克省孔子学院外方院长滕菁女士带领孔院教师及学生参加活动。
    开幕式上,新布伦瑞克省孔子学院武术教师费发洲和孔院学生共同表演了节目太极。随着舒缓的音乐响起,孔院学生开始演唱中国民族歌曲《茉莉花》,同时武术教师费发洲则在舞台中央开始展示太极拳。这次活动师生们身着中国合作方山东省教育厅和曲阜师大为孔子学院定做的精美服装。演出具有专业水准,获得广泛好评和成功。 
     孔院的中国文化展台上摆满了中国结,笔墨纸砚,太极扇,脸谱等极具中国特色的物件,及孔院学生精心制作的文化展板,不断吸引人们来观看欣赏。很多人在孔院教师及学生的指导下尝试学习中国书法,试戴中国脸谱,更有对中国有了解研究的人们翻看中国旅游书籍 及中国地图。 圣约翰市文化部部长Bernard J. Cormier先生及圣约翰市议员也来到展台前欣赏中国传统文化, 并与孔院老师热烈讨论孔子儒家及中国传统文化。
    五月是加拿大政府设定的亚洲遗产文化月,旨在宣传亚洲移民在加拿大奋斗的历史及对加大的的贡献。参加此次活动不仅展示了孔子学院的教学成果,宣传提升了孔子学院的知名度,更为当地的加拿大人提供了了解接触中国传统文化的机会。
CINB Attends the "Multicultural Day" of Nashwaaksis Middle School in Fredericton
On May 25, 2015, the Kung Fu Teacher Mr. Fei Fazhou and the Volunteer Chinese Teacher Cao Xi in CINB attended the "Multicultural Day" of Nashwaaksis Middle School in Fredericton.
During the event, Mr. Fei performed Tai Ji for the whole school which shocked the audiences. For many teachers and students here, this was the first time to see the live demonstration of Tai Ji, they all admired it .Later, Chinese culture exhibition booth also aroused wide concern. Many students came to play Chinese fan and umbrella, think about the Chinese ring puzzle and tangram, practice how to use Chinese writing brush and chopsticks. All the Chinese staff were just so interesting that the students could hardly put them down.
This activity not only provided a good chance for the teachers and students in Nashwaaksis Middle School to know more and understand more about Chinese culture. It also laid a good foundation for Chinese teaching in this school.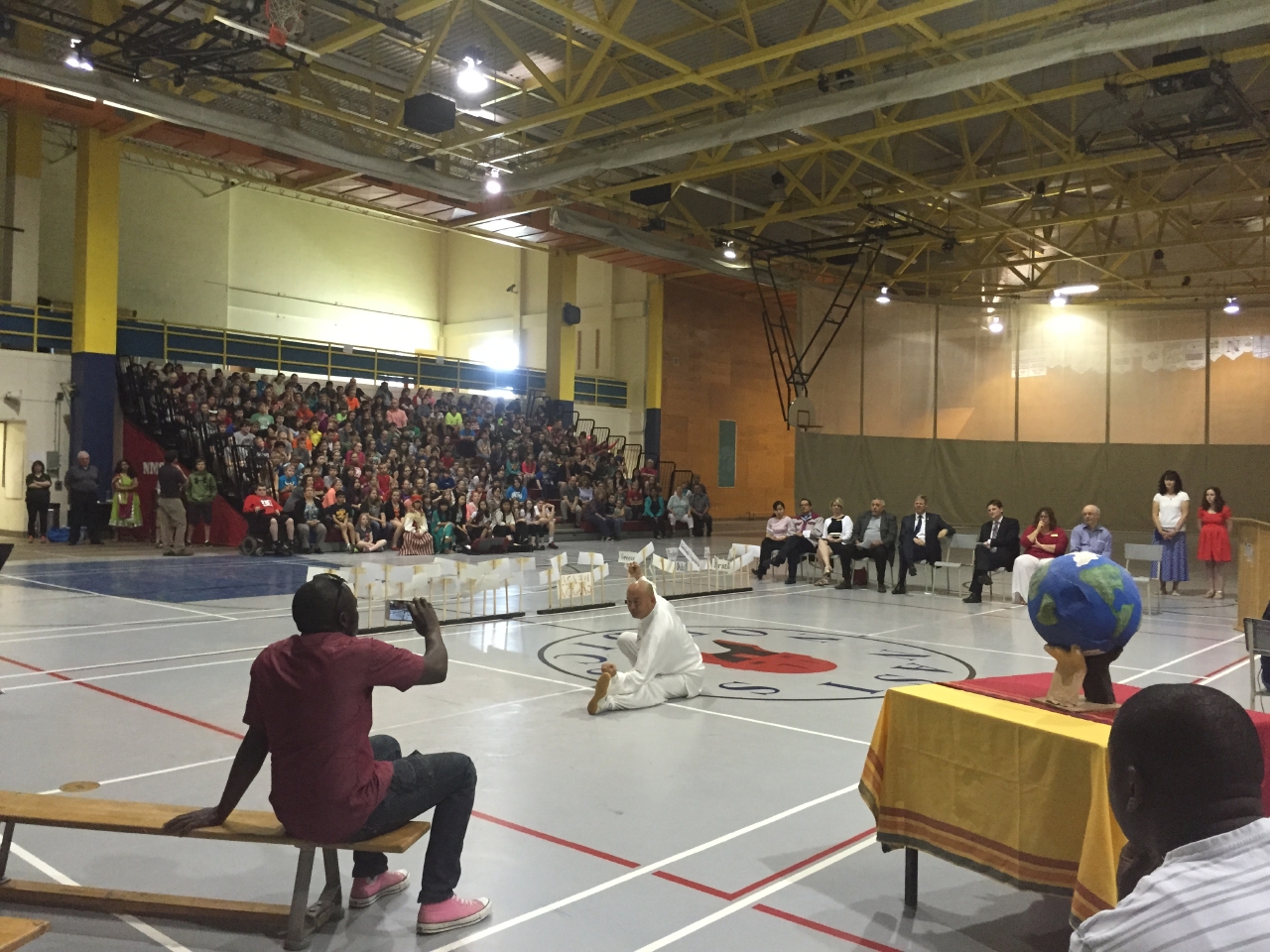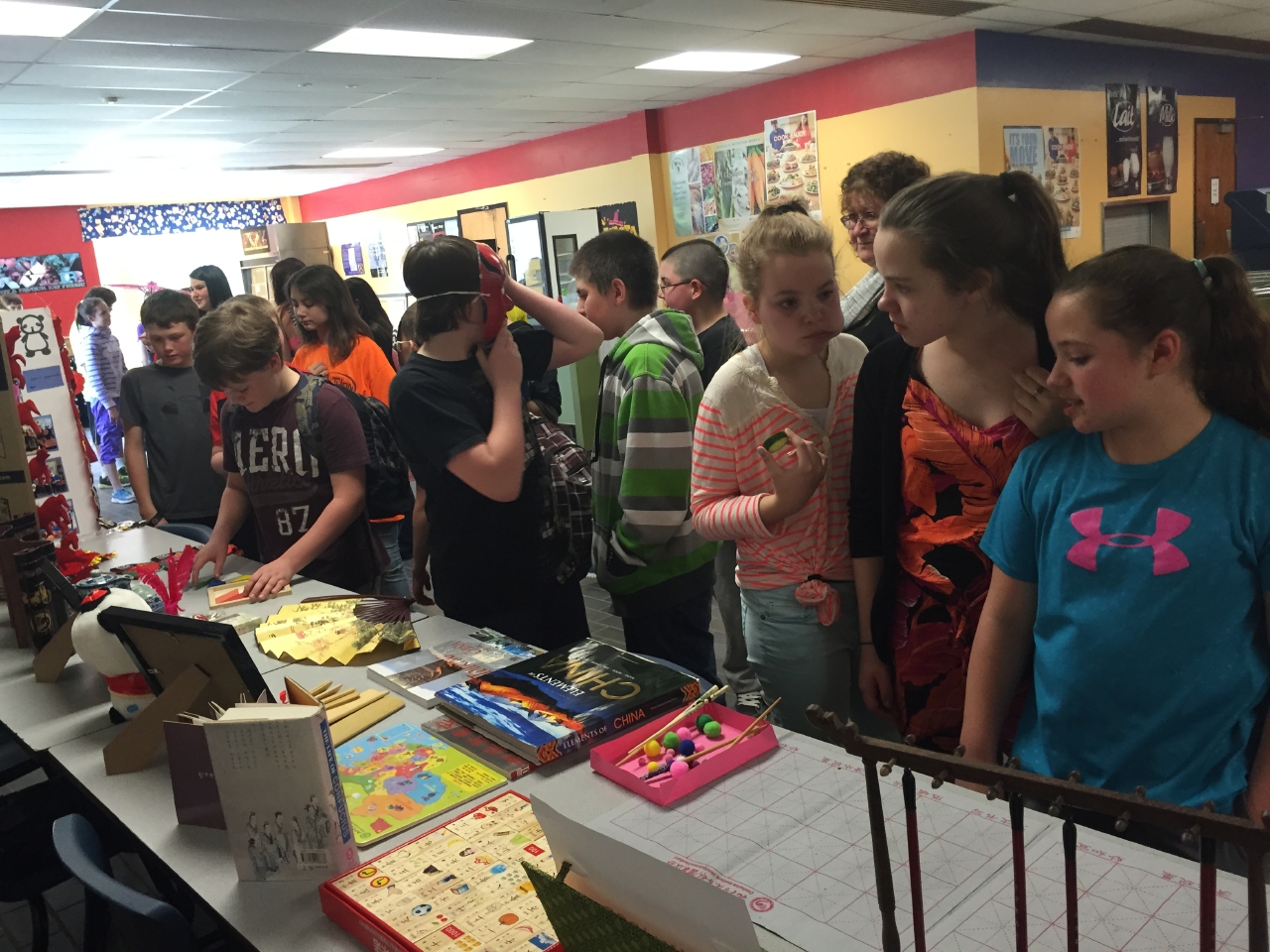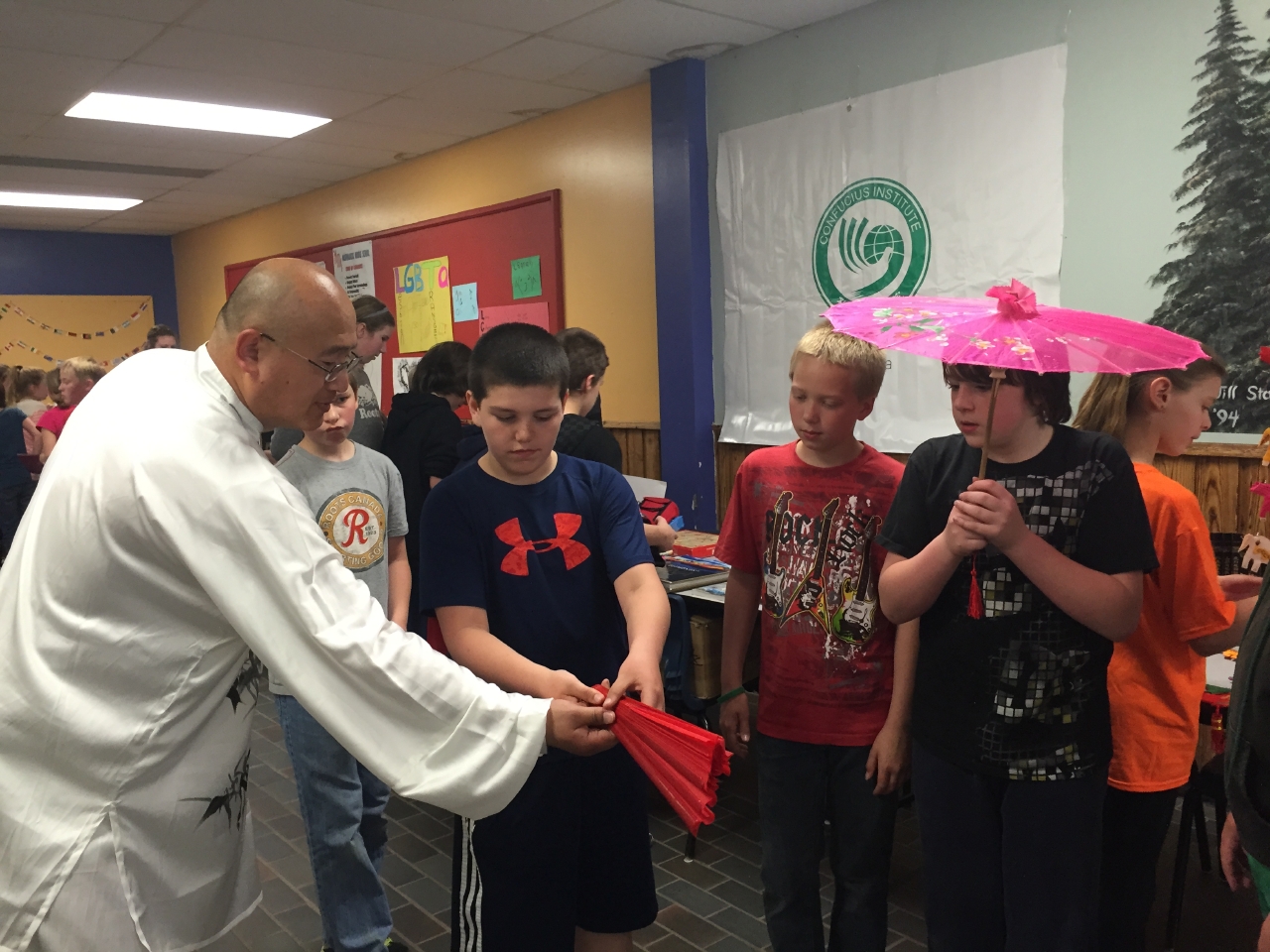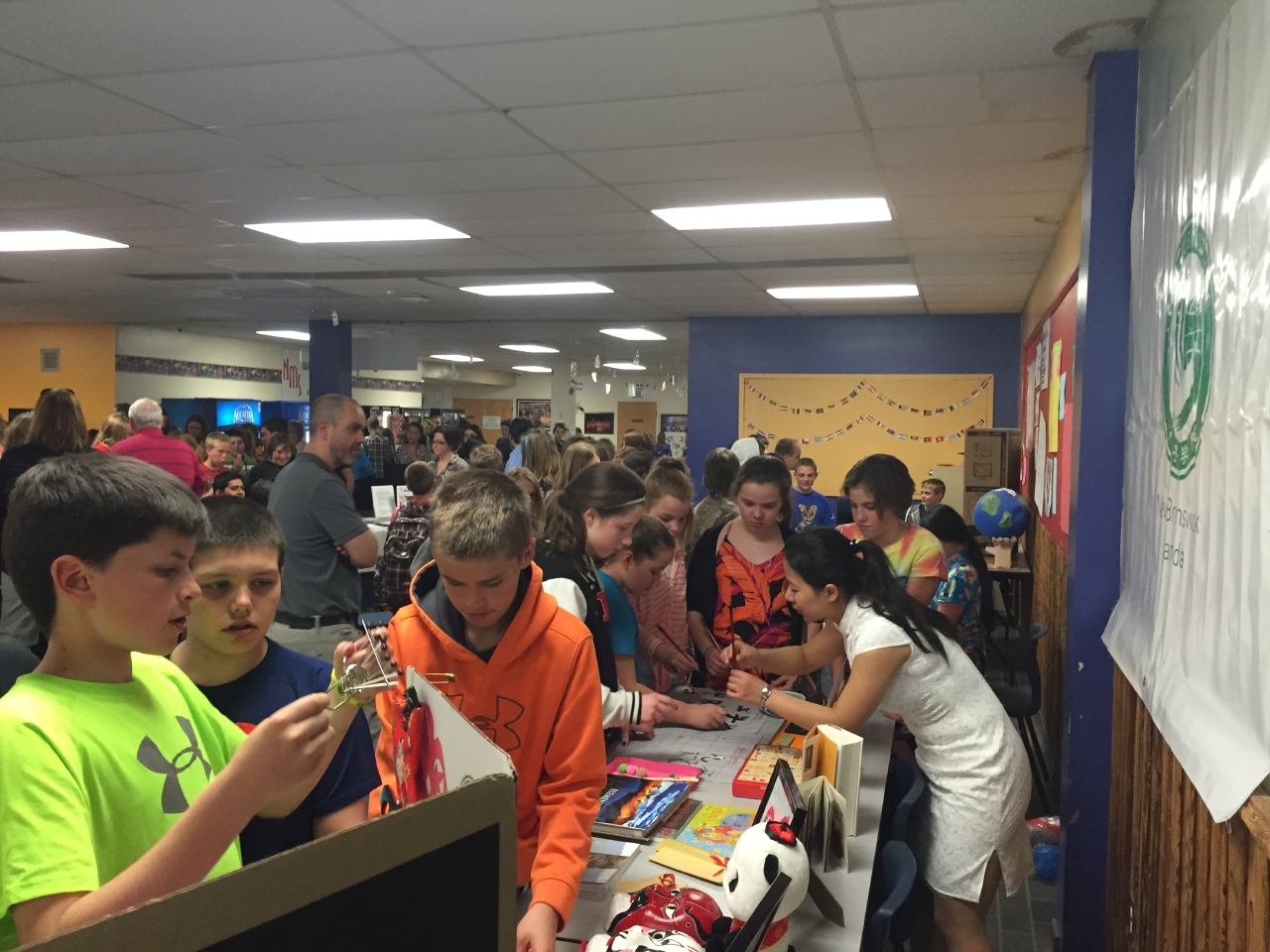 CINB Celebrated Chinese New Year in Saint John
Chinese New Year is the most important Chinese traditional festival. As the most important part of Chinese culture broadcast,the Chinese teacher from CINB held a series of activities to celebrate Chinese New Year in Saint John City.
  Celebrating Chinese New Year in High Schools
The Chinese teacher Jie Jiang is teaching two high schools at present. Spring Festival is the most important traditional festival for Chinese people.In order to making students know more about traditional Chinese culture , Miss Jiang planned the spring Festival theme culture week activities . The theme includes different Chinese cultures, just like spring festival stories, paper cutting ,making new year card ,sending red envelops and watching CCTV New Year Gala. The also made a celebration around the school to introduce Spring Festival culture.
Attending Chinese New Year Gala
 On Feb21st,2015,The Chinese New Year Gala of Saint John was held at River Cross church . Miss Yan Suli, the Consul of the Chinese Consulate-General in Montreal ,Mr. Norton the mayor of Saint john city attended the gala.  The Chinese teacher Jie Jiang from CINB leading the students attended the performance. The students brought Chinese song" Where is spring" and the teacher was the MC with the standard Chinese pronunciation , they received public praise from the audience. 
     This is the second time CINB attending Saint John Chinese New Year Gala performance.It's not only making more and more local Canadian people know CINB but also making the students taste traditional Chinese food ,experience traditional Chinese culture.