My First Experience of Teaching Chinese in Miramichi
  Written by Zhang Xiaoyu
    November 26th, 2014, after a 21hours' journey, I finally reached Miramichi,a small city in New Brunswick where I would start my teaching as the Chinese teacher by myself. The principal gave me the period before Christmas to observe other teachers' classes and get familiar with the environment. During this period, I began to know and love the small city and learn to be grateful.
    The school principal Jennifer, a smart, capable, and nice lady, encouraged me to participate in various social activities in and out of the school, and actively integrate with my new colleagues. And because of her, I met Donald, Jane, John, Juxia and many other friends. In my spare time, I talked with them about China, taught them to appreciate and savor green tea and to use chopsticks. And on snow days, John and I made snowman together, and cook Chinese food. I had just learned how to make dumplings before going abroad, but to thank my friends, I spent a lot of time making dumplings for them, very tired yet very happy. And my first Christmas Day in Canada is unforgettable, my friends and I prepared gifts for each other, and shared happiness with each other, just as a Chinese saying goes "Roses given, fragrance in hand."  The winter of 2014 was special, full of love and warmth.
    In 2015, with love and encouragement form my family and friends, I began the arduous challenge of teaching in Harkin Middle School, which is a bilingual school with both English and French courses. I was the first Chinese teacher in this school, and their understanding of China is very limited. As a layman in teaching Chinese as a foreign language, all that I can do is to start early and work hard. Before my teaching, I prepared the whole semester's teaching plan and adjusted it as needed.
   I was given the chance to teach the top students in Grade 6,Grade 7 and Grade 8 in their social study class. My teaching plan has 2 major parts: the Chinese language class and the Chinese Culture experience class. In the Chinese language class, I teach the kids Pinyin, which is the phonetic alphabets of the Chinese characters, or simply speaking, the sound of Chinese characters. Because each Chinese character is accompanied by Pinyin, it's a very basic and crucial part, for the students to learn. In order to help them learn Pinyin well, I compare the Chinese Pinyin with English letters in terms of the place of articulation and the manner of articulation. Sometimes, songs and nursery rhymes are used to make it easier and more interesting. Besides Pinyin, the students learn some basic and simple Chinese characters, a kind of pictorial symbols, and you are not just writing them, but more like drawing them. And, in the Chinese language class, students can also learn some simple spoken Chinese. For example, how to greet people in Chinese, how to ask and answer questions about people's age, how to describe a person in Chinese, how to describe your room, how to distinguish the Chinese money and learn kinship terms in Chinese, and some common terms in Chinese, etc..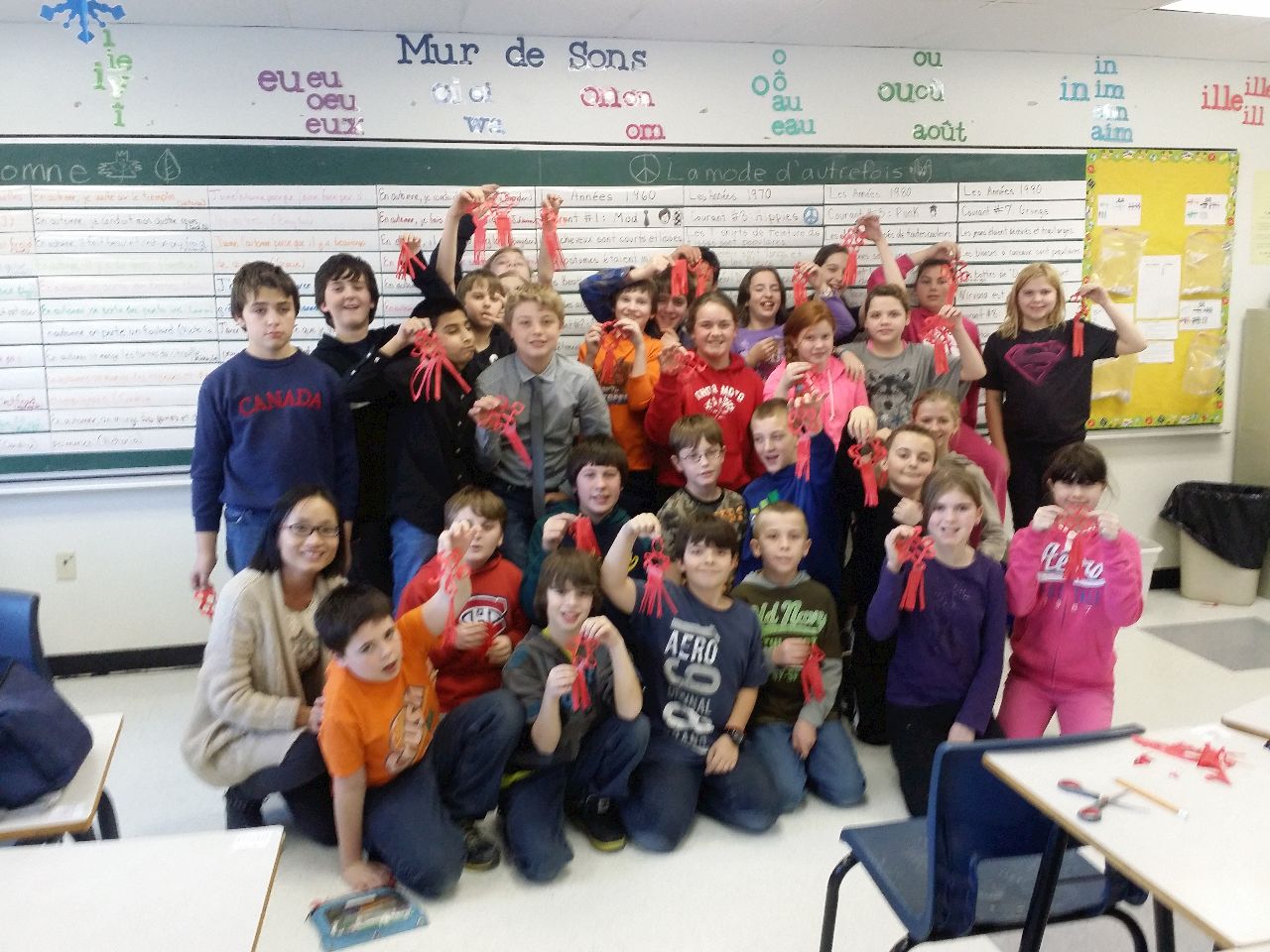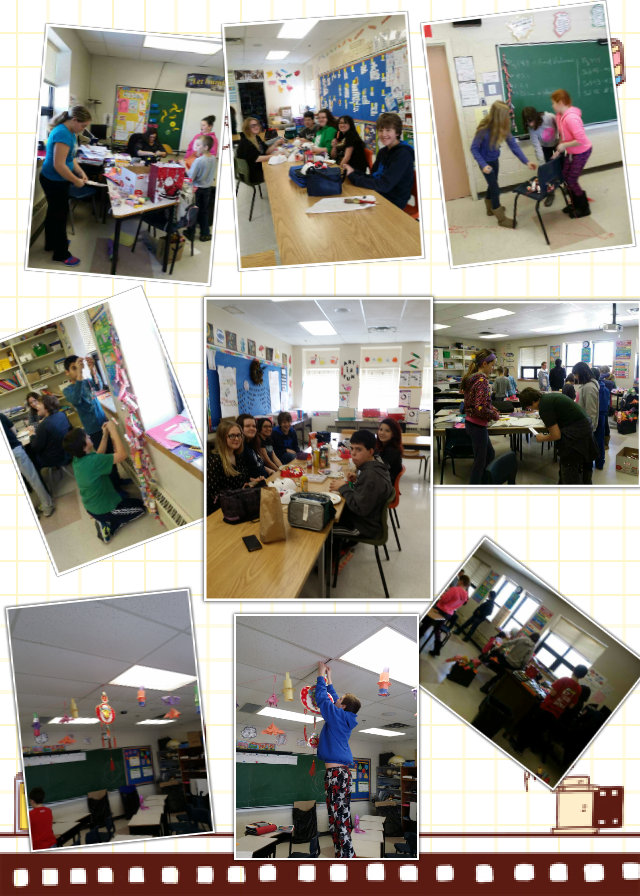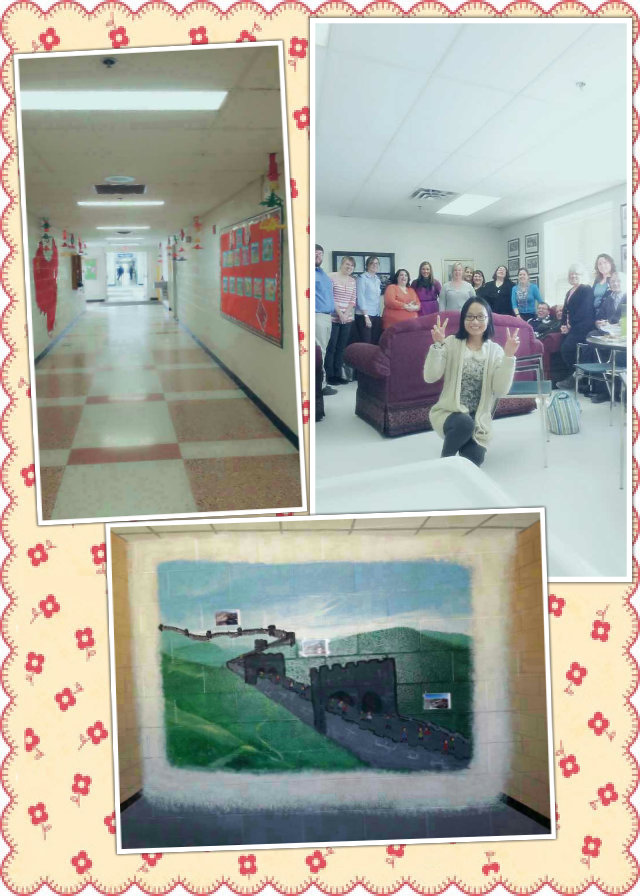 CINB JOINED CHINESE NEW YEAR GALA IN MONCTON
On Feb.21st, 2015, Chinese New Year was celebrated in Bernice McNaughton High School, where the first Chinese course was set up by Mrs. Teng Jing. The gala attracted nearly 5oo audiences.  Mr. Yang Qing, consul, consulate-general of China in Montreal, Mr. Robert Goguen, deputy mayor of Moncton, Yvon Lapierre, mayor of Dieppe attended the gala and each delivered a speech.
Led by volunteer Chinese teacher Miss Mou, 24 kids from two different schools played a skit called Chinese Zodiac Story. This elaborate combination of Chinese martial arts, Chinese folk music, Chinese dance and Chinese mythologies caught the attention of all the audiences. Mrs. Jane Trainor,  who works as an art teacher in Bessbough Elementary School did all the facial make-up work for the performers. The most eye-catching figure was Dr. Su Ruini, who acted as the Jade Emperor in the skit. Having been learning Chinese for nearly 6 years, she won a warm applause for her precise mandarin pronunciation from both the Chinese and Canadian audiences. Mrs. Teng Jing delivered a short speech sending new year greeting to everyone and gave the audiences Chinese calendar as gifts.
A brand new year symbolizes new outlook. We believe that with the joint efforts from CINB and local government, a bridge which promotes the mutual understanding and corporation between Chinese and Canadians will be built.  
CINB 参加蒙克顿市华人春晚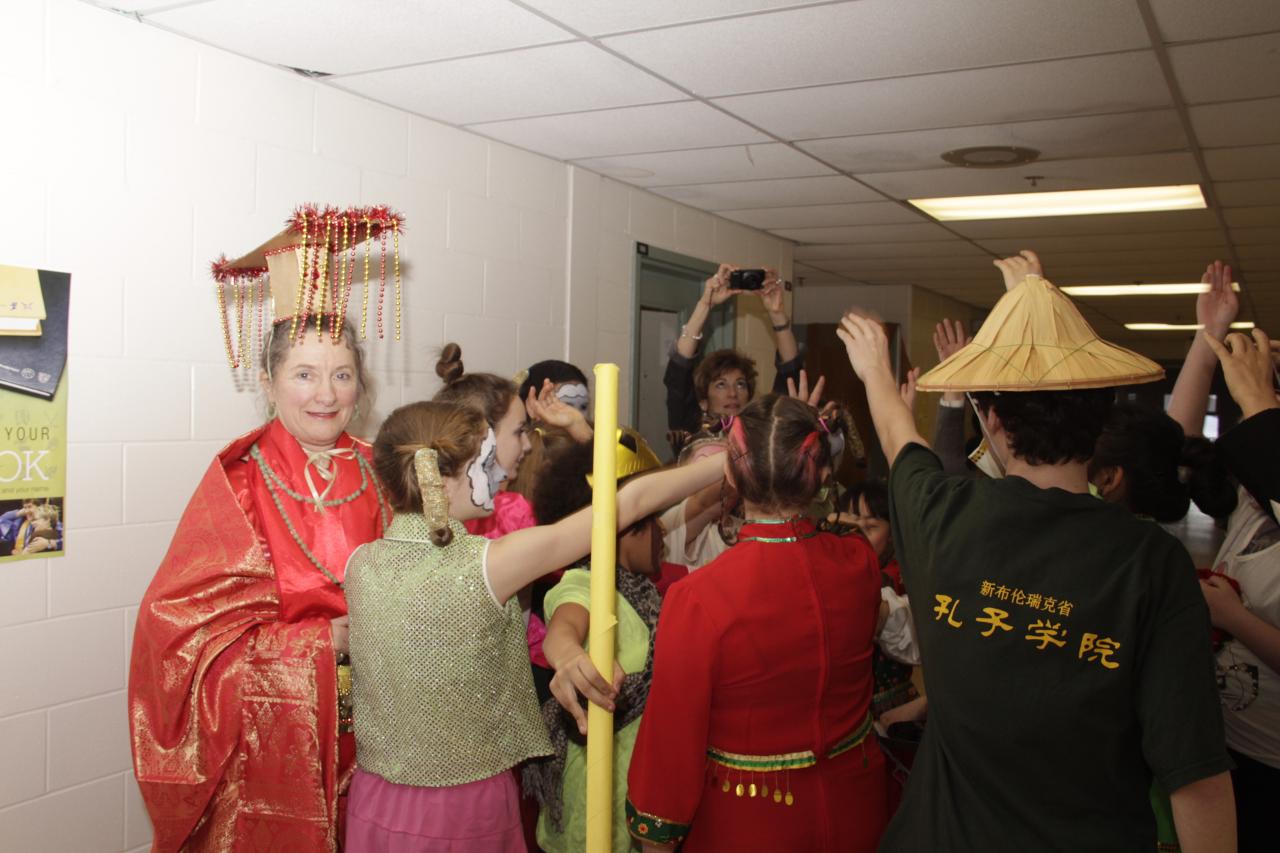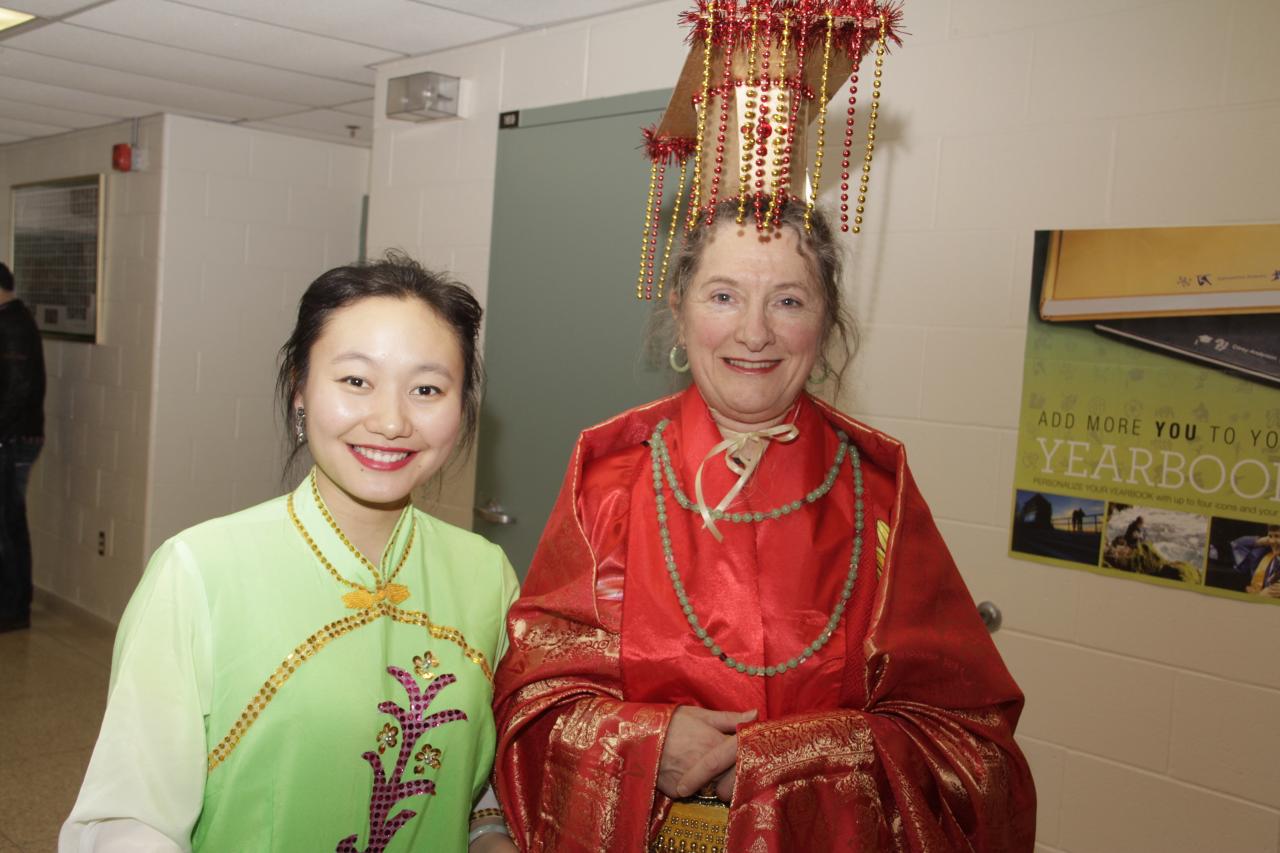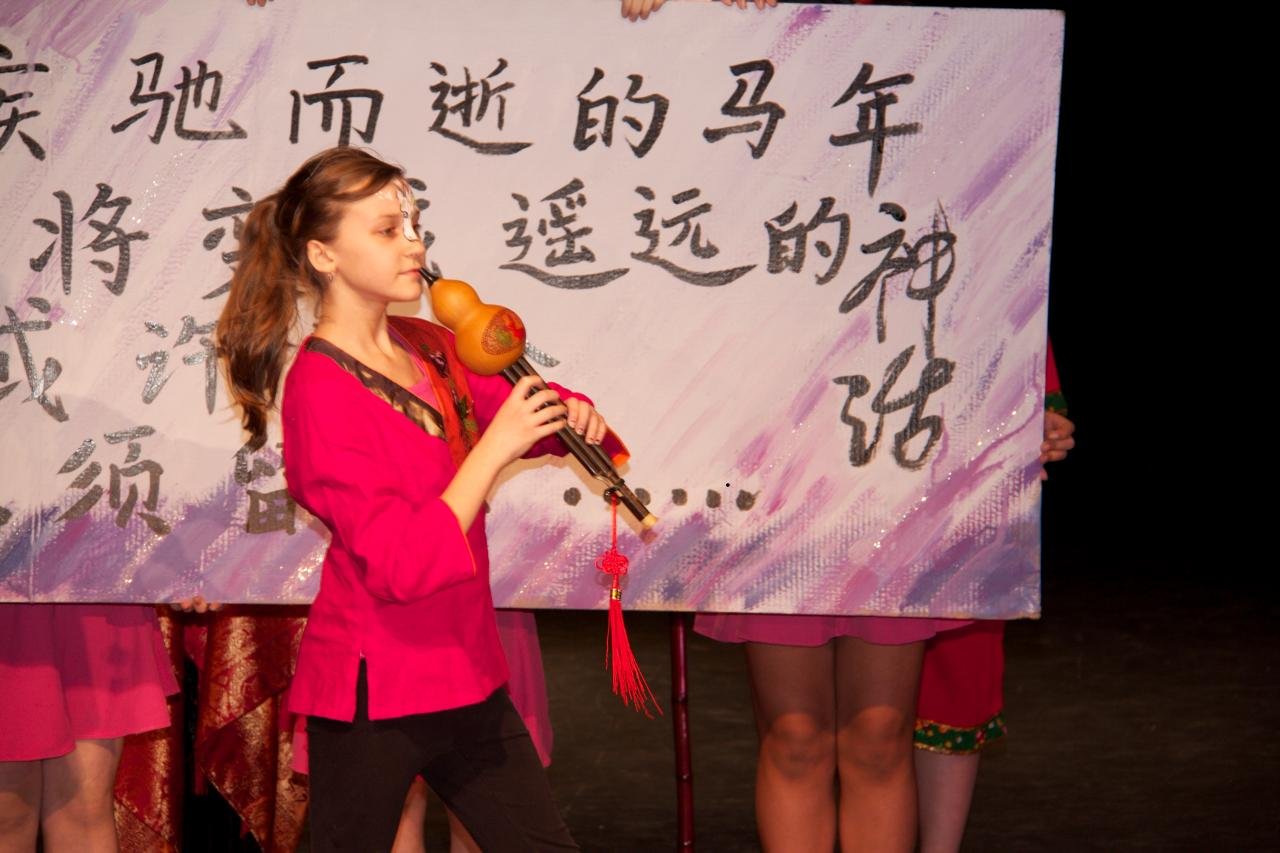 CINB Joined Chinese New Year Gala of Fredericton
On Feb.16th,2015, Chinese Culture Association of Fredericton held Chinese New Year Gala of 2015 in the Play House, which attracted hundreds of audiences come to see. Mr. L'hon Stephen Horsman, the Vice-premier minister of NB addressed the remarks.
CINB was a partner of this activity, Ms. Dawn Weatherbie, Vice-president Operations of AEI, the Executive Director of CINB was also invited to do a speech. Mr. Fazhou Fei, the Kung Fu Teacher of CINB and Miss Xi Cao, the Volunteer Chinese Teacher gave a performance called <Tai Ji> with Park Street School Teacher Bryanna Aube and 11 students.
This was the 4th time for Park Street School to join the Chinese New Year Gala. As the beautiful music on, Mrs. Bryanna Aube, Miss Xi Cao and the students started to sing the Chinese folk song <Jasmine Flower>, at the same time, Mr. Fei was playing Tai Ji in the center of the stage.
This wonderful performance brought a visual and auditory feast for the audiences and won a lot of applause and cheers. This typical performance not only showed Chinese martial arts culture, but also reflected the rich achievement in language teaching of CINB in Park Street School. That CINB is playing a role of spreading Chinese culture and language had left a deeper impression to the audiences again.
——written by Cao Xi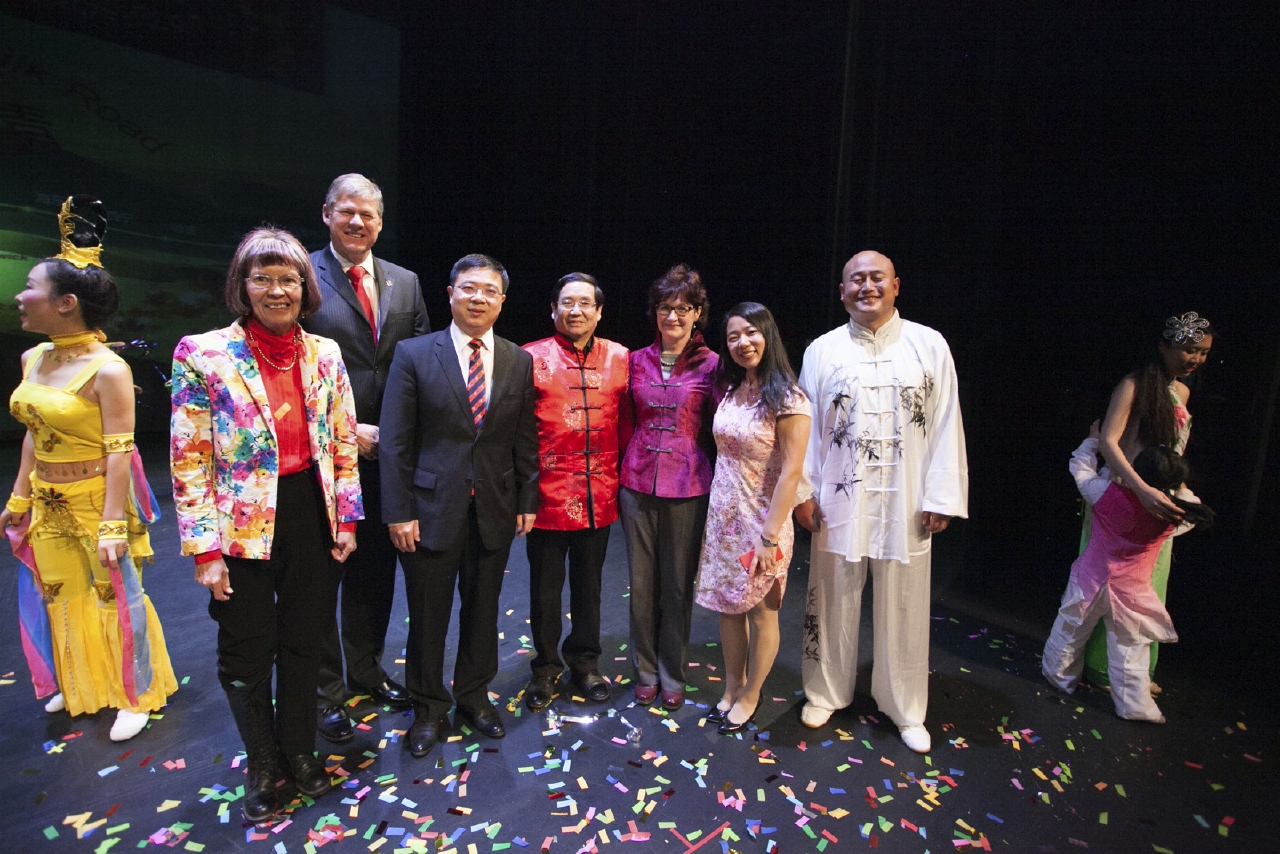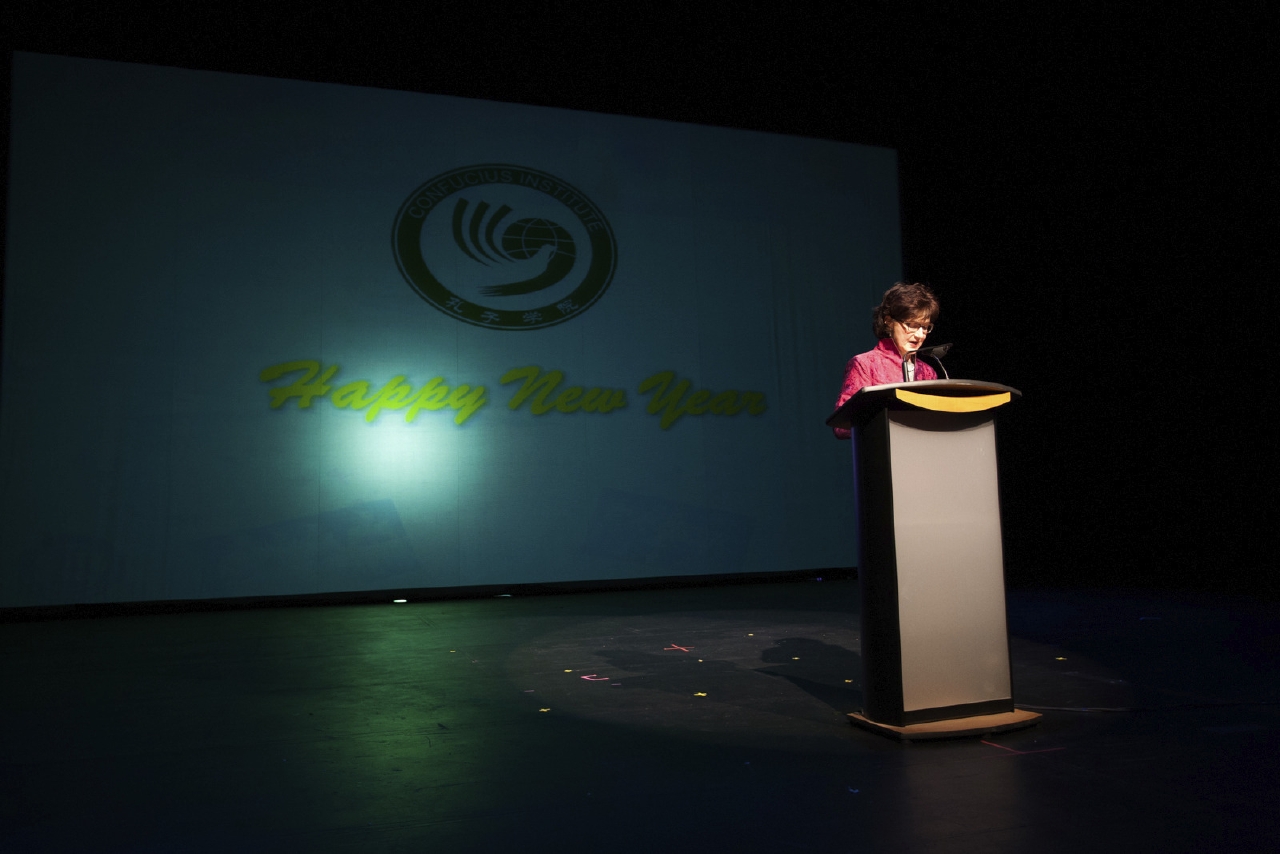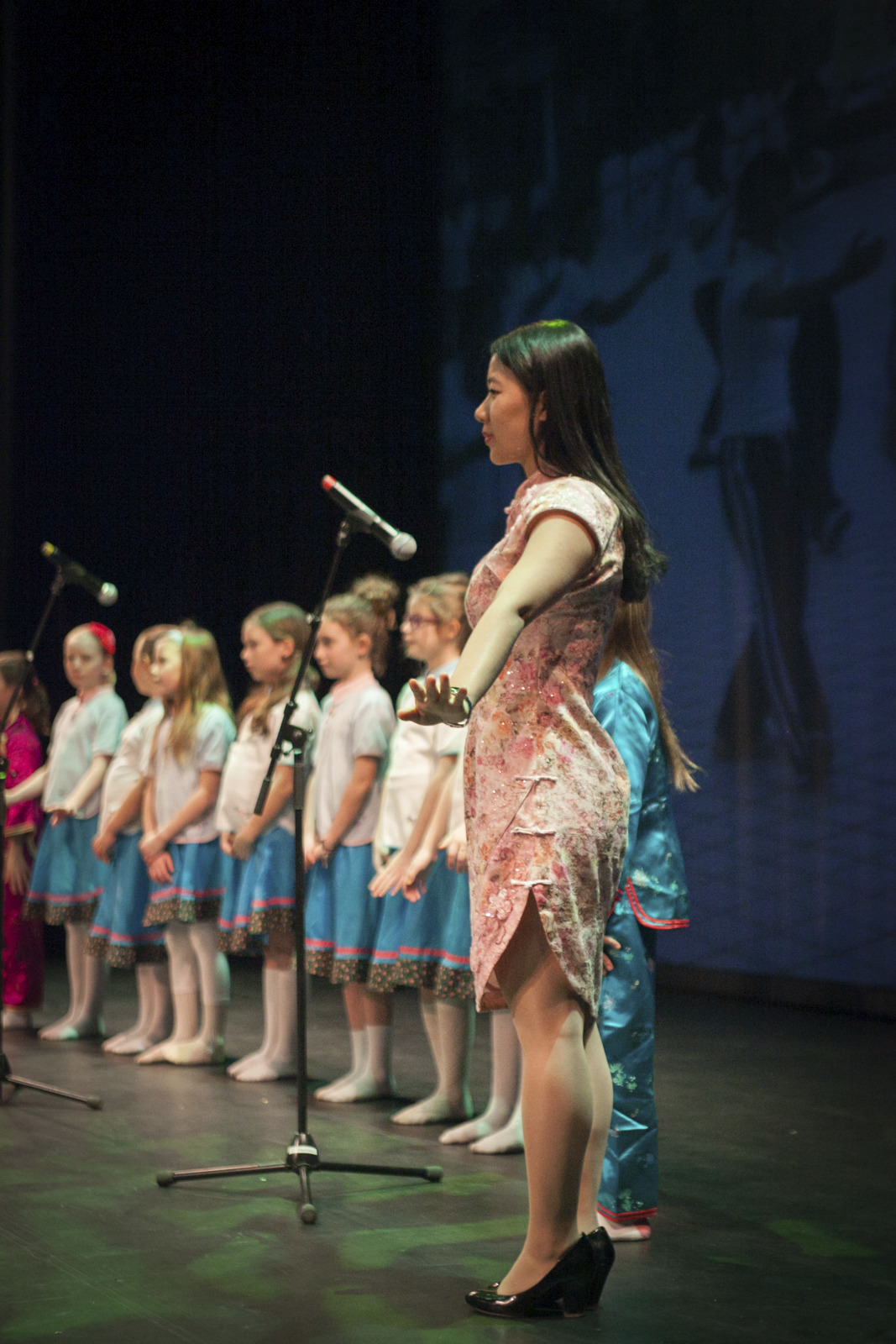 Park Street Elementary School Celebrated Chinese New Year
On Feb.18th,2015, Park Street School held Chinese New Year Gala, more than 450 teachers and students were involved in this joyful activity. Miss Heather Wallace, the representative of CINB was invited and addressed remarks. She also taught the students how to say 'Happy New Year' in Chinese in the process of her speech which won a warm applause.
Chinese New Year is a big event for Park Street, every year they attach great importance to this. This event was organized by Miss Xi Cao, the Volunteer Chinese Teacher of CINB and three local teachers in Park Street.
At the beginning of the event, the two MC who are the students in Grade 5 introduced some Chinese typical custom about Chinese New Year. And then Miss Xi and her dance club students performed a Chinese traditional umbrella dance titled <Jasmine Flower> and a handkerchief dance called <La Meizi> which sparked a very joyful atmosphere. The music teacher, Mrs. Wilson led the students perform two songs titled 'Yangtze River' and 'Feng Yang Song'. Both of them were about Chinese culture. The highlight of the show came from Mr. Fazhou Fei, the Kung Fu Teacher of CINB, who performed Tai Ji sword and won a warm applause and cheers. Also, he was joined by Mme. Aube and a group of Park Street Students performed  <Tai Ji> which had been performed in the Play House for Chinese New Year Gala of Fredericton.
At last, the small trivia quiz about Chinese New Year culture done by Miss Xi set off the last upsurge for the activity. The students who answered the question won the Chinese red envelops with special gifts inside. The whole event got a complete success.
——written by Cao Xi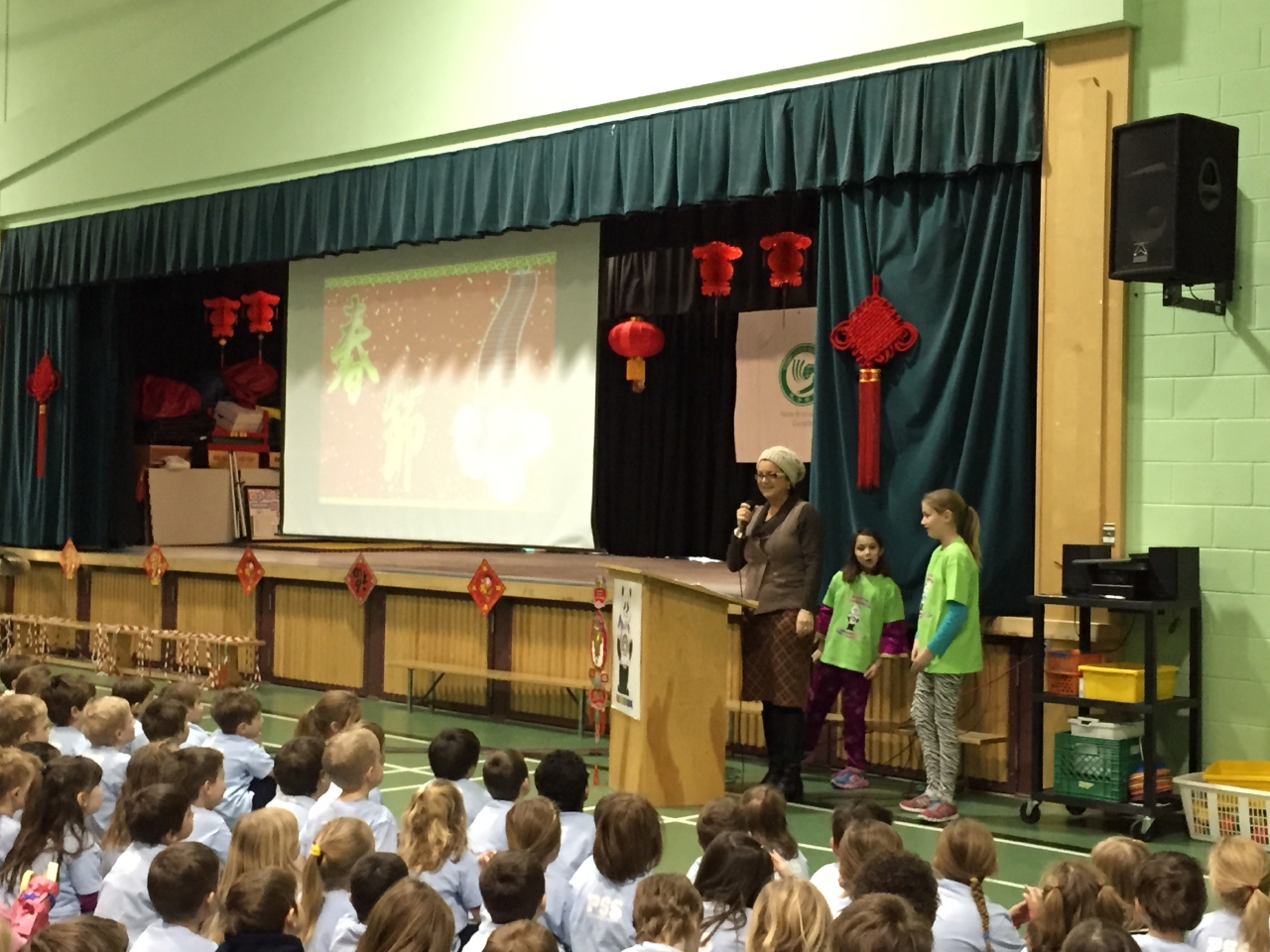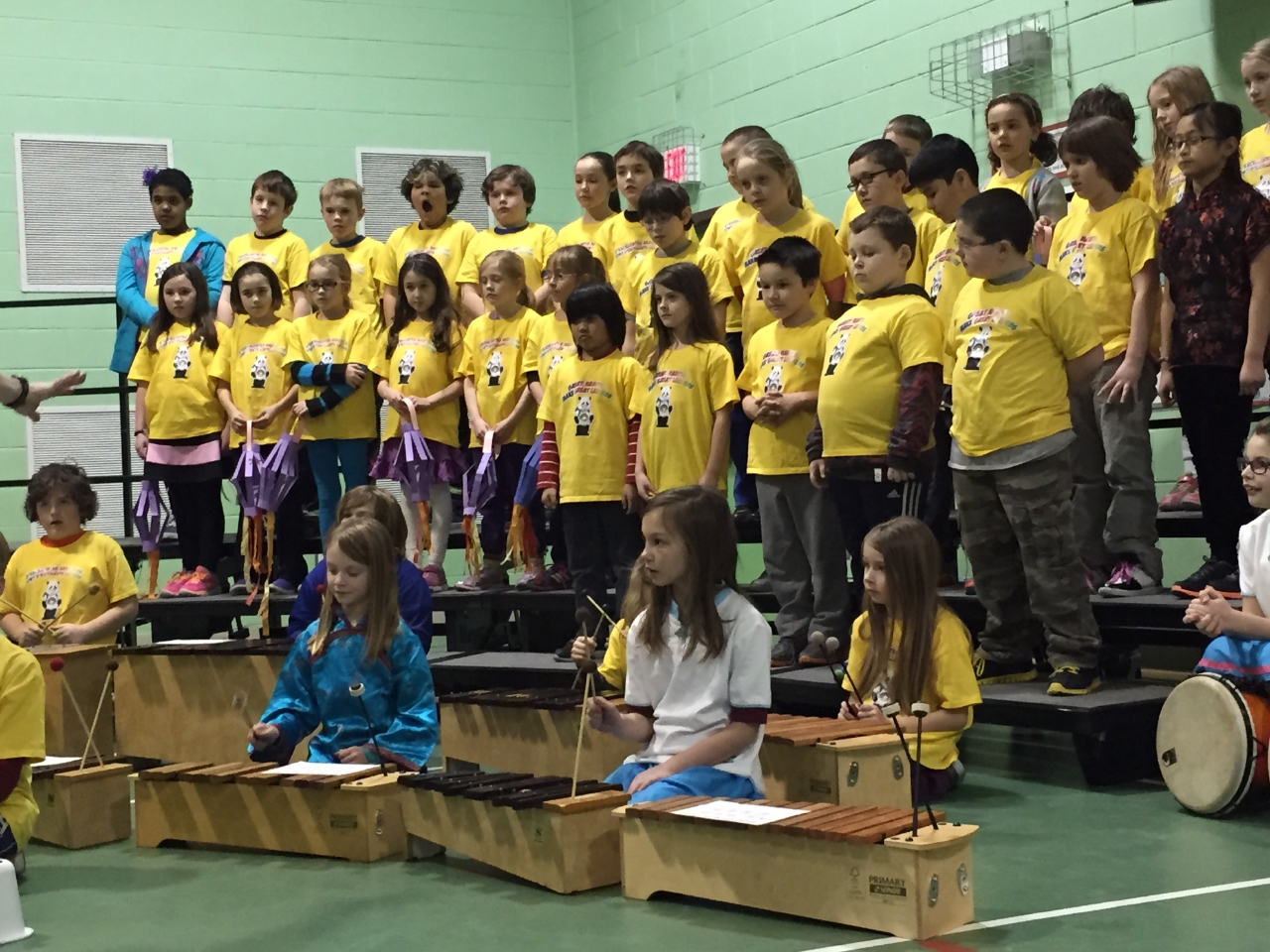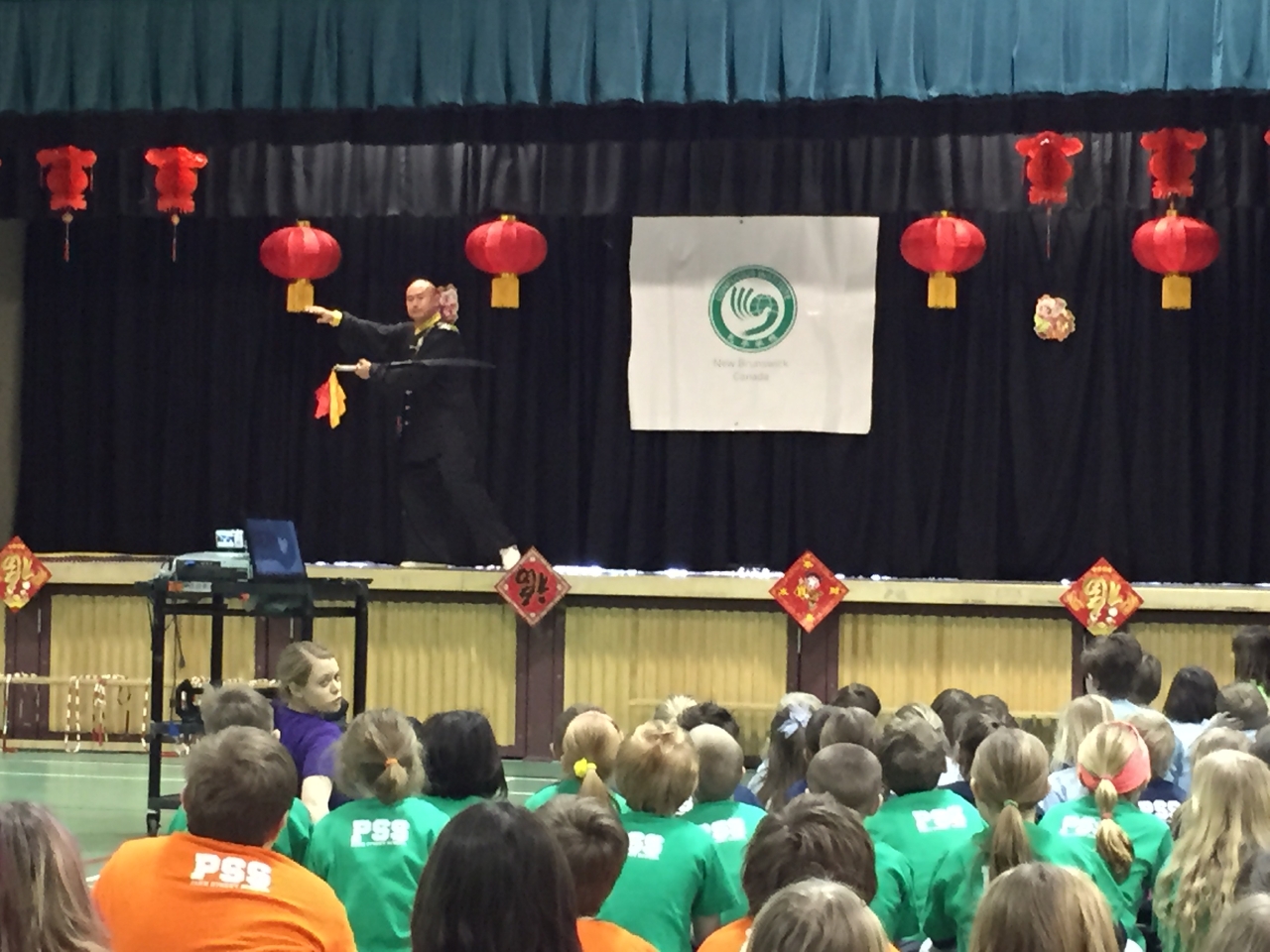 CINB Attends the "Multicultural Night" of Park Street Elementary School
On Jan. 21st, 2015, CINB attended the 6th "Multicultural Night" of Park Street Elementary School. "Multicultural Night" is a big event for Park Street. Every year, there are many people came from different countries join the event to show their own culture. And this was the 4th time for CINB to join it. Ms. Dawn Weatherbie, Vice-president Operations of AEI, the Executive Director of CINB, Ms. Jing Teng, the Director of CINB, Mr. Fazhou Fei, the Kung fu Teacher of CINB and Ms Xi Cao, the Volunteer Chinese Teacher took part in the event.
During the event, the Chinese culture exhibition booth was full of many kinds of Chinese elements, like Chinese Panda toy, paper-cuts, Chinese chess, allegros and the "Scholar's four jewels" , which attracted many audiences. The Provincial Governor, Jocelyne Roy-Vienneau and her husband, as well as L'hon. Stephen Horsman, the Vice-premier minister of NB also came to visit Chinese culture exhibition booth. Mr. Stephen Horsman expressed his gratitude to CINB for what CINB had done for promoting the culture exchange between China and Canada.
At last, Ms. Xi Cao, with 6 students come from Park Street School performed a Chinese national dance, and Mr. Fei professionally played Tai Ji which won a warm applause from the entire audiences. We believed that Chinese culture had left a deeper impression to the audiences through this event.