CINB Attends the 7th Multicultural Night Celebration of Park Street Elementary School
On Jan.27, 2016, CINB attended the 7th Multicultural Night Celebration of Park Street Elementary School in Fredericton. Ms. Teng Jing, the Foreign Director of CINB, Professor Li Minhong, the Chinese Director of CINB, Ms. Zhang Xiaoyu, the Chinese teacher of CINB, and the Volunteer Chinese teachers Cao Xi, Li Nannan joined in the event. 
Multicultural Night Celebration is a big event for Park Street School. Every year, it attracts many people from different countries to come and show their own culture. And some politicians and educators of New Brunswick also come to join in. This year, Ms. Jocelyne Roy Vienneau, the Lieutenant Governor in New Brunswick and Mr. Brad Woodside, the Mayor of Fredericton were invited to make a speech for the activity. Therefore,this is a good chance for CINB to show Chinese culture to the other countries' people here.
During the event, CINB teachers set up Chinese exhibition booth with many kinds of Chinese elements like Chinese panda toys, paper cuts, Chinese traditional umbrellas and Chinese kites which attracted many students and parents. The Volunteer Chinese teacher Cao Xi, who has been teaching Chinese Language and Culture in Park Street School for almost 3 years, with her dancing group, performed two beautiful dances. As the opening dance, the fan dance <Chun Xiao> got a very warm response and caught the audience's eyes. The umbrella dance set off a climax for the event, winning lots of applause and cheers. Wearing the colorful Chinese costumes, under the leadership of Cao Xi, the Park Street School kids were dancing with the Chinese traditional fans and oiled paper umbrellas, which not only fully demonstrated their learning outcomes, but also showed their love of Chinese culture.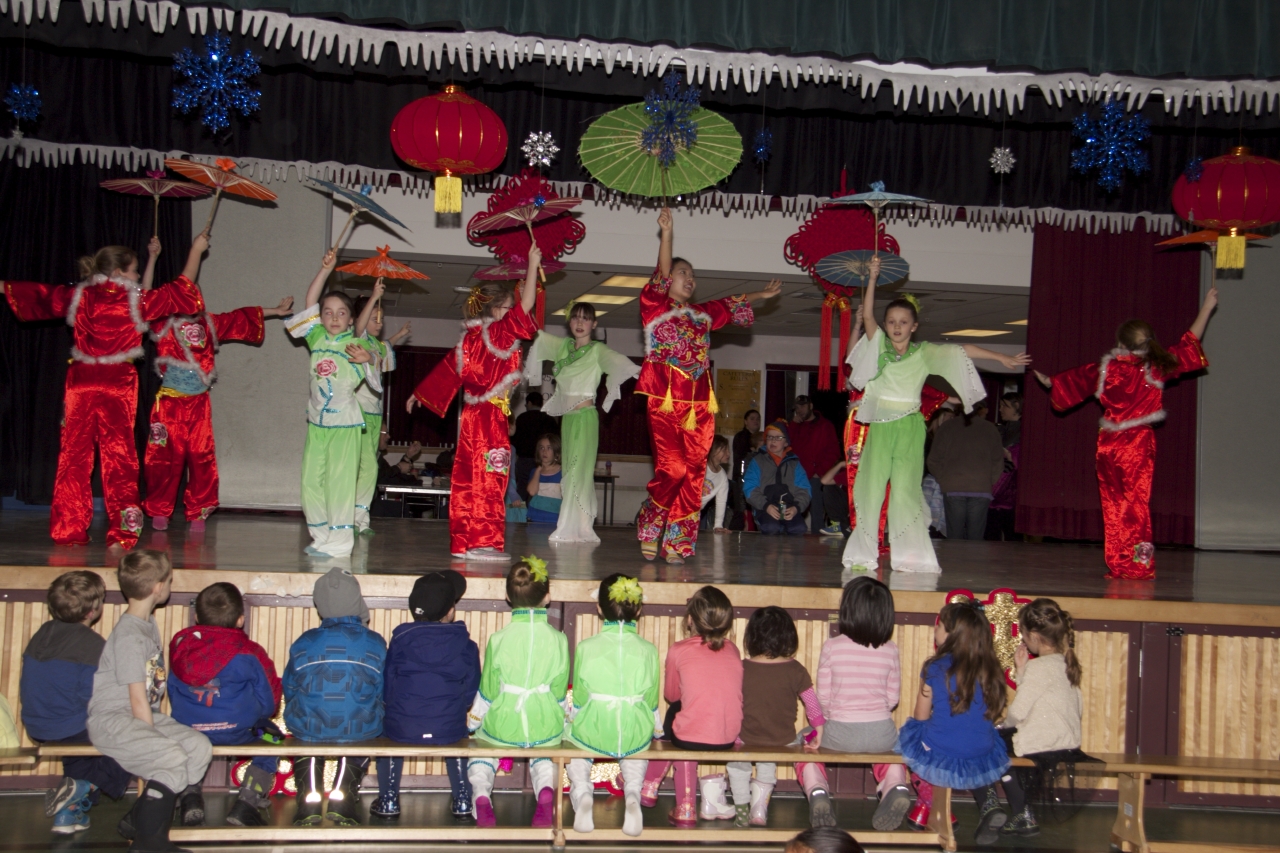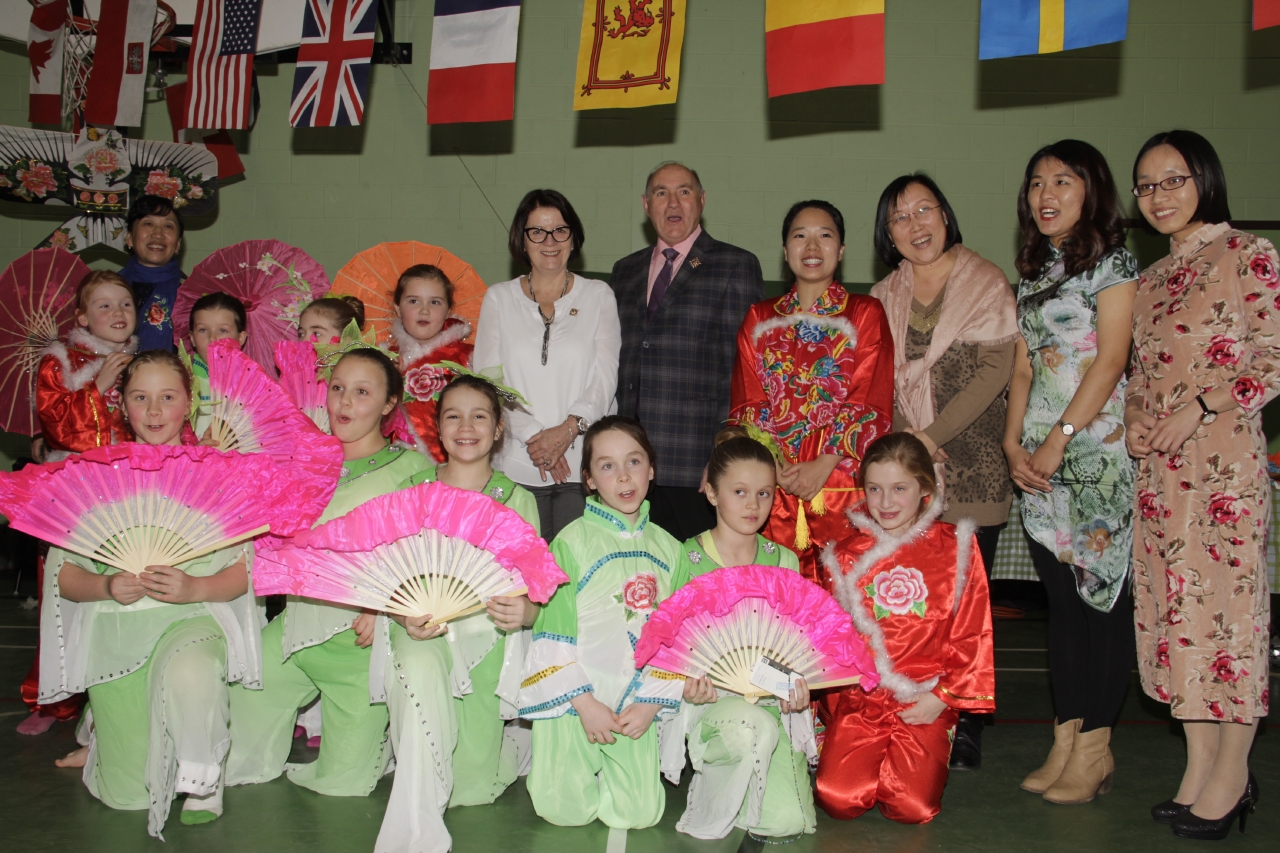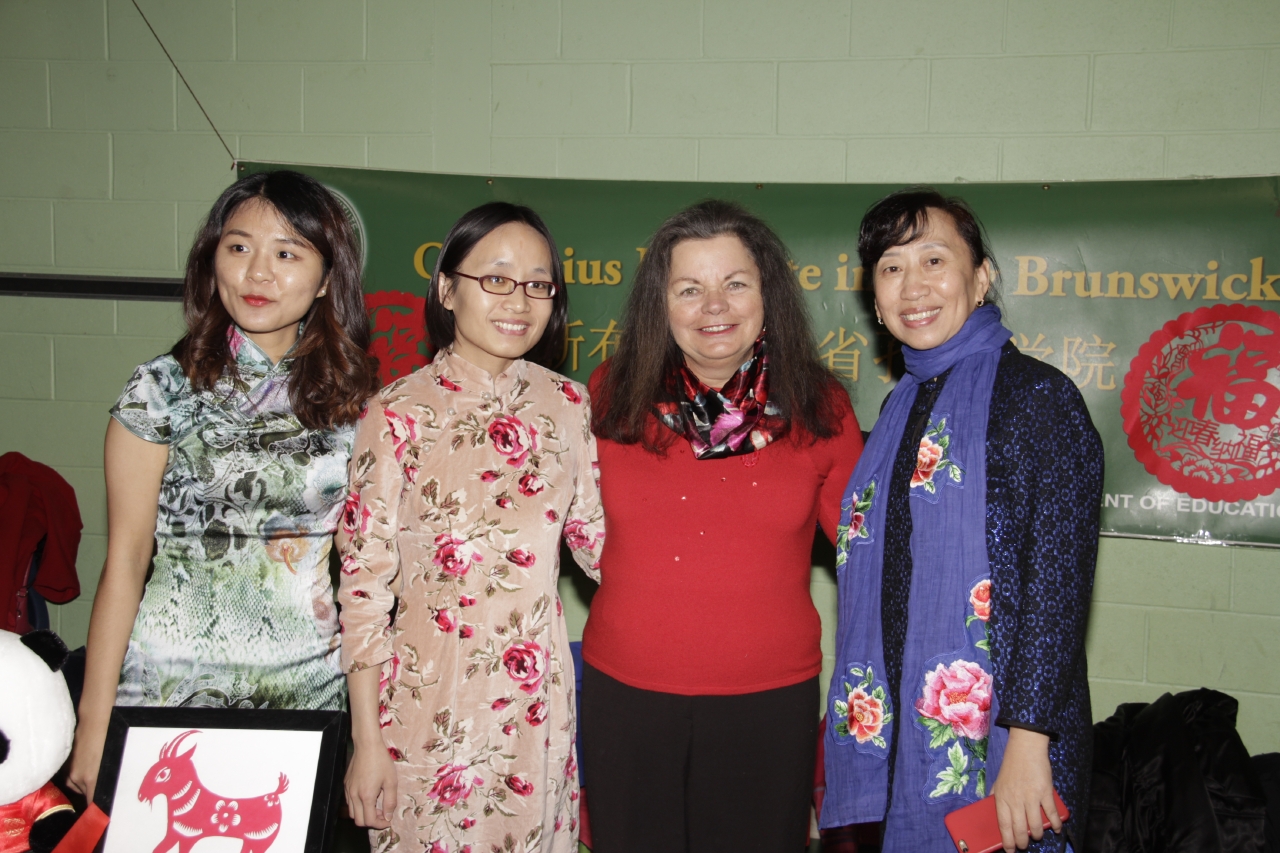 CINB Held Teaching and Research Meeting
On Jan. 6th, Confucius Institute in New Brunswick held a teaching and research meeting in Fredericton. The meeting was chaired by CINB foreign director Ms. Teng Jing. Ms. Dawn Weatherbie, Vice president of AEI, Executive Director of Confucius Institute in New Brunswick, attended the meeting. All the teachers and volunteer teachers shared their valuable teaching experience from the past semester, discussed and made plans for teaching and culture activities for next semester. 
At the very beginning of the meeting, on behalf of AEI, Mrs. Dawn Weatherbie welcomed all the teachers from CINB and remarked on their hard work and joint effort in promoting Chinese language and culture all around New Brunswick.
During the meeting, every teacher made a PowerPoint presentation based on their own experience, working at different schools and with students from different levels. They came up with an individualized teaching and evaluating method according to the distinctive characteristics of elementary, middle and high school students. The meeting mainly focused on the implement of the very first trilingual program, which will kick off in September at Park Street School in Fredericton, and Chinese credit courses at high schools, and the teaching syllabus for Chinese language and culture course in New Brunswick. Ms. Jing Teng, shared precious information from the 10th Confucius Institute Conference at the meeting and discussed the sustainable development of CINB with the teachers.
A clear plan was made on the future development of CINB, and both theoretical and practical experiences were shared to ensure carrying out teaching and culture activities. This meeting was not only a summary of the past years' hard work, but also a powerful stimulation for the coming New Year.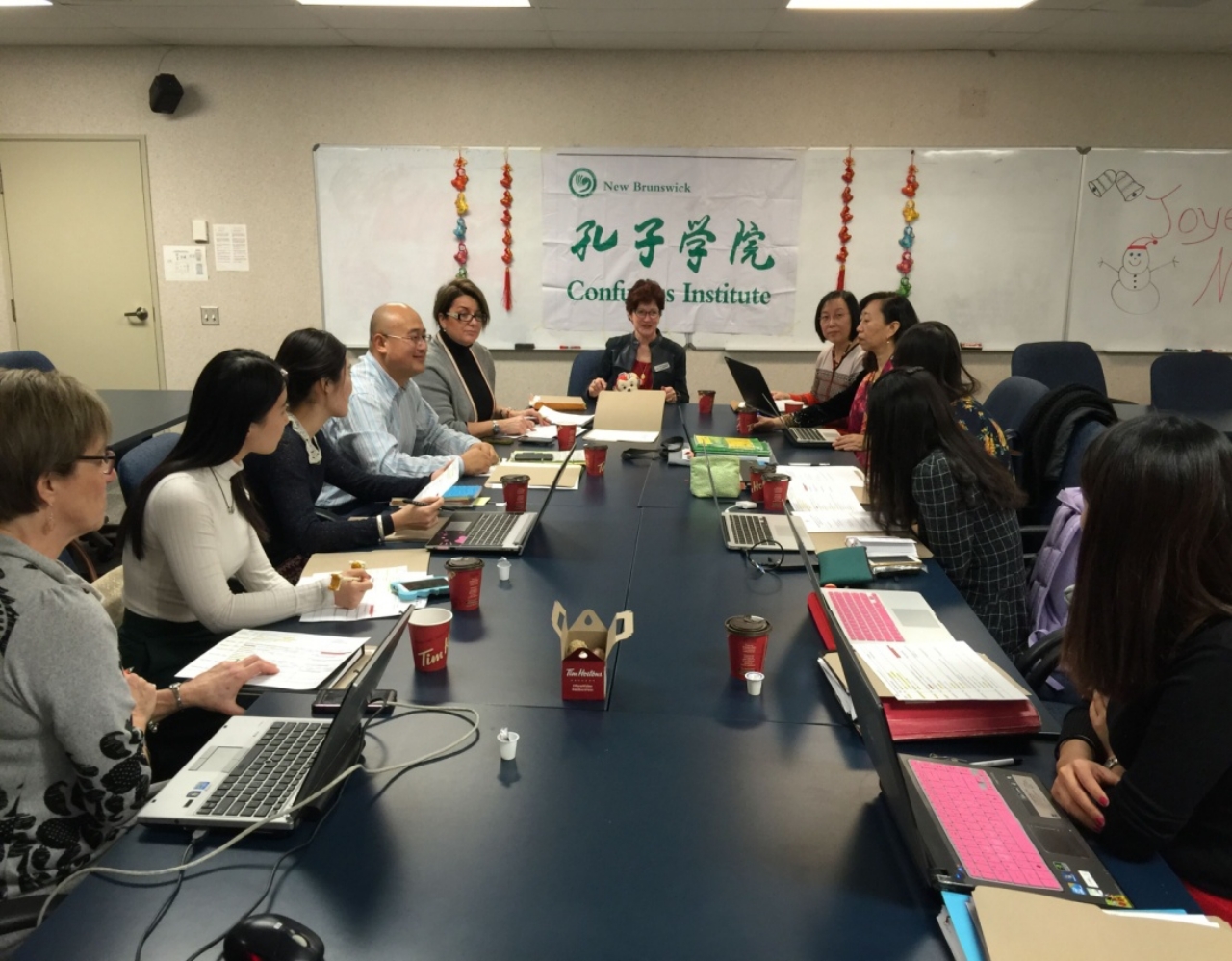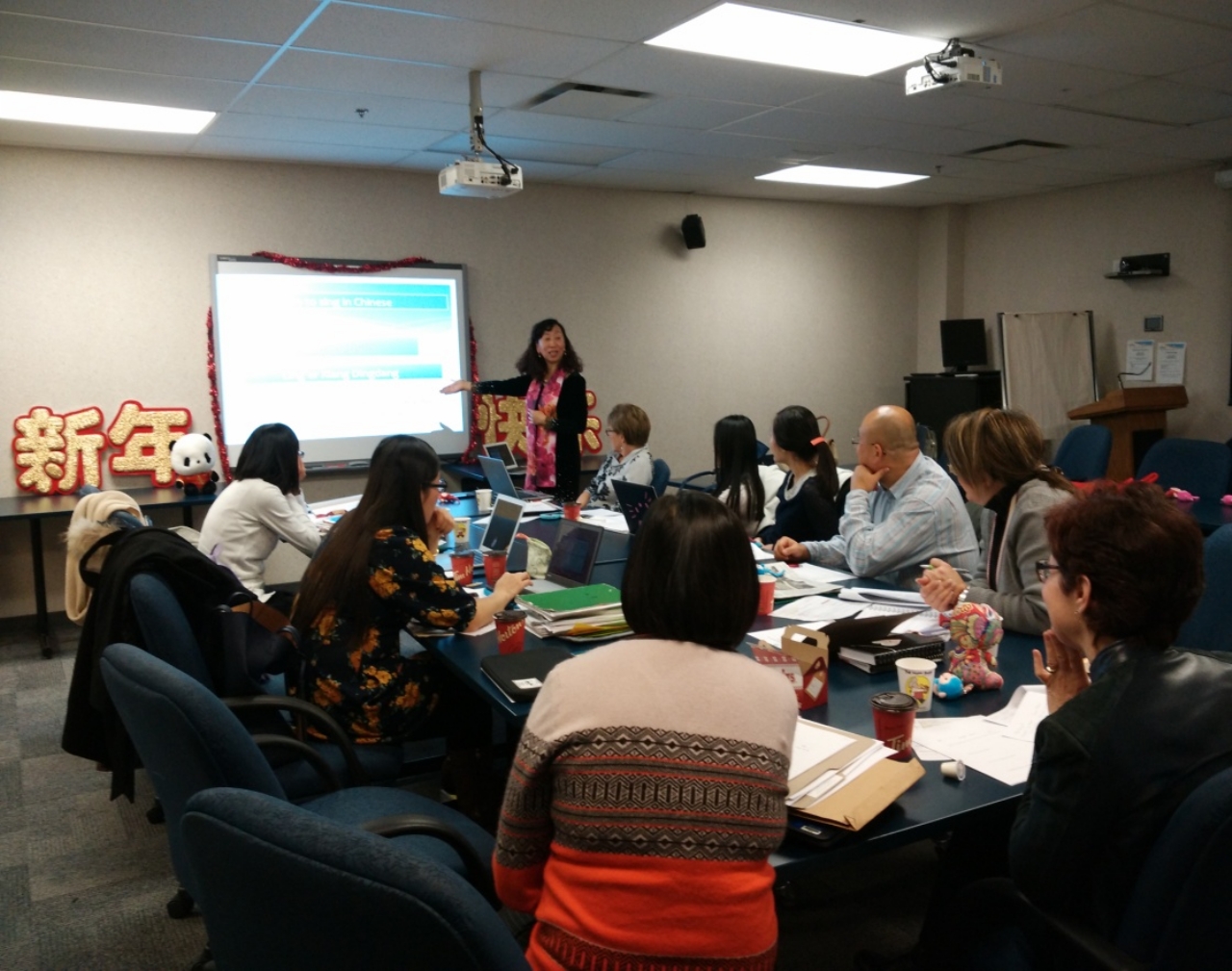 2015 Liverpool Street School's "Multicultural Night"
Written by Zhang Xiaoyu
On November 26, 2015, "Multicultural Night" was held as scheduled at Liverpool Street school. The Chinese director Li Minhong, Chinese language teacher Zhang Xiaoyu and volunteer teacher Cao Xi of CINB attended the event. This is the second time for CINB to spread Chinese culture at this school while the first time dates back to 2013 "Multicultural Night" of Liverpool Street school. At that time and before, there was no Chinese class being offered there. And at the end of that event, the Vice Principal Mr. Wiggins thanked CINB for their attendance, and expressed the thought of starting Chinese culture teaching at their school. With a joint effort of CINB, AEI and the local education department, this desire has realized in two years. In September 2015, after finishing her teaching job for the promotion of Chinese language and Chinese culture in Miramichi, CINB Chinese language teacher Zhang Xiaoyu began her new challenge in Fredericton, the capital city of New Brunswick. She has teaching tasks at two schools ---Bliss Carman middle school and Liverpool Street school, so to some degree, this cultural night marked the first real cooperation of CINB and Liverpool Street school. 
2015 Liverpool Street school's "Multicultural Night" is divided into two parts, culture exhibition and cultural talent show. Participating groups come from all over the world, India, Israel, China, Vietnam, Russia, Lebanon, Libya, Jordan, Arab, etc., with miscellaneous handicrafts, food and fantastic performances, which accord with the theme of "multicultural integration". Among them, Chinese culture booth had gained much attention, and many students came to try writing Chinese characters with the brush under the direction of the Chinese teachers, experiencing the art of Chinese calligraphy. Many parents and other participating groups stood by the Chinese culture booth, discussing the Chinese culture with teachers of CINB, and creating a joyous atmosphere.
The small climax came when students sang the Chinese song "where is my friend" under the guidance of Mrs. Zhang Xiaoyu, which won a lot of praises and burst of applause from the audience. Because that very day was America's Thanksgiving Day, students began to invite their parents and teachers to join the song together, shaking hands with each other, hugging and saying thanks to each other. Almost everyone picked up their phone, camera and video to take pictures of this memorable moment. 
Even after the event was over, there are still many parents and children lingering around the Chinese booth. Mr. Peter Wiggins expressed his heartfelt thanks again, gave a high praise to Mrs. Zhang's Chinese teaching at this school, and further expressed that they would provide more supports for Chinese teaching and Chinese culture promotion.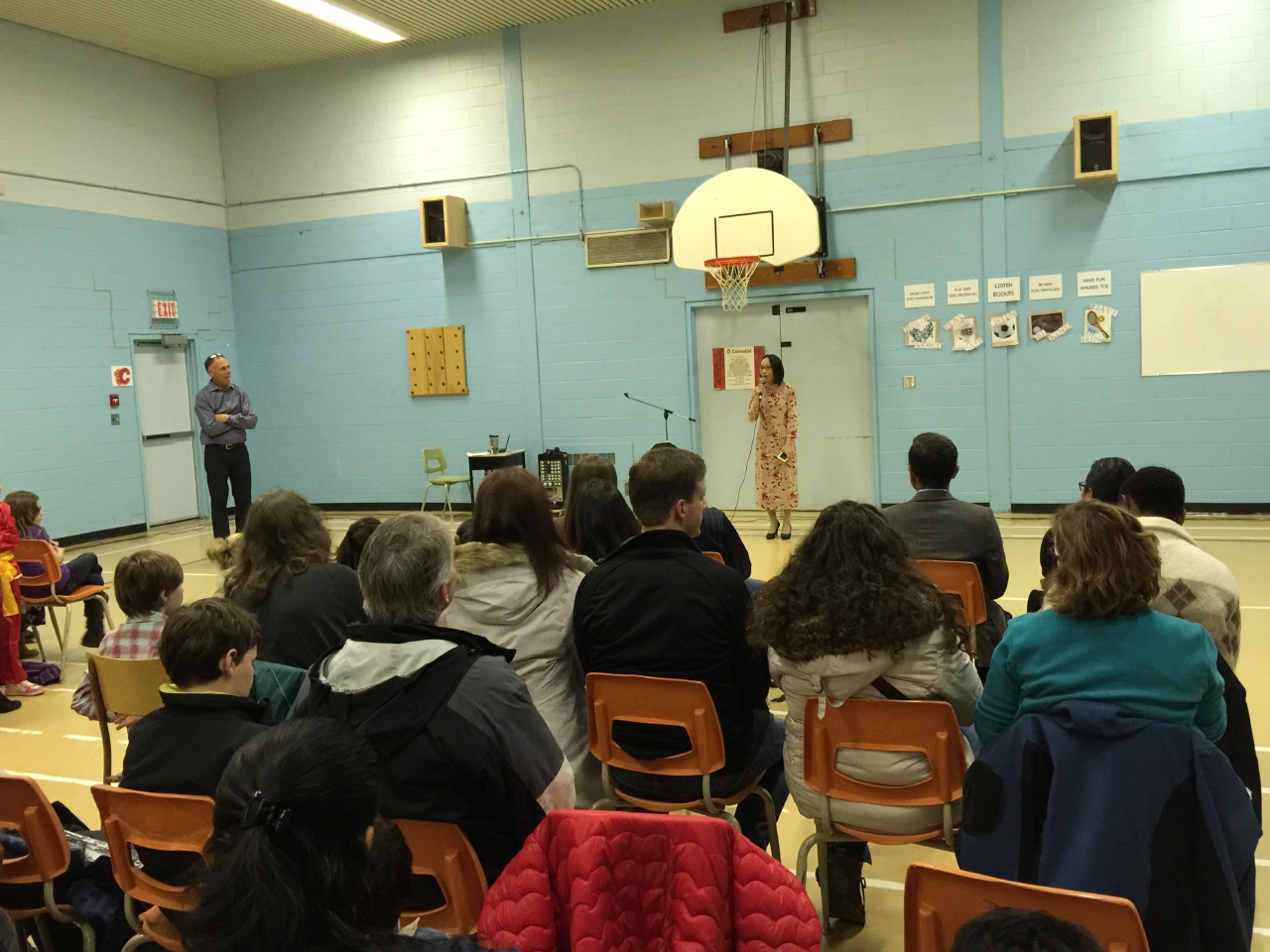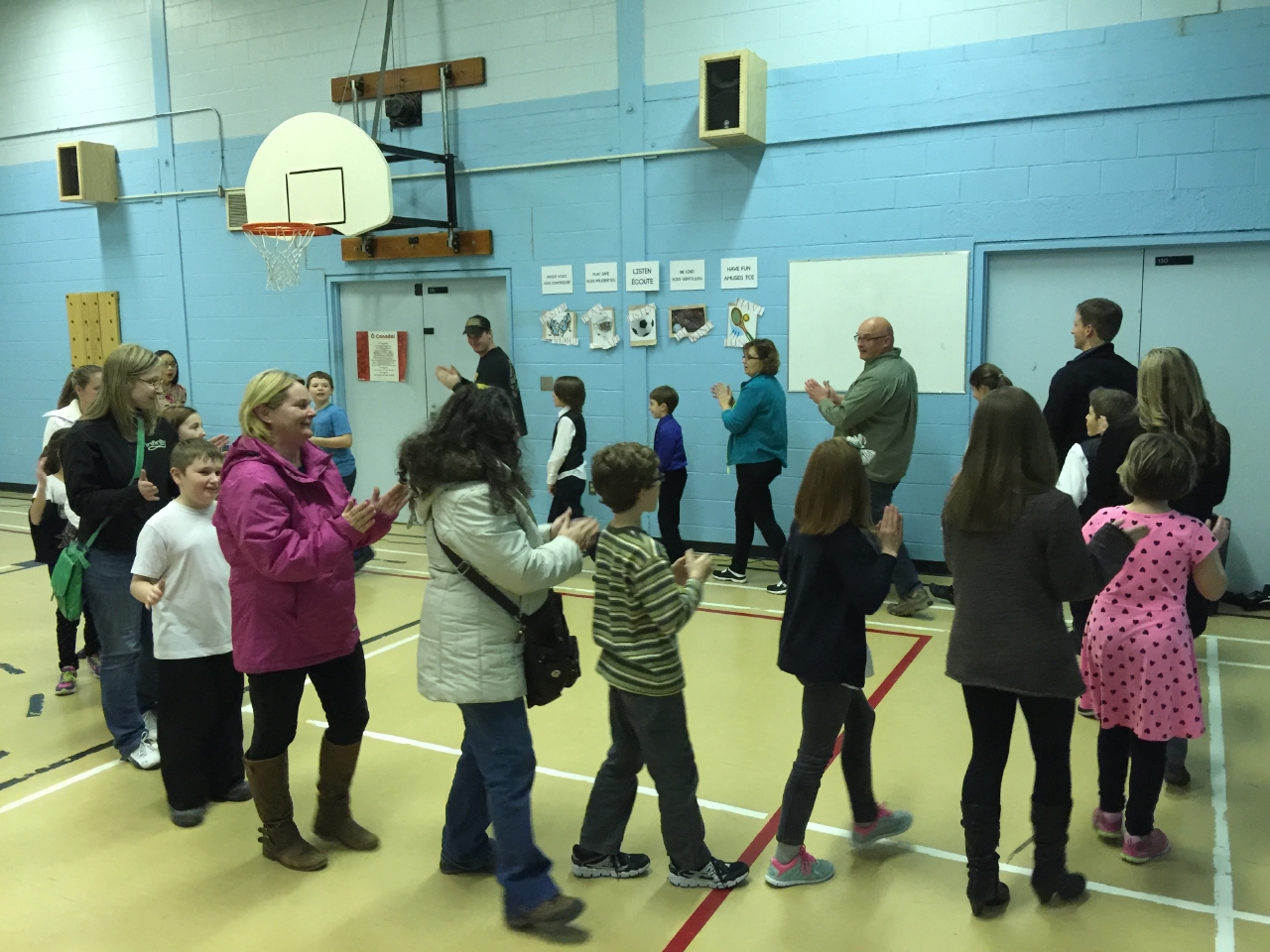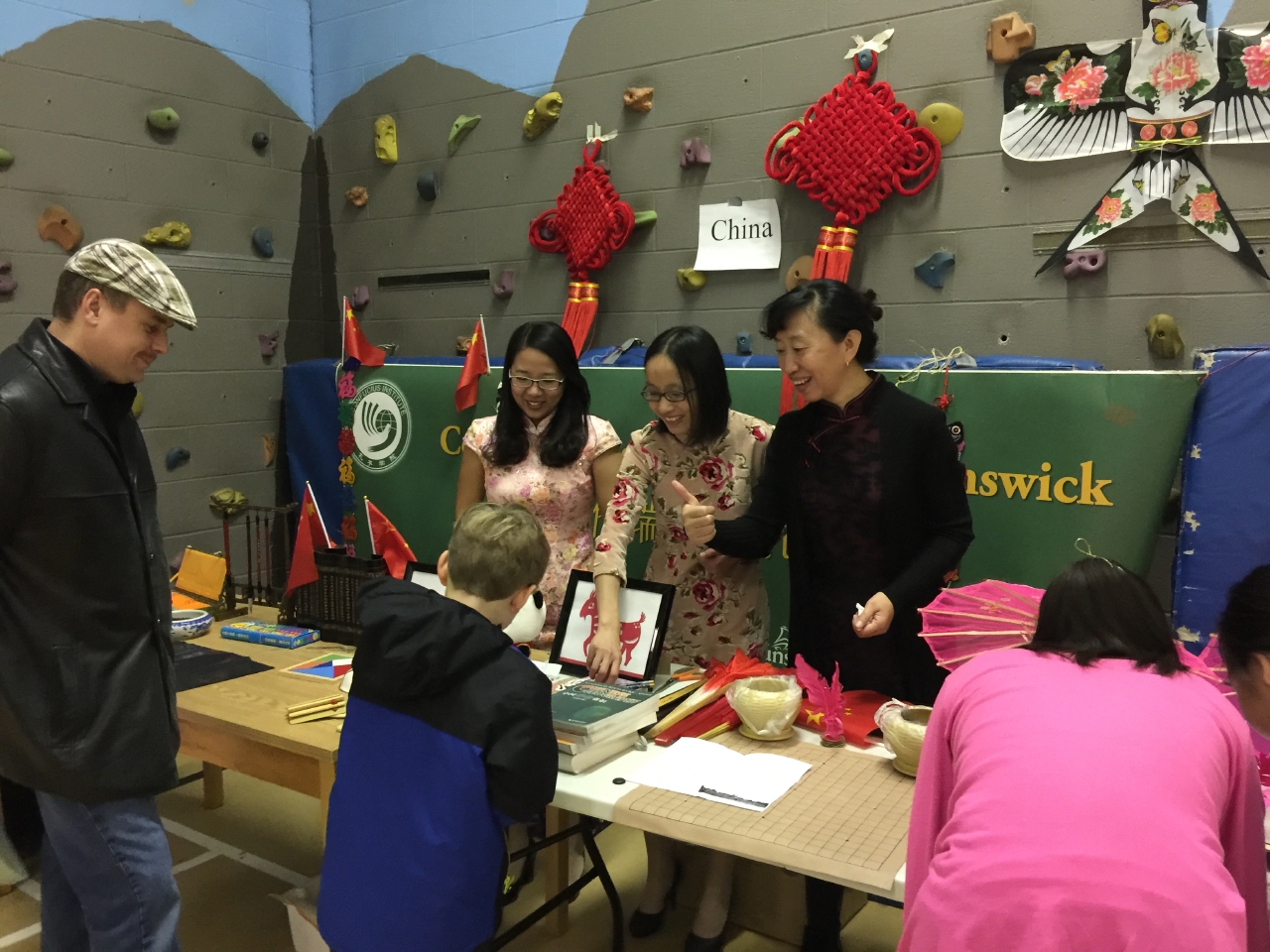 CINB joined Santa Claus Parade in Moncton
On Nov. 27th,2015,CINB joined the Majesta Greater Moncton Santa Claus Parade in Moncton New Brunswick this .And this is the sixth time that CINB joins Santa Claus Parade in this city.
The Majesta Greater Moncton Santa Claus Parade attracted around 100 floats and 100,000 audiences from all over New Brunswick this year. Leading by Mrs. Teng Jing, foreign director of CINB, and Mrs. Li Minhong, Chinese director of CINB, eight teachers and volunteers from CINB, dressed up in 12 Chinese zodiac animals and panda costumes , holding a big banner of CINB and Chinese kongfu fans, walked in the parade along with students from HTHS. Audiences on both sides of the road said hello to the parade of CINB, and kids rushed to the fore to shake hands with Giant Pandas and dragons and hugged volunteers and some kids tried to say hello in Chinese to them. Students from CINB also learned how to use Taichi fan and how to express "Merry Christmas " in Chinese.  
During this event, CINB showed Chinese people's friendliness, kindness and enthusiasm to everyone and left a good impression to all the audience. Local TV station took the whole live video and local medias reported this event. Our float was voted No. One in high school teams by local medias.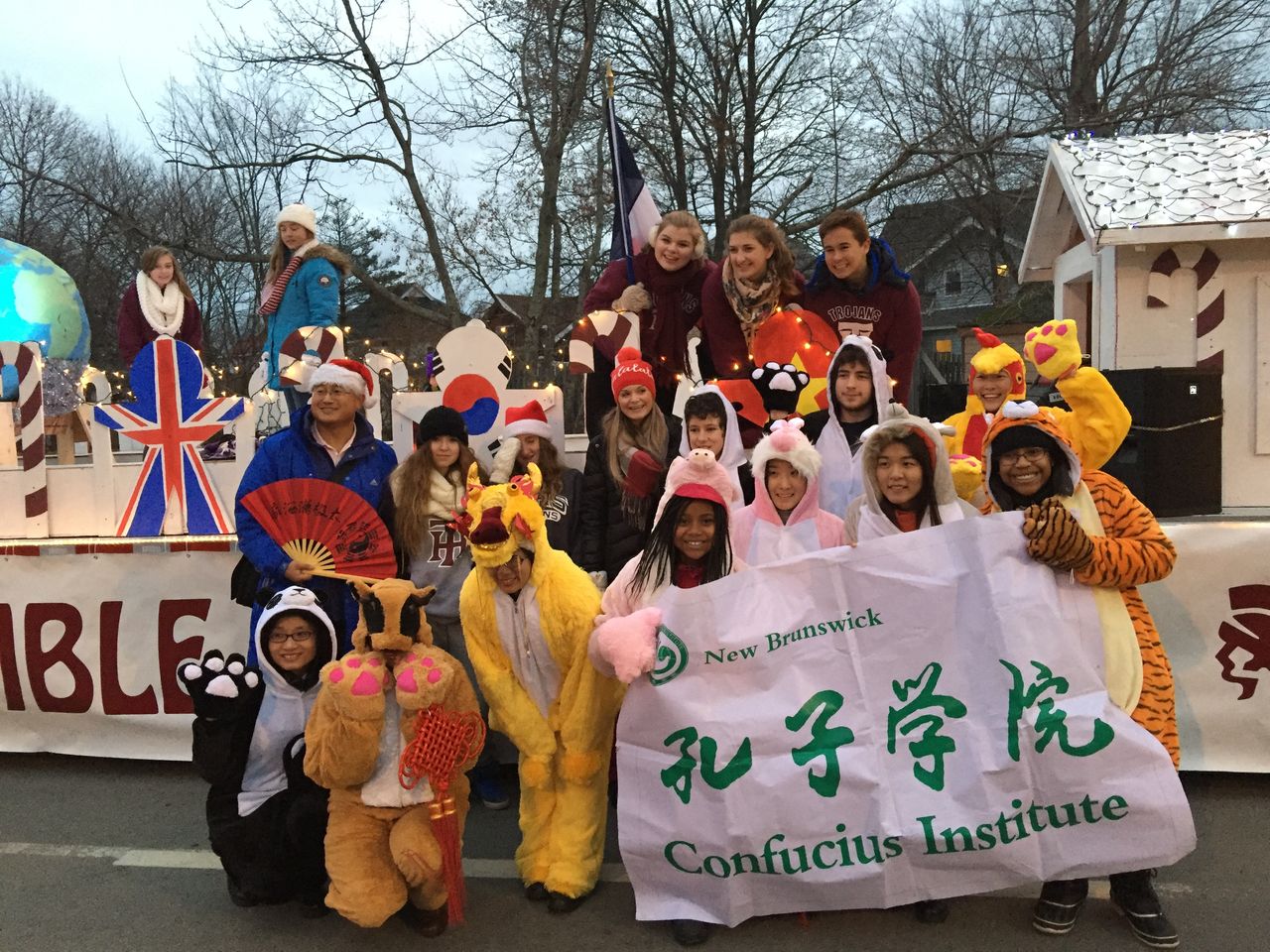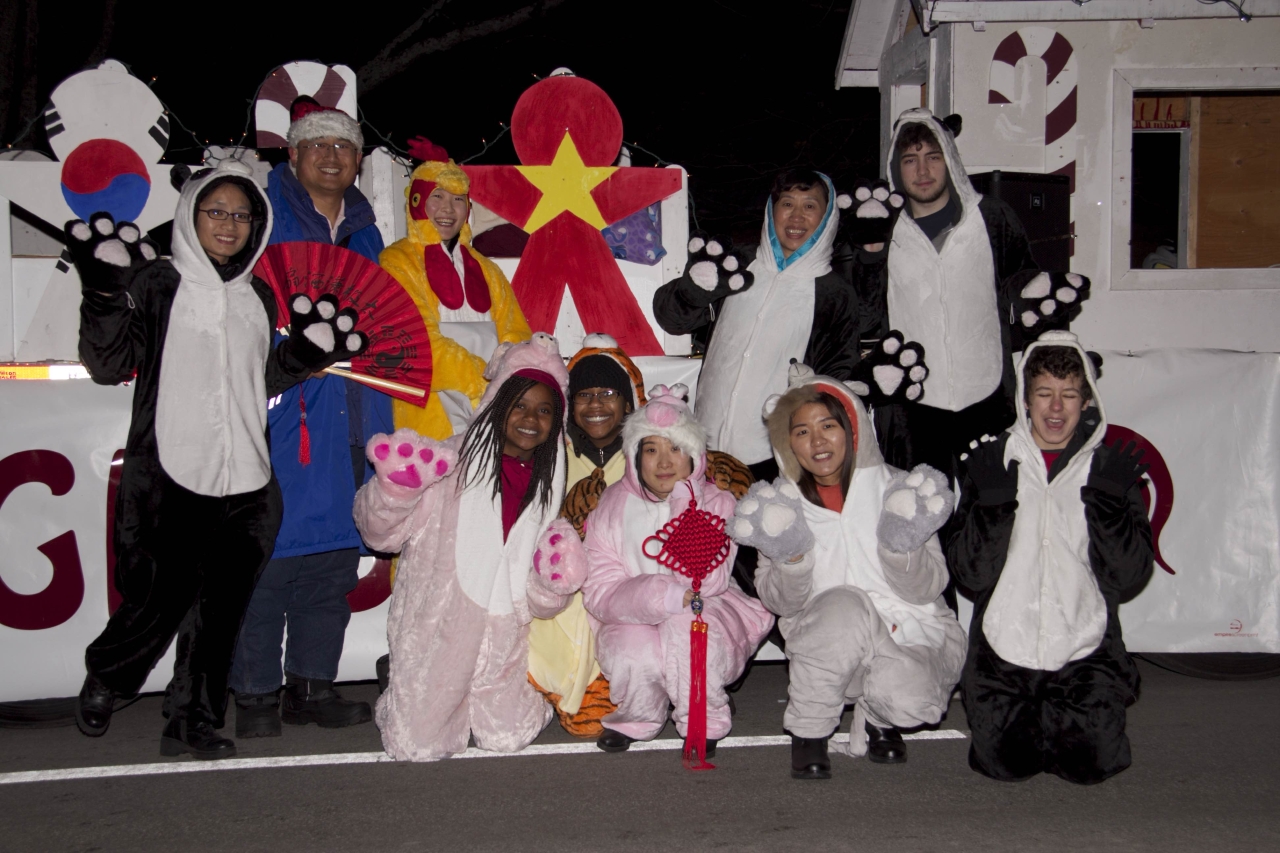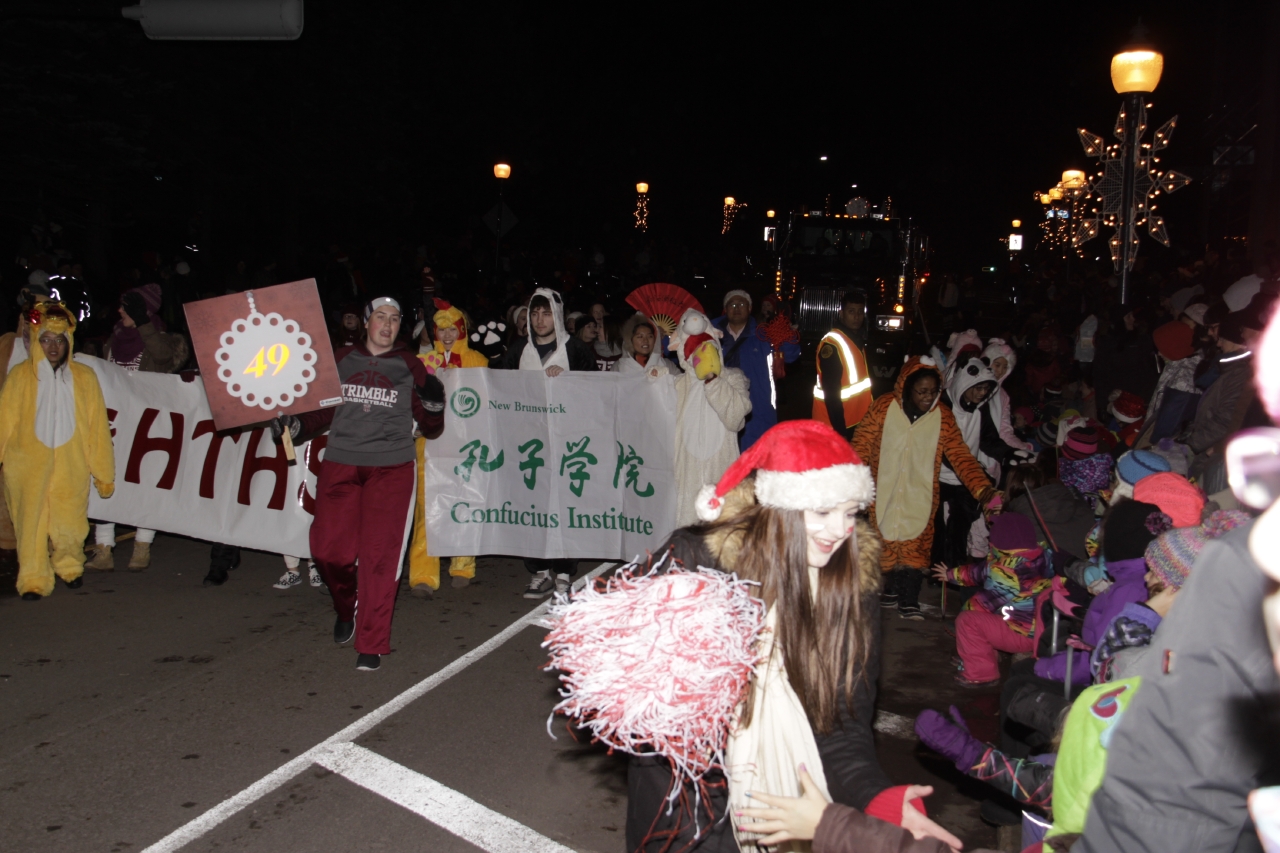 Chinese Martial Arts come into Miramichi,NB
Because of work's needs, I came to Miramichi from Fredericton on August26th ,2015. I live with an old man who is also the neighbor of Harkins Middle School's principal . Landlord,Donald,is a very kindhearted and nice person, he offered me various of convenience in order to make me feel happy to live here. Jennifer who is the principal of Harkins Middle School is a very friendly lady and also an excellent principal. In particular, she has strong China complex ,because her mother-in-law is Chinese people who came to Canada from China,so Jennifer's husband is also half Chinese,and their daughter has a quarter of Chinese descent. With the help of principal, I 'm familiar with the school's colleagues and environment as soon as possible . This city is not very big and has three directs. The house I rent is not very far from school and downtown making my life here very convenient.
Harkins Middle School is a English and French bilingual School, 320 students in total,15 classes. At first , principal asked me to listen PE teacher's lessons to know how they teaching. After listening on round I started to exhibit Chang Quan and Taichi . The kids in middle school's age are usually like foot ball and basket ball and so on. They are very interested in Chinese martial arts,but they can not understand totally what is Chang Quan or Chinese martial art. I order to make they have more chance to know Chinese Cultures, I talked with principal if I can teach every class,but she refused. Because she thought to find some good classes to learn. However, I was thinking I'm here , it's better to make every student has chance to know different cultures. So I intended to teach all students around the school, and we started to try. 
I shared the students with PE teacher, half students with him ,half with me,and switch next time. I felt tired but fulfillment after the whole day's lessons. Karate and taekwondo are popular here,so I combined bisic Chinese kongfu movements that made students are interested in.
Harkins Middle School's schedule is very special ,they use six days course schedule,but actually they have five school days which keeping the sixth day's schedule . There is a good advantage that they can go on the schedule in case of the special situation and make sure to finish all the plans. However ,this brought me difficulties in some degree, because I have to remember where is my class every time. I planed basic training ,Body coordination exercises,short routine exercise and games to make the lesson more interesting,which makes students gain more.
November26th ,2015 is a big day for me. I held the activity calling " Play Taichi Together" around school,and leaded all students to play Taichi in the gym. The director of CINB, Ms. Teng Jing came here and brought the customs for students.
Principal Jennifer gave opening speech and let me give a speech too. I was very excited when I saw all the students wearing CINB's T-shirt and played Taichi With me together. With the music of Taichi  ,we started with Fist-palm salute and greeting with each other in Chinese. I lead students to do Pranayama techniques, Taichi routines. All students felt comfortable and proud. Local journalist also came to interview and reported this activity. We made a very big success ,and all the teachers and students said  CINB made Chinese martial arts to put down roots here. I was very proud when principal said "these kids will still remember this scene after many years ... "