CINB Attended Harvest Celebration in Saint John
On October 3rd,2015 , Jasmine Art group held Harvest Celebration at Rivercross Church saint John.  Ms Jing Teng, the Director of CINB and Ms Minhong Li  leading all teachers attended this activity . Principals from Saint John high schools were also invited to join this party. It is also Mid-autumn festival and Chinese national holiday in China, this celebration is not only giving teachers a holiday greeting,but also offering a great chance to communicate with each other.
新布伦瑞克省孔子学院参加圣约翰市庆丰收晚会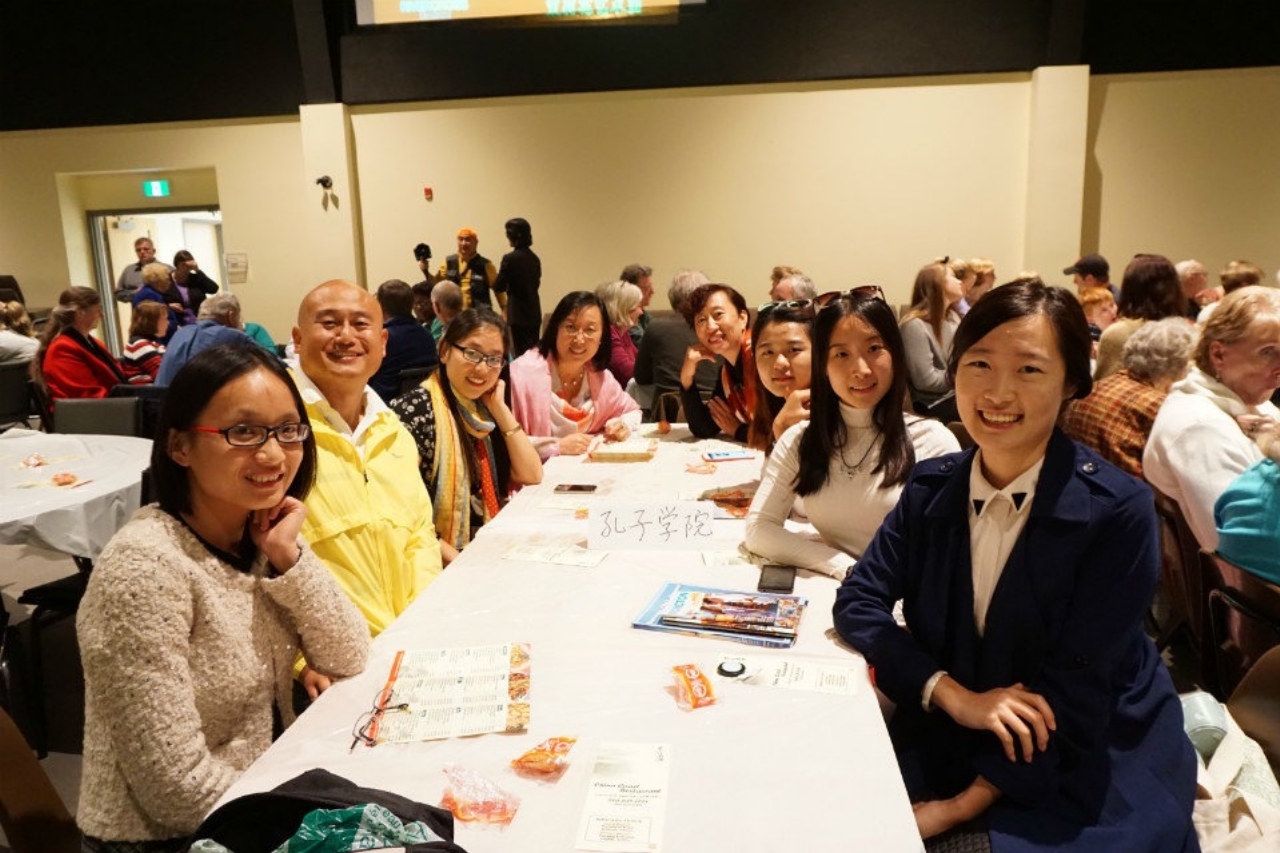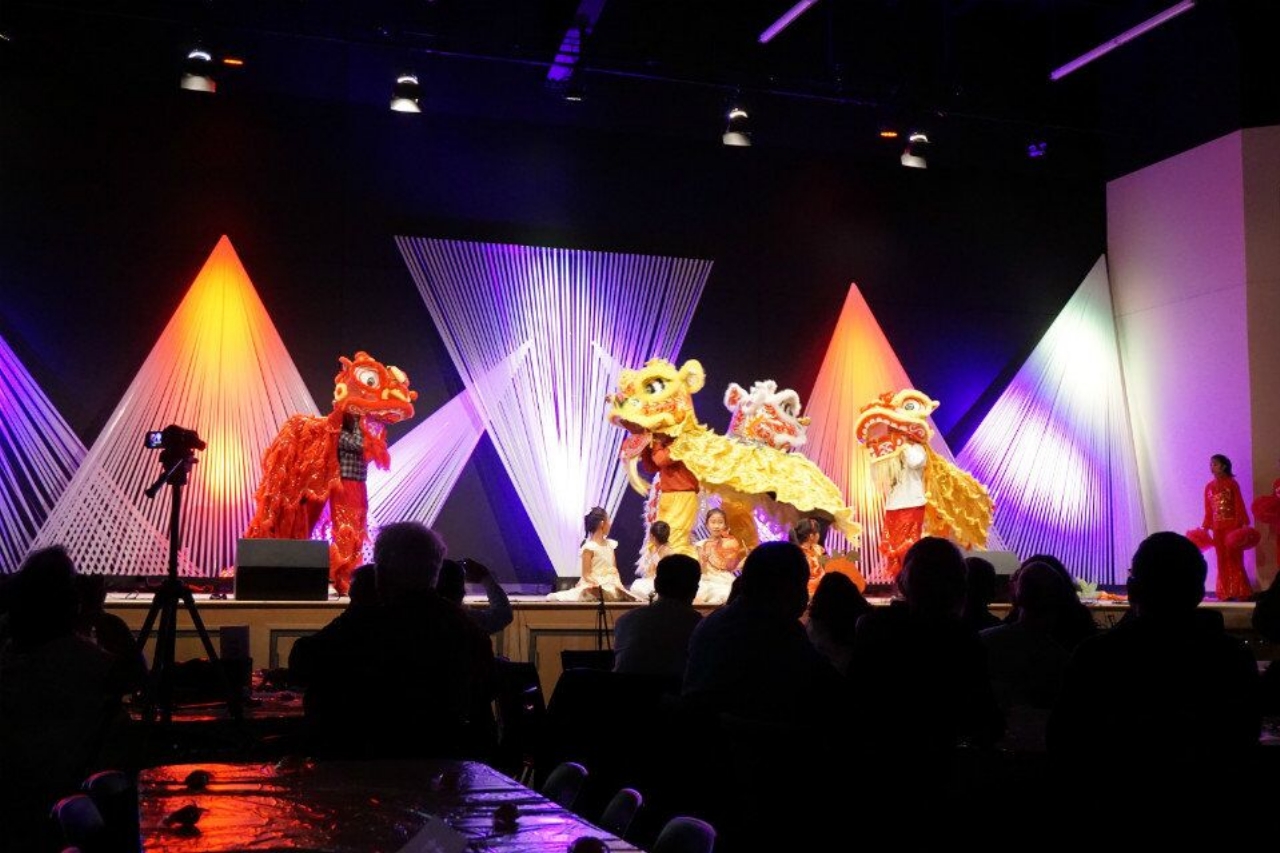 Confucius Institute Day Activities
September 26th is  Confucius Institute Day,  CINB held and joined a series of activities during September and October. After holding two  Performances of Shandong University Art Troupe ,CINB  Joined  Harvest Celebration in Saint John which has more than 300 people joined,this is also a part of Confucius Institute Day activities. Principals of Saint John schools also joined this activity.
孔子学院日活动
      9月26日是全球孔子学院日,进入9月中旬到10月中旬,我省孔子学院开展一系列活动,以扩大孔子学院影响。继组织两场山东大学汉办巡演团的演出后,我们又参加了圣约翰地区庆丰收活动,这是我们孔子学院日活动中的一部分。圣约翰校长等参加,此次活动共有近300人参加。
Goodbye, Miramichi
Written by Zhang Xiaoyu,the language teacher of CINB
On June 18 and 19, 2015, Harkins middle school held a spectacular annual talent show,including the Chinese talent show performed by students from Grade 6 and Grade 8. Their wonderful performance included the Chinese drama "Staying by a stump waiting for more hares to come and dash themselves against it" or "Shou Zhu Dai Tu"; poem recitation and chorus "Ode to Goose"; " Sing Beijing Opera Masks" dance; chorus" Jasmine "; "Jasmine" dance, all of which drew thunderous applause and cheers. Especially, the "Jasmine" dance caused a great excitement with the whole audience dancing together. June 19 is my last school day at Harkins, so it's time to say goodbye to Harkins and Miramichi.
I'm deeply touched by everything HMS and Miramichi has brought to me; I feel happy because of their happiness; I try my best to do everything to express my gratitude, but what they have given to me is far more than what I have expected...
On November 26th, 2014, after a 21-hour journey, I finally reached Miramich,a small city in New Brunswick where I would start my teaching as the Chinese teacher by myself. From the next day until early April, I had gone through the extremely harsh winter in Canada, and as well I had witnessed the Canadian people's perseverance and optimism. And after the harsh winter gave way to a mild spring, I gained plenty of friends who were actually just like my family!
I still recall the first period when I just arrived at Harkins middle school. People here were friendly, nice and warm-hearted, but they only had limited knowledge of China. I realized that as the first Chinese teacher at this school, and as a layman in teaching Chinese as a foreign language, all that I can do was to work hard and communicate with people with my heart. Step by step, little by little, I found more and more positive topics and opinions about China at Harkins. I will always remember February 18, 2015, my first Chinese New Year without my family members. On that day, I made dumplings and watched the Spring Festival gala together with students; on that day, almost everyone in Harkins greeted me: happy New Year! I will always remember June 8, 2015, the first Chinese culture exposition with the whole school involved. We together set up stations in the gym, and together danced bamboo dances. I won't forget the wood sleigh ride with the purple team on March 25, 2015; I won't forget the first trip to Fredericton with the blue team on June 11, 2015; I won't forget every day's rehearsal with the blue team and girls and boys from Grade8; I won't forget students' curious eyes for new knowledge, their excited expressions, their cheerful smiles, and their hard work! Yes, I'll always remember the talent show on June 18, 2015.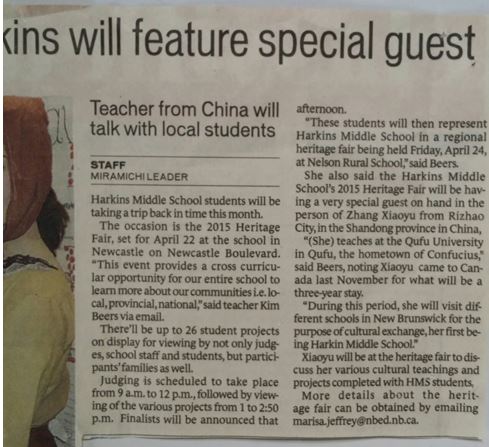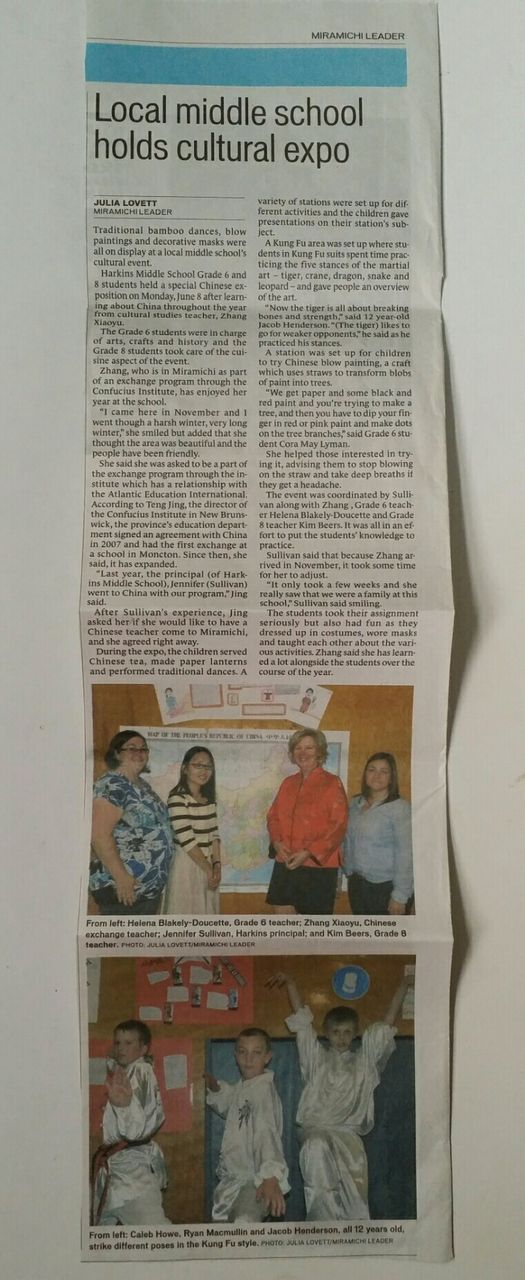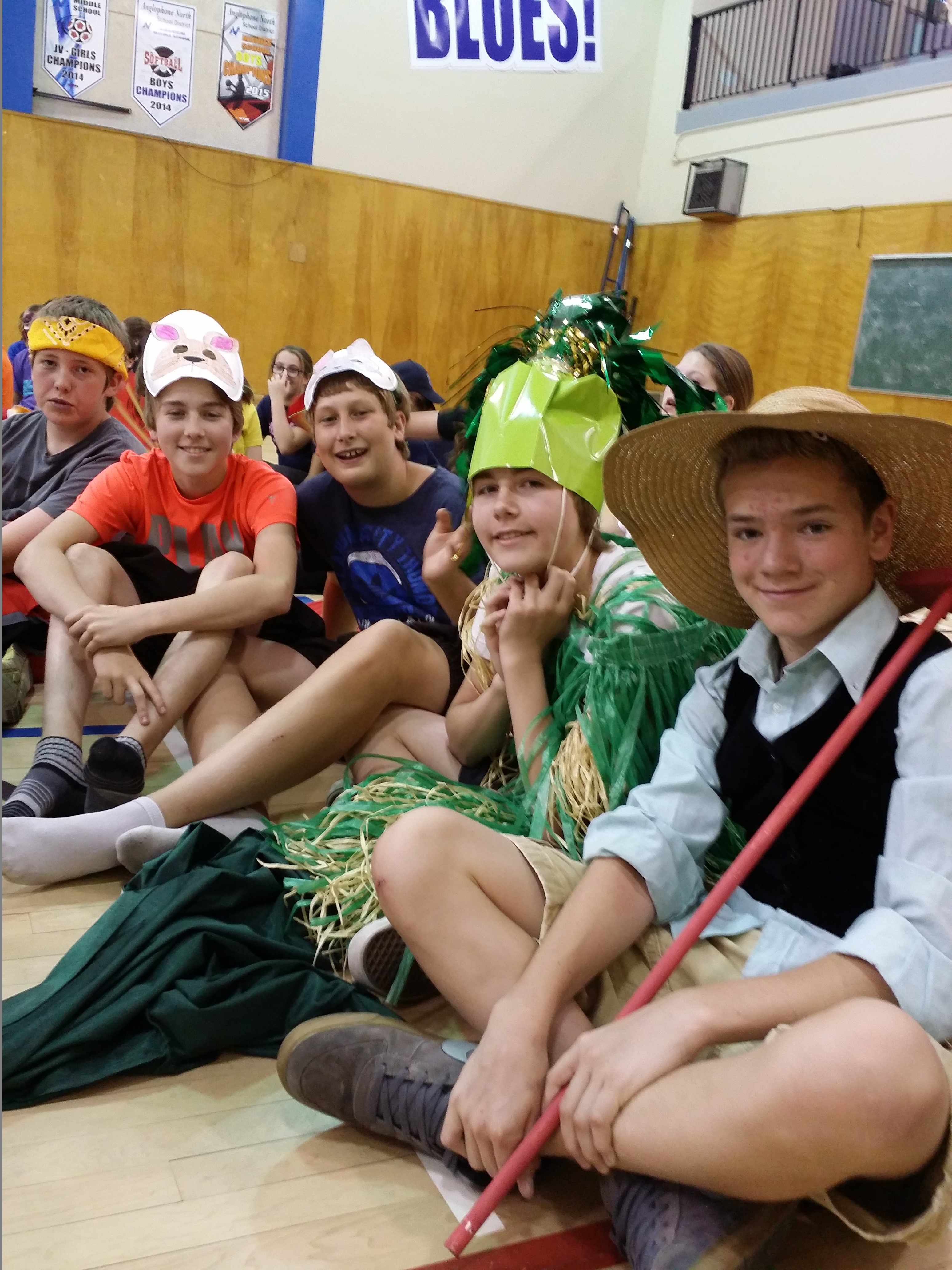 The First Successful Performances of Shandong University Art Troupe in Canada
At 1: 30 a.m., September 17 (Eastern time zone of Canada), after 30 hours' journey, Shandong University Art Troupe finally arrived in Moncton, the largest city of New Brunswick. After a short rest, the members of the art troupe presented a wonderful sound and vision of oriental charm to 600 audiences of Moncton, energetically, professionally and artistically. The city councilwoman Ms. Ginette, "Piano Prince of Canada" Roger Rod and people in all walks of life attended the concert, and gave high praises to the diverse and skilled performances brought by the art troupe.
 After the first successful performance, the art troupe hurried off to Fredericton, capital city of New Brunswick, and presented their second performance in Park Street Elementary School, one of the best ones in Fredericton. Deputy Mayor of Fredericton, Anglophone School District West Superintendent, Anglophone School District West Educational Supervisors, representatives from AEI (Atlantic Education International), and directors of CINB (Confucius Institute of New Brunswick) attended this event and addressed remarks.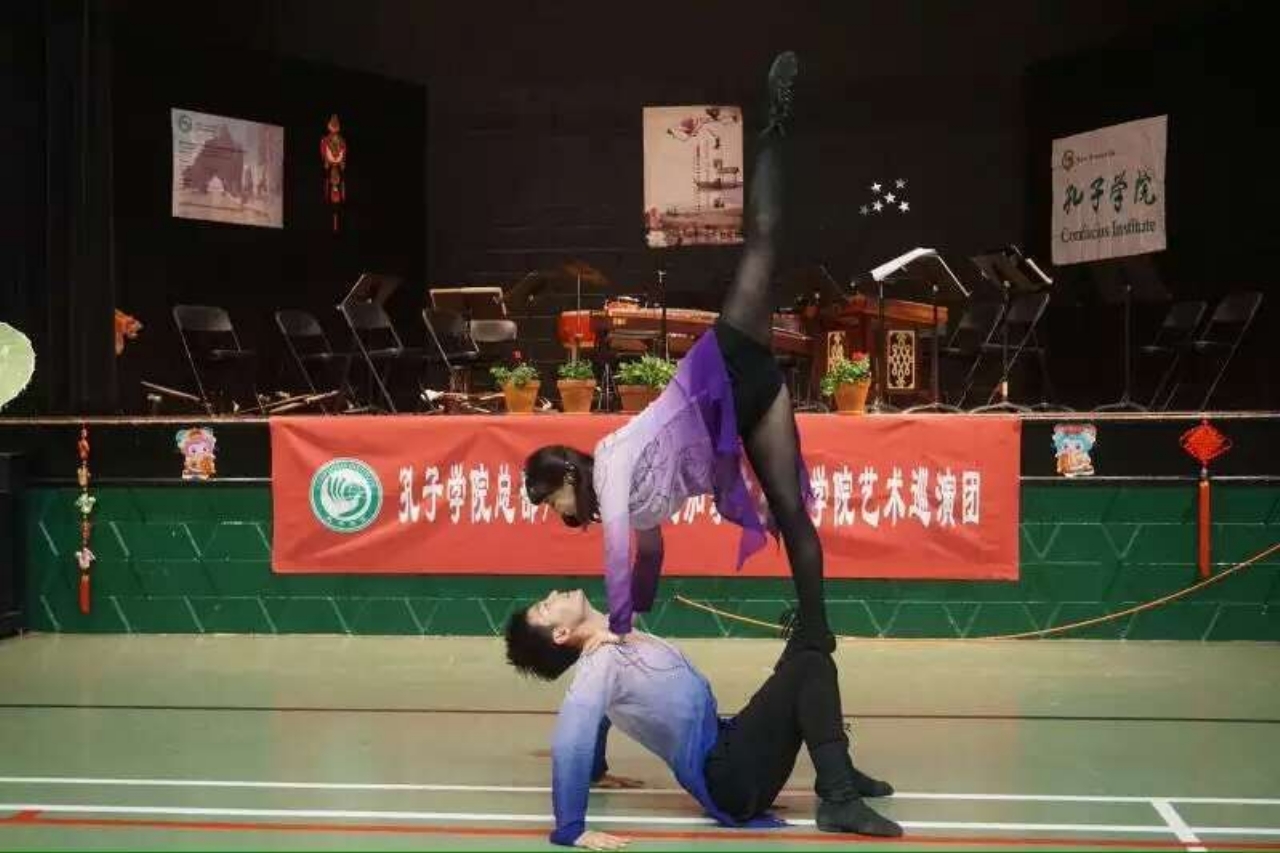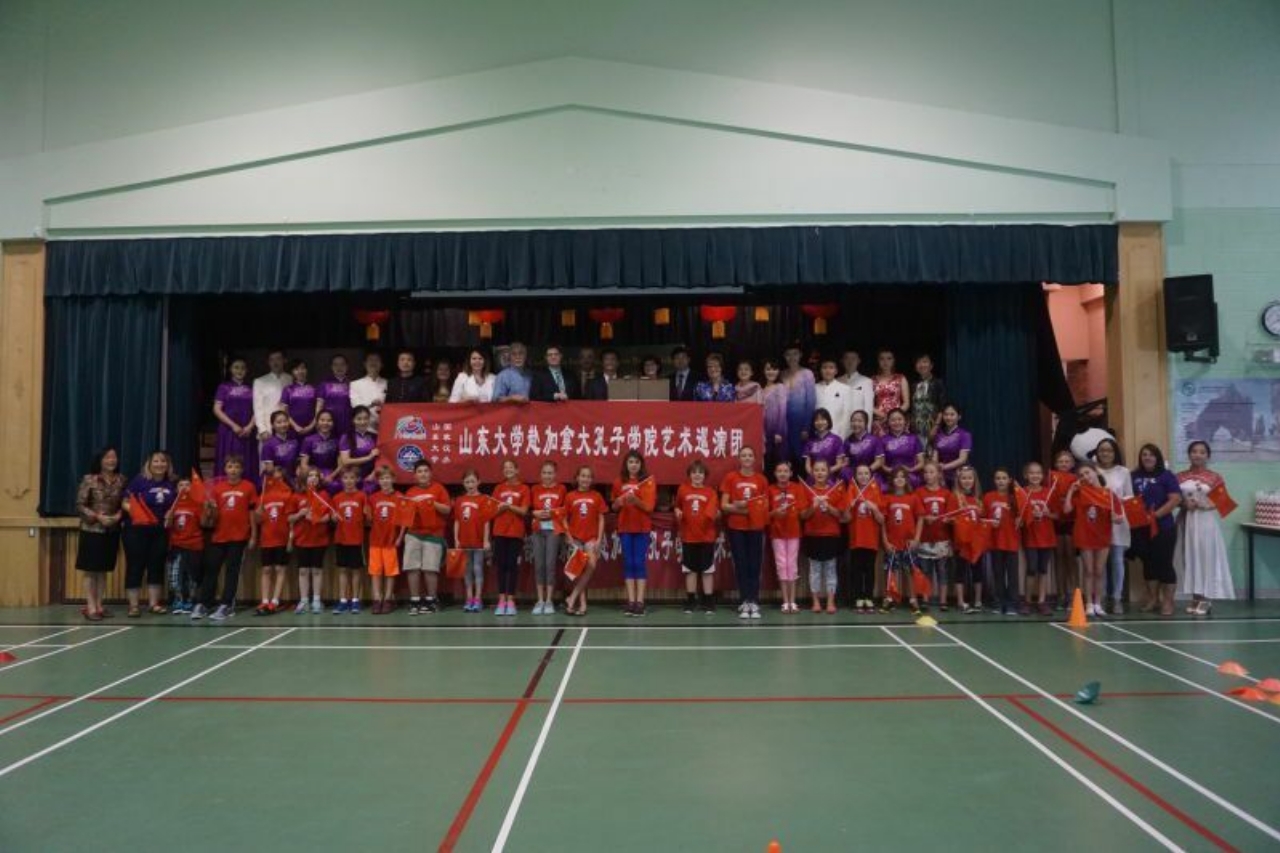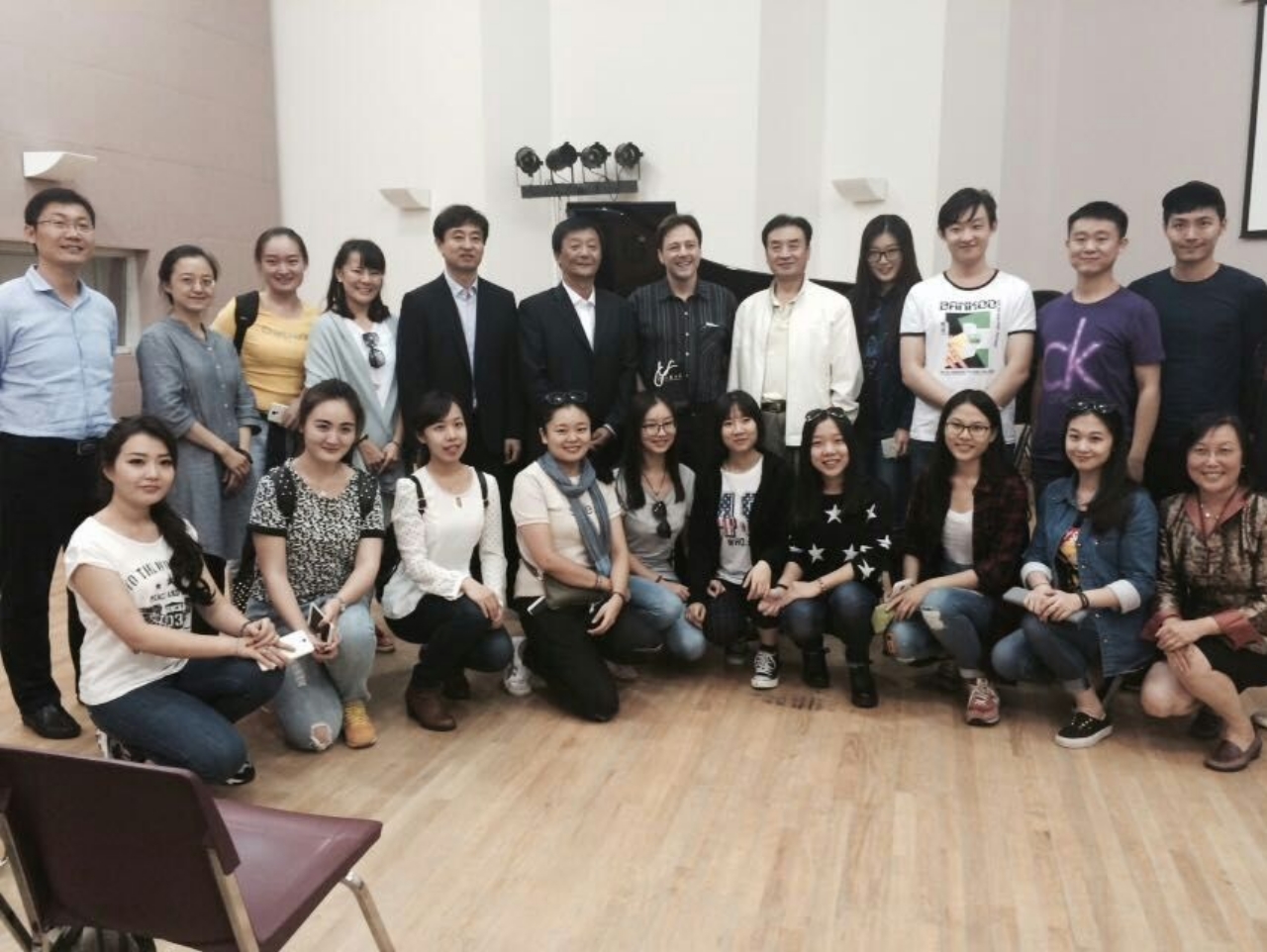 After the successful completion of the task, all members of the art troupe were invited to the music department of Moncton University, going into their classroom, observing their vocal music teaching, and interacting with pianist Roger Rod. The latter played "The party" and "Pinghu Qiuyue" for the art troupe who were deeply impressed. Mr. Rogers further expressed his hope for an opportunity to cooperate with Shandong University Art Troupe.
Dragon Boat Festival Celebrated in WRES 
Dragon Boat Festival, also known as Duanwu Festival or Duanyang Festival, together with Chinese Lunar New Year and Mid-autumn Festival, are considered as three most important festivals for Chinese descendents. Three of the most widespread activities for Duanwu Festival are eating (and preparing) zongzi, hanging Aicao and racing dragon boats. On June 16th, a special dragon boat race was held in WRES, all the Grade 4 and Grade 5 students participated in the Race. 
Prior to the race, 4-A class led all the students singing two songs in Chinese, showing their remarkable achievement in Chinese learning. Mrs. Teng Jing, director of CINB, was very impressed by the students' singing. The students showed great passion and teamwork in the race. After the race, Miss Cheng, the volunteer Chinese teacher, led all the students and staff to do the dragon boat dance along with the music.
The whole program was students-centered and highly-interactive, which enabled the students to experience Chinese festivals and customs by themselves and to become more open-minded toward diversities.