Love for China,Love for Music
——Canadian Pianist 
From October 12 to 20, 2016, Mr. Roger Lord, who hailed as "The piano Prince of Canada", respectively went to Beijing, Qufu, Jinan, and Xiamen hold four wonderful performances with the accompany of Foreign Director of Confucius Institute of New Brunswick (CINB), Mrs. Jing Teng, and they have achieved complete success on this meaningful trip.
 Mr. Roger Lord is the professor of piano at the Moncton University now. Before he learned music in Canada and France, and received the Doctorate of McGill. Hailed as "The piano Prince of Canada" by the China Daily, some of his performance took place in world renowned venues such as Great Hall of the People located on Tiananmen Square and the Zhongshan Park Concert Hall in Beijing. 
 He has a particular interested in Chinese Culture and music and has released a CD named "Chinese Treasures" recording of Chinese piano music in 2012 with the help of CINB and China national radio studio. Mr. Roger Lord has been to many places in China, he enjoys his trip and love China very much. As the Chinese learner of CINB, he hopes that there are more and more people can listen to his music and his playing Chinese music as well. To promote China-Canada friendship is what he wants to do. 
1. First Show in Canadian International School of Beijing
 On the October 12, 2016, Mr. Roger Lord came to the Canadian International School of Beijing for celebrating the 10th anniversary of the school. Even the premier of Canadian province of New Brunswick, Mr. Brain Grant who was on his friendly visiting in China specially came here to celebrate with them. They met each other and got warmly talking. He expressed his sincere thanks to Confucius Institute to bring great Chinese Programs and promoted the development of culture diversity. And thanks to Mr. Roger Lord for what his doing to pass China-Canada friendship. In the Evening of concert, Mr. Brain Grant, the school leader and all the student with their family watched the pianist show and enjoyed it a lot.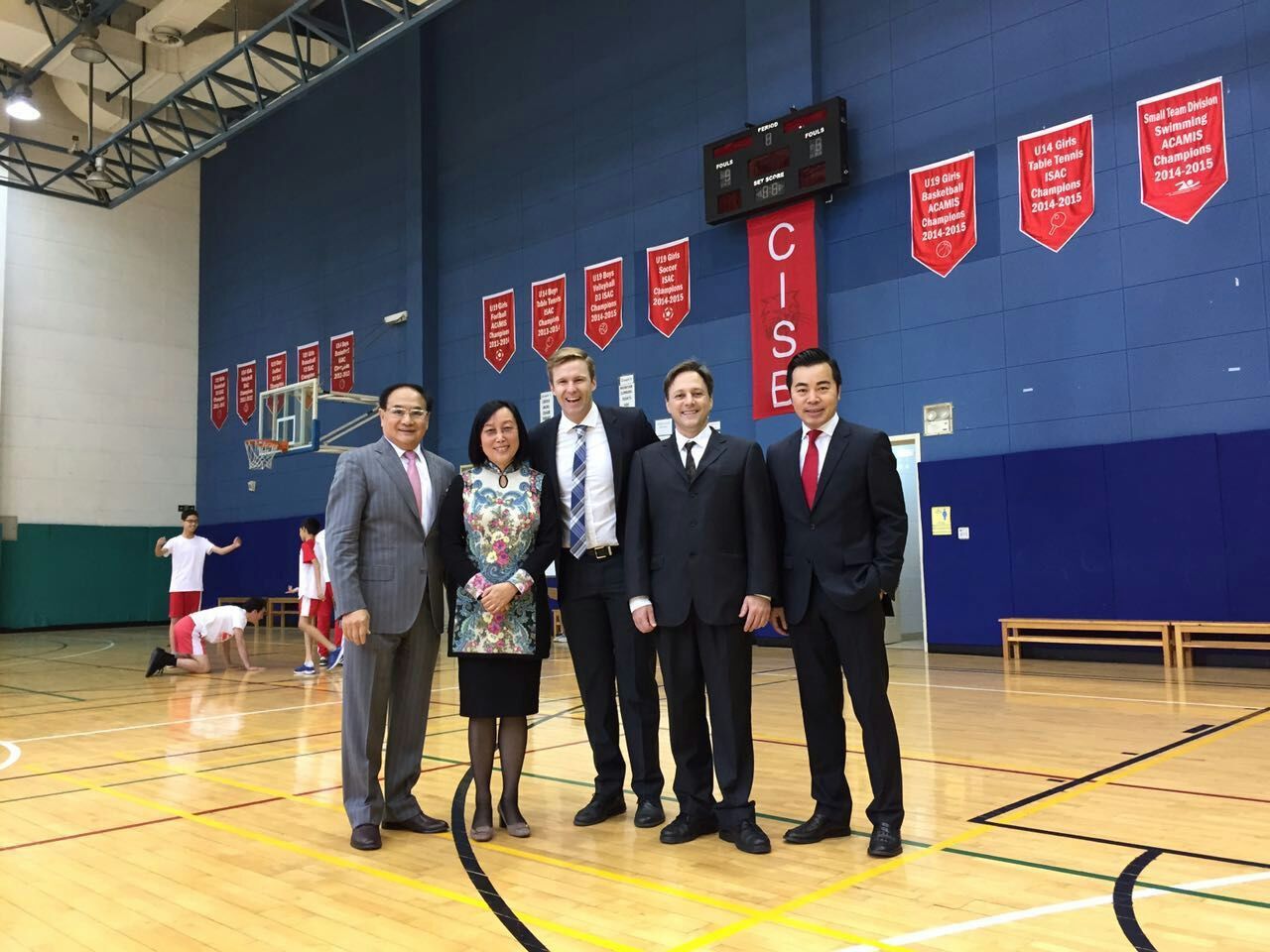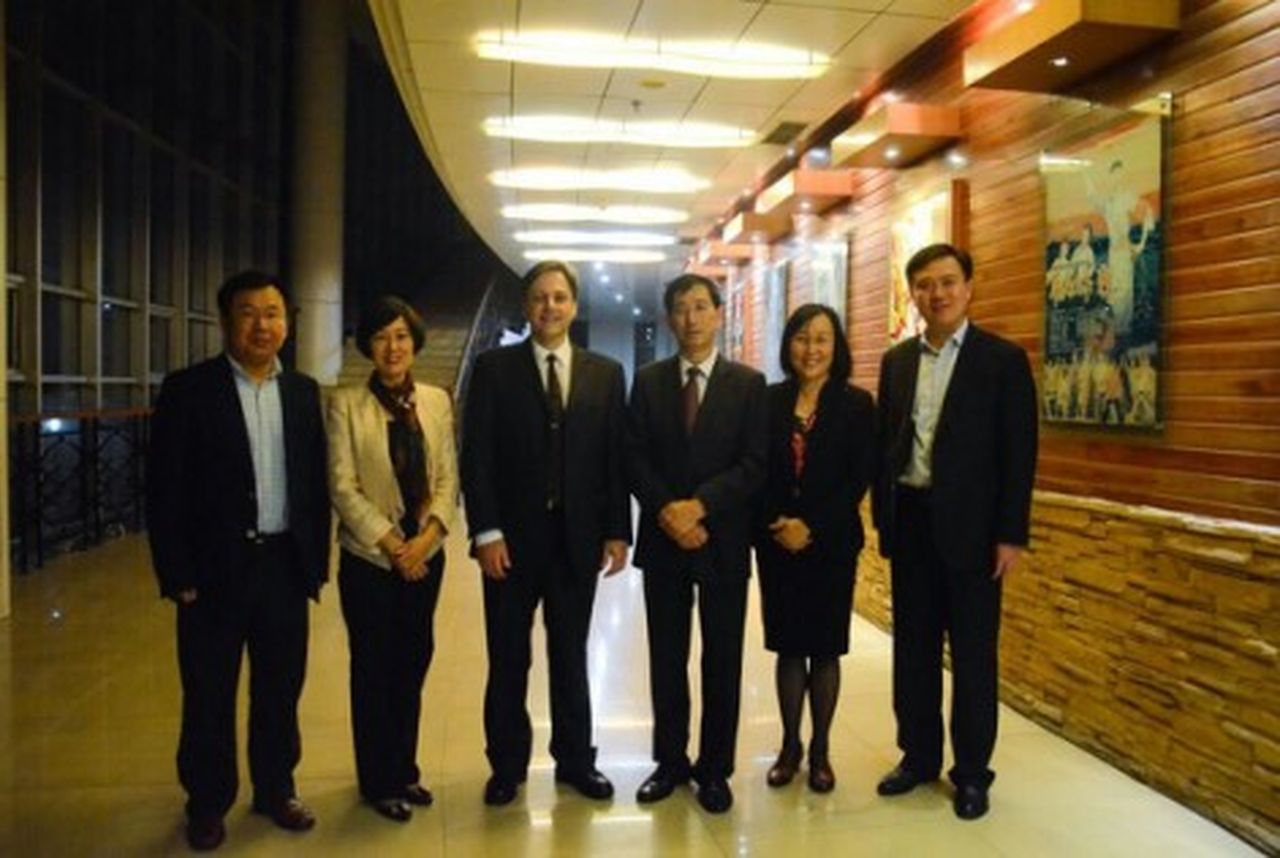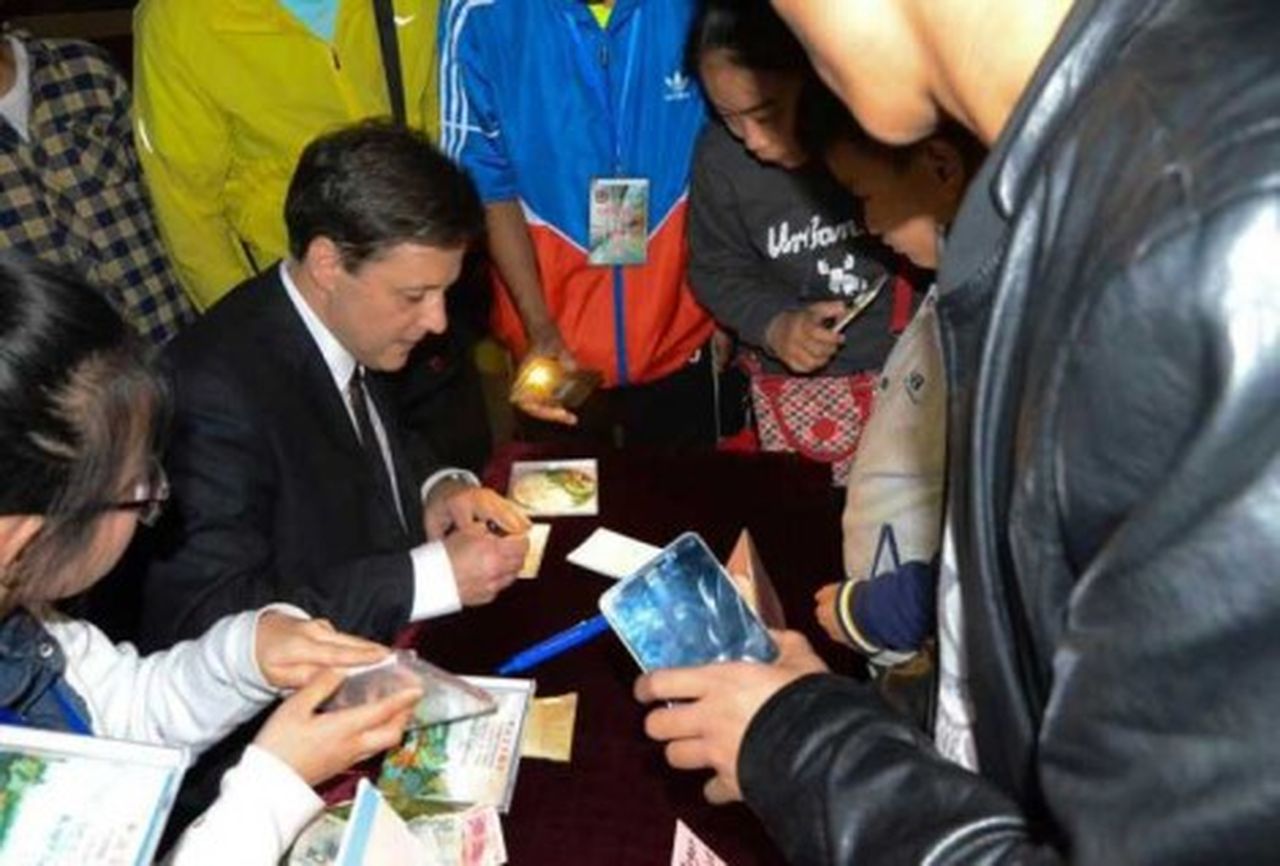 Delegation from the Province of New Brunswick Visited Hanban
On the morning of July 8th, 2016 delegation from New Brunswick, Canada, visited Hanban(Confucius Institute Headquarters).The delegation is led by Mr. John·McLaughlin, Deputy Minister of Education and Early Childhood Development for New Brunswick and joined by Mr.Shawn Gragram, former Premier of New Brunswick, Mr. Terry Currie, Superintendent of Off-shore Schools, Dr. Francis Pang, board member of CINB.
Mr. Xia Jianhui, Vice Director of Hanban, Ms. Ren Shifang, Division Chief of American and Oceania Affairs of Hanban, and Mr. Qu Songming, Supervisor of American and Oceania Affairs of Hanban warmly welcomed the delegation and listened to Ms Teng Jing‵s working report. Mr. Xia Jianhui spoke highly of the achievement of CINB in the past ten years and appreciated the support from the education department of New Brunswick. Mr. Xia Jianhui also talked about the establishment and development of the Confucius Institutes all around Canada, and granted financial support for the Tri-lingual School in the Province of New Brunswick. Moreover, he discussed the differences and similarities between Canadian and Chinese educational system and the potential cooperation opportunities for the two countries. Dr. Francis Pang pointed out that there was still much space for Sino-Canadian collaboration in terms of cultural exchange and education, and he proposed to put Confucius Institute pictures into the Sino-Canadian collaboration memorial album. The two sides also agreed on setting up the core-teacher position for CINB.
This was the first visit of from the education department of New Brunswick since the two sides renewed the contract. We believe that with the strong support from all areas, CINB has a bright future.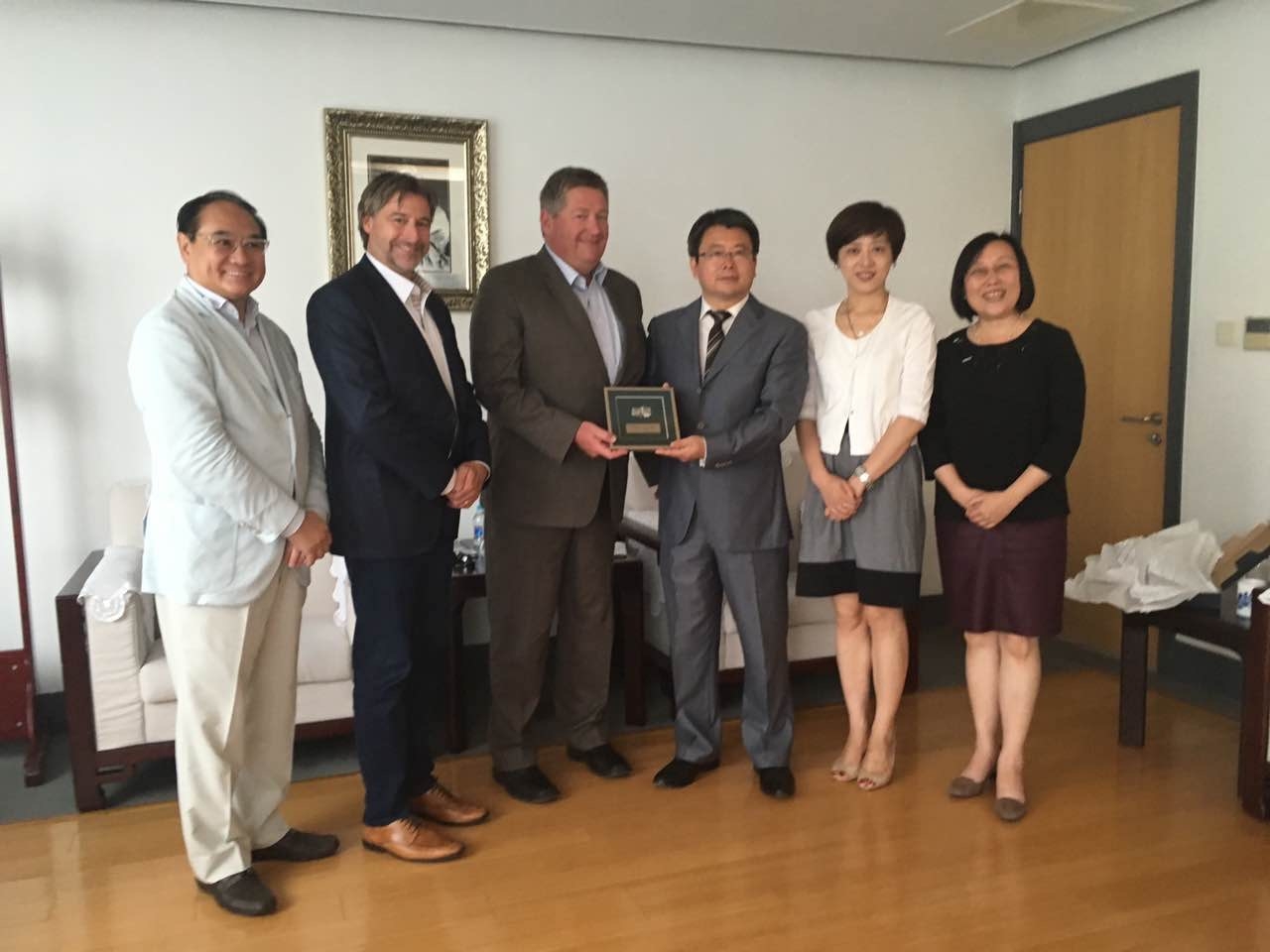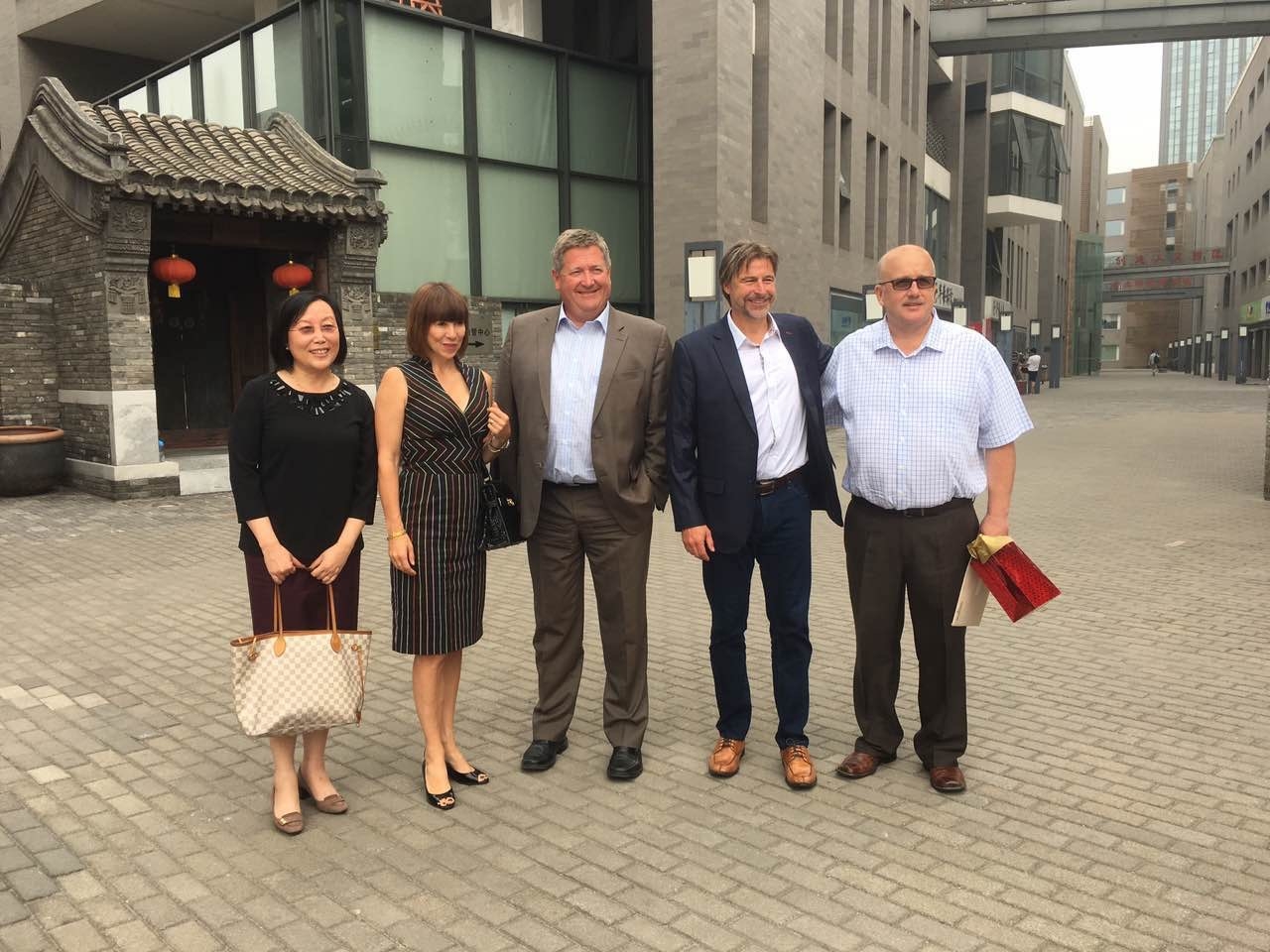 High School Chinese Credit Course Graduate Ceremony in Saint John
Confucius Institute in New Brunswick held graduate ceremony for students who took Chinese language and culture credit course with Saint John high school on June 15. This ceremony is for students of 2015-2016 school year
Ceremony started with a short video,which recorded students performance during Chinese class and Chinese culture activities. Then the foreign director of CINB, Ms. Tengjing, and Vice Principal, Ms. Murren Diamond gave speeches to congratulate students who get the certificates and expressed thankfulness to Miss. Jie Jiang, who have taught at SJHS for three years. At the same time, they issued certificates to every student. The ceremony is finished with a farewell party.
CINB offers Mandarin credit course to high schools in New Brunswick,which makes Chinese language lessons getting into NB educational system.Chinese teacher have taught this course in Saint John city for three years that making this course is popular at high schools and is welcomed by  students.After three years hard working, the number of students who learning this course is rising and at the same time, there were 9 students got the scholarship and joined China Trip during march break.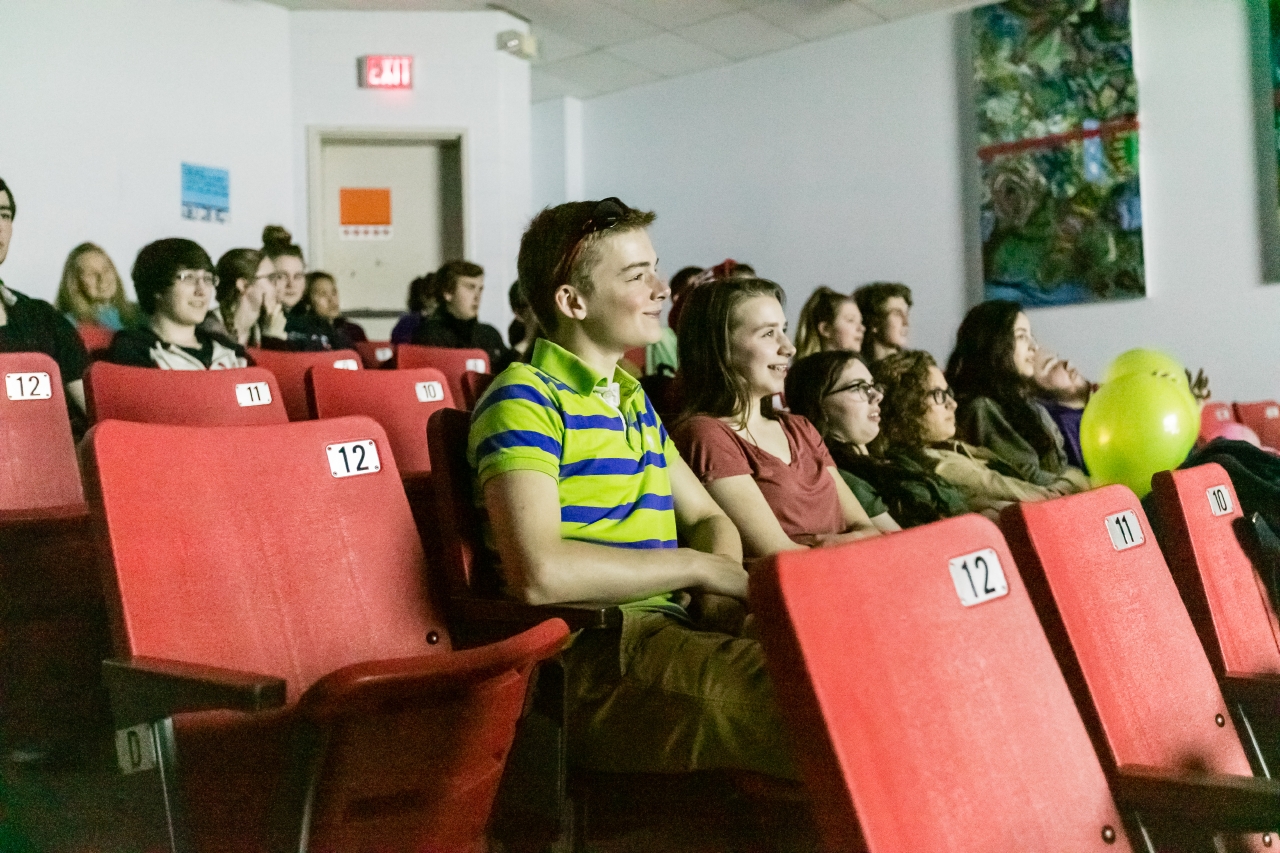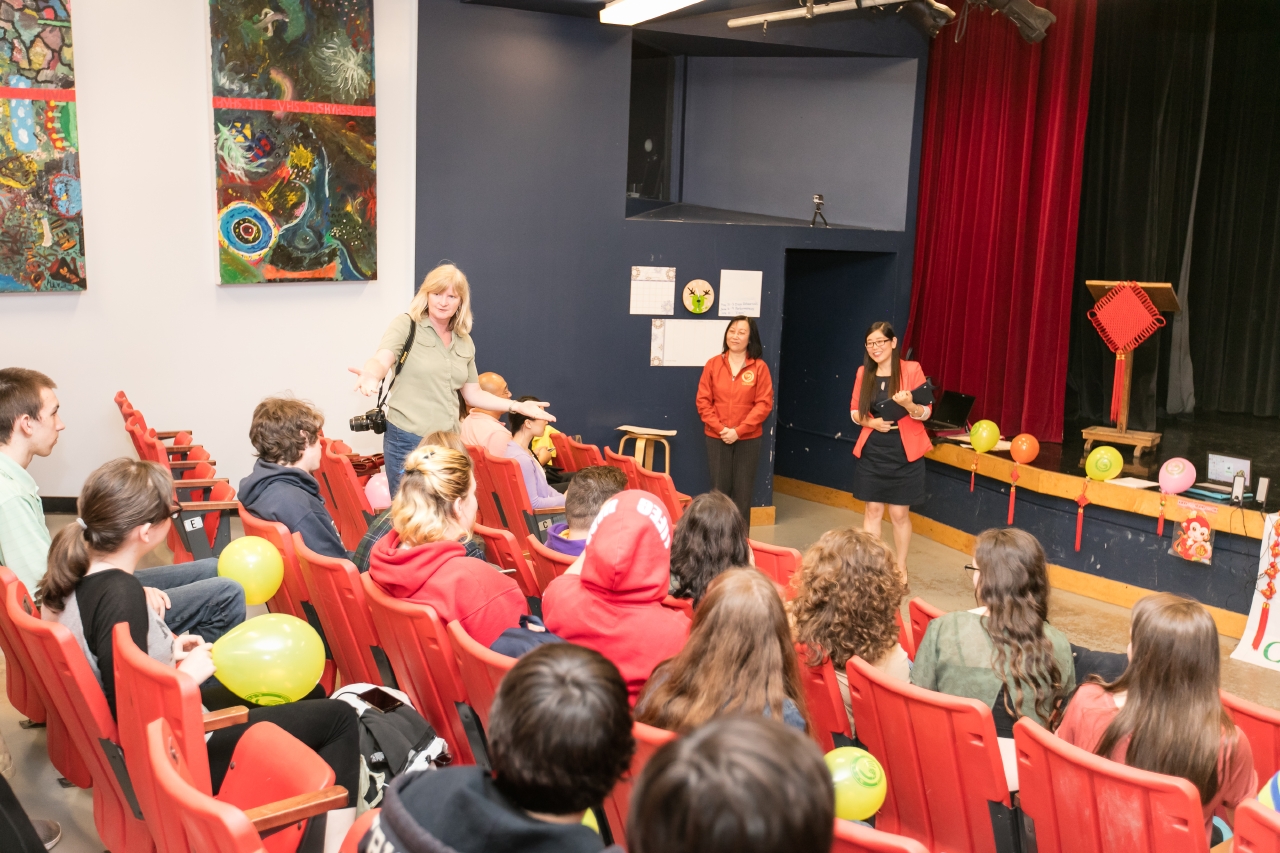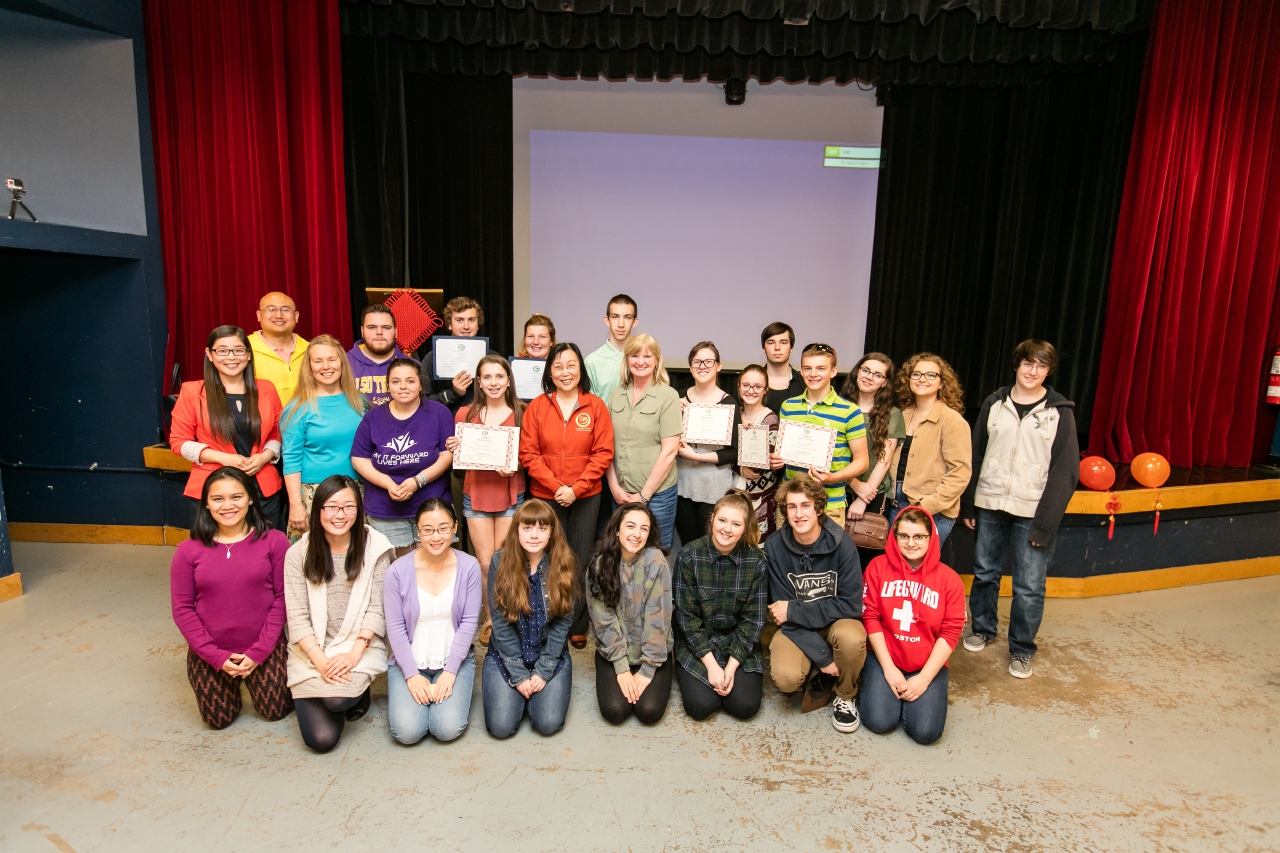 Chinese Photographers Team Visit Park Street School
Written by Cao Xi
On June 17, 2016, a Chinese photographers team who is taking photos for "Focus on Canada" book came to visit Park Street School.
This photographers team is made up of 8 professional Chinese photo journalists including Mr. Wenlan Wang, the vice chairman of Chinese Photographers Association and Mr. Hailong Xie, a famous photographer in China. Led by Mr. Zhixiong Zhang, one of directors of Beijing Concord College of Sino-Canada, the 8 photographers are trying to capture some shots and video of NB, celebrating the Chinese-Canadian connections. This effort is part of a "Focus on Canada" book that will be put together for the Chinese President to give to the Canadian Prime Minister during his planned visit to Asia this fall. As a model school of Confucius Institute in New Brunswick, Park Street School got this great opportunity to be highlighted in this event since it will be the first Trilingual School teaching with English, French and Chinese from this September.
The photographers team arrived Park Street School at noon, accompanied by the vice president of AEI and Executive Director of CINB, Ms. Dawn Weatherbie. Ms. Jing Teng, the Foreign Director of CINB, Mr. Chris Treadwell, the Principal of Park Street School with the volunteer Chinese Teacher Cao Xi gave them a warm reception. Meanwhile, more than 20 students in Park Street School wearing Chinese costumes expressed their hearty welcome for the special Chinese guests with saying "Hello" and "We love China" in Chinese.
In nearly an hour of shooting, the 8 photographers recorded this vibrant and full of Chinese elements school with their camera, and also recorded every beautiful smiling face of the students.
Through this event, we believe both Chinese photographers and Canadian Students, will become builders of bridge of friendship between China and Canada, also will make the "Focus on Canada" book more absorbing.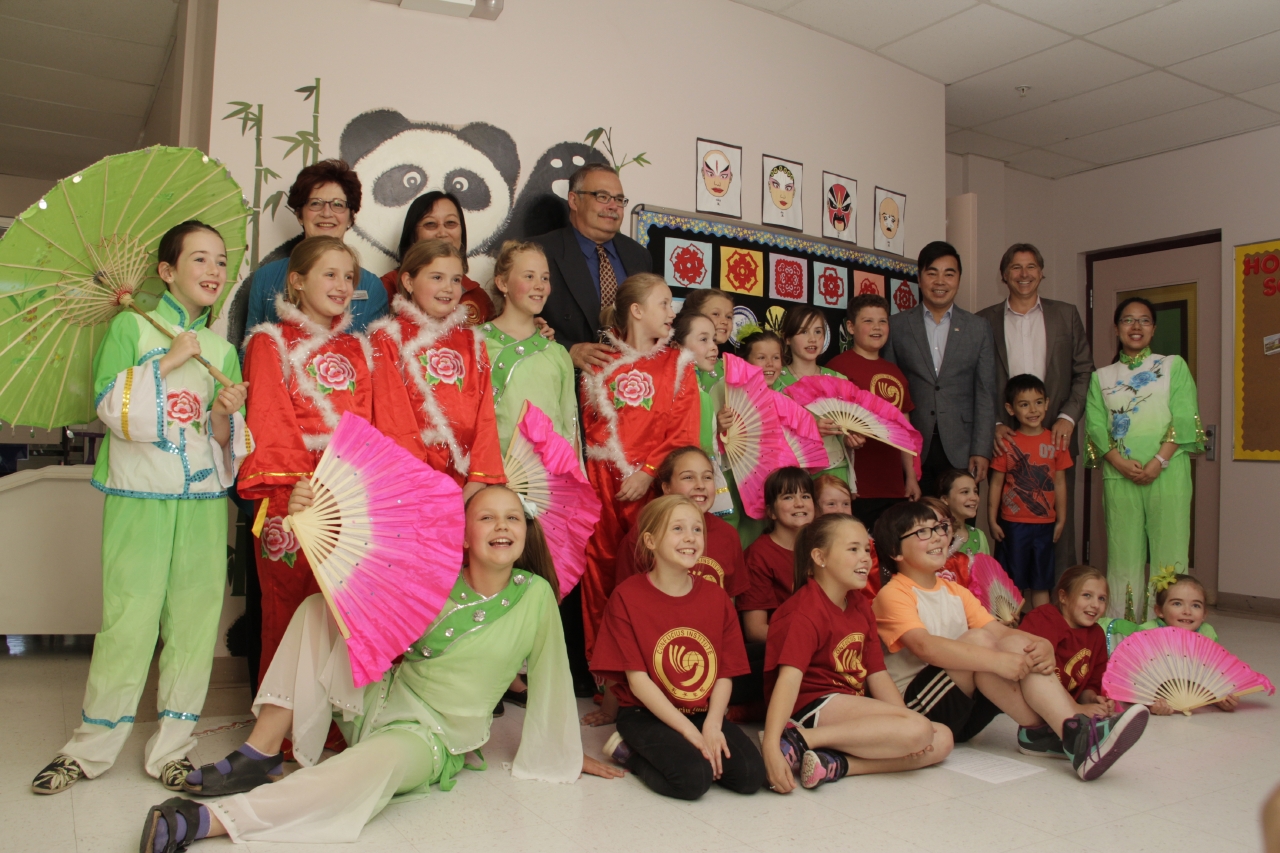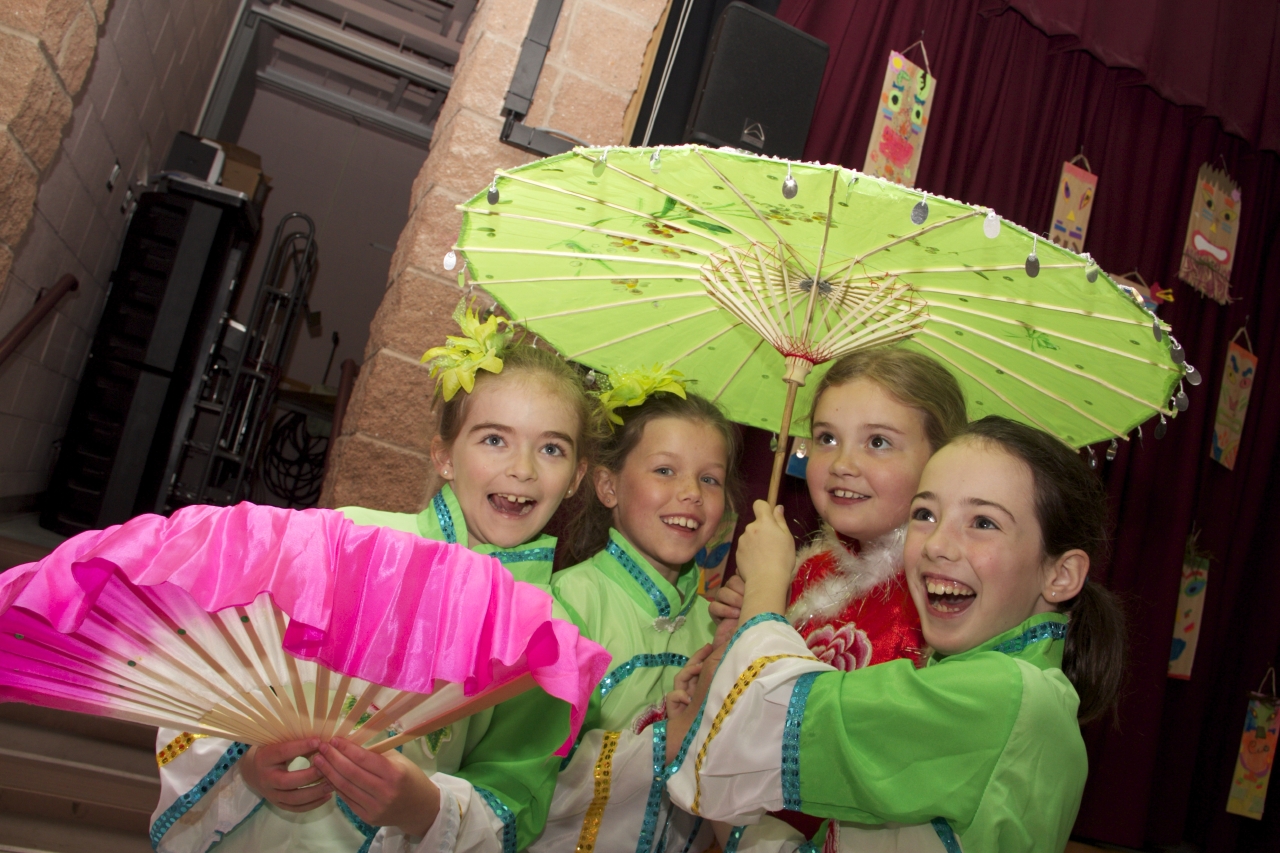 The Closing Ceremony of Chinese Enrichment Project at Bliss Carman Middle School
--- Shaanxi Shadow Play Put Extraordinary Splendors at Local School
(written by Zhang Xiaoyu)
An old saying of Chinese shadow play goes like this: on the three feet stage, narratives go on through ages; with a light and both hands, millions of soldiers were commanded. Manipulated by some Canadian students, the ancient oriental art---Shaanxi shadow play is a new vogue at Bliss Carman Middle School (BCMS).
Since last September, after saying goodbye to Harkins Middle School in Miramichi, I've been working at Bliss Carman middle school, a key school in Fredericton, the capital city of New Brunswick. As the first Chinese language teacher at this school, I initiate the first Chinese enrichment project in order to attract more students and teachers to accept and understand Chinese culture. This project got strong supports from the city bureau of education and all the teachers and students, being part of school's regular curricula, with the best students picked up from different classes and different grades. It provides an absolutely new train of thought for the wide spread promotion of Chinese language and culture.
June 14, 2016, the Closing Ceremony of Chinese Enrichment Project was held at BCMS. First, students in groups took turns to present their research results of the Chinese culture and language. They were divided into seven topics: the evolution of Chinese characters; the history and development of Chinese Garments; Chinese dragon; Chinese cuisine; Chinese knot; Introduction of the Great Wall; Peking Opera. Through exquisite slides, all the students made a wonderful presentation, which gave all of us a chance to review what we have done in this unforgettable experience. 
Then, comes the most important event---Shadow Puppet Show in individual classes. This shadow puppet show script was adapted from one of the classic stories of Journey to the West, Monkey King Subdues the White-bone Demon. All the eleven students were assigned their own tasks: two narrators, two responsible for the screen, one responsible for the lighting, and the others playing the roles of Tang monk, Sun Wukong, Zhu Bajie, Sha monk, the white-bone demon and her three fake forms (young girl, old lady, old man) respectively. The whole audience was deeply impressed by this fantastic combination of traditional Chinese folk art and English-dialect background voice. All the teachers and students were fascinated with this ancient art treasure, asking questions about it again and again, repeatedly acclaiming "fantastic!" "unbelievable!" "incredible!"