Hundreds of Pupils Dancing Up in The "Chinese Culture Day"
In the afternoon on June 14, 2016, all seats have been occupied in the gym of Assiniboine Avenue Elementary School, in Oromocto. There were more than 200 people--- the official from Bureau of Education, primary school students, parents, teachers, as well as Director Jing Teng, Vice-director Minhong Li, CINB teacher Jie Jiang, Fazhou Fei, Nannan Li and so on, gathering together to enjoy the first "Chinese culture day" held by CINB in this city.
The very important guest Mrs. Jacqueline·Firlotte is from Bureau of Education. First, principal of Assiniboine Avenue Elementary School, Mrs. Beth·Ryder made a speech. She fully affirmed the value of Confucius Institute teachers' work at school, sharing the wonderful Chinese culture with the children, as well letting the children experience China for the first time. Through the learning of more than ten weeks, our kids have been fully curious about Chinese culture, such as Chinese songs, dance, handcraft, Chinese characters, chopsticks, panda and the landscape and so on. Finally, the principal expressed deep gratitude to the two Chinese teachers Minhong Li and Nannan Li by presenting cards and flowers. Meanwhile, all the audiences broke into warm applause. Mrs. Firlotte also made a warm speech. She fully affirmed the idea of Assiniboine Avenue Elementary School and their efforts of bringing multi-culture into the campus, as well as the contribution of CINB to spreading the multi-culture, and she wished a complete success of our "Chinese Culture Day". 
This activity was characterized with a large group of participants, young kids performers, and parents mostly from the biggest military base Gagetown. There were more than 100 students from 6 classes of grade 1 and grade 2 being involved. Their average age is only five or six years old. But they danced so well, and got so big applause with enthusiastic cheers by performing Chinese handkerchief dance, ribbon dance, fan dance, umbrella dance, lantern dance, and aerobics in perfect position. It's hard to imagine young kids could let the handkerchief rapidly rotate, play fans skillfully, let umbrella dance, let lanterns fly up and down and wave ribbon like dancing snake and flying dragon. The parents showed the pride on their face, all of them were moved by such outstanding performances of their own kids, and felt honored for the children to have a chance to learn in a multi-cultural atmosphere. When Chinese songs "jasmine", "wish you prosperity", "blooming peach blossom", "dancing tonight", "spring dawn" sounded in the gym, all the audiences moved with music rhythm and followed the kids' dance to shake up. The gym was completely intoxicated in the atmosphere of Chinese culture.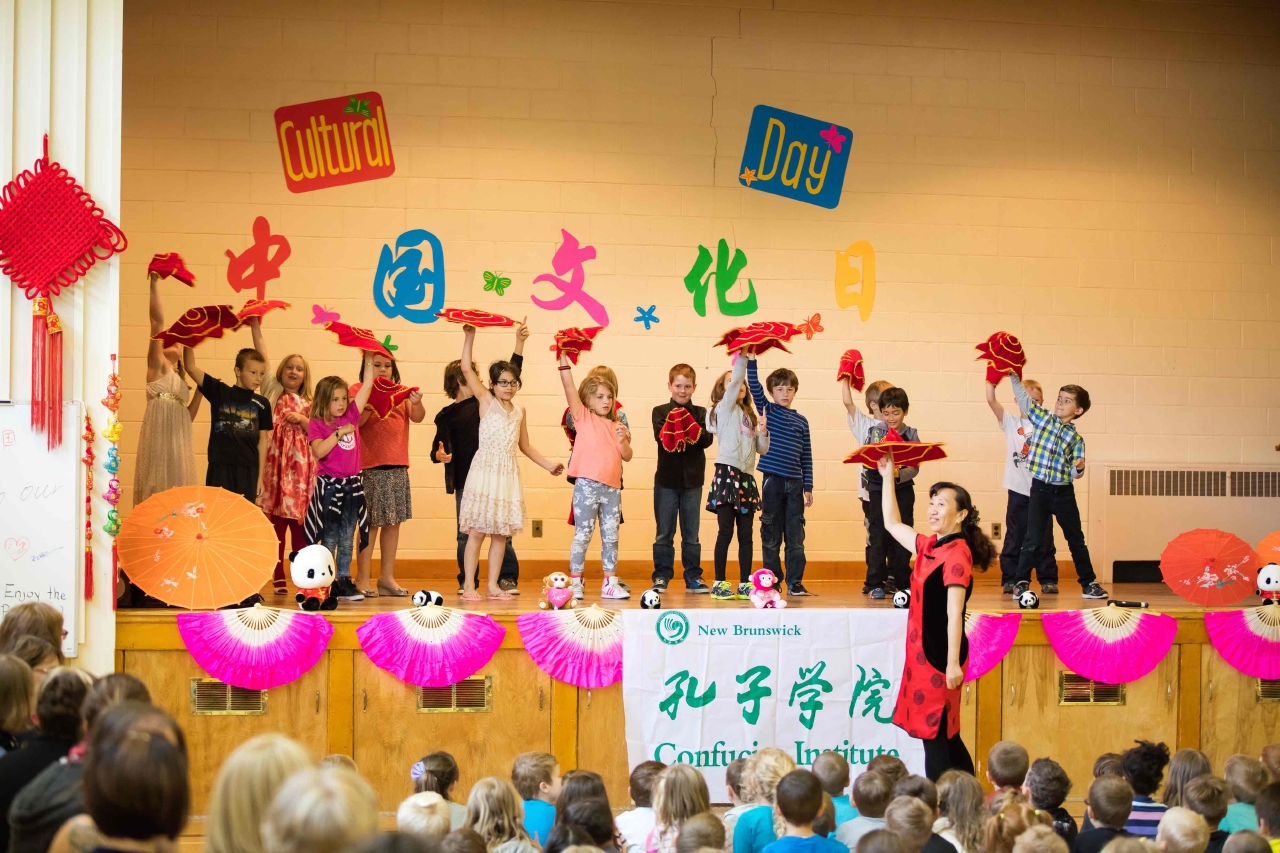 Snapshots of CINB March Break China Trip
During Mar 3th to Mar 13th, 2016, 12 students from CINB visited China led by Mrs. Jing Teng, the foreign director of CINB. Four of this group are from CINB evening class in University de Moncton, including a 70 years old who used to work as a high-level administer in a local company, a guidance teacher from Francophone school district, and a civil servant with Haitian descent. The rest of the group consists of students from high schools in Saint John and Moncton.  
The trip was busy yet pleasant. Upon on their arrival in Beijing, the students visited the Summer Palace, the Forbidden City and the great wall. They also paid visits to the Olympic Park, Headquarters of Confucius Institute and Sino-Canada School during their three days stay in Beijing.
Visiting the Headquarters of Confucius Institute was a very exciting experience for all the students. They were greeted by Mr. Qu Songming, a young officer who had been working in Mexico for a year. Everyone was amazed by Mr. Quˊs fluent oral Spanish. Mr. Qu encouraged the group to use Mandarin Chinese as often as possible to enhance their language skills and to make good use of this trip in order to experience the rich and profound Chinese culture.
On their way to the Sino Canada School, Emma, one of the high school students mentioned that she had a cousin that was teaching English there. Coincidentally, the two cousins ran into each other in the school library. What a small world! Mrs. Teng met with the principles of the school, who worked as principles in Moncton before moving to China. We believe that in the 21st century, incorporating both the Chinese and Canadian methods of teaching and learning, we could take education to a new level.   
On Mar 7th, the students went to Qufu by the bullet train. The 298km/h speed fascinated everyone. The staff in Qufu Normal University was very friendly and supportive during the three days in Qufu. The students leant Chinese songs, calligraphy, Taiji together with a group of Japanese visiting students. They also experienced traditional Chinese medicine in Qufu Hospital, had Canada-themed English class with local high school students. All these great experience added up to precious memories for everyone. Leaning how Chinese people speak and communicating with Chinese people in real life was an eye-opener for the group.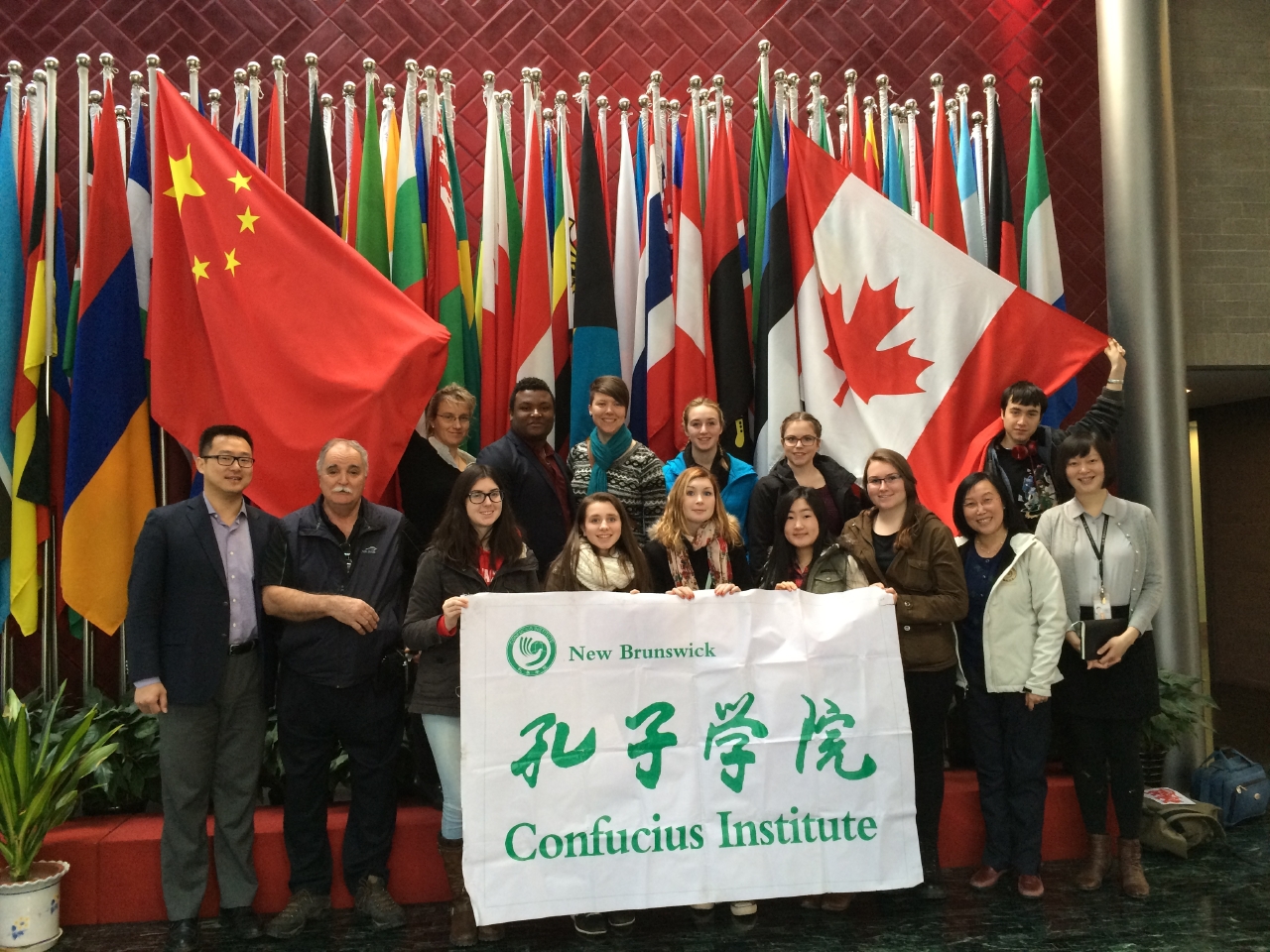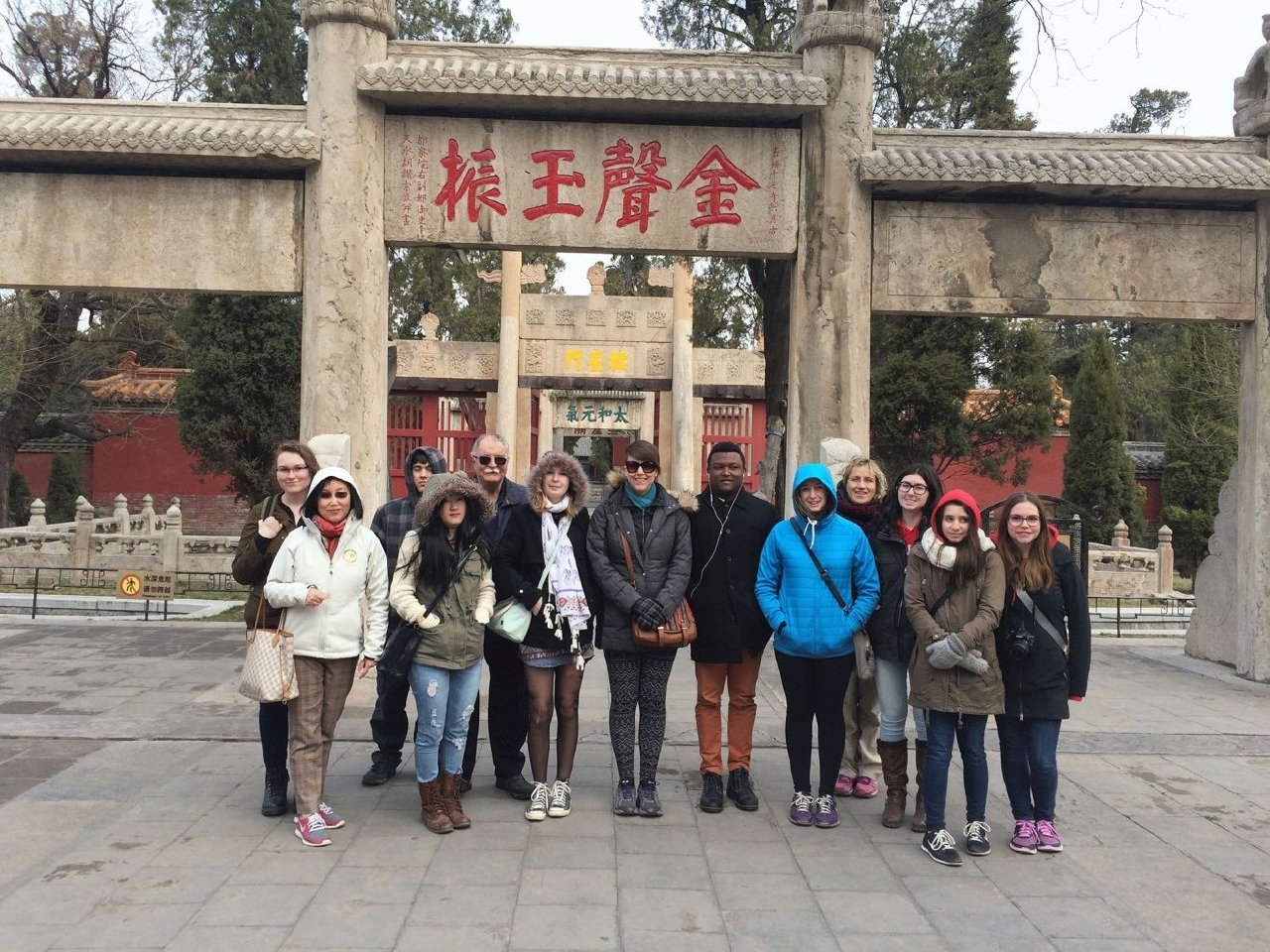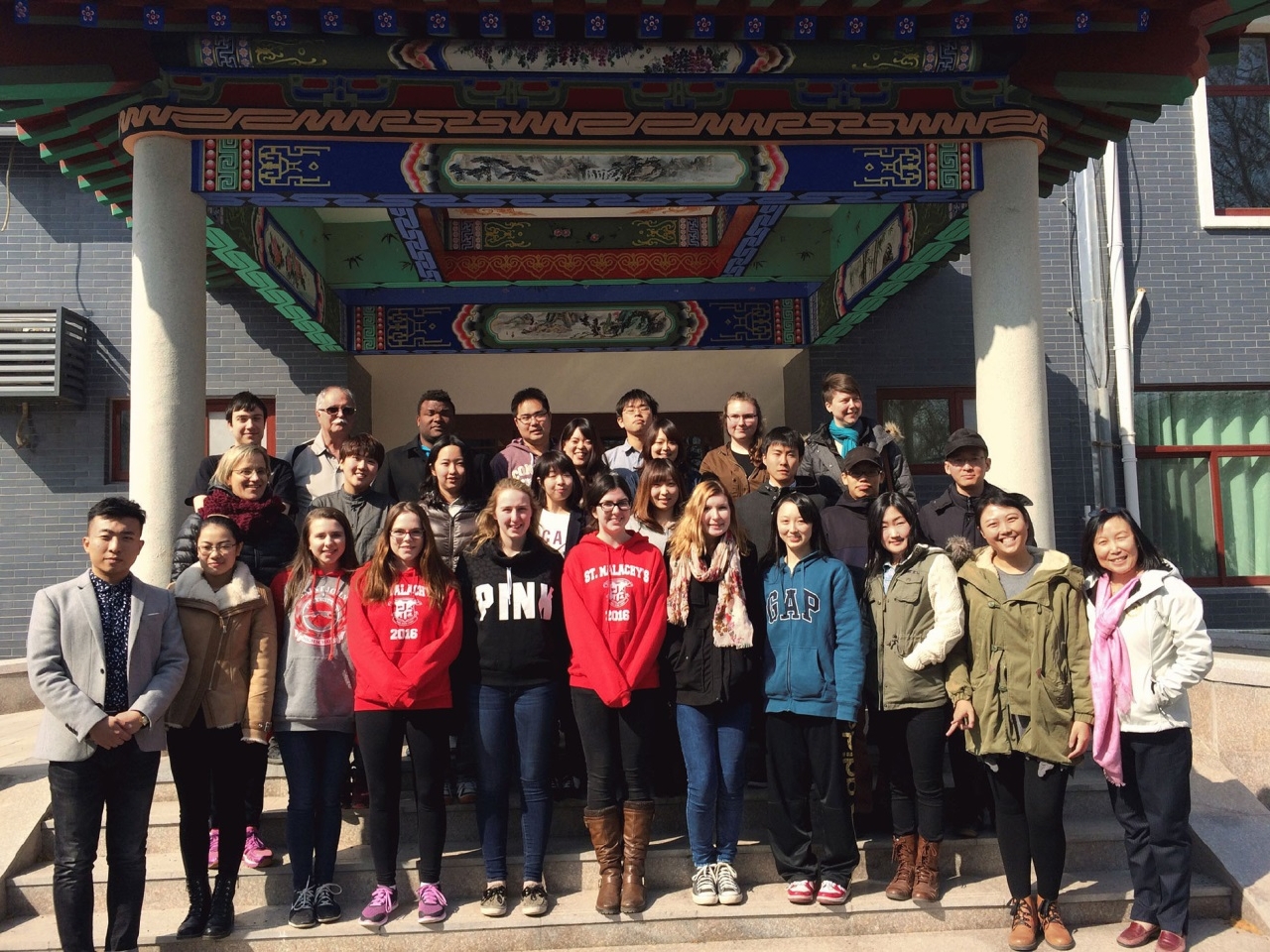 Chinese Culture Flash Mob Wows Riverview Middle School Students
On May 31st, 2006, 8G students and Diversity Club students in Riverview Middle school presented three Chinese culture flash mobs to all the 600 students at school leading by volunteer Chinese teacher Yingchao Cheng from CINB. 
At the beginning of the event, students dragon-danced into the cafeteria, drawing all the audience's attention. With the red curtains open and peaceful music on, six students performed Chinese Taiji. Then,8G students, dressed in various Chinese Ethnic Costumes, took turns to perform on the stage. Beautiful dresses, cheerful Chinese melodies, elegant moves and creative performance won repeated applauds and cheers from the students. The diversity club students brought a famous Chinese folk song, Jasmine Flower, together with a Chinese style tea ceremony. This group mastered both the lyric and the tune in just three weeks without any previous knowledge of Chinese language. Everyone was very proud of themselves having the opportunity to show the result of their learning and hard working in front the whole school. At the end of the show, Jasmine tea was handed out to the audience to give them a taste of Chinese culture.
Mrs. Jing Teng, foreign director of CINB, together with Mrs. Marlene Gaunce, principle of Riverview Middle School, presented all the participants a certificate for their effort in this event. The Chinese Culture Flash Mob was very well received among the students. China became the buzzword of the school. Everyone was fascinated by the wonderful culture presentation. The seeds for learning about China and Chinese language have been planted.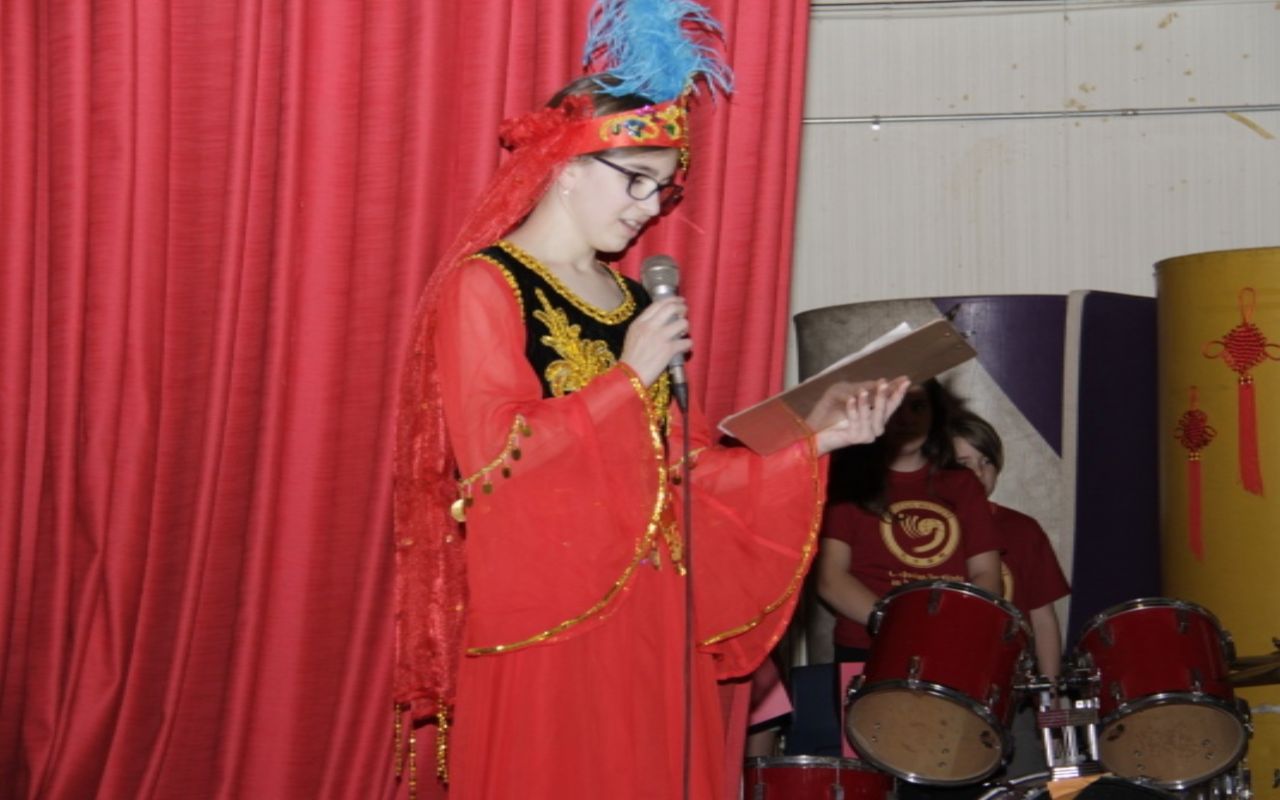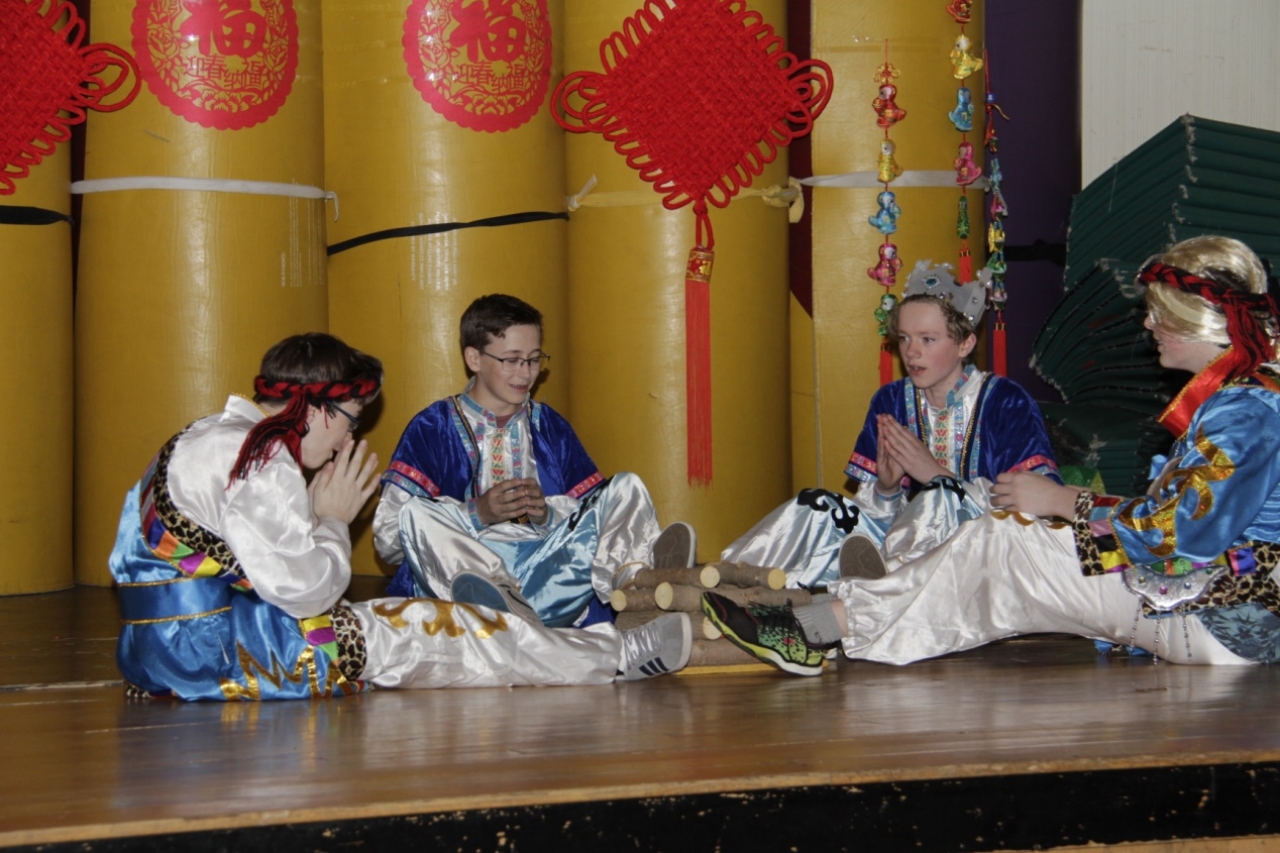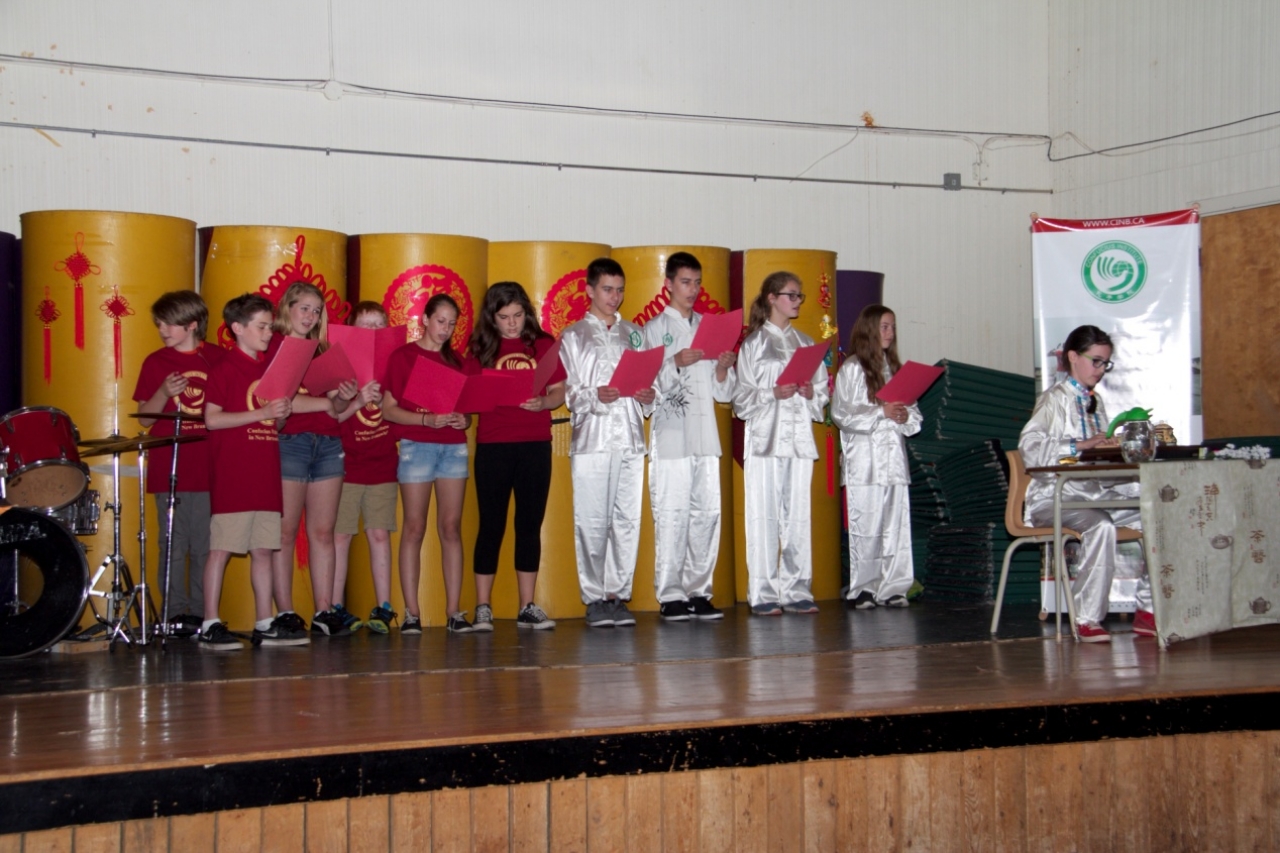 Chinese martial arts Introduced into Saint John's schools
Written by Fei Fazhou
Moving to Saint John from Miramichi prior to Christmas in 2015, I began to teach in three schools— Saint John High School, St. Malachy's Memorial High School and Harbor View high school. I led a group of students to perform at local Chinese Spring Festival gala. After a few rehearsals, the students actively cooperated in the show. 
After the Spring Festival Gala, Lynn from Anglophone South District introduced me to Rothesay Park School, Harry Miller middle School and Quispamsis Middle School. I started teaching in these three new schools.
These three schools had different ways of arranging classes. Core teaching content was the same in three schools, including introduction of Chinese martial arts, martial arts fitness method, basic defensive awareness, basics Chinese martial arts hand types, fundamental steps, hand types boxing, five steps boxing, kung fu fan, Tai Chi, and the incorporation of martial arts into self-cultivation.
Rothesay Park School is small school with a staff of 200. The gym can only hold one class. Therefore, after consulting with the Physical Education teachers, we decided to split the class. During the first half of a period the students would do the regular activities with their P.E. teacher and the second half learn Chinese martial arts with me. Every class had four or five learning opportunities. 
Harry Miller Middle School has around 400 students. One or two classes used the gym each period. The P.E. teacher is very friendly to me. Each period he gave me half the class. Accompanied by another teacher, I taught these students in the school library. Every time they would help me move the tables aside so as to get ready for the class. If there was only one class in the gym, I would be able to take the entire class.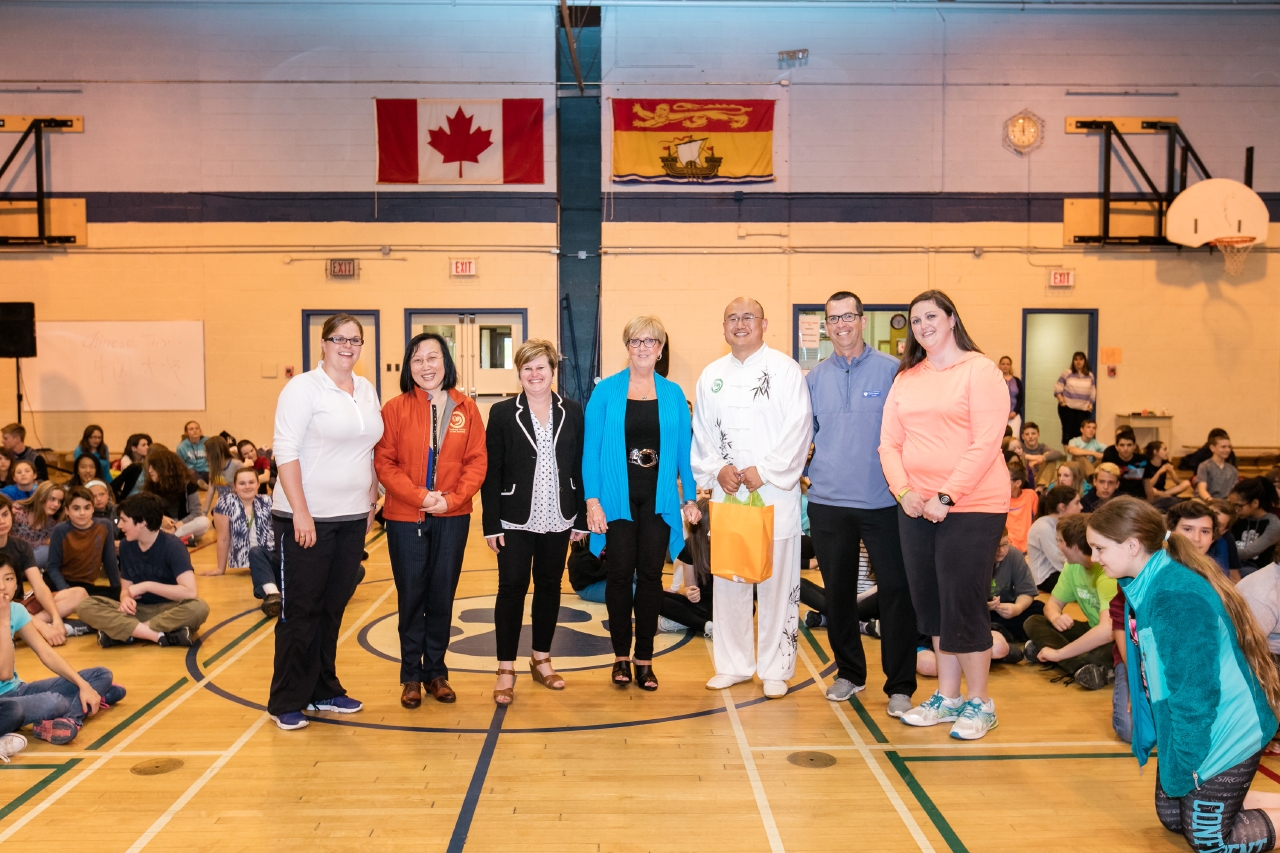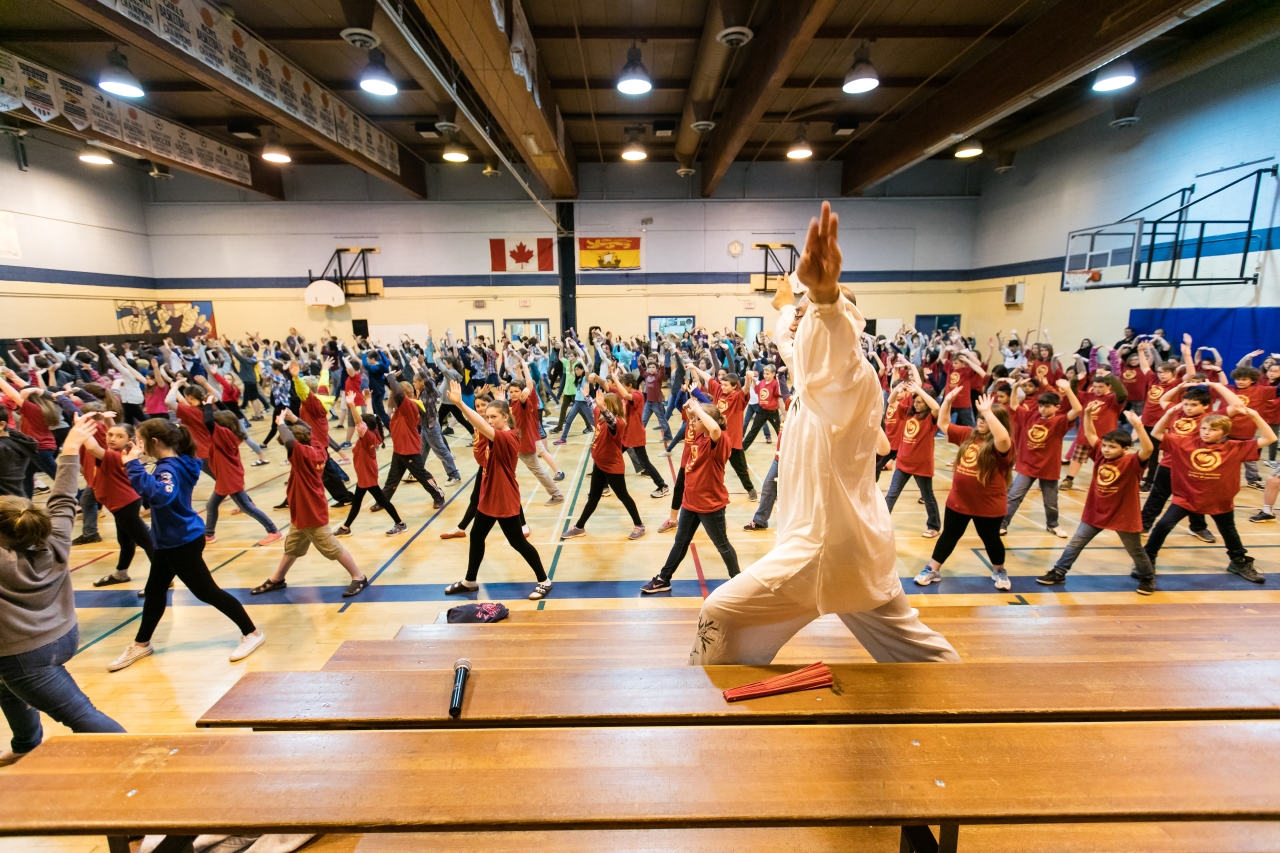 CINB Held a Large-Scale Chinese Teaching Seminar for Establishing the Trilingual School
On May 6, 2016, CINB held a large-scale Chinese teaching seminar in Park Street Elementary School in Fredericton, preparing to transform Park Street School into a trilingual school from this September.
Park Street School is the first elementary school that has started Chinese teaching program in NB. since 2011. There have been two volunteer Chinese teachers from CINB working here to teach the Chinese language and Chinese culture. Now, Park Street School has become a model school in Chinese teaching program. After five years' accumulation in Chinese teaching, Mr. Chris Treadwell, the principal of Park Street School, put forward to transform Park Street School into a trilingual school in 2015. Park Street is already a bilingual school of English and French, but now, Mr. Treadwell decided to put Chinese course into the formal curriculum system since he found there would be a promising prospect in Chinese learning, and it would be beneficial for the students' future development.
In order to help Park Street School in this decision, CINB provided a strong support by holding a number of meetings to discuss how properly put Chinese course into current curriculum system of Park Street School. In this event, CINB invited Dr. Liu Meiru, Teaching Professor at Portland State University, Dr. Li Wei, the Director of Confucius Institute in Edmonton, Ms. Karen Patterson, the Principal of Meyonohk School in Edmonton to give lectures about their successful duel language program.
The whole event included two parts: experts' lectures and performances by Chinese and Canadian artists. Vice president of AEI and Executive Director of CINB Ms. Dawn Weatherbie, Foreign Director of CINB Ms. Teng Jing, Chinese Director of CINB Ms. Li Minhong, and all the Chinese teachers and volunteer Chinese teachers of CINB attended the event. Meanwhile, Ms. Darlene Whitehouse- Sheehan from EECD was also invited to come to the seminar.