CINB Joined the "Multicultural Evening" of Liverpool Street Elementary School
孔子学院走进Liverpoor Street小学"多元文化之夜"
2013年11月21日,新布伦瑞克省孔子学院参加了弗莱市Liverpoo了 Street小学举办的"多元文化之夜" 活动。这是中国文化第一次真正走进Liverpoo了 Street小学,之前这所学校并没有开设过汉语课。新布伦瑞克孔院也正想借此机会为这所学校开启传播中国文化的大门。
新布伦瑞克孔院中方院长杨建华与志愿者曹曦组织了此次活动,他们用"灯笼"、"中国结"、"京剧脸谱"、"文房四宝"等多种中国元素精心布置了展台,同时也展示了孔子学院在Park Street小学三年来的汉语教学和文化推广成果。在活动中,中国文化展台备受关注,孩子们跟着志愿者教师学习用毛笔书写中国字,体验了中国的书法艺术,中方院长杨建华老师也与孩子们踢起了毽子。
活动结束后,Liverpool Street小学副校长Peter Wiggins先生对孔子学院的此次参与表示了由衷的欢迎,并表达了想将汉语与中国文化教学引进Liverpool Street小学的愿望。尤其是在听了杨建华院长对Park Street小学开展的各种中国文化教学活动的介绍之后,他更是迫切的希望这一天能早日到来,并表示他会和孔子学院为此共同努力。
CINB Joined the "Multicultural Evening" of Liverpool Street Elementary School
CINB attended the "Multicultural Evening" held by Liverpool Street Elementary School in Fredericton on Nov. 21st , 2013. This was the first time for CINB to spread Chinese culture in this school. There is no Chinese class offered there so far, so CINB also want to take this chance to open the door of spreading Chinese culture to this school.
Professor Yang Jianhua, the Chinese Director of CINB and the Volunteer Chinese Teacher Miss Cao Xi took part in the event. They decorated Chinese culture exhibition booth with "Chinese lanterns", "Chinese knots", "facial makeup of Peking Opera", "the Scholar's four jewels" and so on. They also exhibited the Chinese culture teaching achievements in Park Street Elementary School in the past two years. Chinese culture booth had gained much attention, and many students came to try write Chinese characters with the brush under the direction of the volunteer Chinese teacher Miss Xi Cao, experiencing the Chinese calligraphy art. Professor Yang kicked the shuttlecock with the students.
Professor Yang gave a detailed introduction about the cultural activities CINB has done in Park Street Elementary Schools for the past two years, and suggested that CINB could arrange a Chinese teacher to their school if they hope to open Chinese culture and language class. The Vice Principal Mr. Peter Wiggins thanked CINB for their attendance, and expressed the thought of starting Chinese culture teaching in their school. He said he would work with CINB in a joint effort for this target.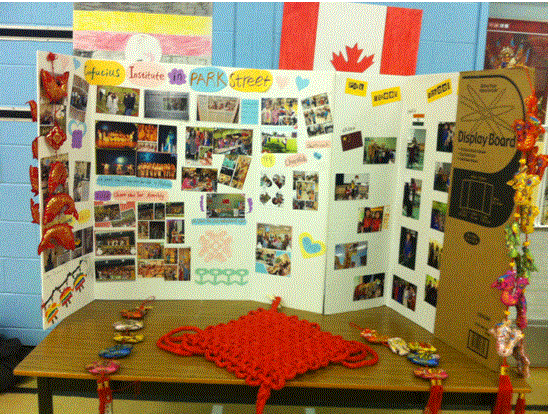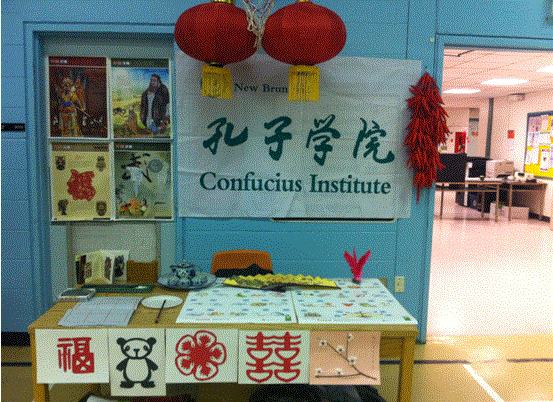 CINB 2013 Events
1. 2013年2月Park街小学师生在弗莱市华人春晚表演舞蹈《读唐诗》,该节目被评为"网络春晚"优秀节目。Park Street School students performing a dance at the local Chinese New Year Gala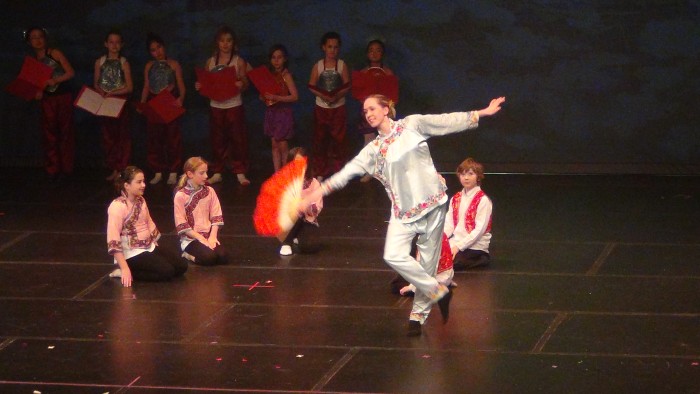 2. 2013年2月中国驻蒙特利尔总领事赵建平会见蒙克顿市教育局官员及当地中小学校长。Consul General Ms ZHAO Jianping meeting with the School District Superintendent and the principals in Moncton area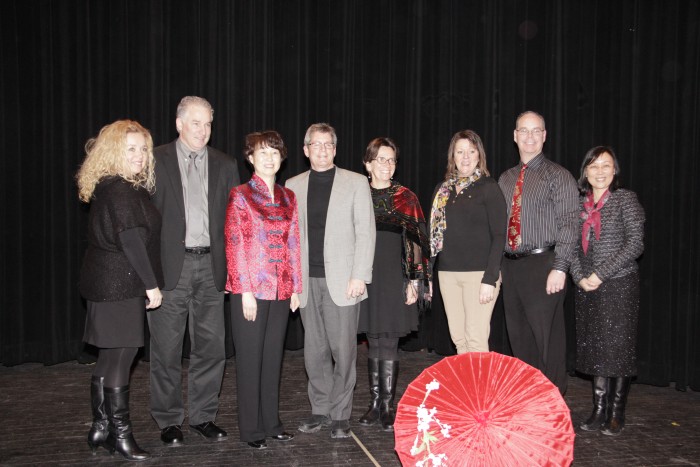 3. 2013年5月新布伦瑞克省省长及高教厅厅长长参观孔院图书展并与中外方院长及志愿者合影。The provincial Prime Minister and the Minister of High Educaiton visiting the Chinese books exhibition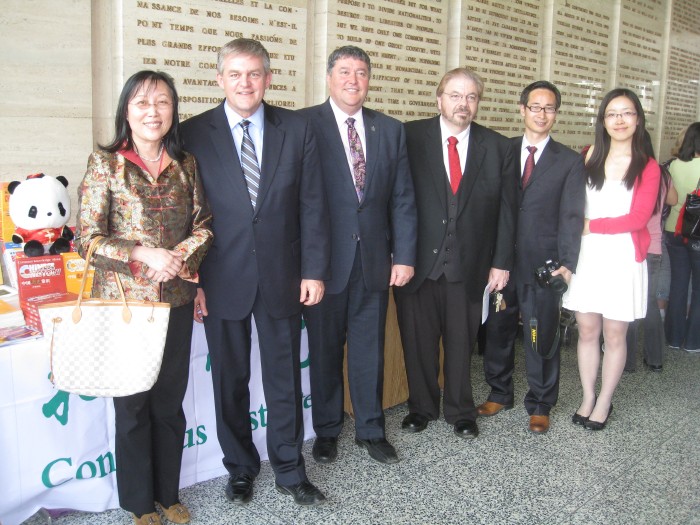 4. 2013年7月新省教育厅副厅长一行参观汉办并向马箭飞副主任递交新省孔院第二个五年的续签协议。The Deputy Minister of Education Mr. John McLaughlin presenting the Agreement to the Deputy Dean Mr. MA Jianfei.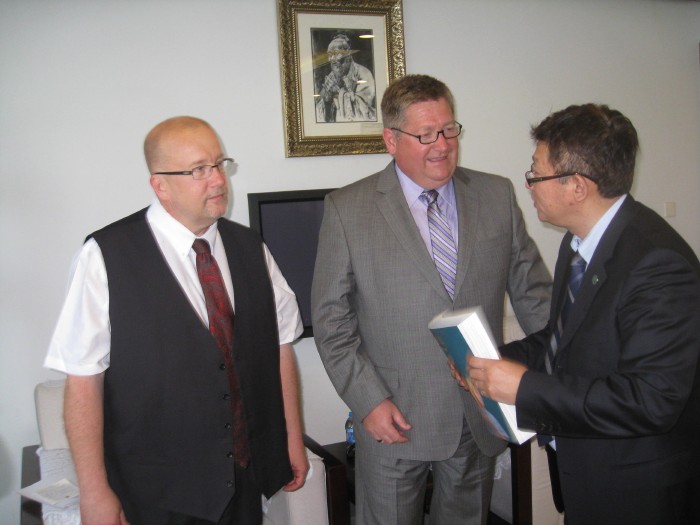 5. 7月夏令营学生在汉办合影留念。The Summer Camp students in Hanban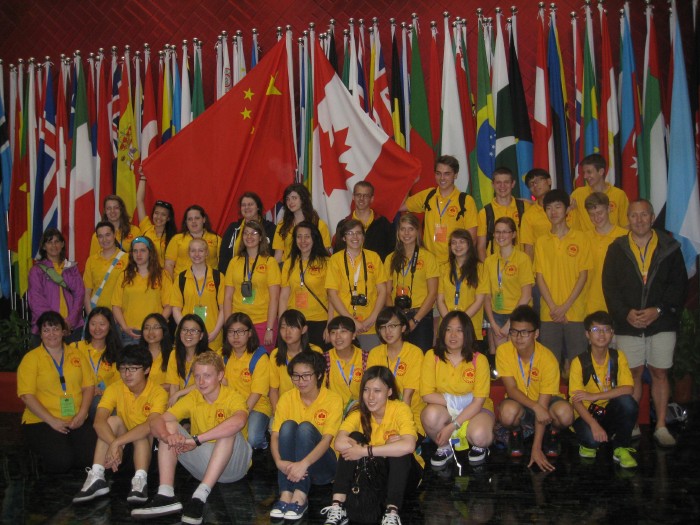 Confucius Institute Performance Tour in Fredericton
Confucius Institute Performance Tour in Canada which is organized by Hanban arrived in Fredericton on October 29 at the invitation by CINB. They made three performances respectively at Park Street Elementary School, Fredericton High School and UNB Fredericton at the request of CINB. Their performance mainly focused on Chinese traditional dances and Chinese traditional music instruments playing. Mayor of Fredericton, the local superintendant and the Deputy Minister John McLaughlin attended the three performances respectively and addressed welcoming speech.

加国边陲小城展国风

国家汉办北师大孔子学院巡演团10月29日晚7点抵达加拿大新省首府小城弗莱市,30日早上9点便出发到派克街小学展开演出活动,全校500余名师生共同观看了演出,弗莱市市长专程来到小学演出现场致辞,和学生一起用汉语"你好"来问候巡演团。派克街小学从2011年开始开设汉语课,是这省第一所开设汉语课的小学,全校师生对中国语言和文化由衷热爱。演出伊始,学生手举"欢迎汉办巡演团"和"欢迎北师大艺术团"标牌进入体育馆,并集体拍手用汉语说:"欢迎来到派克街小学"。演出过程中,学生与演员互动积极,气氛热烈,中国舞蹈《戏丑》和器乐演奏给师生们留下了深刻印象。
11点半,巡演团马不停蹄地奔赴第二场演出地点—弗莱市高中,这是弗莱市开设汉语课最早的学校。师生共600多人观看了演出。当地教育局局长为本次演出致欢迎词,高中的一名加拿大教师用汉语报幕。一个小时的精彩演出,博得了在场观众的阵阵掌声。
下午2点半,巡演团又到弗莱市新布伦瑞克大学看场地走台。晚上7点,各界社会名流,大学的教授及学生和当地华人共同观看了演出。新省教育部副部长暨孔子学院理事长致欢迎词:今年夏天他访问了汉办,与马箭飞副主任见面,递交了孔子学院的续签协议,并参观了汉办的体验中心。他非常感谢此次汉办能够派巡演团来到我省,给更多弗莱人提供了一次体验中国文化的绝好机会。演出结束后,文化语言系的主任亲自上台献花,拥抱亲吻学生------
巡演团充分考虑我省地处偏远,鲜有汉办巡演团光临的实际情况,针对小学、高中及社会人士不同观众群体,克服困难,及时调整节目,在一天内连续进行三场精彩演出,给边陲小城奉献了中国文化的盛宴。
再次感谢汉办,感谢北师大艺术团。
                                          
新布伦瑞克省孔子学院供稿      2013/10/31