The 8th Global Confucius Institute Conference held in Beijing
Three representatives from CINB attended the 8th global CIs Conference held in Beijing from 7th to 8th  December, 2013 at the invitation from Hanban. They are Mr. Eric Smith, the Superintendant from AEI, Ms Jing Teng, the Director of CINB and Prof. YANG Jianhua, the Chinese Director of CINB. They met with the Hanban officials during the conference, visited Hanban Office and discussed about the work of CINB in 2014.
The 8th global Confucius Institute Conference has taken place during the 7th to 8th of December in Beijing. The event brings together university presidents and heads of Confucius Institutes from all over the world.
More than 2,200 attendees from over 400 Confucius Institutes are here, along with representatives from Chinese universities.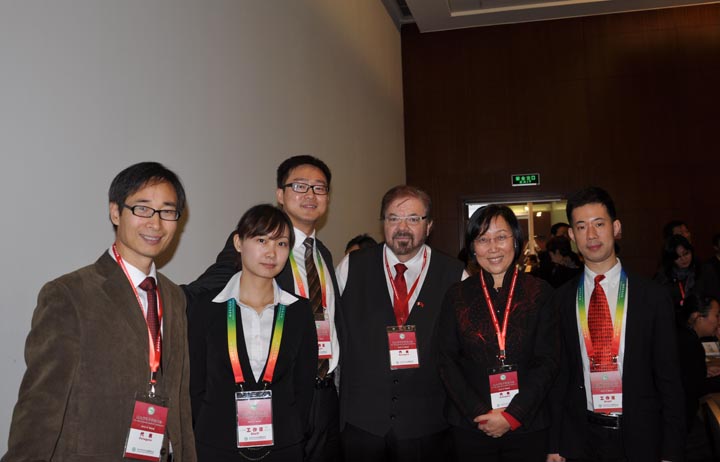 Sponsored by the China Education Ministry, the Confucius Institute is a non-profit public institution, designed to help foreigners learn about China through courses in language and culture.
So far, China has established 440 Confucius Institutes globally. And over 500 Confucius Classrooms are in operation worldwide at middle and elementary schools.
The Teacher of CINB was Invited to join the Christmas party of New Brunswick Anglophone South School District
The Teacher of Confucius Institute in New Brunswick, Jiang Jie  was Invited by International Student Coordinator  to  join the Christmas party  of  New  Brunswick  Anglophone South School District on 19th December.
Christmas party is one of the most important  and interesting  Christmas  activities, the party is held in st John's city bureau of education. Chinese teacher got the warm welcome from Miss Zoe ,the superintendent and introduced to everyone. Because the dinner food is Chinese food, many people were interested in the name of the Chinese dishes, the Chinese teacher introduced it and taught them. 
This party is for the staff of Anglophone South School District officers, Chinese teacher is the only foreign guest who was invited to participate in.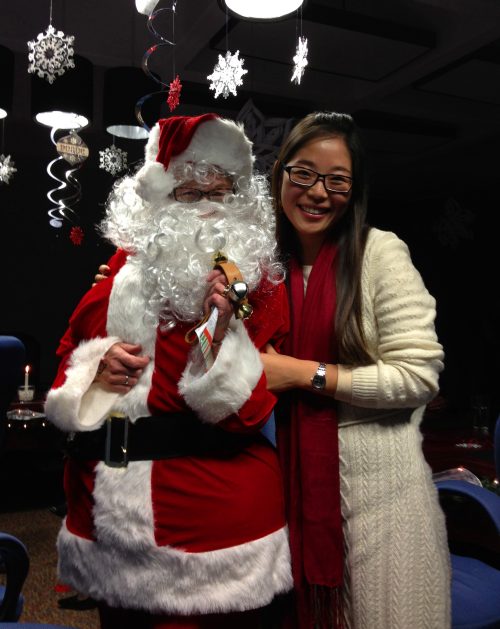 市教育局长Zoe 女士扮演的圣诞老太
Paper-cut works of CINB Chinese teacher take part in st John's Harbour View high school Christmas sale
On December 19, Harbour View high school held a Christmas charity sale. 
Paper-cut works of Miss Jiang Jie , the Chinese teacher  of Confucius Institute in New Brunswick ,took part in this Christmas sale. These paper-cut works were mounted in the book marks , Christmas cards and picture frames in Chinese style. This special Chinese style loved by the masses of teachers and students,  and has sold more than ten works. 
Paper-cut works are divided into snow flake  lotus  and zodiac series. 
These works  not only reflect the Christmas atmosphere but also show the traditional culture such as the Chinese traditional zodiac culture. To participate in the activities shows the highlights of the traditional Chinese paper-cut, promotes  the traditional Chinese cultural treasure ,Deepens  the foreign students 'cognition to traditional Chinese culture .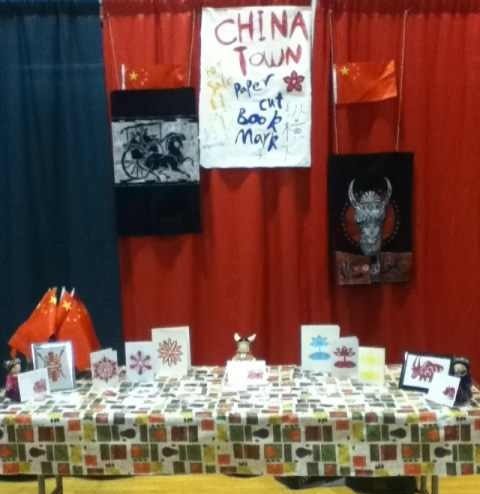 Chinese teacher in Saint John
Written by Jiang  Jie
I'm the first Chinese teacher of Confucius Institute in New Brunswick from China. For me, the year of 2013 has too many transitions, the biggest one is that I was sent to Saint John working by myself after my Thailand tenure.  Living and working alone in a strange city, from all the strangeness of this city on September to all the familiarity now,  I really experienced a lot .
First of all, life, you need to get everything done bravely by yourself. From the trifles of life, to know the traffic conditions of this city  to all kinds formalities of social insurance and medicare insurance, are all need solved by myself. I am very grateful that I have a brave heart and persistence,and two years' experience in Thailand. 
For work, everything is starting from the beginning because I'm the only Chinese teacher in this city. I'm teaching  at Harbour view high school, Saint John High School and St. Malachy's Memorial High School. The main content is Chinese traditional culture such as paper-cut Peking Opera and so on, at the same time,there will be taught some basic Chinese language. 
Because there is propagating lack before , the students don't know they have the opportunity to learn Chinese . So I asked for broadcast the place and time of the club every time, I made posters including the time and place and contents of the class on the school publicity column in advance , I sent email to every teacher asking for help, I found the Chinese international students of the high school hoping them disseminate Chinese program. Hard work pays off, after a lot of efforts,there is a good development of Chinese clubs in this semester. 
Because of Thailand teaching experience for the similar age of students as here, I know how to catch the students attention and teach them. I try to keep the interest of the club : I taught them paper cutting, facial make-up of Beijing opera,and Chinese traditional food;sent them some interesting videos through email , communicated with them as friends. Many students are interested in learning Chinese ,they want to learn Chinese language ,so they wrote applications to principal. And we got the permission to increase the class. 
Volunteer Chinese Teacher in Fredericton
Written by Cao Xi
It's three months since I arrived in Fredericton on September 3rd. In the short three months, I have experienced and grown a lot.
Park Street Elementary School is my first workplace which has about 450 students. This school has started Chinese classes for two years. The principal loves Chinese culture very much and support Chinese language and culture teaching strongly. He gave me two weeks to be familiar with the school environment. So I visited all classes from kindergarten to Grade 5 in the two weeks, and learned a lot from the local teachers' classes.
I started teaching Chinese in this school on September 23rd. I made three teaching plan for the different grades. The students in the kindergarten are more active, and have no idea about classroom discipline, so I taught them some new words with the use of stories. I told them stories at the same time show the pictures in the story books through the PowerPoint. This way could attract the children's attention very well, and let them learn Chinese in a relaxed atmosphere. The students in Grade 1 and Grade 2 have known a little about Chinese Pinyin, so after reviewing the Chinese Pinyin, I taught them the simple greetings and the names of common things. I have also taught them how to sing <Two Tigers> in Chinese. For the students in Grade 3、4、5, I not only taught them the simple conversation, but also some Chinese culture, at the same time I also taught them how to do some art projects. 
In the Park Street Elementary School, in addition to teaching Chinese language and culture, I also have my dance club to teach them Chinese national dance on every Tuesday. Now we are preparing for the performance of Chinese New Year. After hearing we would perform in the Play House during the Chinese New Year, all the girls were excited. And I also teach some boys Chinese Kung fu on every Thursday. In fact, I didn't learn the dance and Kung fu that I taught in my club before, just for the sake of having a perfect performance, I tried my best to learn them by myself, and then taught them. I really thank for the experience which can turn me into a versatile girl.
Nashwaaksis Middle School is my second workplace which own about 700 students. There are 27 classes in all from Grade 6 to Grade 8. Different from Park Street Elementary School, it didn't start Chinese class before, so it's a real challenge for me.
It took over one month to make arrangement for the courses through communicating with the principal and the teachers constantly. And at last, 14 classes would learn Chinese, 5 classes in Grade 6, 5 classes in Grade 7 and 4 classes in Grade 8. Cause just 14 classes wanted to start Chinese class and it's also the first time for them to learn Chinese, so what I should do is not only laying a good foundation of teaching Chinese language and culture in these 14 classes, but also spreading Chinese culture in a wider range of areas.