The activity of Chinese New Year culture experiencing at Edith Cavell School
On 23rd February, Spring couplets, the Chinese character Fu, puppy dolls, red lanterns and Chinese-style works by the kids were decorated in every corner of the gym. The activity was organized by volunteer Chinese teacher of CINB Siying Pan,included different items: handkerchief, Q&A about Chinese culture, Chinese calligraphy, chopsticks, shuttlecocks and Chinese mascot photo-taking and so on.
The activity of Chinese New Year culture experiencing began at 12:30. All students, 2 classes as a group, were taken by their homeroom teachers to the gym to experience Chinese culture. Within 2 hours, the whole school were in high spirits.
An official of education department in eastern district participated in this activity and gave high appreciation. The principal Mrs Arsenault also appreciated it.
The whole school participated in this activity with great enthusiasm. This activity offered the whole school an good opportunity to experience Chinese culture.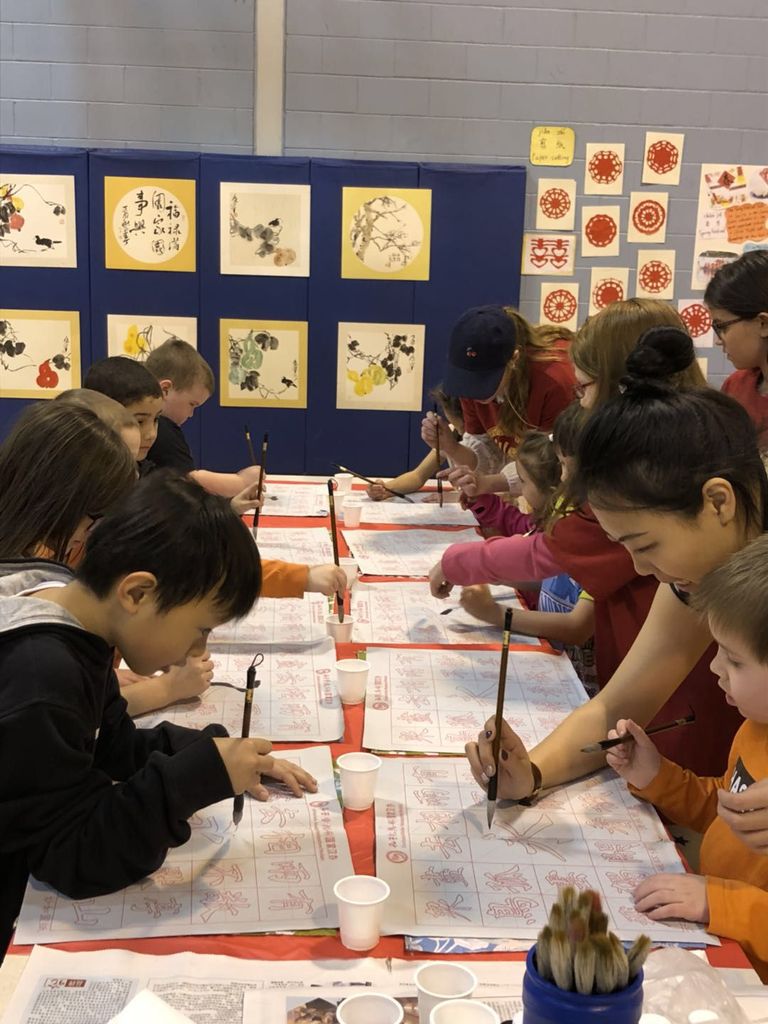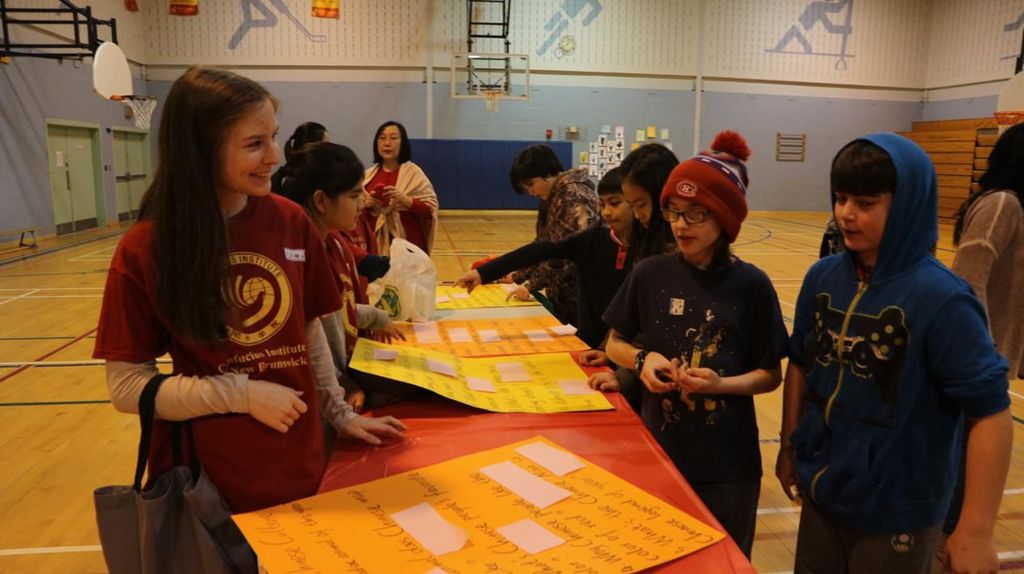 CINB joined in Saint John City Heritage fair
The annual Saint John Heritage Fair was held at the Market Square Atrium on February 17th, the second day of Chinese New Year. Mrs. Tian tian and Mr. Guan YuqiNew Brunswick Confucius Institute and Chinese Association joined in the fair. The annual heritage fair ran from 9:30 a.m. to 3:30 p.m. It is reported thousands of people stopped by to see the 20 exhibitors who were taking part. Some of them showed off the royalty collection, Scottish musical instruments, old pictures of Saint John, metals collections of WW2. 
In the festival atmosphere, CINB shared the celebrating customs about Chinese New Year, such as pasting red couplets and "Fu", passed out lucky money to children who joined in the exhibition. People got informed about the profound Chinese culture, and got well involved in experiencing Chinese calligraphy, chopsticks, tea ceremony, Chinese puppet shadow, chess, China allegro. People also spoke highly of the Chinese martial arts performed by CINB teacher.  10 years' development of CINB spread Chinese culture cross every part of New Brunswick. CINB also brought Chinese spirit into every parts of New Brunswick during the Spring Festival.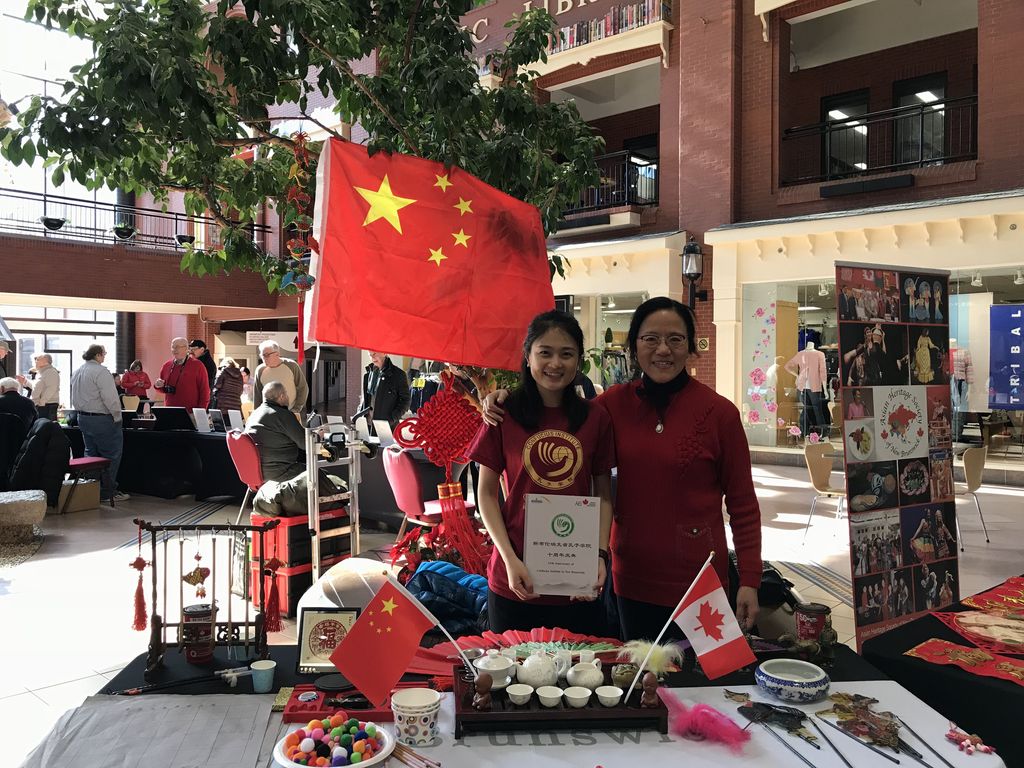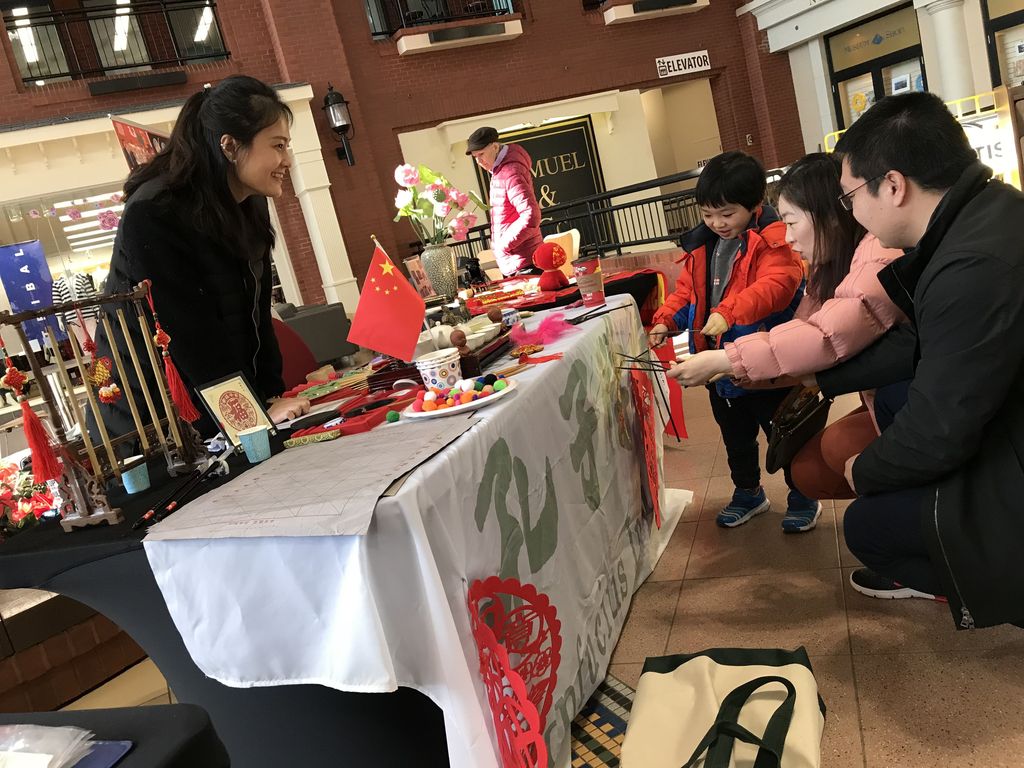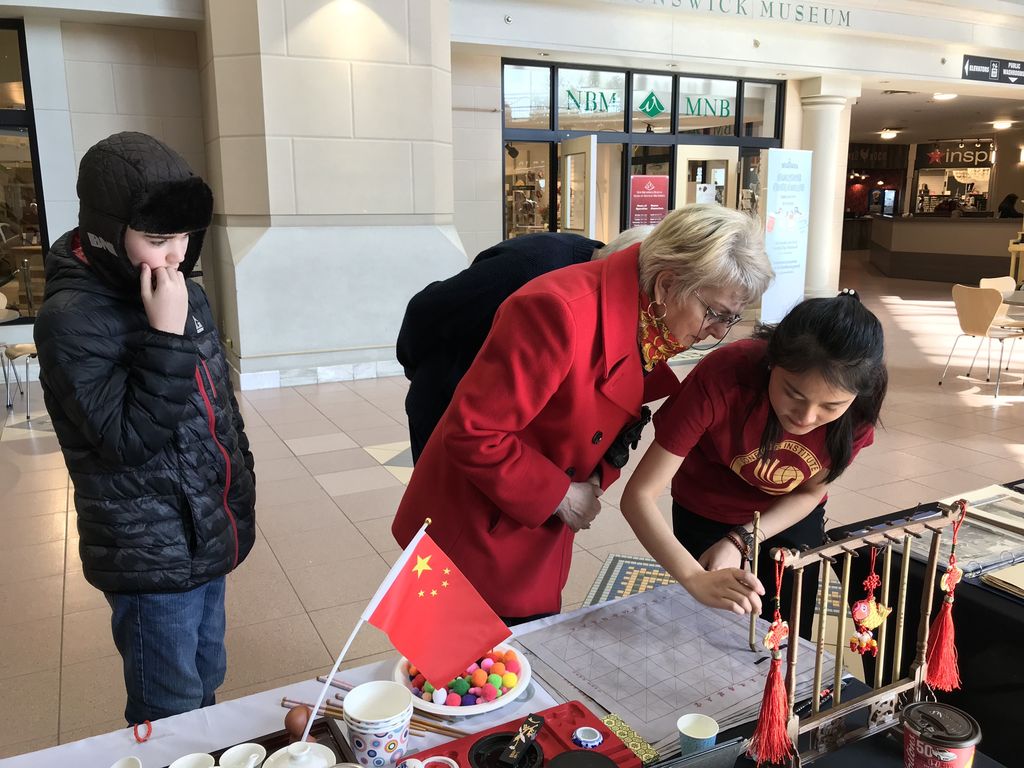 Oromocto High School held a Chinese delicacy experience activity to celebrate the Chinese New Year
On the February 16th, Oromocto High School held Chinese delicacy experience activity to celebrate the Chinese New Year of 2018. All kinds of Chinese cuisine with a long history and unique flavor, especially dumplings and Tangyuan, have brought them a feast of visual and taste. The students did it personally - make dumplings, performed tea art, experienced tea ceremony. In practice, we should further appreciate the charm of the spring festival culture, the food culture and the tea culture. The Chinese teacher, Li Yanmei, explained the cultural connotation of the Spring Festival and the Chinese traditional culture. The scene of the activity was filled with a strong new year's atmosphere. All kinds of food were favored by teachers and students. They had expressed that by savoring these delicious Chinese food, they deeply felt the Chinese New Year's festival atmosphere and the extensive and profound diet culture.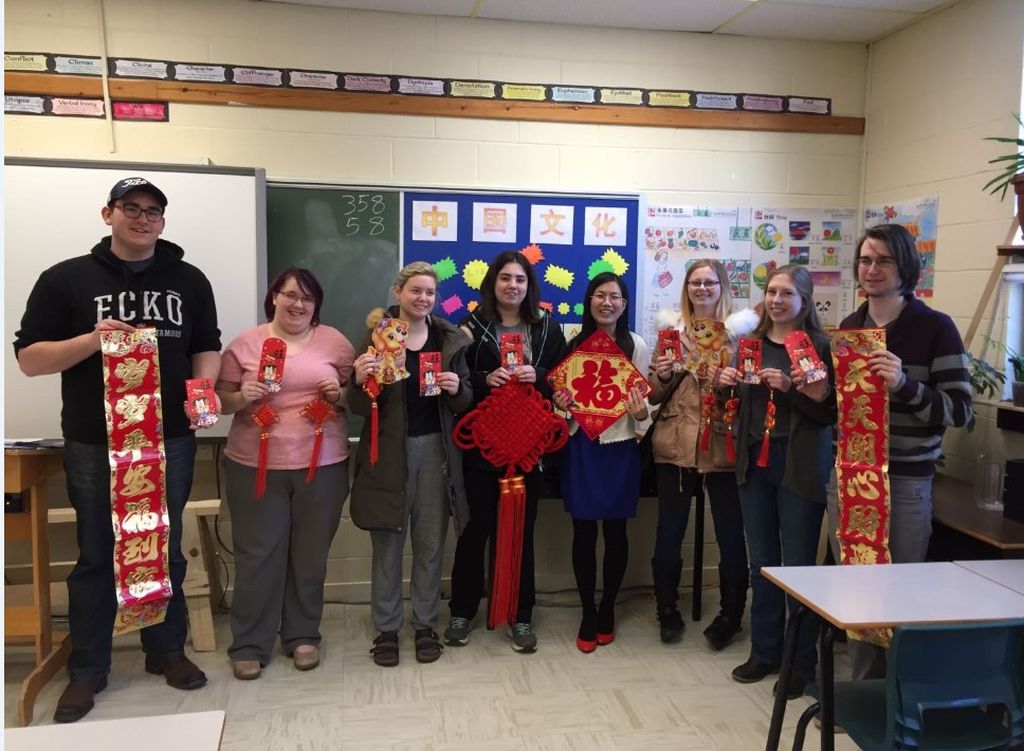 奥罗莫科托高中举办中华美食体验活动庆祝2018年新年
      当地时间2月16日,奥罗莫科托高中(Oromocto High School)举办了中华美食体验活动庆祝2018年新年。各种历史悠久、风味独特的中华美食,特别是饺子和汤圆为他们带来了一场视觉和味觉盛宴。同学们亲自动手---包水饺、包汤圆,表演茶艺,体验茶道。在实践中进一步领略春节文化、美食文化和茶文化的魅力。汉语教师李艳梅边指导边讲解春节的文化内涵和中国传统文化故事。活动现场洋溢着浓厚的新年氛围,各种美食获得老师和同学们的青睐。他们纷纷表示,通过品尝这些让人回味无穷的中华美食,他们深刻感受了中国新年的喜庆气氛以及饮食文化的博大精深。
 Over 800 people attending Chinese New Year Celebration held in Evergreen Park School
"Happy Chinese new year, happy Chinese new year..." , with Chinese cheerful music, the local time of February 16, Evergreen Park school was holding the  Chinese New Year Celebration with more than 800 students and teachers attending. The event was organized by Wang Jingli, a Chinese teacher volunteer of Confucius Institute in New Brunswick (CINB), and collaborating with school teachers and students. Mrs. Teng Jing, the foreign director of CINB, Chinese families and students families were invited to attend this event.
The show opened with playing a cheerful new year song and many students photos which were taken at Chinese art classes and culture classes as screen background, many smiling faces represented that they enjoyed Chinese class very much. 
Chinese new year celebration mainly included the dragon dance performance, the fabulous dragon was created by Wang Jingli, the school art teachers, and Chinese dragon club students who took 22 days to make it. After that, under the leading of G1 students, all the teachers and students danced together.
Chinese club students had a Chinese new year presentation to show out the customs and characteristics of Chinese new year to audience and performed a fan dance "Chun Xiao". G5 students performed a Chinese poetry reciting "Climbing Guanque Building", "A Tranquil Night" and "The Willow", accompanied by melodious classical music slowly outflow, Chinese landscape pictures, the students clear pronunciation brought the audience into the unique artistic conception. Then, music teachers and two students brought the solo musical instrument play, Chinese folk song "Jasmine flower", Canadian folk song "Red river valley" and "Croatian rhapsody". The melodies were beautiful, the rhythms were distinct, each had its own characteristics, the teachers and students were applauding with music beat.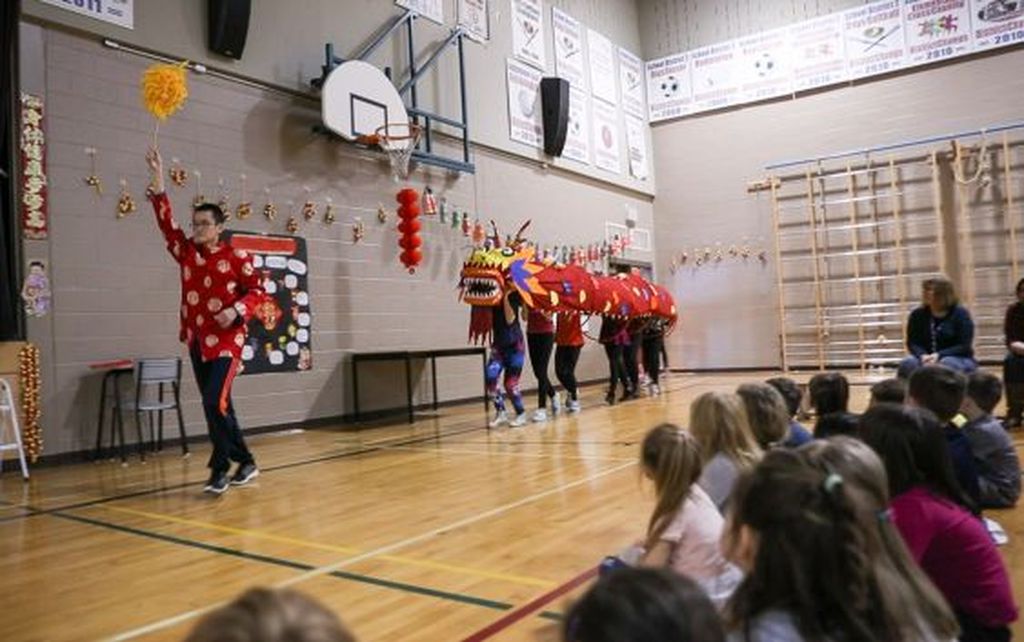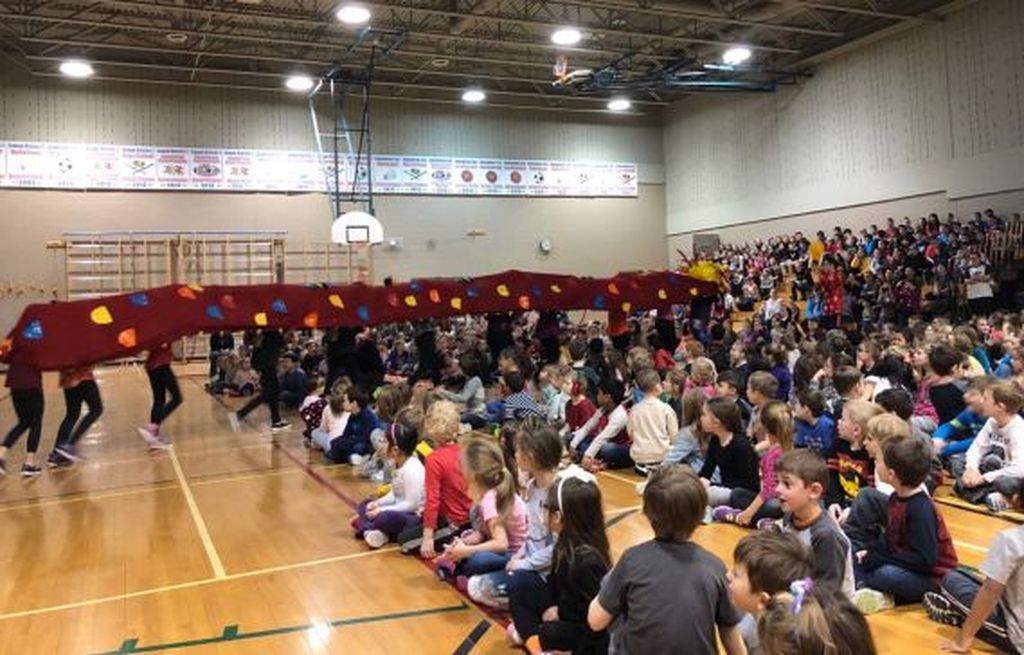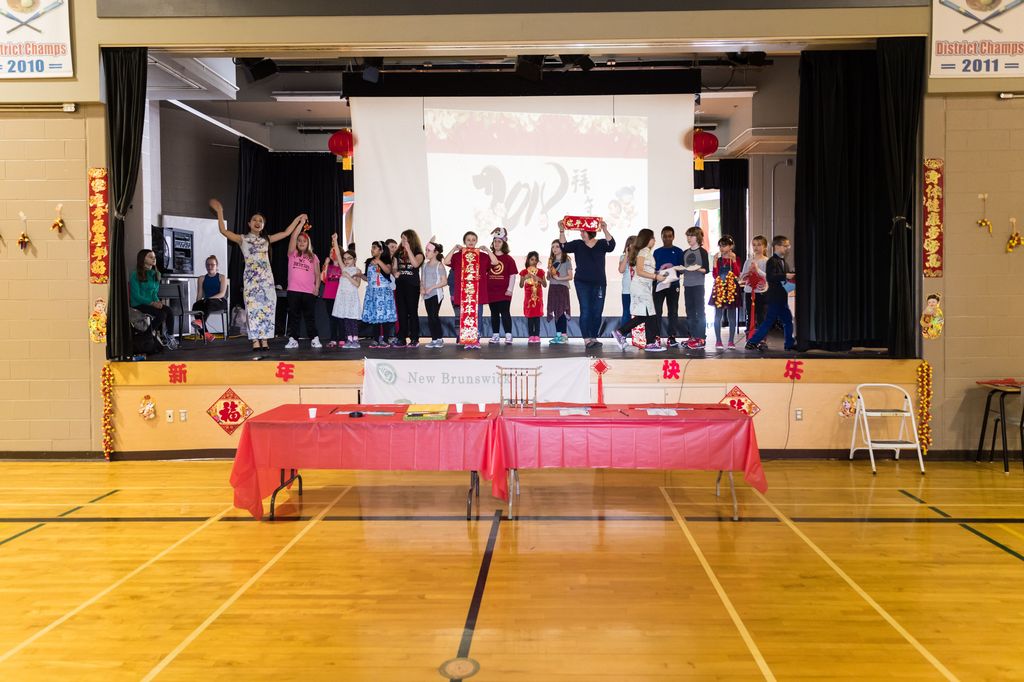 2018 Chinese new year festival activities at Park Street Elementary School
On February 15th,the Chinese new year festival activities was held in Park Street Elementary School.
The activities was separated into six display tables, and they were set up to help kids make dumplings,use chopsticks, write Chinese calligraphy, guess lantern riddles, know about Chinese zodiacs and sing new year songs.The students would participate in the activities by grade. When finishing one activity, they can get a stamp as souvenir.
The most creative invention in the activity was two Chinese doll, which were painted by students in grade five. These two dolls' face were empty, and had the similar height with kids, so everyone could put their face into the blank and take pictures.This innovation also appealed teachers in the school, they also took photos with it.
The activity was held in the cafeteria, and we accepted various help from teachers and assistants at school.They helped us move the table,thus we could decorate our cafeteria, and they also take kids to the cafeteria on time,when students were playing the games, they took many pictures. After the activity, the event was reported on the school district website.