Hanban Delegation Visited the Confucius Institute in New Brunswick

From June 25th to 26th, a five-member delegation from Hanban China led by Ms. Jing Wei, Deputy Director-General of Hanban and Deputy Chief Executive of Confucius Institute Headquarters,visited Confucius Institute in New Brunswick.
After they arrived at Moncton, they met with the directors and some volunteer teachers of the Confucius Institute in New Brunswick (CINB) to learn more about the development of CINB and the work and life of the volunteers. After hearing the moving stories of the volunteers and their host families, Ms. Jing hoped that they would cherish and maintain the friendship even when they go back to China.
At 10 o'clock on the morning of the 26th, the delegation came to Riverview High School. First, accompanied by Ms. Teng Jing they enjoyed the huge painting of the Chinese dragon by three students of RHS and watched the half-year work photo exhibition of CINB.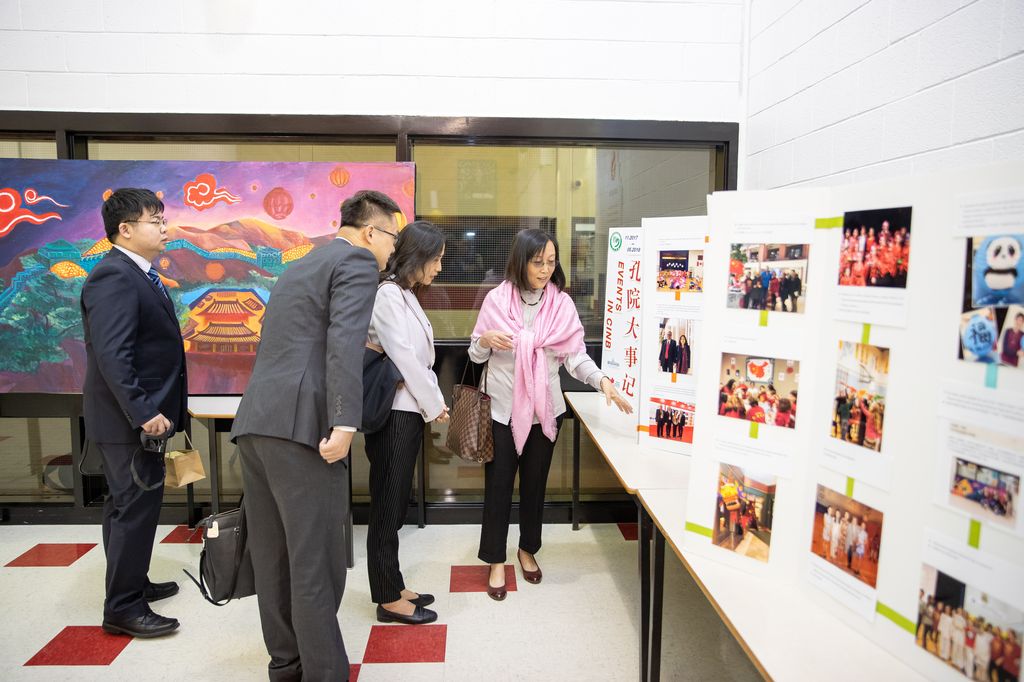 Hanban delegation watched photo exhibition of CINB events
The student representatives from some schools in Moncton did some wonderful Chinese performances.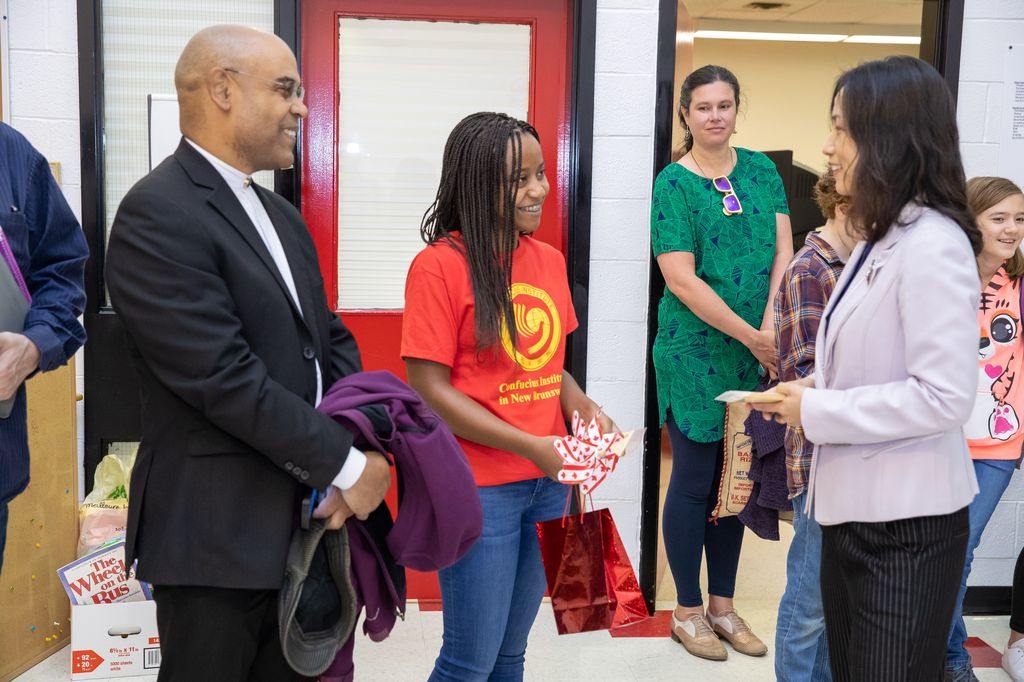 Ms.Jing Wei met with the excellent students of CINB
The former Canadian Prime Minister Jean Chrétien's niece Michèle Suzor and her husband Roderick Morin also attended this event,and participated in the "award ceremony". Mr. Roderick won an excellent award of "Confucius Institute Cup" Writing Competition.Ms. Jing Wei expressed her admiration for their insistence on learning Chinese, and thanked them for their warm reception of Chinese volunteers over the years and support for the development of CINB.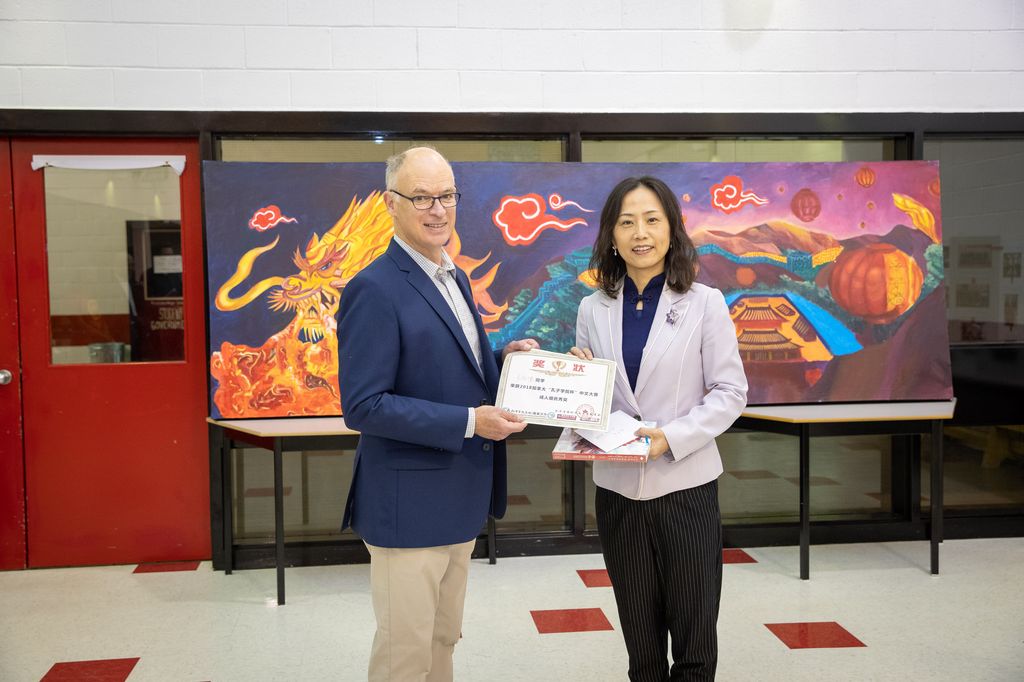 Mr.Roderick won the excellent award of "Confucius Institute Cup" Writing Competition
Farewell Meeting for the Teachers in CINB
On the afternoon of June 5th, the Atlantic Education International (AEI) and the Confucius Institute in New Brunswick (hereinafter referred to as the New Confucius Institute) held a farewell meeting for Chinese teacher, Tian Tian, Guan Yuqi and Chinese teacher volunteer, Bai Qian, Pan Siying in the capital city of Fredericton. More than 40 people, including AEI staff and school principals from various school districts, directors and all teachers of CINB attended the event.
First of all, Vice President of AEI, Executive Director of CINB, Dawn Weatherbie addressed the meeting. She said with excitement that these excellent Chinese teachers are honored to carry out Chinese teaching work in 4 education districts in the NB. They work in more than 40 schools and have more than 5,000 students teach students every year for teaching Chinese and Chinese culture. They have organized a variety of wonderful Chinese cultural activities and have received warm welcome and compliment from various schools. She expressed her deepest enthusiasm for the outgoing teachers, and thanked the Chinese teachers for their efforts in the development of the Chinese project in the NB.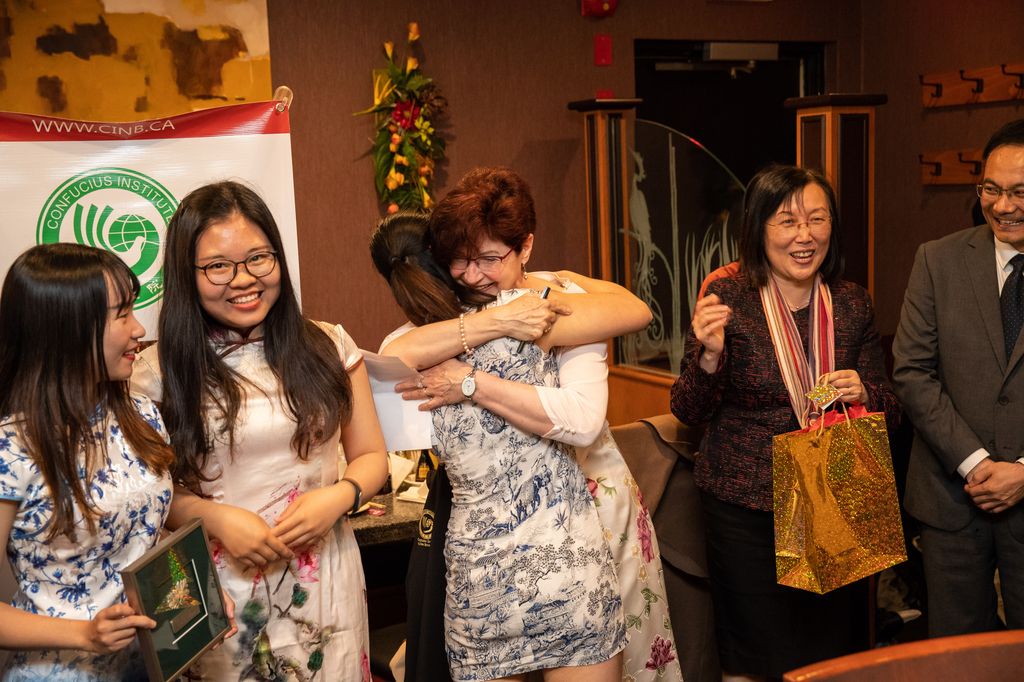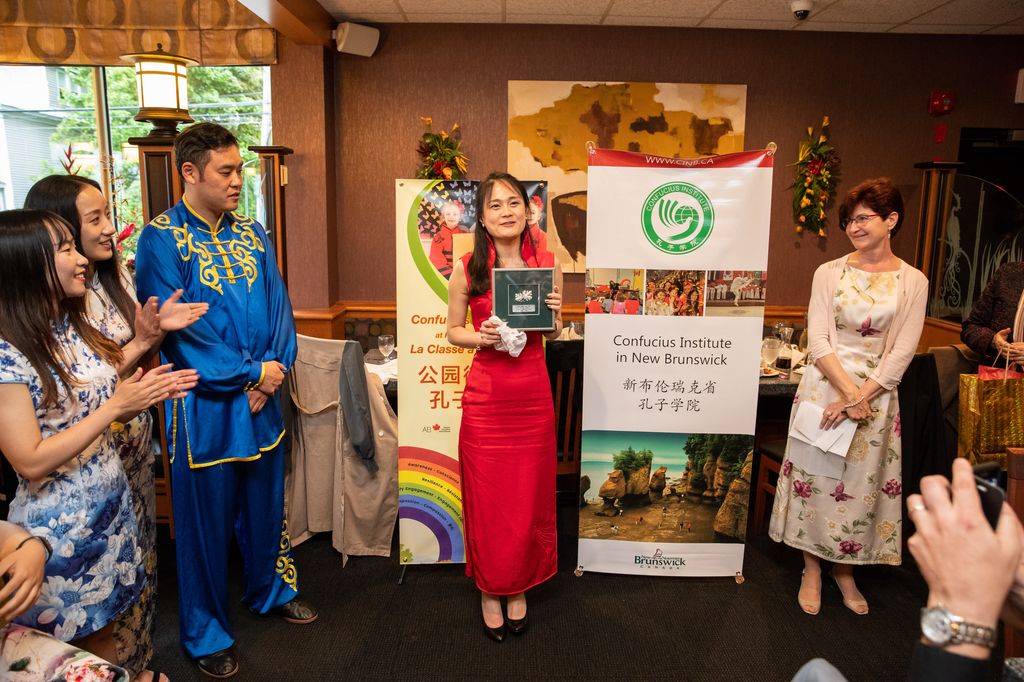 CINB shined in Asian Heritage Month Opening Ceremony
On May 6th, 2018, people gathered in Market Square in St. John, New Brunswick to celebrate opening ceremony of Canada's 16th "Asian Heritage Month". Opening Ceremonies have representatives from the various communities:Bhutanese, Nepalese Cultural Society, Chinese Community in Saint John, Japanese Community, Filipino Association of NB, SJ Chapter, Greater Saint John Korean Association, Indian Community, Iranian Community Pakistani Community and?Vietnamese Community. New Brunswick Confucius Institute as the representative of Chinese community participated in the opening ceremony.
During the opening ceremony, the congressman, accompanied by Ms. Song Li, head of the organizer of this event, came to expressed their gratitude to the amazing job CINB did initiatively, they showed great interests in Chinese culture and took photos with Confucius Institute teachers and students; the president of the Chinese Association held cordial talk with the directors from two sides of Confucius Institute on the long-term cooperation plan; Ms. Li Wenmei and her husband from New Brunswick University, as the experts of world heritage study and tourism discussed the future cooperation program of Ministry of Culture and Tourism of China with Teng Jing, the director of Confucius Institute; Pei Yan, the famous Yue opera performer, offered to serve as the planner of the large-scale activities of Confucius Institute in June. They all admired and appreciated that New Brunswick Confucius Institute won the support of the government, developed rapidly, and built strong credibility in New Brunswick.
New Brunswick Confucius Institute conventionally keeps being the only representive to hold the cultural booth in this event. The 5,000 years broad and profound culture attracted hundreds of people to stop and experience, which include an old couple who just travelled of China talked about their wonderful experience happily; a young people who had lived in China for two years played chess with CI teachers excitedly and said this brought his beautiful memories back; the Vietnamese student who participated in March Break China Trip came to show thanksfulness to CI teachers specially and expressed that he will go to China again at his own expense in Summer; the mandarin class students also actively participated in the culture exhibition and in the performance. A famous Chinese song "Beijing welcomes you" which performed by mandarin class students from Harbour View High School and their mandarin teacher amazed all the audience, CI Kongfu Teacher surprised with the audience with Taichi as well, Qipao-Chinese traditional costume show heightened the excitement.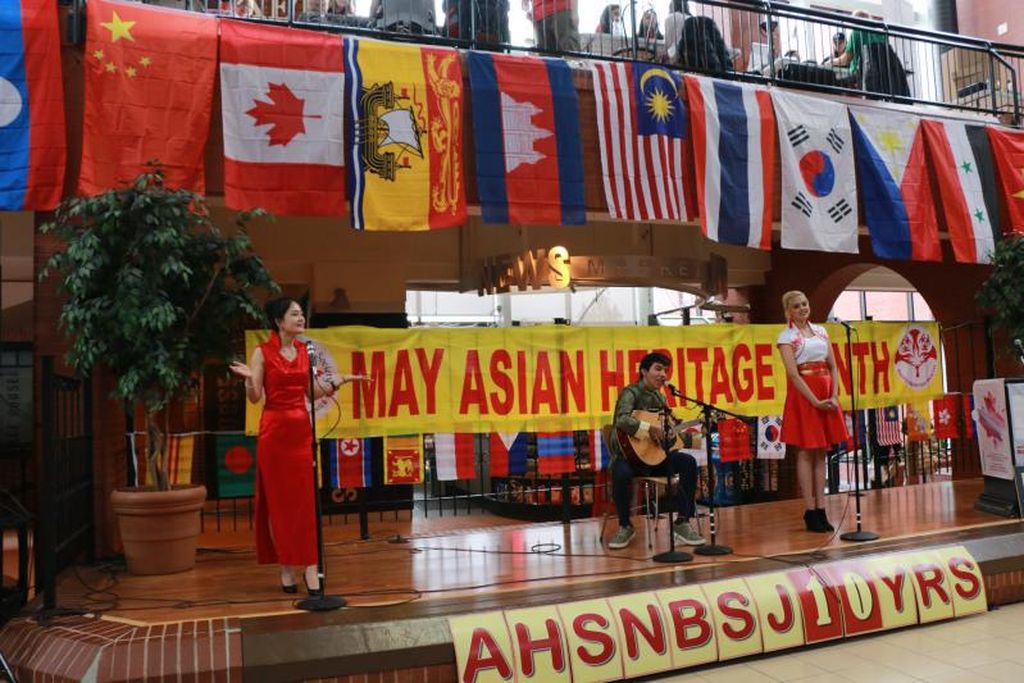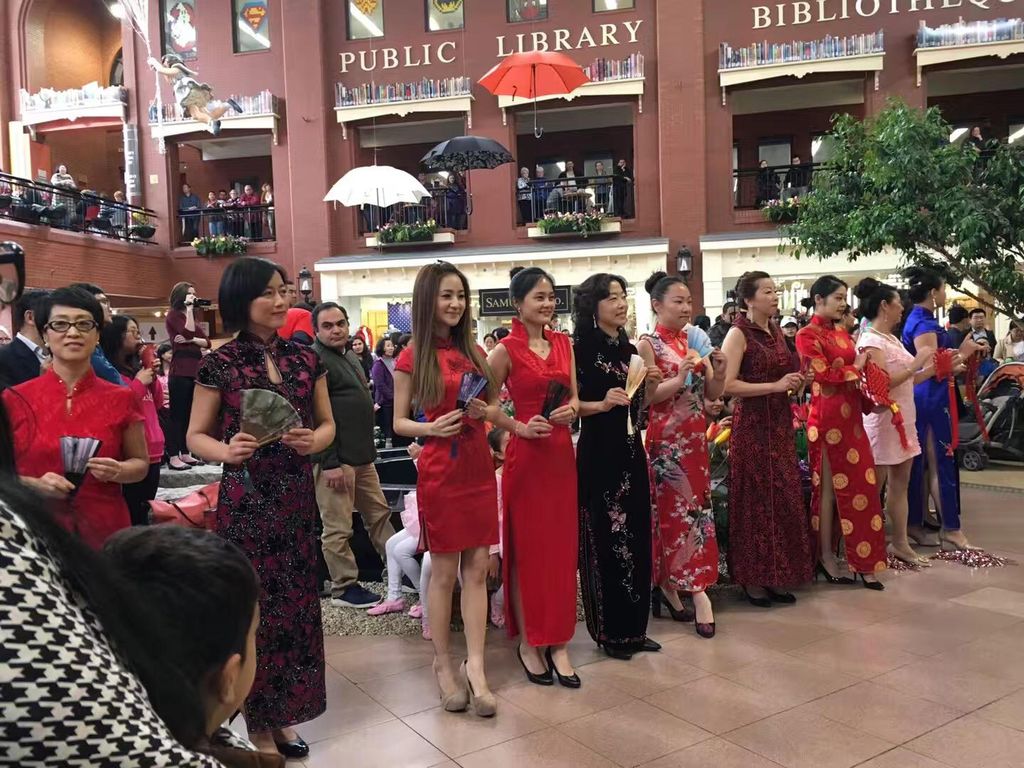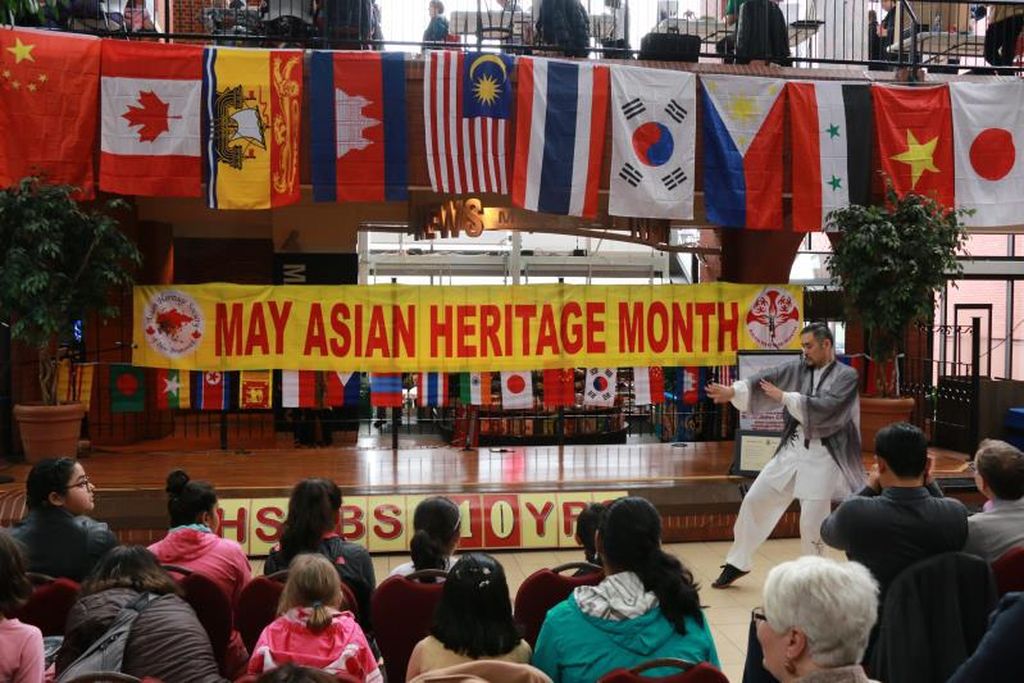 Chinese Ambassador to Canada Lu Shaye Visited New Brunswick
On June 5th, Chinese Ambassador to Canada Lu Shaye, Minister Counsellor of the Education Office, Yang Xinyu, the Deputy Consul General of the Consulate General of the People's Republic of China in Montreal, Xing Wenjian with six-member delegation visited New Brunswick (NB). In the morning, Lu Shaye and his entourage visited Park Street Elementary School in Fredericton, which is the first Chinese-English-France trilingual school in the province and the first Confucius Classroom in the province, offering an example for Chinese spreading in other schools. Confucius Institute in New Brunswick (CINB) offers professional Chinese teaching. Over 5000 students are learning Chinese every year, which makes great contribution to friendly communication between Canada and China. Next, ambassador Lu delivered a speech at school and expressed his gratitude to the education department of NB, teachers and students of the school for their efforts in promoting Chinese program. He confirmed the achievements made by CINB in Chinese language promotion project and was impressed by the enthusiasm of students for learning Chinese. In the welcoming ceremony, all students recited Three Character Classic and other Chinese classics. The school's Chinese dance club performed Blue and White Porcelain, which came to a climax of the atmosphere. After performance, ambassador Lu and his delegation observed a Chinese lesson in Confucius Classroom, and had a cordial conversation with students in three languages.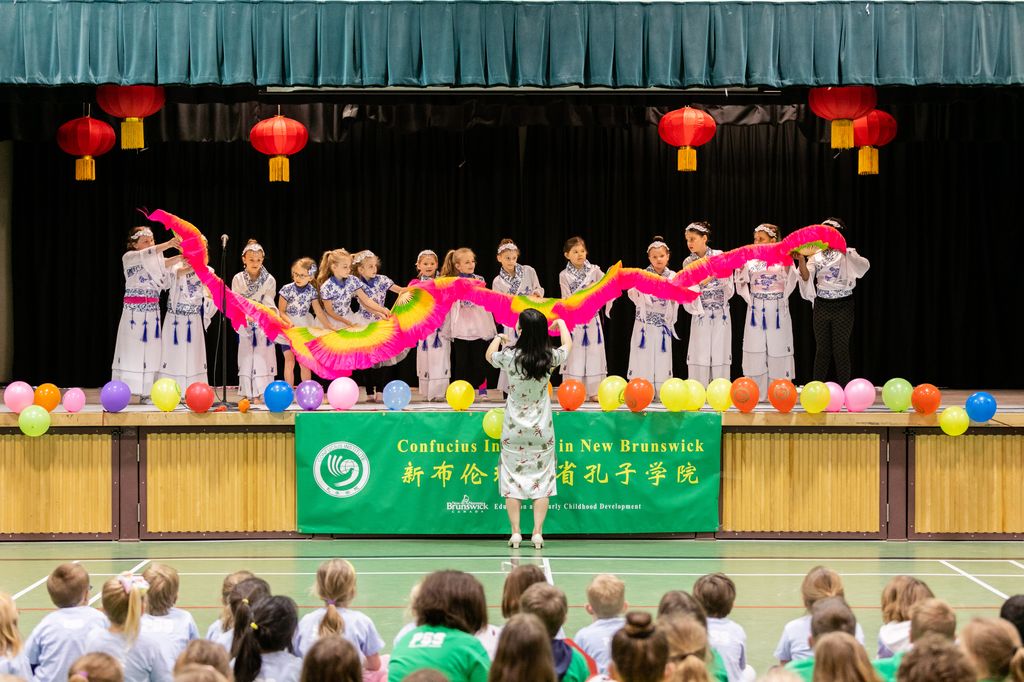 Chinese dance club students perform Blue and White Porcelain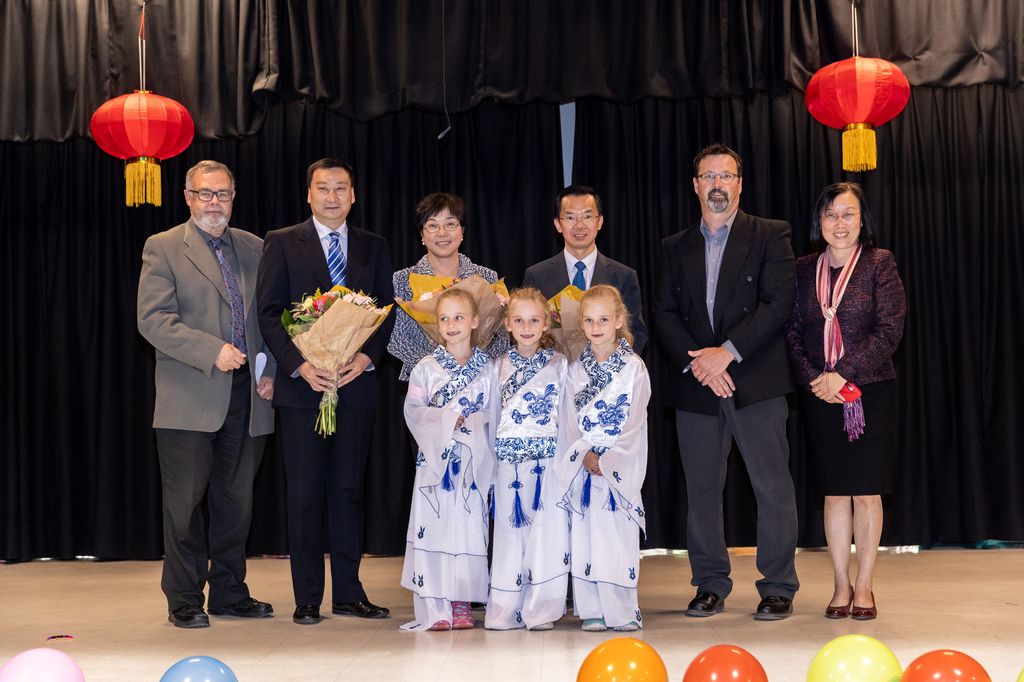 Triplets Sisters present flowers to the delegation
In the afternoon, Lu Shaye went to the provincial governor's office to attend a reception sponsored by the Ministry of Education of NB. Ms. Jocelyne Roy Vienneau, provincial governor of NB, extended a warm welcome to the ambassador's visit. She stated that the cultural exchange between China and Canada has a long history. NB has established long-term trade ties with many provinces in China. Chinese culture, attaching much importance to "harmony is precious", conforms to NB's life philosophy of nature and harmony and has strong vitality and influence. With enhanced economic and political cooperation between the two countries, NB will further promote Chinese language and culture to an extensive and in-depth level.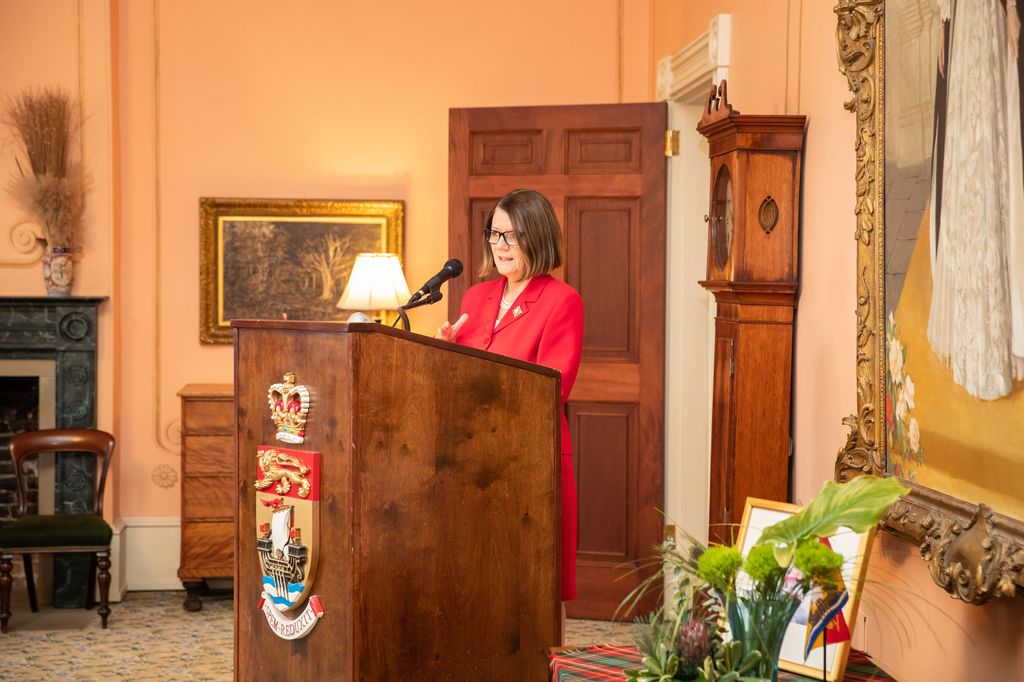 Ms. Jocelyne Roy Vienneau delivers a speech
CINB Holding Chinese Teaching Meeting
On May 5th and 6th, 2018, CINB held Chinese teaching meeting in St. John. Chinese director and foreign director as well as ten Chinese teachers attended the meeting.
This meeting was prepared over one month in advance. All the teachers in CINB participated in discussing the topics of it and did a lot of preparation work. In order to increase freshness and sparks of thought, random grouping was adopted in the discussion section. Those who present the meeting were divided into three groups by drawing lots and the group representatives shared their group results later. There were eight topics discussed in total.
The first topic is "teaching practice". First of all, the foreign director Teng Jing introduced educational rules, regulations, teaching requirements and professional qualities for a qualified teacher in New Brunswick. Then, all the teachers shared their understanding and experience in teaching practice. The former excellent Chinese teacher Jiang Jie also attended the meeting to share her opinions on this topic based on her work experience for years. In the end, all the discussions for this topic were summed up. Through the discussion, all the teachers have a better understanding of the local teaching practice and realize the importance of "doing as the Romans do", which helps them to better integrating into the local educational environment. It was decided that teaching practice would be listed as the primary topic for new teacher training in the future.
The second topic is "setting up HSK testing site". The volunteer Chinese teacher Liu Xiaowei reported the work on setting up HSK testing site and expressed that the negotiation for setting up HSK testing site in Riverview High School had entered the confirmation stage. All the Chinese teachers had an in-depth discussion on issues related to HSK testing, including the testing site setting, invigilators training, teaching arrangement for testing and so on. The first HSK testing site can be expected soon.
The third topic is "online teaching". CINB is going to launch online Chinese credit course. By connecting online learning with offline teaching together, high schools without Chinese course especially rural high schools will have Chinese course, which will help students to learn the Chinese language and understand Chinese culture to promote the internationalization of New Brunswick and make Chinese spread to every corner of New Brunswick. At the same time, this move, with good sustainability, will also lower cost for selecting and sending teachers and funding investment.
The fourth topic is "the establishment of CINB official website". Last year, CINB official website got 42,000 high hits in total, exerting a widespread influence. The professional website maintainer Mr. Dai was invited to attend the meeting. After listening to the suggestions put forward by all teachers, he would do some adjustments for the related website designs. Besides, he raised unified regulations for website news script. Through this change, CINB website will be further improved in quality and it will become a better window for CINB's publicity.